Keto Foods
18 Yummy Keto Cookies to Try – Save-worthy Recipes and Good Brands
Although eating real, whole foods is ideal while on the keto diet, there are some days when keto cookies are called for as a way to satisfy your sweet cravings or provide some additional "food fun" to your day. In this article, you'll find links to both off-the-shelf brands and tasty recipes for cookies that are not only 100% keto approved, but are also delicious, satiating, and satisfying. Whether you love chocolate, fruit-flavored, or simple sugar cookies, we've got a recipe for you to test out in your own keto kitchen, so be sure to keep reading.
18 Best Keto Cookie Recipes
Low Carb Keto Cream Cheese Cookies (3.3g net carbs/serving)
Imagine being able to eat a keto-friendly cookie with a cream cheese filling and cherry glaze. We bet your mouth is watering already. No longer do you need to imagine this divine creation, since this recipe will bring this kind of cookie to life with a literal cherry on top.
Easy Keto Sugar Cookies (3.2g net carbs/serving)
On the days when you crave a buttery, sugar cookie, pull this recipe out of your toolbox. Although the dough needs to chill a few hours before baking, but these cookies are definitely worth the wait.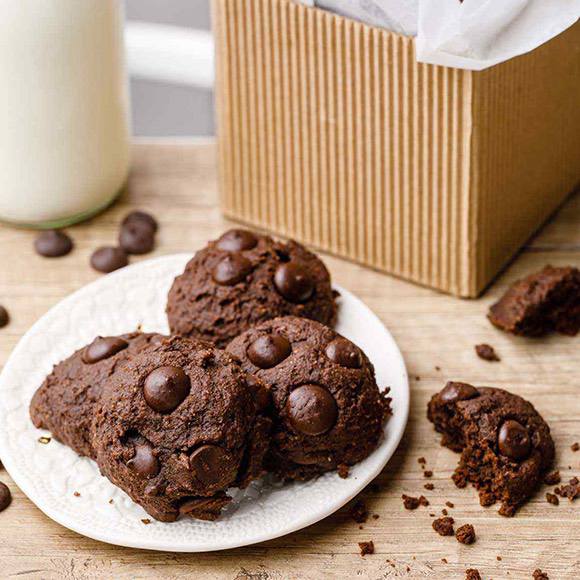 Keto Double Chocolate Chip Cookies (4.3g net carbs/serving)
Some days you just need a chocolaty treat, and these double chocolaty cookies are sure to satisfy that craving. They are absolutely keto-approved while providing your body with a nice dose of antioxidants through the addition of cocoa powder.
Peanut Butter Stuffed Chocolate Keto Cookie Sandwiches (6g net carbs/serving)
There is nothing quite like the combo of peanut butter and chocolate. Not only do these cookies taste amazing with their peanut butter filling, but they're gluten-free and sugar-free, and full of healthy fats.
3-Ingredient Keto Peanut Butter Cookies (3.6g net carbs/serving)
You only need 3 ingredients to make these delicious peanut butter cookies. With stevia being the sweetener of choice for this recipe, no need to worry about your blood sugar soaring after adding these into your afternoon or evening snack.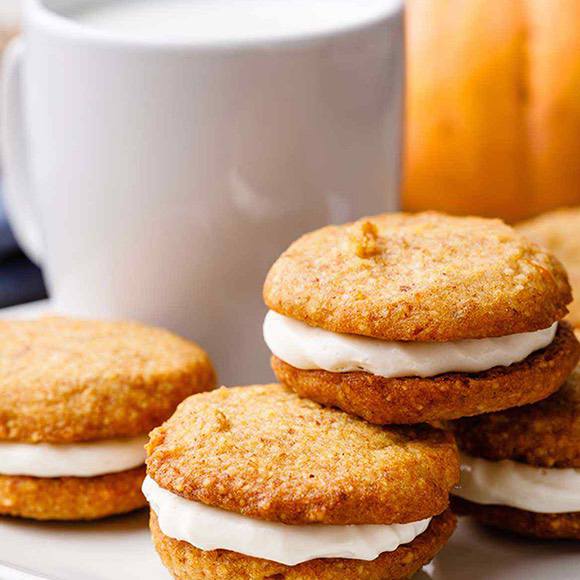 Keto Pumpkin Cookie Sandwiches (3g net carbs/serving)
These keto pumpkin cookies are full of cinnamon and spice, and everything nice. Add to that a cream cheese frosting and your mind will be blown with how these cookies could possibly be healthy.
Gingerbread Christmas Cookies (3.1g net carbs/serving)
Definitely bookmark this recipe to add to your Christmas baking tradition. Just because you follow a keto-friendly diet doesn't mean you have to eliminate your favorite Gingerbread cookies for eating and decorating.
Keto Lemon Cookies (3.6g net carbs/serving)
If you enjoy the combo of zesty lemon with undertones of both tart and sweet, these will soon become your go-to cookie of choice. They are delightfully soft and and moist, making them the perfect addition to a cup of tea.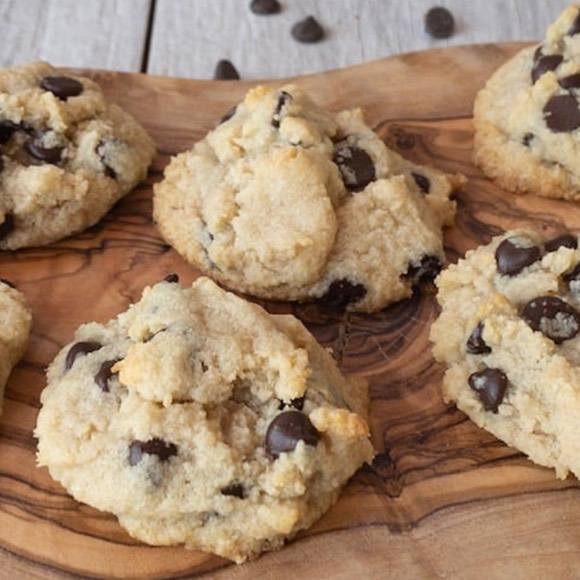 Classic Keto Chocolate Chip Cookies (2.6g net carbs/serving)
If your Grandma was a lover of baking, we are pretty sure these cookies will take you back to your childhood days. And they are guaranteed to please both the kids and adults in your house with each bite of chocolate chip goodness.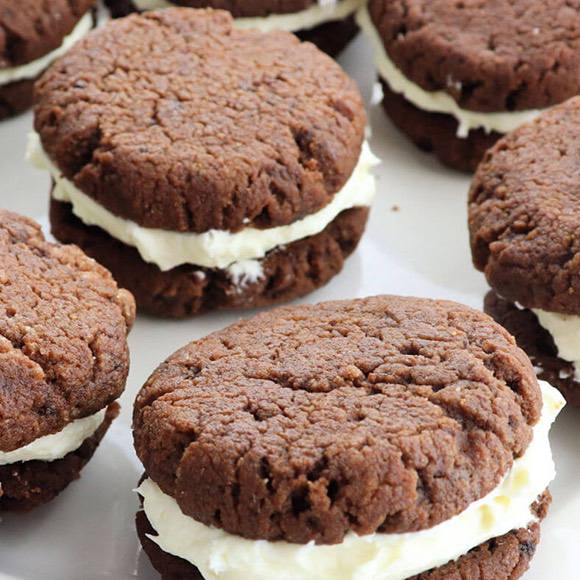 Keto Chocolate Sandwich Cookies (4g net carbs/serving)
These cookies are a cross between oreos and whoopie pies. If that doesn't have you hopping over to this link, we don't know what will. The cream cheese filling will add in a literal layer of just the right amount of tang to balance out the chocolate wafers.
Chewy Chocolate Chip Keto Cookies (3.2g net carbs/serving)
If you prefer chewy cookies over crunchy ones, this recipe has been refined to the point of greatness. These melt in your mouth chocolate chip cookies are sure to become a family favorite.
Cowboy Keto Cookies (4g net carbs/serving)
One bite and you'll go crazy for these chocolate chip cookies with an unexpected twist of cinnamon, coconut, and pecans. Crispy on the outside but chewy in the middle, you get the best of both texture worlds so you can dunk or enjoy with a hot beverage on the side.
Low Carb Snickerdoodles (1.5g net carbs/serving)
Sometimes you just need a little Snickerdoodle to make your day brighter or more fun. They really are the perfect pairing to a hot cup of coffee, and we won't tell if you decide to have them for breakfast rather than dessert.
Keto Raspberry Cookies (5g net carbs/serving)
If you are a lover of all things raspberry, head over to this recipe to gather your ingredients. They have the perfect pop of fruit and just the right amount of sweetness to satiate and satisfy.
Keto Danish Butter Cookies (2.1g net carbs/serving)
This holiday classic, Danish butter cookies, has been perfected in the form of a low carb recipe which may just become a year-round favorite. You'll have to check out the link just to see how beautiful these cookies are once baked, too.
Soft Keto Sugar Cookies with Vanilla Frosting (3g net carbs/serving)
We know you'll be salivating at just the thought of these soft keto sugar cookies with sugar free frosting. You'll want to refer back to this recipe when you are in the mood to get creative and decorate your cookies either for fun or a special event.
Keto Milano Cookies (2g net carbs/serving)
This recipe for keto milano cookies is so close to the original that you won't believe it. Although the recipe is simple, it has the perfect ratio of cookie to chocolate.
Hazelnut Chocolate Sandwich Cookies (3g net carbs/serving)
If you've been missing Nutella since starting your keto diet, check out this link for low carb hazelnut chocolate sandwich cookies. At only 2 grams of net carbs per cookie, you can easily fit 1 or 2 of these sweet treats to your daily keto-friendly diet.
5 Ingredients to Avoid in Keto Cookies
1. Gluten-free flour that contains a form of starch
While wheat won't be found as an ingredient in your gluten-free flour options, many don't realize that they also need to be scanning for corn when reading labels. Corn can be processed into the form of a thickening agent or stabilizer in gluten- free products, so buyer beware.
Also be on the lookout for other starchy sources that are used in gluten-free flour, such as potato, rice, or tapioca. These options are simply not ketogenic due to their high carbohydrate load which can easily send your blood sugar soaring. Nut or coconut flour is going to be your best option for baking keto cookies.
2. Low-fat cream cheese or other dairy
Some keto cookie recipes will call for cream cheese, typically as a base for frosting. Avoid low-fat cream cheese, which will contain lactose and other high carbohydrate additives to keep the fat content down.
If you are following a recipe that calls for any other form of dairy, such as sour cream or a non-dairy milk alternative, be sure to choose the higher fat version as well for that same reason. If you understand that the ketogenic diet principles revolve around healthy fats, this shouldn't come as a surprise.
3. Higher carb nuts such as cashew and pistachio
Going "nuts" on a keto diet isn't necessarily a bad thing, unless you are choosing certain nuts with a higher carbohydrate load. For a fantastic read on the best nuts to incorporate on a keto diet, this link contains a comprehensive list with visual illustrations of the best nuts to add to your keto cookies when baking.
Just for quick reference, the lowest carb nuts include walnuts, pecans, brazil nuts, almonds, and macadamia nuts. When purchasing your nuts for baking, these are all great choices. Of course the recipe you choose will often call for a specific nut, but if you have personal preferences, just know you can make some acceptable swaps that will fit nicely into your keto plan.
4. Highly processed fats and oils
Fats and oils called for in your baked goods should always come from healthy sources including coconut oil. Oils such as canola and sunflower should be avoided because these oils are refined at high temperatures causing the oxidation of free radicals in otherwise healthy tissue.
Always choose grass fed butter or ghee over margarine, which is also highly processed, can contain additives with carbohydrates, and additional water as filler that helps to reduce the calorie content.
5. Artificial sweeteners, sugar alcohols, and simple sugars
Although most keto-friendly cookie recipes will not call for real or natural sugars, do not add a sugar alcohol or other artificial sweeteners in place of something like stevia or Swerve.
The natural and artificial sugars to avoid at all costs include cane sugar, honey, maple syrup, agave nectar, Splenda, aspartame, saccharin, and corn syrup. It's easy to assume that keto-friendly products would not contain any of these forms of sugar or artificial sweeteners, but you'd be surprised at what you can find when you read the ingredient label closely.
As for sugar alcohols, it is true that they contain a negligible amount of calories, but the risks may not outweigh the benefits. While sugar alcohols are quite popular today, you may experience some pretty severe GI distress given the way they are digested in the body.
6 Tasty (And Healthy) Store-bought Keto Cookies
HighKey Mini Keto Cookies (2g net carbs/serving)
These mini keto cookies are the perfect finger food, sure to satisfy your sweet tooth, whether you are more of a chocolate fan or a snickerdoodle lover. Not only are the cookies made with all natural ingredients, but they also are grain and gluten-free.
Fat Snax Cookies (1g net carbs/serving)
Fat Snax cookies are designed to put a smile on your face with 0 grams of sugar and 8 grams of healthy fat. The variety pack offered allows you to try 3 different flavors, and we are pretty sure you'll find it hard to choose a favorite flavor given how delicious they are.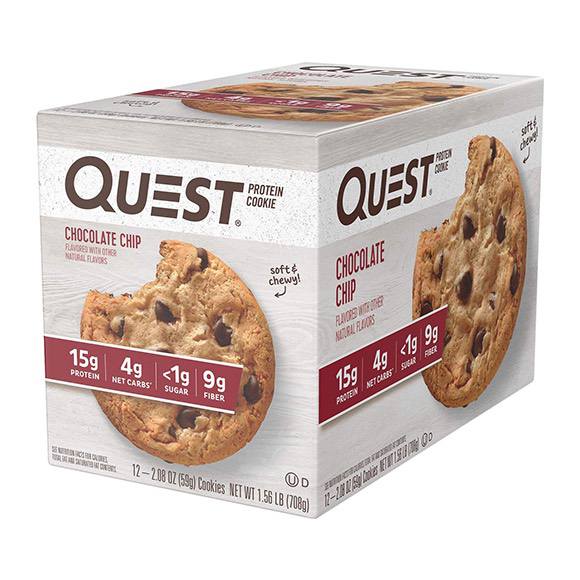 Quest Nutrition Chocolate Chip Protein Cookies (4g net carbs/serving)
If you are following a keto-friendly diet but also find yourself craving a protein boost, check out these Quest cookies. Like their slogan says, "life is better when you can feed your cravings" and these cookies will absolutely satisfy your cookie cravings.
Lenny and Larry's Keto Cookies (3g net carbs/serving)
These plant-based keto cookies are a must try. Free from soy, dairy, egg, and artificial sweeteners, the ingredient list is an impressive one. You'll have to look at the label twice after tasting to convince yourself that these aren't full of the unhealthy ingredients found in traditional cookies.
BisKeto Cookies (5g net carbs/serving)
What could be better than soft and cakey keto cookies? And on top of that they are plant-based, low-carb, and grain free so you don't have to worry about your blood sugar soaring after enjoying a sweet snack.
Real Naturals Buttery Coconut Cookies (3g net carbs/serving)
One bite of these buttery coconut cookies, and you'll be hooked. Made with minimal ingredients and yet full of coconutty flavor, you can feel confident that you are making a cleaner choice for your low-carb snack that is also keto-friendly.
Keto Cookie FAQ
Are Cookies Keto?
Not all cookies are keto, but keto-friendly cookies definitely exist. We've made sure to link both the best tasting off-the-shelf brands as well as delicious make-from-home recipes that are absolutely keto-friendly. Whether you love sandwich cookies, or simple sugar cookies, we've researched all of the best tasting cookies and provided you resources as part of this post.
Are Chocolate Chips Keto-Friendly? (Recommended Keto Chocolate Chip Brands + Recipes)
Not all chocolate chips are keto-friendly, but keto-friendly chocolate chips can be found both in stores and made from home using simple ingredients. Some of the better brands on the market for keto baking purposes include Choc Zero, Lily's, People's Keto, and Luv, all of which can be found on Amazon. When you find a recipe you'd like to try that calls for chocolate chips, most likely you'll have a specific brand recommended to use as part of your ingredient list. If you'd prefer to make your own chocolate chips from scratch, this recipe is great and this recipe only requires 3 ingredients.
How Do You Make Keto Cookies from Scratch? (The Best Keto-Friendly Ingredients to Use for Low Carb Cookies)
Keto cookies can easily be made from scratch. Some recipes call for only 3-4 ingredients while others require a bit more, but common ingredients include eggs, nut flours, coconut flour, cream cheese, and keto-friendly sweeteners such as stevia or Swerve.
Can One Non-Keto Cookie Kick You Out of Ketosis?
Unfortunately there is no "yes" or "no response here since everybody responds differently to carbohydrates, and some individuals are more sensitive to simple sugars than others. The best way to know if one non-keto cookie will kick you out of ketosis is to monitor your ketones from home when adding in any food choices that have added sugar or are made from simple carbohydrate sources.
Are Quest Cookies Keto?
Quest Cookies are one of the more promising keto-friendly foods at this point in time; however, compared to some of the keto-friendly cookies on the market, they may have a slightly higher net carb count. If after trying out some of the other brands on the market, you still want to give Quest cookies a try, it is best to monitor your own blood sugar response as a better way to understand if this choice will kick you out of ketosis or cause your blood sugar to rise more than normal after eating something on the sweeter side.
Are Know Better Cookies Keto?
Know Better Cookies use an interesting sweetener known as allulose that has a reported glycemic index of 0. While that seems very promising for a keto-friendly cookie option, understand that 26g of the 28g of sugars listed on the label come from allulose. In other words, while the reported 4g of net carbs per cookie is accurate, that doesn't mean your blood sugar will respond in a way that allows you to stay in ketosis. There may be some better options on the market to try first that are also known to be helpful for staying in ketosis.