Keto Recipes
Creamy Keto Coleslaw
Coleslaw is a classic vegetable side dish that can be paired with everything from tacos to roast chicken. If you've ever made your own coleslaw before, you'll never go back to commercial varieties again because you'll realize how easy it is to make a ridiculously tasty version right at home. As an added bonus, this recipe for keto coleslaw contains only highly nutritious ingredients, so you'll be getting an abundance of vitamins and minerals with this dish alone.
If you're looking for something to pair this low carb coleslaw with, add it to these keto pulled pork sandwiches, these 30-minute sloppy joes or eat it with these blueberry keto bbq ribs.
---
How to Make Keto Coleslaw
A common misconception with the keto diet is that we don't eat our vegetables. While that is certainly true for some people, a keto diet doesn't require cutting out vegetables.
At least 2-3 servings of vegetables are recommended daily for dietary fiber requirements and proper balance of micronutrients. (1)
In a small bowl, mix together your sour cream, mayonnaise and apple cider vinegar. Season with salt and pepper at this stage. In another bowl, mix the green cabbage, red cabbage, carrot, parsley and green onions together.
Pour the dressing over the shredded vegetables and mix well until the vegetables are coated in the dressing.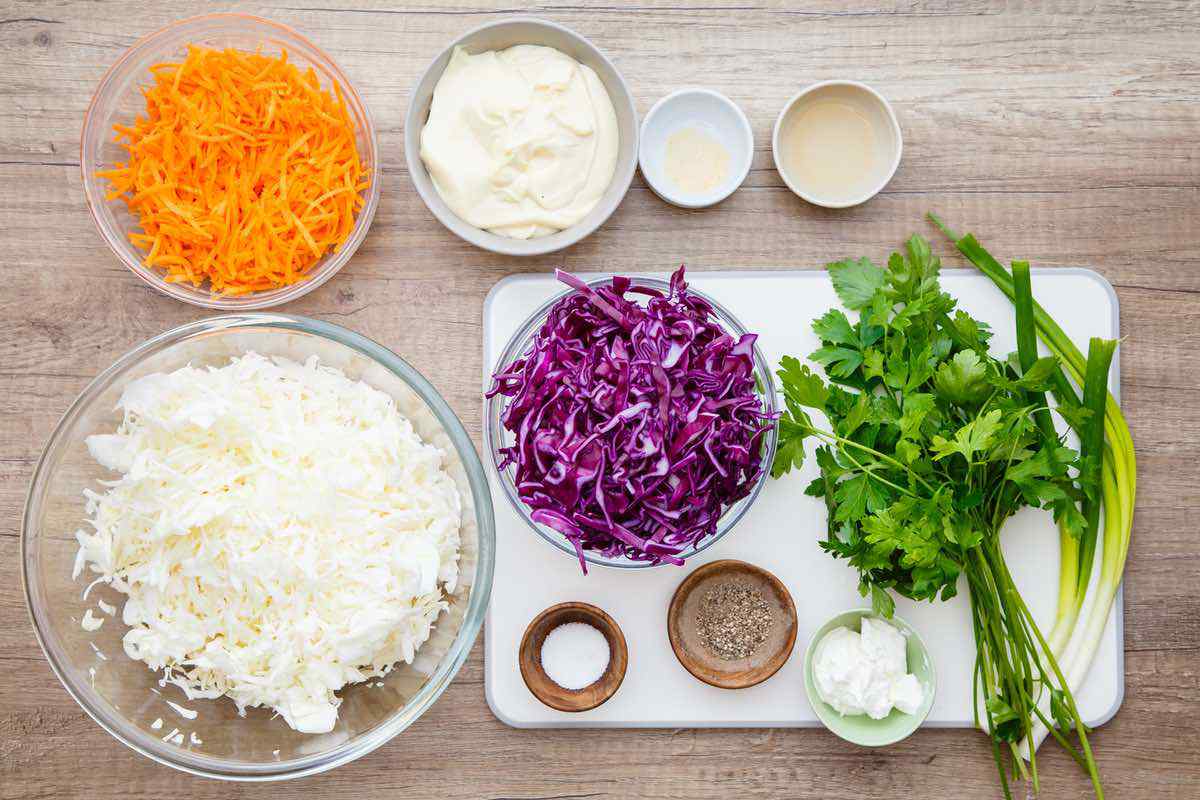 Other Keto Coleslaw Ingredients You Can Add
Most coleslaw recipes require shredded cabbage and mayonnaise at the very least, however you do have people like Perfect Keto who change the game and add a new twist to an old classic. I like their version too because it incorporates other ingredients like cheddar cheese and bacon.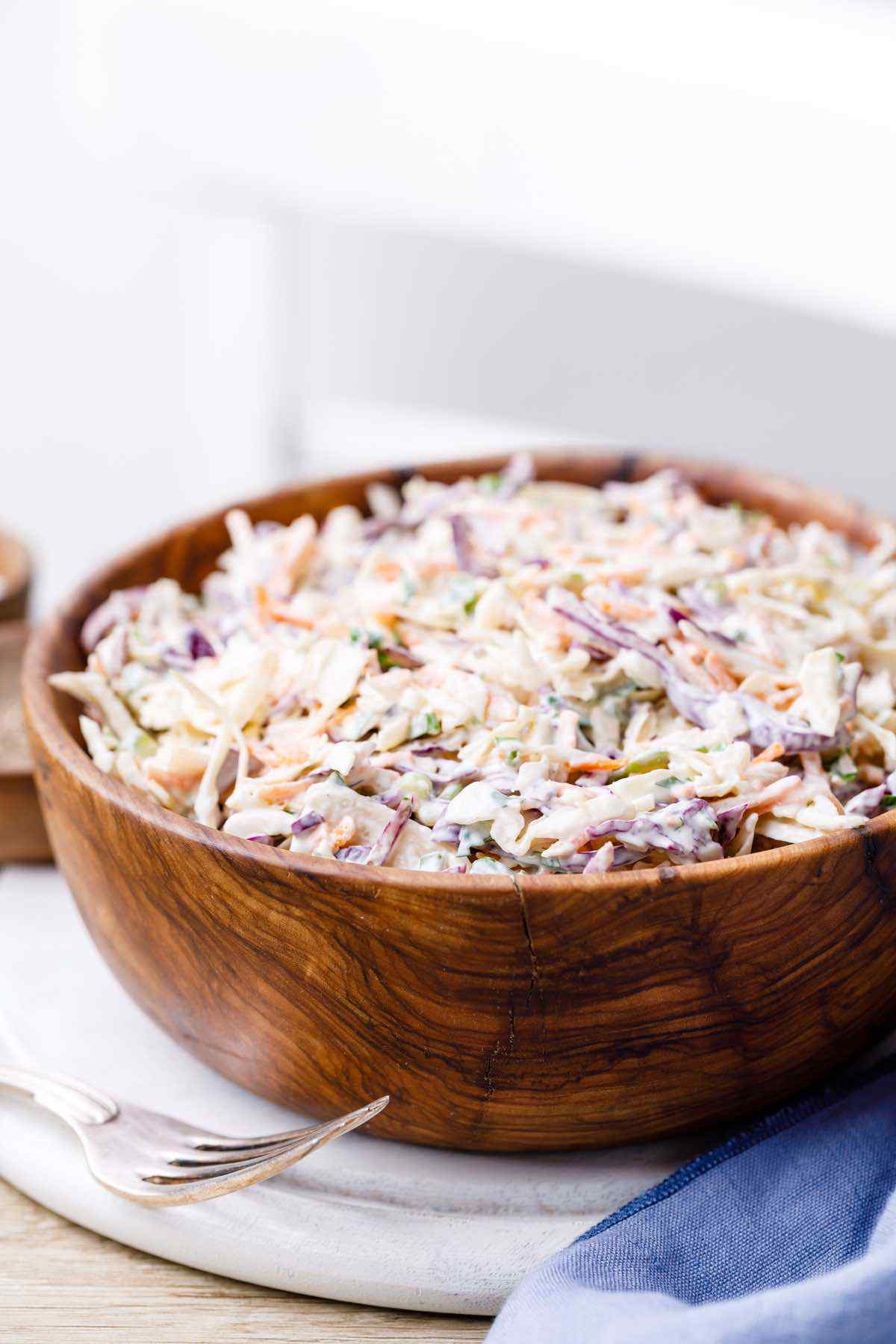 How to Make Coleslaw Without Mayo
For me, the flavor of real mayonnaise is perfect for coleslaw, however there is another keto-approved ingredient that you can use in its place and that is avocado. I love avocado for creamy dressings because it's so versatile, not to mention it's full of heart healthy monounsaturated fats.
For this recipe, you could certainly use ripe avocado in place of mayonnaise. Just add another tablespoon of apple cider vinegar to compensate for the lack of tanginess in the avocado.
You could of course eliminate the creamy dressing altogether like in this recipe by Healing Autoimmune. Just replace the raw honey in the recipe with sweetener like Stevia to keep it keto.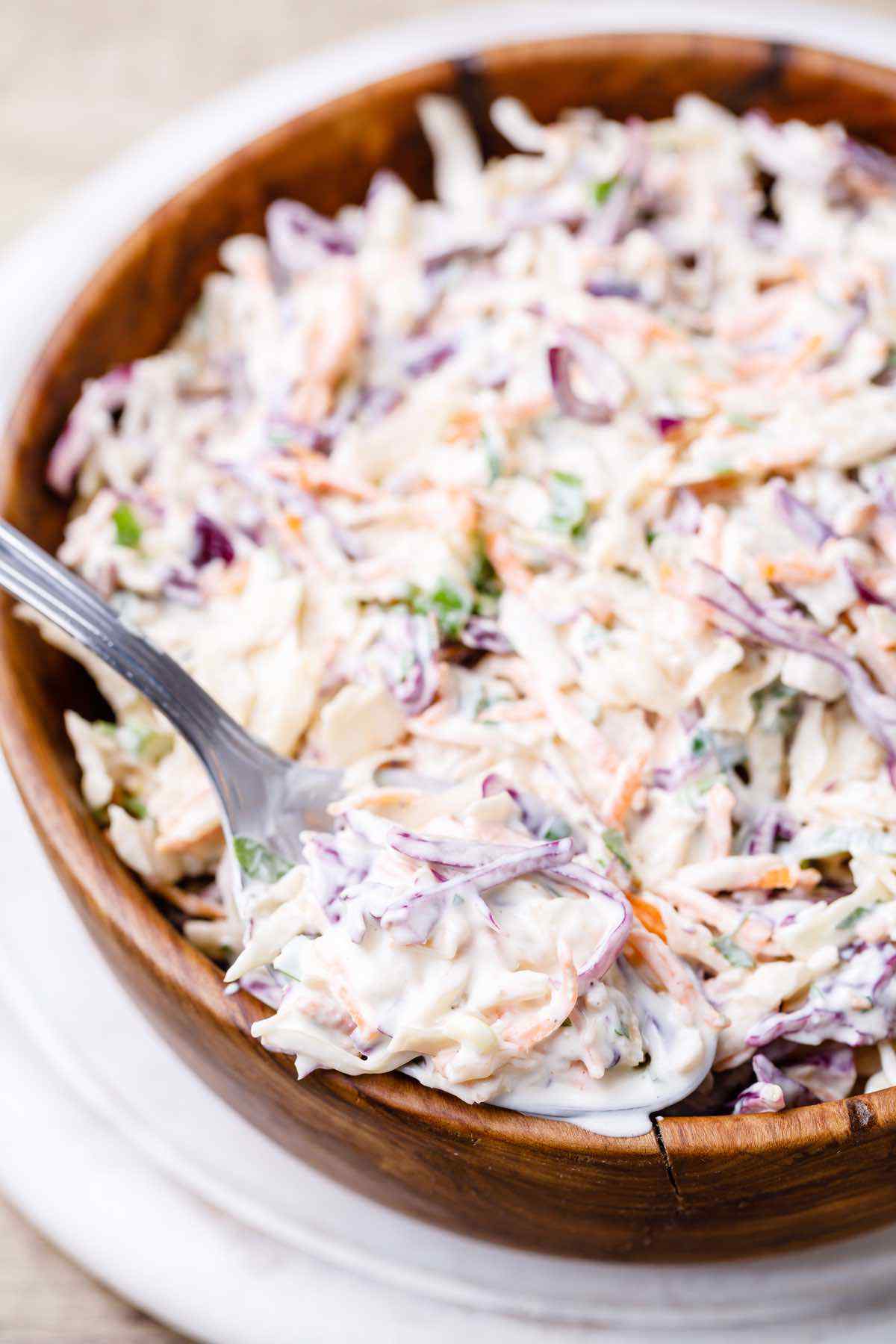 How Long Will Keto Coleslaw Keep in the Refrigerator?
I don't recommend keeping this in the fridge for long. It's best eaten freshly prepared or after it's been chilled in the refrigerator for a couple of hours. If the vegetables are soaked in the dressing for too long, it can get soggy. Cabbage and carrot tolerate dressing better than say, lettuce, so keep that in mind when choosing your shredded vegetables. That said, you can keep your coleslaw in the refrigerator for up to 2 days. Just be sure to store it in an airtight container so that it doesn't dry out.
Another really great side to add to your meal are these keto-friendly dinner rolls: https://ketopots.com/keto-rolls
Print Recipe
Creamy Keto Coleslaw
Author: Bree
Prep Time:

5 minutes

Total Time:

5 minutes

Yield:

8

1

x
Category:

Salad, Side Dish

Cuisine:

American
FREE KETO RECIPES + 5-INGREDIENT KETO COOKBOOK

Make sure to sign up for free to get instant access to the 5-Ingredient Keto Cookbook, which includes my favorite 20+ keto recipes of all-time, all under 5 ingredients.
Scale
12 ounces green cabbage, shredded
 6 ounces red cabbage, shredded 
1 medium carrot, shredded
¼ cup chopped fresh parsley
2 green onions, thinly sliced
1 cup mayonnaise
2 tbsp sour cream
1 tbsp apple cider vinegar
salt and black pepper, to taste
In a small bowl combine the mayonnaise, sour cream, apple cider vinegar and salt and black pepper to taste.

In a large bowl combine the green cabbage, red cabbage, carrot, parsley and green onions.

Pour the mayonnaise mixture over the cabbage mix and stir to combine. 

Add more salt and black pepper if necessary.

Serve immediately or cover and store in the fridge for up to 2 days.
Keywords: coleslaw, cabbage, creamy