Keto Recipes
Homemade French Vanilla Keto Coffee Creamer
Years ago I used to drink my coffee with two cream and two sugar. Eventually I realized that I was consuming a ton of calories from sugar in any given week (3-4 cups of java per day will do it to you) so I switched over to drinking black coffee. This was fine for a while, right up until about the time I started the keto diet. I started to experiment with making my own homemade flavorings and I discovered this neat little recipe for keto coffee creamer that I can't get enough of.

For many reasons, this recipe has been my go to, but I can recommend a few other recipes from some of my favorite keto blogs as well. Be sure to check out some of the following recipes:
Keto-Approved French Vanilla Coffee Creamer
I'm pretty sure the main reason why this is my favorite keto coffee creamer recipe is because I used to be completely obsessed with French vanilla cappuccinos. They were my go to drink whenever I would meet friends for coffee a few years ago. This particular recipe adds the same great taste to your coffee thanks to the stellar mixture of ingredients used.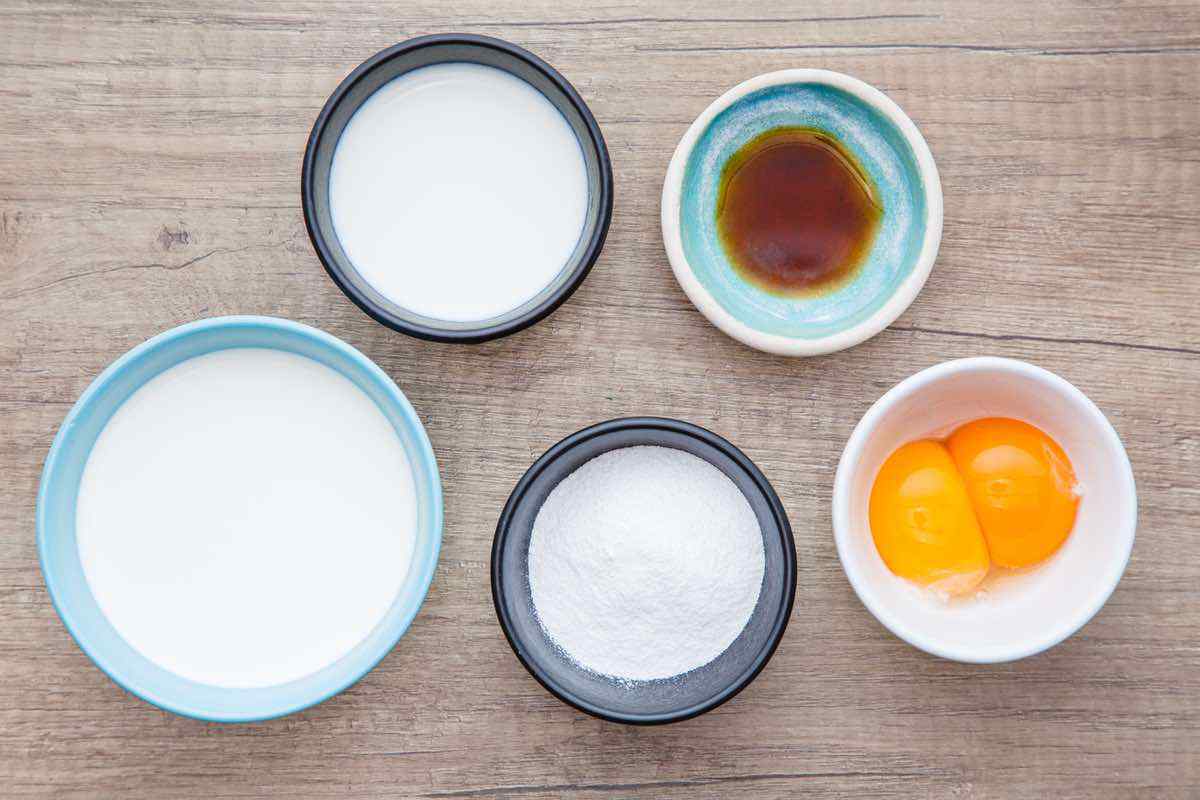 You'll be taking ⅔ cup of heavy cream, which provides a solid amount of calories from dietary fats. You'll also be using ⅔ cup of unsweetened almond milk (I personally like to use vanilla flavored almond milk whenever I make this recipe), which adds a few essential vitamins and minerals into the mix as well.
To go along with the cream and almond milk, you'll also be mixing in two egg yolks, four tablespoons of granulated Stevia (or your preferred low carb sweetening option), and two teaspoons of pure vanilla extract.
All of the above ingredients work in tandem to make what is hands down the most flavorful French vanilla coffee creamer that I have ever tried – and as soon as you take your first sip, I'm sure you'll agree!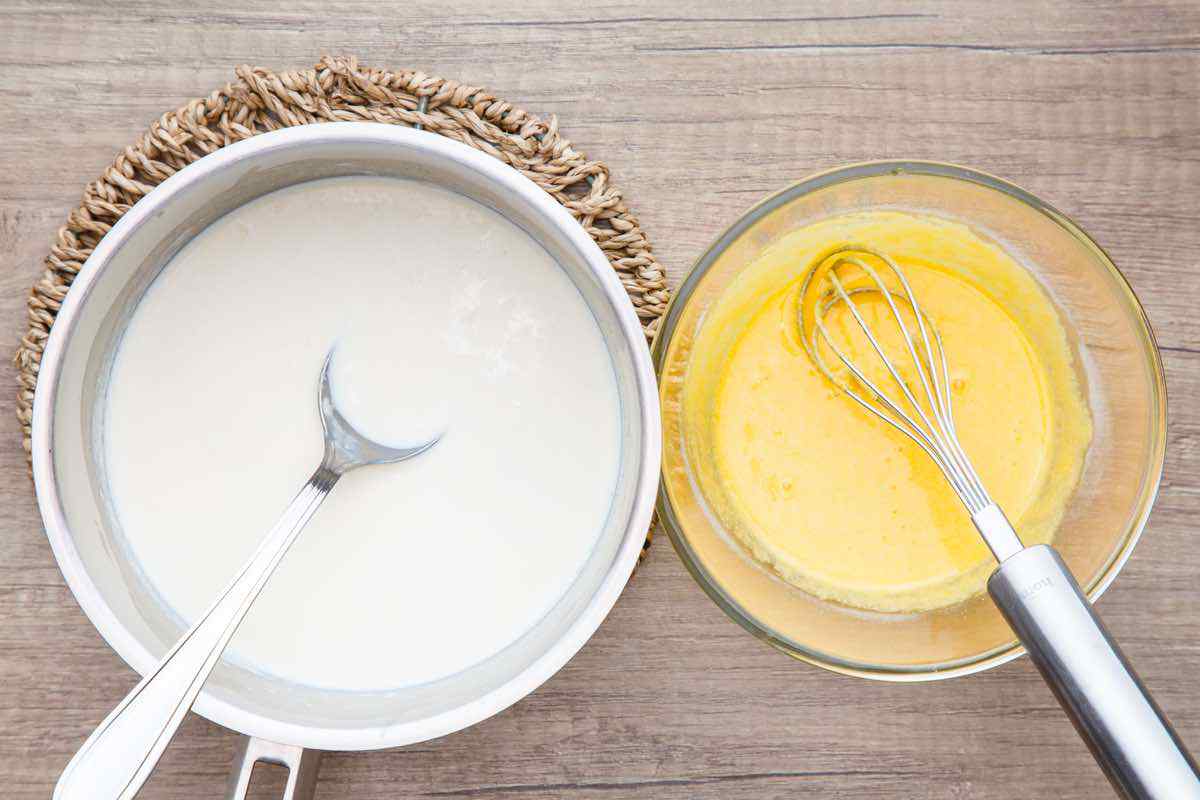 Easy to Make but Packed with Flavor
Another thing that I love about this recipe is that it's incredibly easy to prepare the coffee creamer. You'll first need to combine your heavy cream and almond milk in a small saucepan, bringing it to a boil before removing from the heat.
Meanwhile, in a separate bowl, whisk together your egg yolks, vanilla extract, and Stevia. You can then slowly add in your hot milk mixture to the egg yolk mixture, whisking everything together constantly.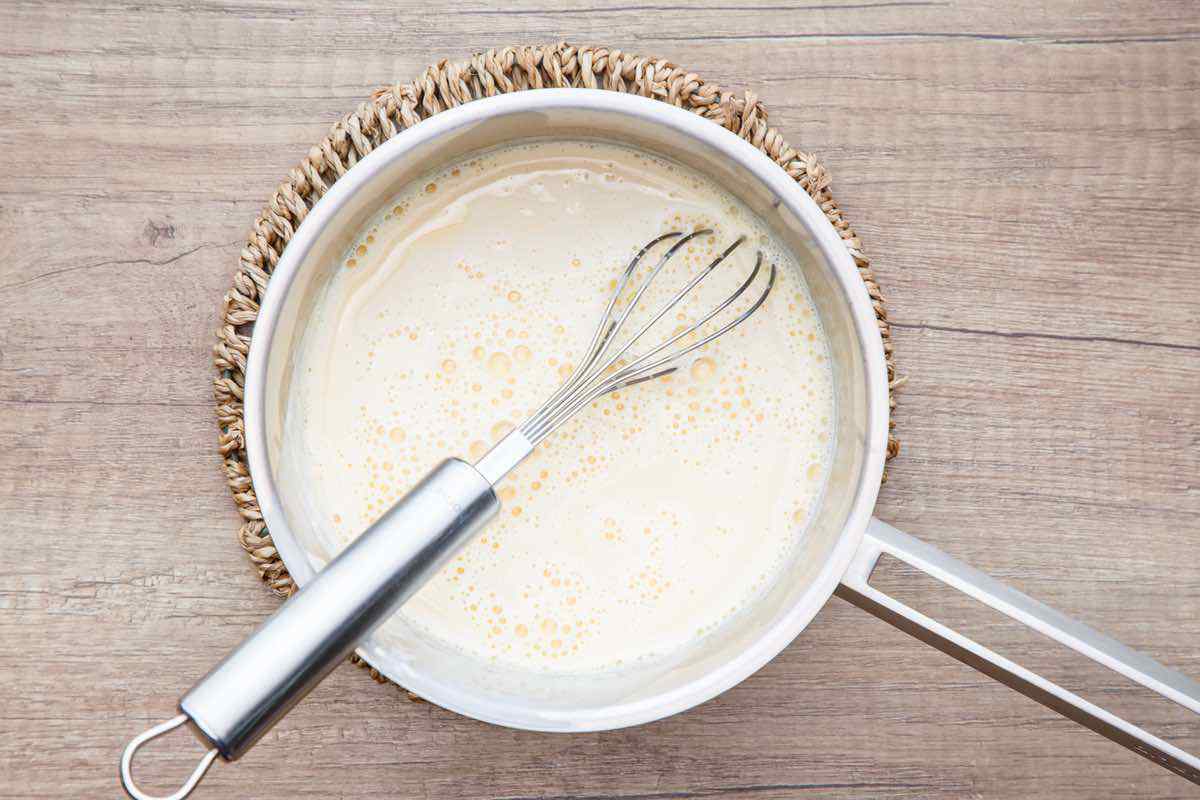 Return everything to a saucepan and simmer over a low heat for approximately 10 minutes. Next, remove the saucepan from the heat and transfer the creamer to a bottle or a jar and store it in the fridge until you're ready to use it.
You can also expect the creamer to last up to five days as long as it's properly stored in the fridge.
Try Bulletproof Coffee with This Keto Coffee Creamer
If you're something of a coffee aficionado and you're looking for ways to customize your morning cup of java a little bit, then one of the most obvious recommendations that I could make with this recipe is to use the coffee creamer along with a bit of MCT oil, grass-fed butter, and your preferred coffee roast to make your own French vanilla flavored bulletproof coffee.
Making bulletproof French vanilla coffee is a fantastic way to enjoy a ridiculously flavorful cup of coffee that's absolutely loaded with high quality fat calories.
Tip: Freeze to Extend Shelf-Life and for Making Iced Coffee
For those of you who prefer iced coffee to hot coffee, you can freeze this creamer recipe and add it to your coffee instead of regular ice cubes. This way, it cools down your drink while infusing it with flavor at the same time.
Print Recipe
Homemade French Vanilla Keto Coffee Creamer
Author:
Prep Time:

5 minutes

Cook Time:

10 minutes

Total Time:

15 minutes

Yield:

6

1

x
FREE KETO RECIPES + 5-INGREDIENT KETO COOKBOOK

Make sure to sign up for free to get instant access to the 5-Ingredient Keto Cookbook, which includes my favorite 20+ keto recipes of all-time, all under 5 ingredients.
Scale
2/3 cup heavy cream
2/3 cup unsweetened almond milk 
2 egg yolks
4 tbsp granulated Stevia or other low carb sweetener to taste 
2 tsp vanilla extract
Combine the heavy cream and almond milk in a small saucepan. 

Bring to a boil and remove from the heat. 

In a bowl whisk the egg yolks, sweetener and vanilla extract.

Slowly add the hot milk mixture to the egg yolk mixture, whisking constantly. 

Return the coffee creamer mixture to a saucepan and simmer over low heat for 10 minutes. 

Remove from the heat. 

Transfer in a bottle or a jar and refrigerate until ready to use. 

Store in the fridge for up to 5 days.
The Best Keto Breakfasts to Go with a Good Cup of Coffee:
Keto Cinnamon Rolls with Cream Cheese Icing
OMG-Delicious Keto Waffles (Light and Fluffy)
2-Ingredient Keto Cream Cheese Pancakes