Keto Recipes
Mocha Latte Keto Coffee Cheesecake Bites
If you're looking for a to-die-for keto cheesecake bite recipe and you love coffee, this is the recipe for you!

What Are Keto Cheesecake Bites?
Cheesecake is our family's favorite, so needless to say, these keto cheesecake bites are well-loved and highly requested! Keto cheesecake bites are low-carb and high-fat, and not all that different from your regular cheesecake. These are in smaller, bite-sized pieces, so they're already portioned out for you.
Are Cheesecake Bites Keto-friendly?
Not all cheesecake bites are keto-friendly, but this recipe is! I use a granulated Stevia instead of sugar, and the crust makes use of finely shredded coconut and almond flour instead of carb-heavy grahams. These ingredient swaps ensure that you can indulge in this dessert guilt-free!
How to Make Keto Cheesecake Bites Crust
A good cheesecake wouldn't be complete without a banging crust, so that's what we're going to do today.
Line your pan. For easy transfer later on, line your baking pan with parchment paper. You could also use butter or cooking spray to grease your pan, but I prefer lining it with paper.
Combine the dry ingredients in a bowl. Combine the butter, sweetener, coconut, cocoa powder and almond flour in a bowl.
Transfer and flatten on pan. Make sure to spread your dough evenly.
Refrigerate. At least 30 minutes in the fridge is recommended.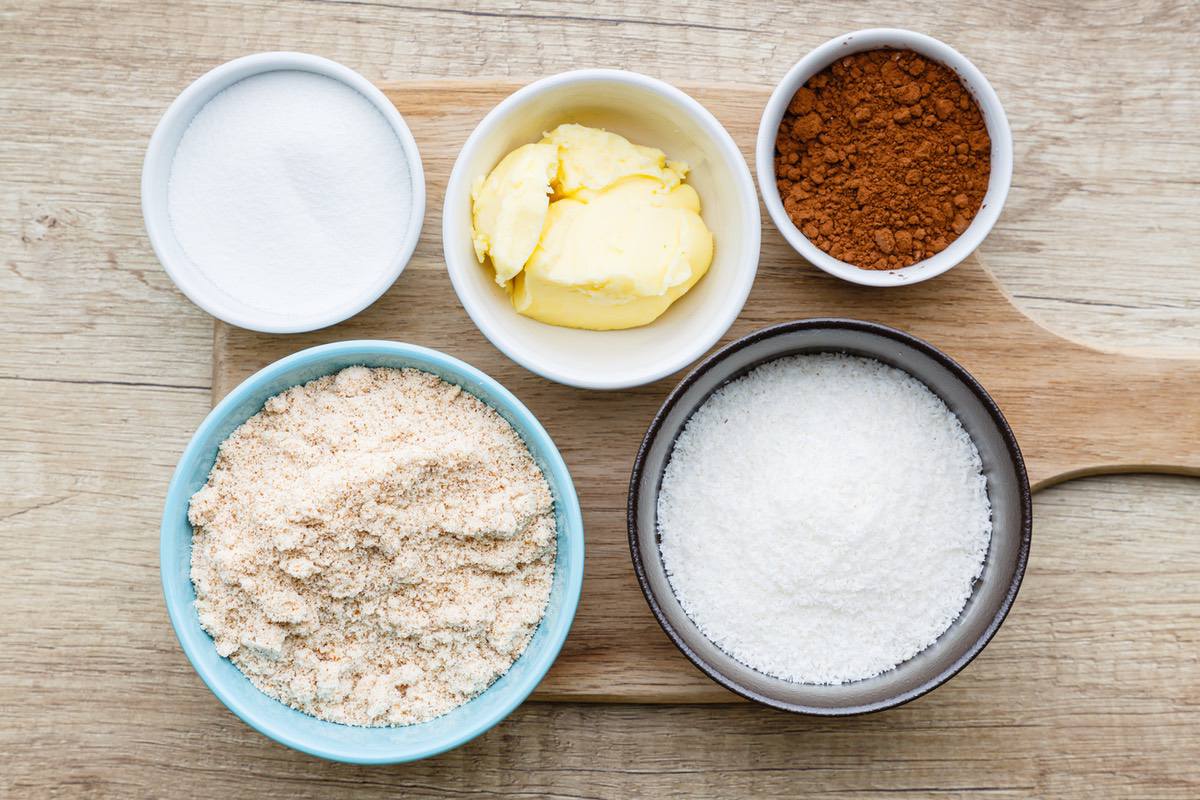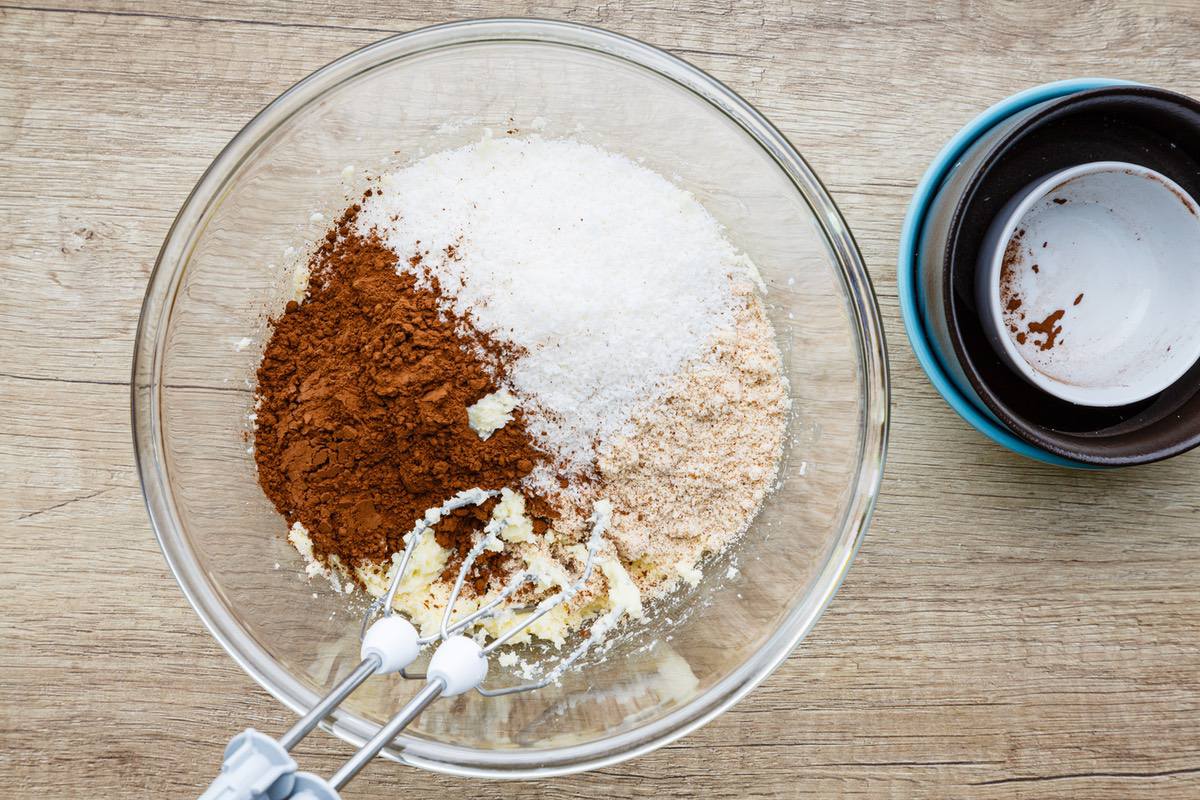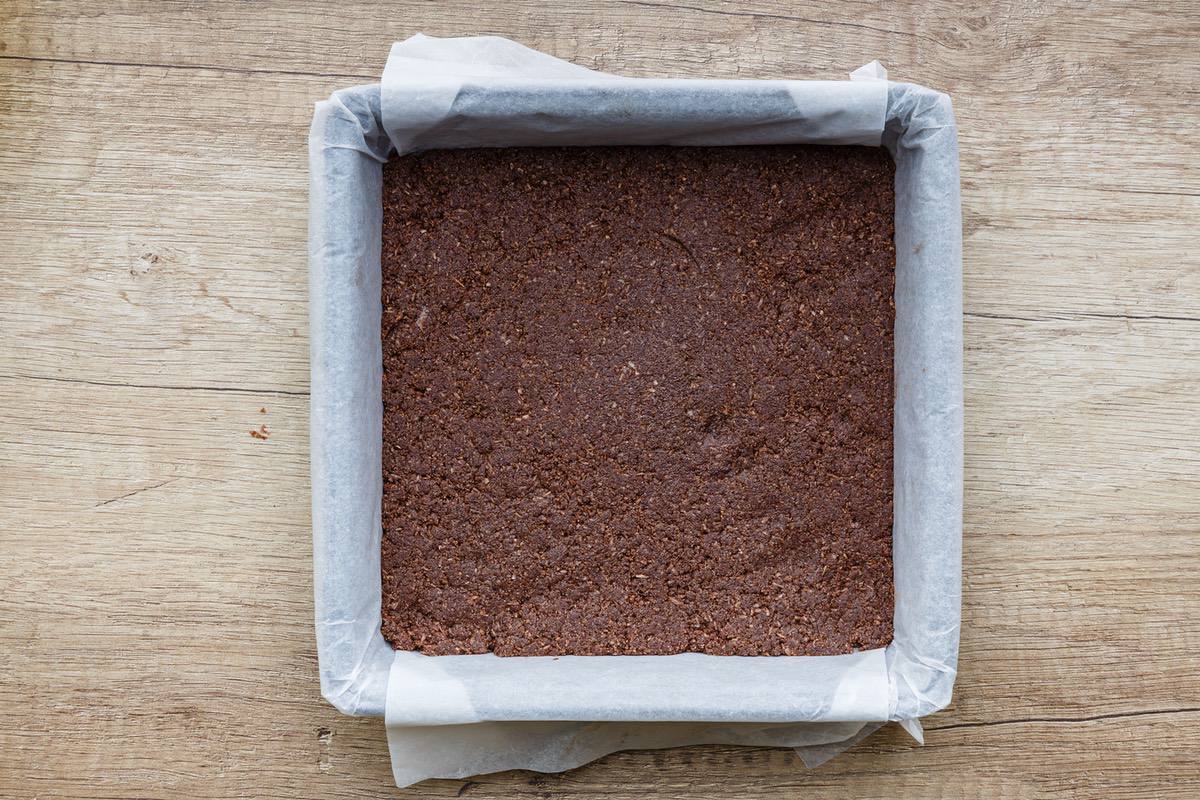 How to Make Coffee Keto Cheesecake Bites
Now that you have a solid crust, it's time to focus on the cheesecake. I love this coffee-flavored base because it's incredibly tasty without being too sweet.
Dissolve the gelatin. Dissolve the gelatin in hot coffee and then set aside to cool.
Beat the cream cheese and sweetener. Add the coffee and gelatin and combine.
Add the cream. Whip until thick and everything is well incorporated.
Pour. Pour the cheesecake mixture over the refrigerated crust.
Drizzle with chocolate. Refrigerate to set the chocolate.
Cut. Measure out the desired size of your cheesecake bites.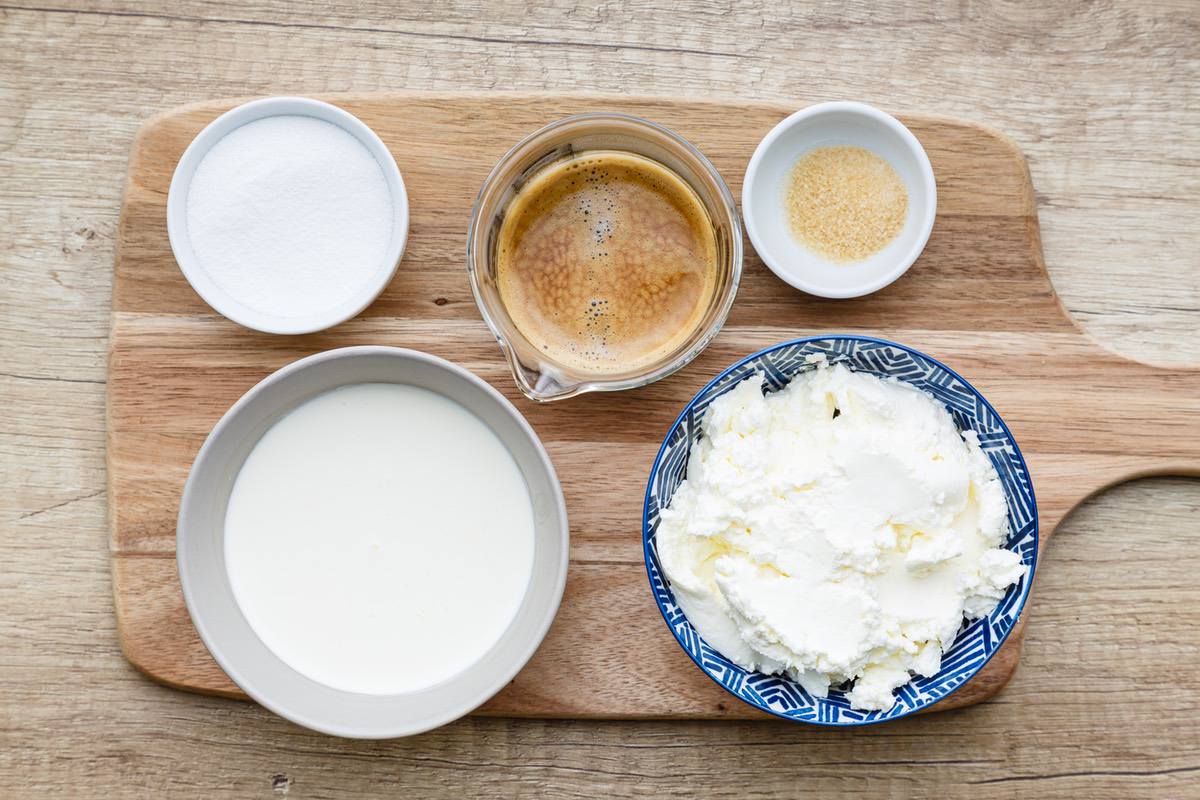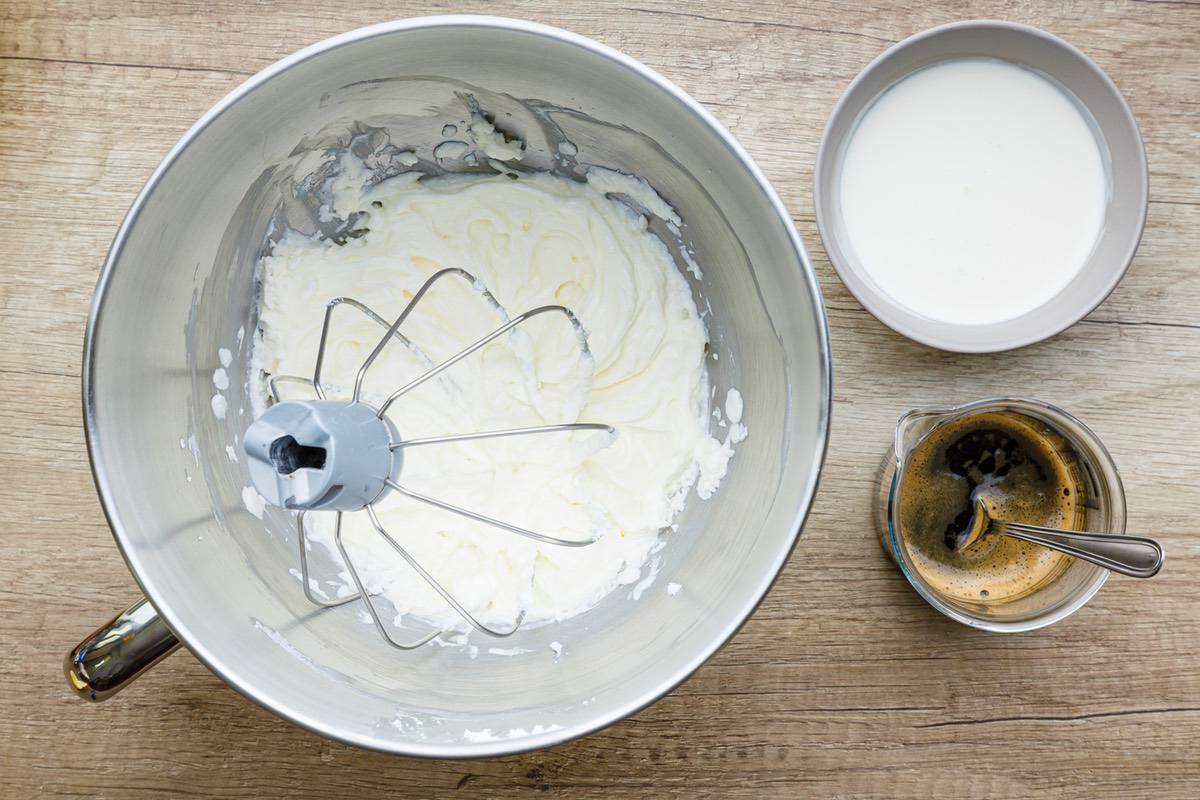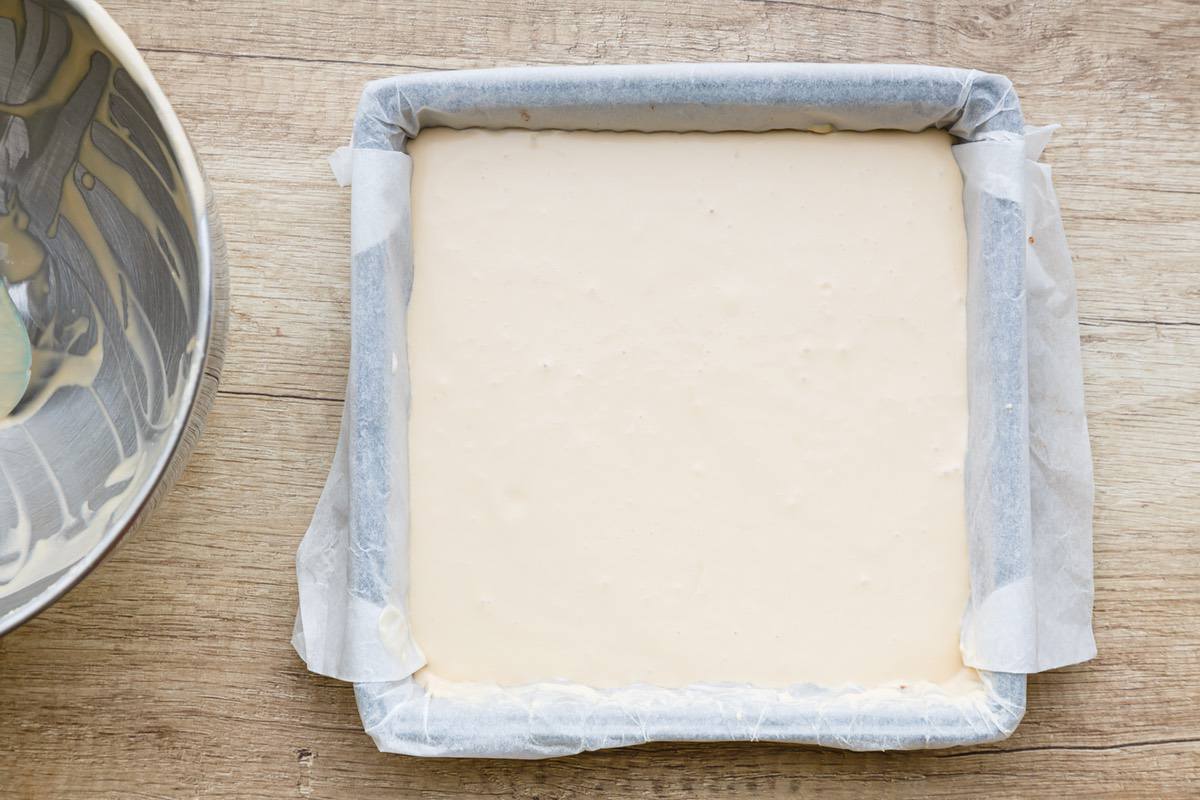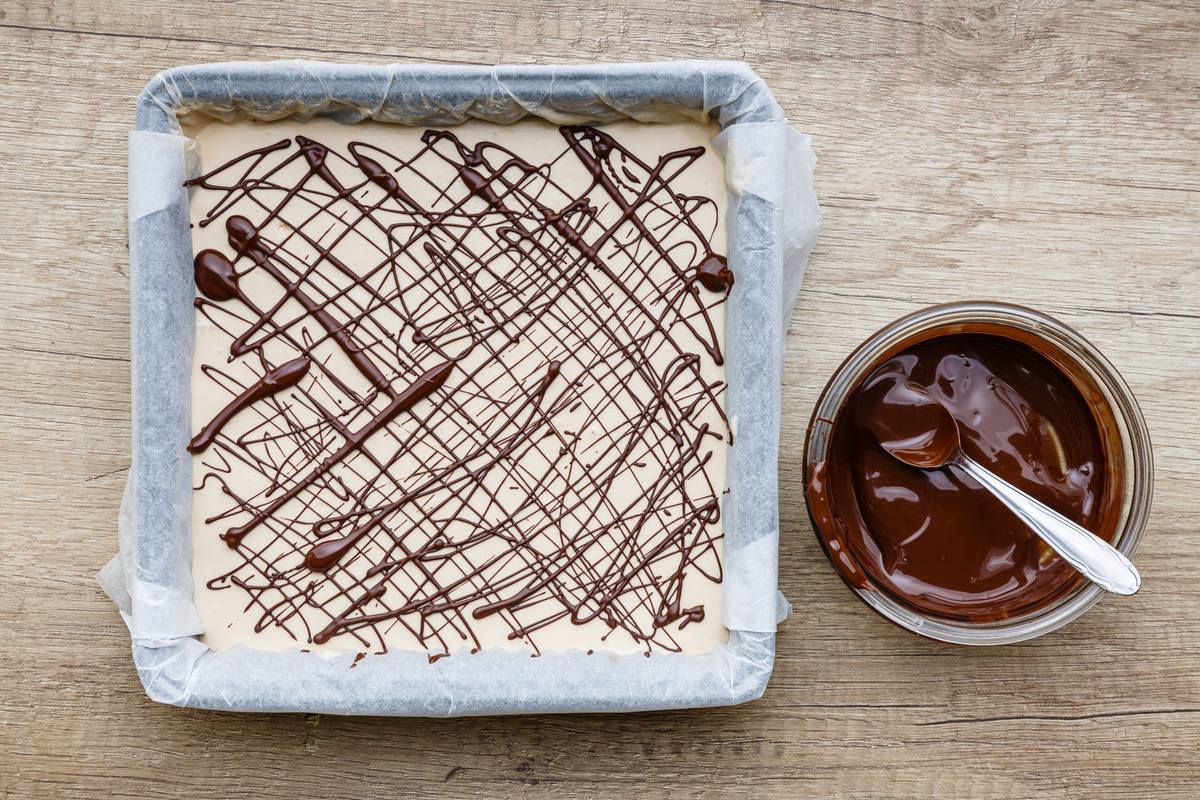 Can Cheesecake Bites Be Frozen?
Yes! These cheesecake bites are great even when frozen. Since they have very little water content, it freezes well and doesn't get soggy when defrosted.
TIP: Arrange the cheesecake bites spaced apart on a baking sheet. Once they are frozen, pry them off the baking sheet then store them in a container. Freezing them spaced apart will allow you to store the pieces without them sticking together.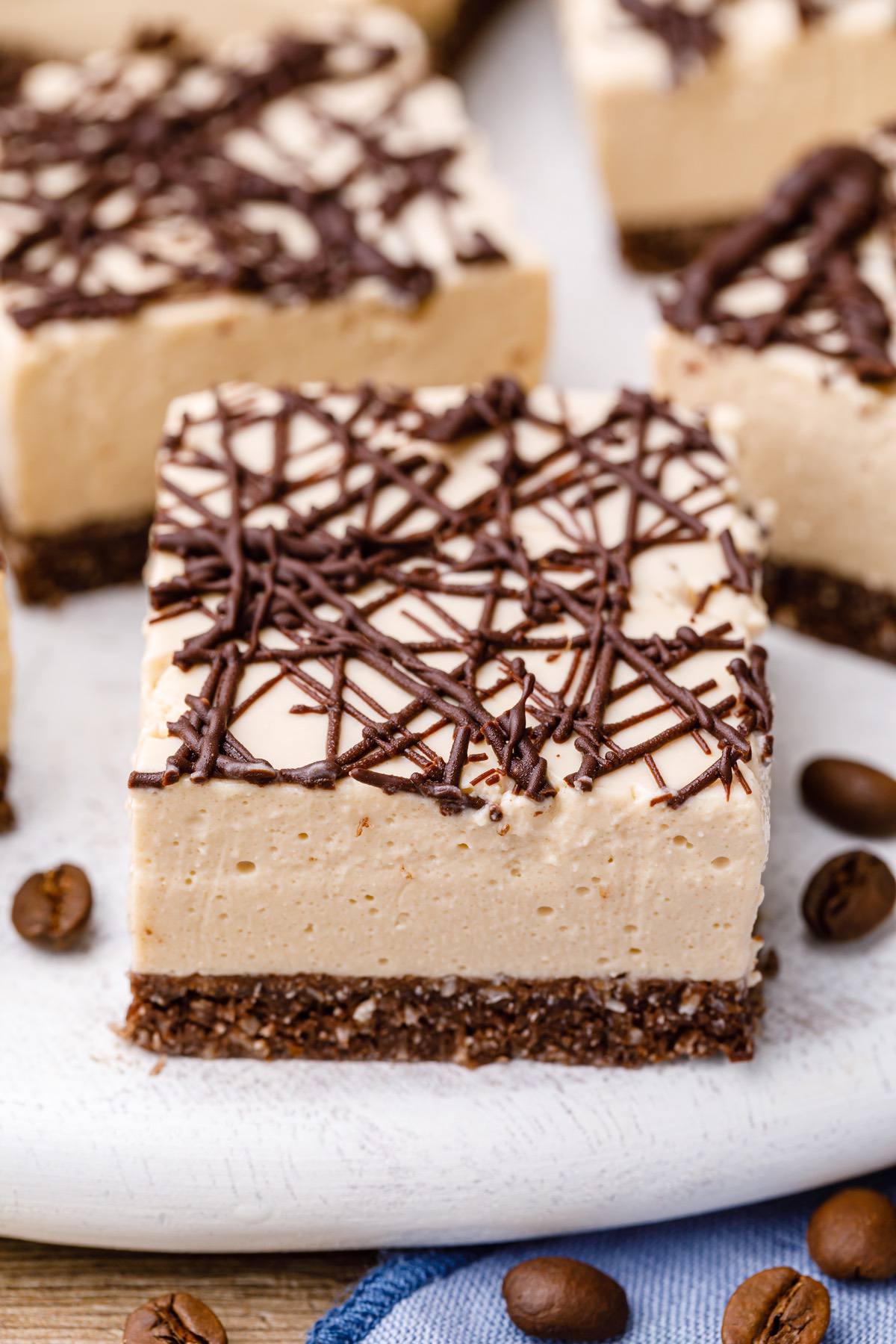 How Long Do Coffee Cheesecake Bites Last in the Fridge?
For best results, I would keep these cheesecake bites no longer than 5-7 days in the fridge. They are best enjoyed after a day or two, otherwise just freeze them to extend their shelf life.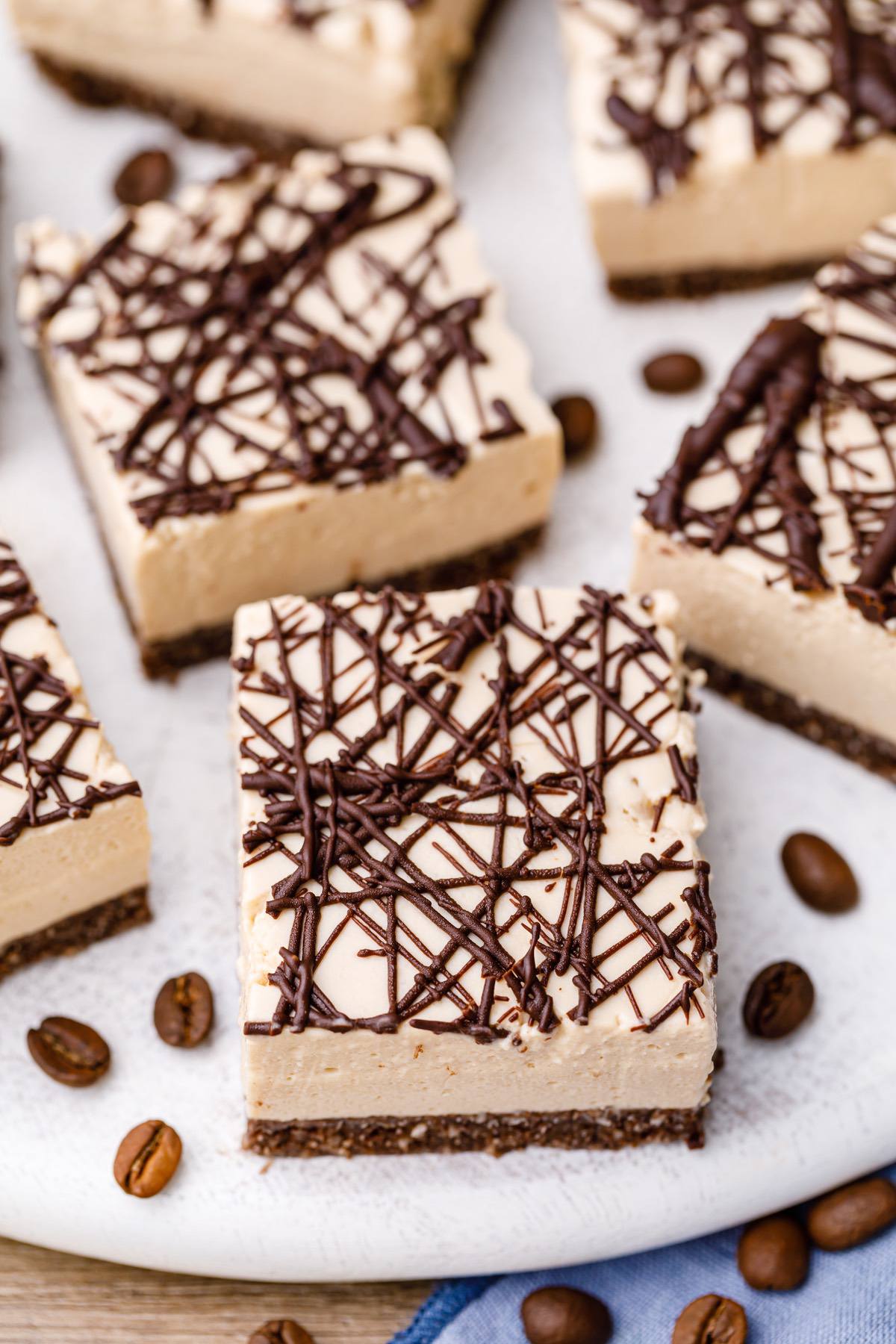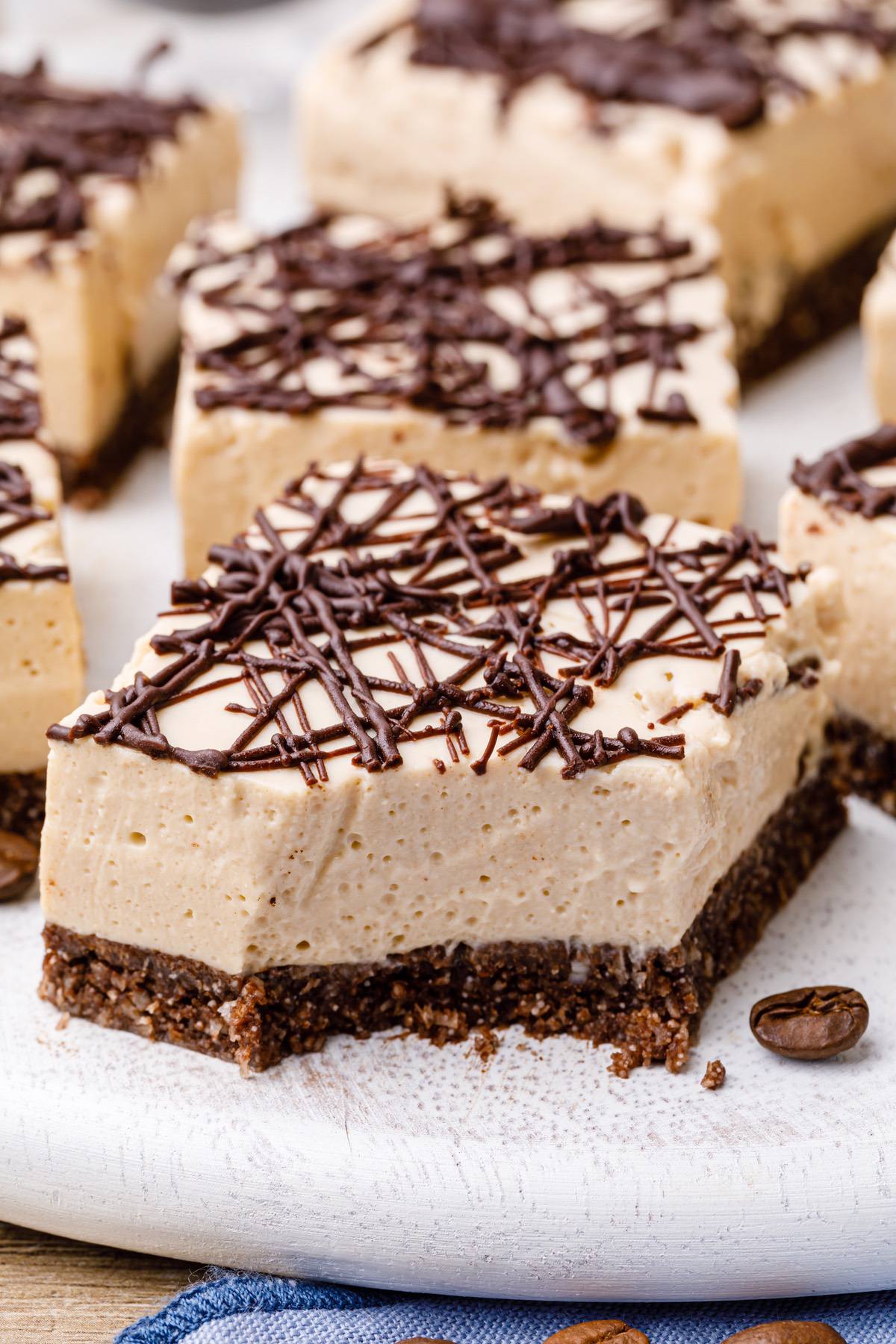 Print Recipe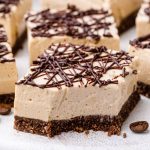 Mocha Latte Keto Coffee Cheesecake Bites
Author: Bree - KetoPots.com
Prep Time:

15 minutes

Cook Time:

2 minutes

Total Time:

17 minutes

Yield:

1

6

1

x
Scale
For the crust: 
¾ cup

unsweetened finely shredded coconut 

¼ cup

unsweetened cocoa powder 

1 cup

almond flour 

¼ cup

granulated Stevia or other low carb granulated sweetener

pinch of salt (optional) 

¼ cup

butter, softened 
For the filling: 
1/3 cup

hot coffee

2 ½ tsp

gelatin 

1 ½ cup

cream cheese 

1 cup

heavy cream 

¼ cup

granulated Stevia or other low carb granulated sweetener
For decoration (optional): 
1 oz

sugar free dark chocolate, melted
Line an 8×8 inch baking pan with parchment paper. 

To make the crust, cream the butter and sweetener in a bowl.

Add the coconut, cocoa powder and almond flour and beat to combine. 

Transfer the dough into prepared pan and spread into an even layer. 

Refrigerate for minimum 30 minutes. 

Add the hot coffee and gelatin to a glass and stir to dissolve the gelatin.

Set aside and allow to cool to room temperature.

In a bowl beat the cream cheese and sweetener. 

Add the coffee mixture and beat to combine. 

Add the heavy cream and beat on high until mixture looks whipped and thickened. 

Pour over the crust and refrigerate overnight or until set. 

Remove from the fridge and drizzle with melted chocolate. 

Refrigerate until ready to serve.
3 More Easy Keto Cheesecake Desserts to Try
Raspberry Cheesecake Fat Bombs – With just 5 ingredients and less than 5 grams of carbs per serving, you'll be hard-pressed to find a more satisfying snack than these raspberry cheesecake fat bombs.
Keto Strawberry Cheesecake Bites – Few recipes can claim a rich and creamy cheesecake with the aesthetics to match, but this keto strawberry cheesecake recipe delivers each time.
Keto Cheesecake Fluff – Consider your life changed after trying my keto cheesecake fluff because the light and fluffy texture is just to die for.
FREE KETO RECIPES + 5-INGREDIENT KETO COOKBOOK

Make sure to sign up for free to get instant access to the 5-Ingredient Keto Cookbook, which includes my favorite 20+ keto recipes of all-time, all under 5 ingredients.