Keto Recipes
Low Carb Keto Coffee Cake with a Crumble Top
Before you drink your morning coffee (or maybe even some bulletproof coffee), make sure to try out this recipe for keto coffee cake. It has a strong coffee flavor throughout that pairs well with some black coffee or lightly sweetened coffee. This coffee and cake pairing contains some high quality fats that will help keep your intake nice and high in an incredibly tasty way. This low carb keto coffee cake with a crumble top is baked with a terrific mix of high quality fat heavy ingredients and the brilliant topping offers a ton of flavor thanks to the use of cinnamon and pecans. It's of course kept totally keto-friendly as well by passing on some of the typical ingredients used to make a coffee cake like sugar and all-purpose flour. Instead you'll be using some rather tasty low carb alternatives.

Low Carb & Full of Flavor
The first few low carb ingredient alternatives that you'll be using in this coffee cake recipe include almond flour and coconut flour instead of refined wheat flour. You'll be mixing both types of keto-friendly flour with a bit of cinnamon, baking powder, and a pinch of salt. I love using both of them together in this recipe as they're each excellent sources of healthy fats, dietary fiber, protein, and other essential nutrients. Coconut flour is an especially good baking option for individuals who either have or are at risk for type 2 diabetes due to the fact it's so high in fiber while also being quite low on the glycemic index. (1)
As usual when baking a cake, you'll need to prepare a 'wet' mixture in addition to the dry mix of flours. For this coffee cake, you'll start by beating together four eggs with a low carb sweetening option like Stevia for 3-5 minutes. Using Stevia helps to add an all-natural sweet taste to the mix while still remaining sugar-free. It's actually perfect for keto baking. Next, reduce the speed to low and gradually add in your fat heavy ingredients: the heavy cream, melted butter, and cream cheese. I've got two quick tips for you guys for this part. First, make sure to use cream cheese that has been sitting at room temperature for a little while as it will be much easier to mix. Second, you should always aim to use grass-fed butter in all of your keto recipes due to its higher concentration of antioxidants and omega-3 fatty acids. (2)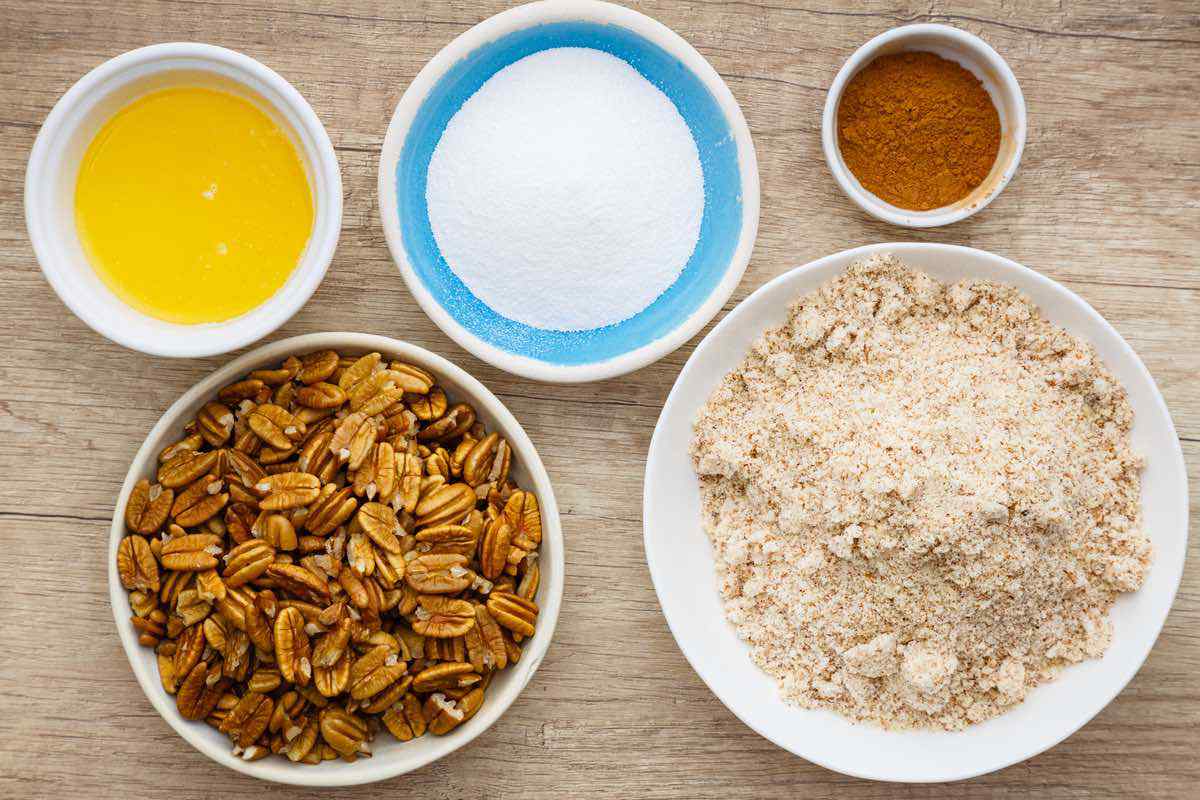 Preparing the crumble topping for your cake is rather straightforward as well. It's a simple matter of placing the almond flour, toasted pecans, ground cinnamon, Stevia, and more melted butter into a food processor and processing them until they form a thick mixture of large, coarse crumbs. Not only is this crumble top incredibly tasty, but it's also super good for you as well.
It's no surprise that much like other types of nuts, pecans are full of heart healthy fats. Studies have even found that pecans can lower the 'bad' type of LDL cholesterol, which can help to lower your risk of heart disease. (3) After combining your dry flour mixture with the cream cheese mix, pour the batter into your baking pan and then sprinkle the crumb top over it and then simply bake the cake for about 45 minutes.
More Good Keto Cake Recipes
Print Recipe
Low Carb Keto Coffee Cake with a Crumble Top
Author: Bree - KetoPots.com
Prep Time:

20 minutes

Cook Time:

45 minutes

Total Time:

1 hour, 5 minutes

Yield:

1

2

1

x
FREE KETO RECIPES + 5-INGREDIENT KETO COOKBOOK

Make sure to sign up for free to get instant access to the 5-Ingredient Keto Cookbook, which includes my favorite 20+ keto recipes of all-time, all under 5 ingredients.
Scale
For the cake:
1 cups almond flour
½ cup coconut flour
1 tsp cinnamon
1 tsp baking powder
pinch of salt

4 eggs
1/3 cup granulated Stevia or other low carb granulated sweetener
4 oz heavy cream
2 oz cream cheese, softened
2 tbsp butter, melted
1 tsp vanilla extract
For the topping:
1 cup almond flour
1 cup pecans, toasted
6 tbsp butter, melted
1/3 cup granulated Stevia or other low carb granulated sweetener
2 tsp ground cinnamon
Preheat oven to 350°F.
Line an 8 inch springform pan with parchment paper. Set aside.
In a bowl combine the almond flour, coconut flour, baking powder, cinnamon and pinch of sat. Set aside.
In the bowl of a stand mixer fitted with the whisk attachment beat the eggs and sweetener until pale and fluffy, about 3-5 minutes.
Reduce speed to low and add the melted butter, cream cheese and heavy cream.
Beat until smooth.
Switch to paddle attachment.
Slowly add the almond flour mixture and mix until well combined.
Pour the batter in the prepared pan.
To make the topping, place all the ingredients in a food processor and until the mixture forms large, coarse crumbs.
Sprinkle on top of the batter.
Bake for 45-50 minutes or until a toothpick inserted into the center comes out clean.
If the topping starts to get too dark, cover with foil.
Allow to cool completely before serving.