Keto Recipes
Fat Bomb Coconut Keto Ice Cream
What I am about to share with everyone today just might very well be my new all-time favorite ice cream recipe. I don't just mean my favorite keto ice cream recipe. I really mean this is potentially the best ice cream ever. Bold statement, I know. This fat bomb coconut ice cream recipe is packed full of delicious tropical flavors, tons of healthy fats, and it even has a surprising amount of protein as well. The end result is a keto ice cream recipe that you will definitely want to come back to again and again.

Tons of Fats + Tropical Flavor = One Amazing Frozen Treat
The very first thing that you'll want to do when making this ice cream is to place your egg yolks into a bowl with your choice of low carb sweetener (as always, I strongly recommend that you use Stevia). Whereas once upon a time, folks tended to shy away from the yolks of the eggs due to their fat and cholesterol content, we now realize that doing so was a mistake.
The yolks of the eggs are where you will find the vast majority of their nutrients. Granted, if you're an individual who is at risk of developing cardiovascular disease, you should keep your dietary cholesterol intake to a moderate amount. (1) The good news is that by following a keto diet, you can begin to dramatically reduce your risk of cardiovascular disease by losing excess weight. (2)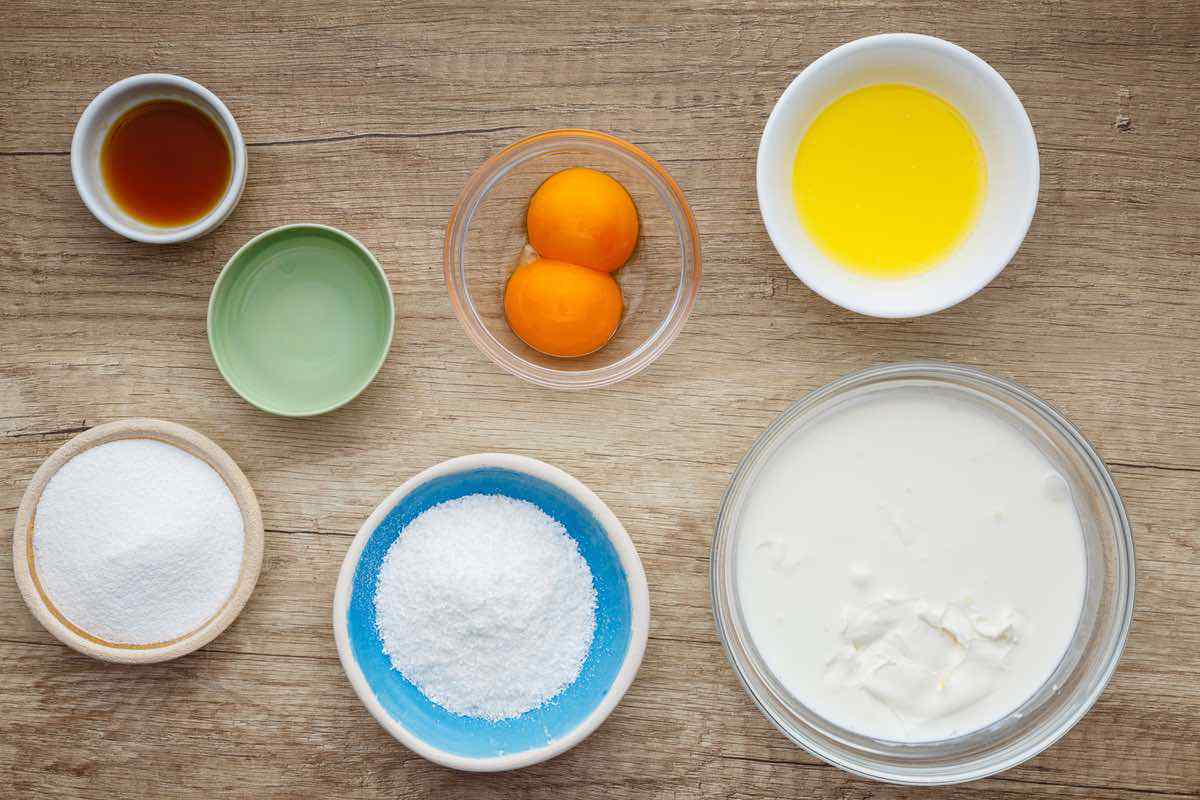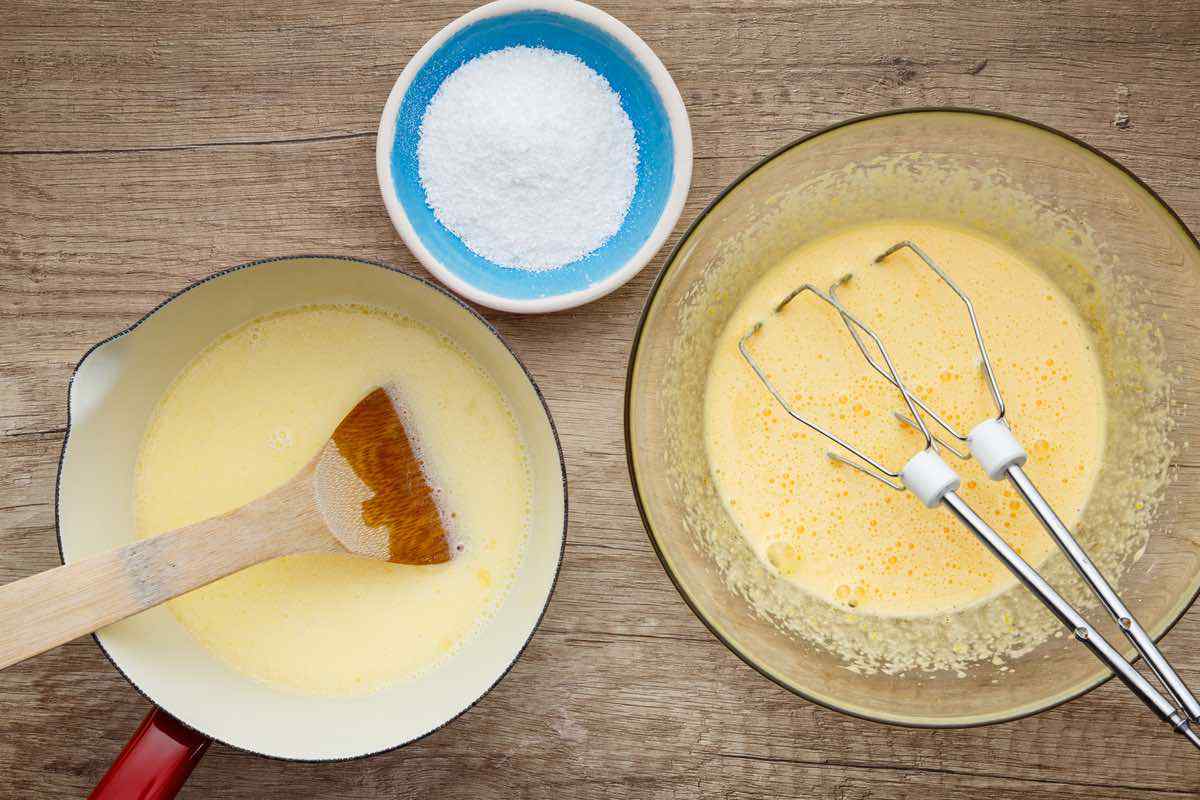 Healthy Fats from Medium-Chain Triglycerides
After mixing your egg yolks and sweetener together, turn your attention to heating up your heavy cream in a medium-sized saucepan. Once your cream is simmering, remove it from the heat and add in the MCT oil and vanilla extract, along with your melted coconut oil and grass fed butter or ghee. All of these ingredients are fantastic choices for helping to shift your body into ketosis if you aren't already in it, especially the MCT oil. Despite the fact that coconut fats are mainly comprised of saturated fats, these types of medium chain triglyceride (MCT) fatty acids they contain are actually quite beneficial when it comes to losing weight and improving overall blood cholesterol levels. (3)
Next, you're going to want to gradually add your cream mixture in with your egg yolk mixture before returning everything to the saucepan and cooking it over a medium heat again. Stir your combined mixture with a wooden spoon until it thickens enough to coat the back of it. Once the mixture has thickened enough, remove it from the heat and then add in your shredded coconut flakes. Not only does the shredded coconut help to add even more great tasting tropical flavor to your ice cream, but studies have also indicated that even just the flakes of coconuts are capable of lowering cholesterol in humans! (4)
In order to finish off this coconut ice cream recipe, you have two options. You can either transfer the mixture to a container and freeze it for a few hours so that it sets properly. The alternative method (and my personal preferred option) is to use an ice cream maker. Whatever method you decide on, you're going to feel like you're in heaven once you indulge in this tropical tasting frozen treat.
More Keto Ice Cream Recipes:
The Easiest No Churn Keto Ice Cream Ever (No Hassle)
Classic Keto Vanilla Ice Cream Everyone Will Love
Double Dark Chocolate Keto Ice Cream (Ridiculously Good)
Print Recipe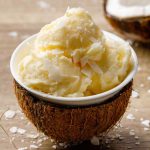 Fat Bomb Coconut Keto Ice Cream
Author:
Prep Time:

15 minutes

Cook Time:

10 minutes

Total Time:

25 minutes

Yield:

4

1

x
FREE KETO RECIPES + 5-INGREDIENT KETO COOKBOOK

Make sure to sign up for free to get instant access to the 5-Ingredient Keto Cookbook, which includes my favorite 20+ keto recipes of all-time, all under 5 ingredients.
Scale
¼ cup unsweetened finely shredded coconut
2 egg yolks
¼ cup or to taste granulated Stevia or other low carb granulated sweetener
1 cup heavy cream
2 tbsp melted grass fed butter or ghee
2 tbsp MTC oil
1 tbsp melted coconut oil
2 tbsp vanilla extract
In a bowl place the yolks and sweetener and beat until pale. Set aside.
In a medium saucepan bring the heavy cream to a simmer.
Remove from the heat, add the MTC oil, butter, vanilla extract and coconut oil and whisk to combine.
Gradually pour the warm heavy cream mixture into the egg yolks, whisking constantly.
Return the mixture to saucepan and cook over medium heat, stirring with a wooden spoon until it thickens enough to coat the back of a spoon.
Remove from the heat.
Add the shredded coconut and whisk to combine.
Cover with plastic wrap and let it cool completely.
Transfer to a refrigerator and chill for at least 4 hours, or overnight.
Pour the mixture into an ice cream maker and freeze according to the manufacturer's instructions.
Notes
If you don't have an ice cream maker, transfer the mixture to a container and freeze for minimum 4 hours or until set.
When ready to serve, thaw for 5-10 minutes then scoop with an ice cream scoop.