Keto Recipes
Chocolate Dipped Keto Coconut Fat Bombs
Ever since the very first day that I started my keto diet, I learned to love pretty much all things coconut. It's such an easy way to quickly get some more fat calories in throughout the day. I used to add it in with my coffee and even just eat a spoonful of it whenever I felt a hunger pang. It's funny too because I used to not really like the taste of coconut, but nowadays, I can't get enough of it! If you're the same way and you enjoy the great tropical taste that coconut provides, then you're going to absolutely love this recipe for making chocolate dipped keto coconut fat bombs. Everything in this recipe from the homemade chocolate glaze to the yummy fat bombs themselves are packed full of coconut and other great healthy fat sources.
A Coconut Lovers Delight
These coconut fat bombs get most of their delicious coconut flavoring from the use of two different sources of coconut — finely shredded unsweetened coconut and coconut oil. Both of these ingredients provide a nice amount of saturated fats in the form of medium chain triglyceride (MCT) fatty acids. MCT fats are known to offer quite a few great benefits compared to other types of saturated fats, so much so that even just shredded coconut flakes have been shown to lower the bad kind of LDL cholesterol in individuals with moderately raised serum cholesterol levels. (1)
You'll be taking these two ingredients and adding them into a food processor along with some butter, vanilla extract, a pinch of salt, and either Stevia or some other low carb granulated sweetener. Process everything until it's well combined and then roll them into balls before throwing them in the freezer for about 30 minutes.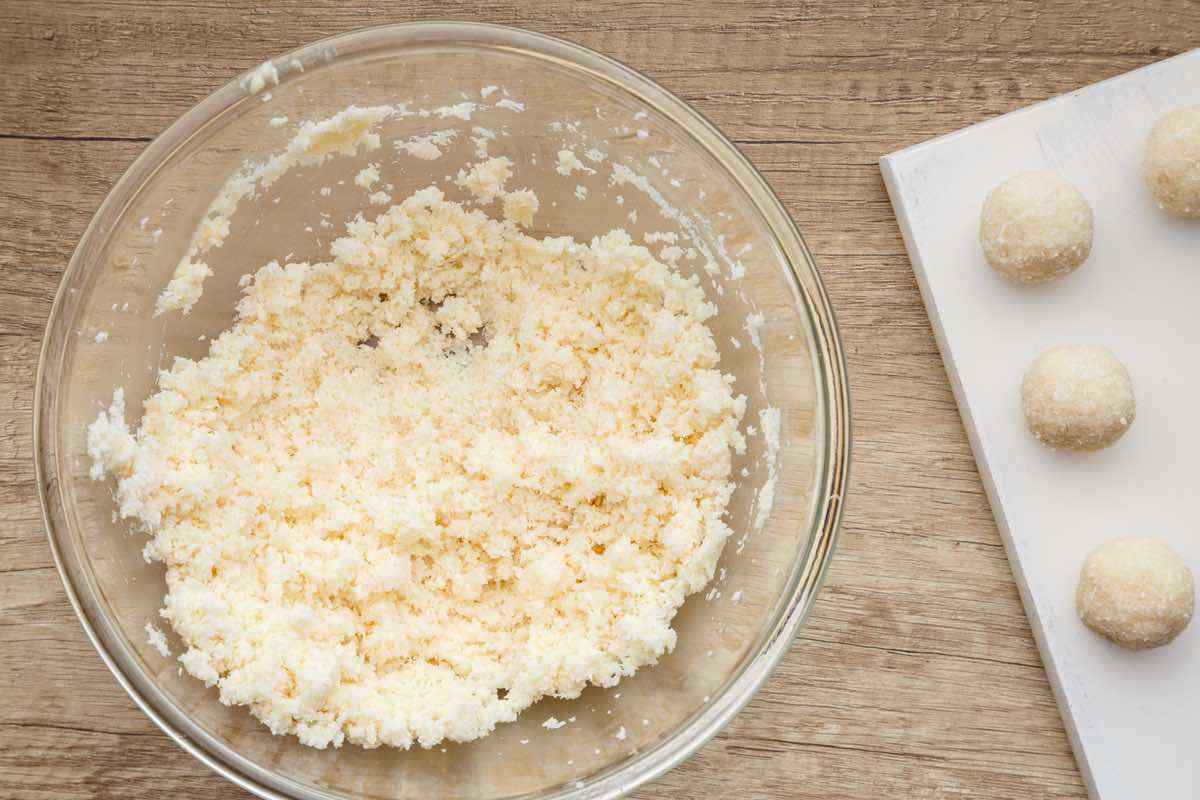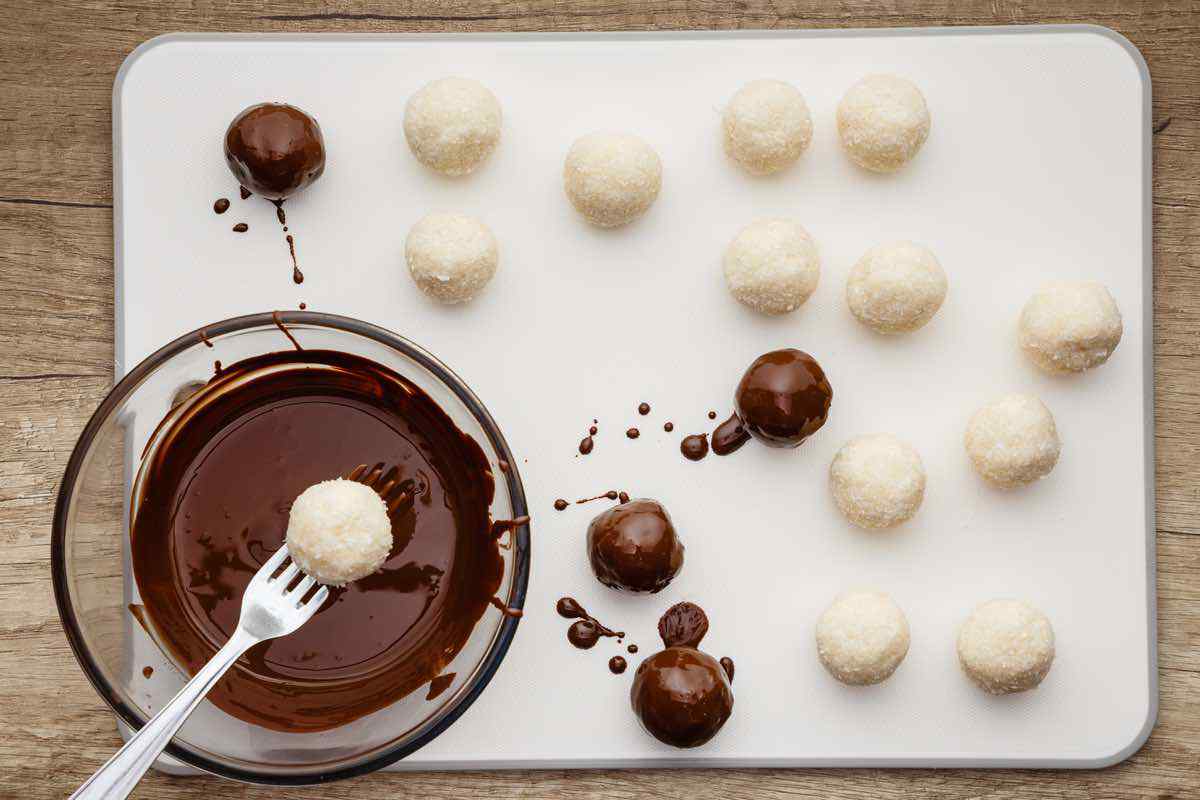 While your coconut fat bombs are in the freezer, you can go ahead and make the homemade chocolate glaze by melting together some more coconut oil together with the dark chocolate. This is my favorite way to make a glaze for fat bomb recipes because it's so simple to prepare and it adds two excellent sources of healthy fats to the fat bombs. And especially for this particular recipe, it adds even more of a delightful coconut taste to the recipe. It meshes well the the slightly bitter taste of the dark chocolate, which also offers some solid benefits as it's a rich source of antioxidants. One study actually found that regular consumption of small amounts of dark chocolate was able to lower inflammation. (2) Considering that chronic inflammation is at the root of many types of disease, this chocolate glaze is an amazingly tasty way to help lower your disease risk.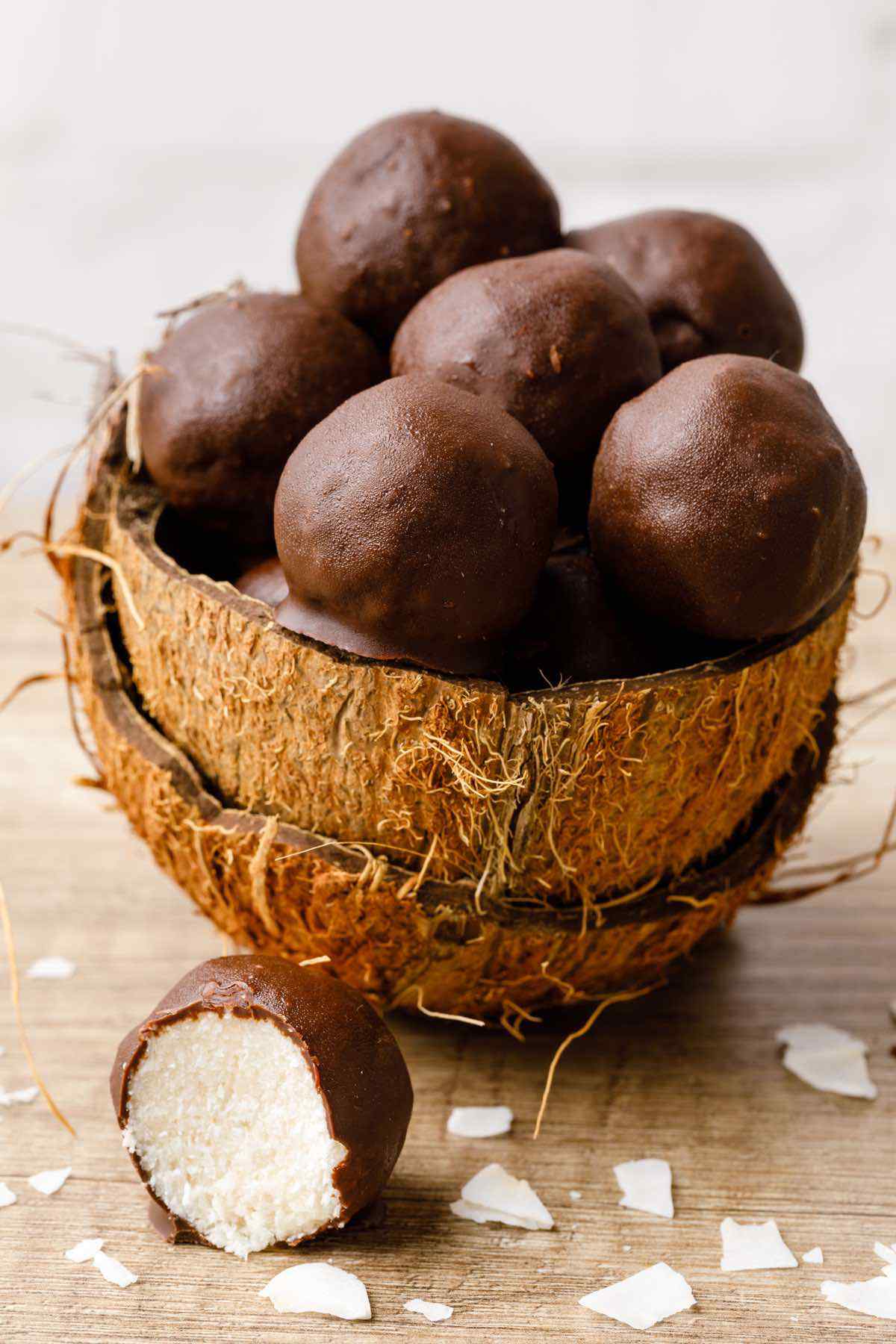 After taking the coconut fat bombs out of the freezer, use two forks to dip each of them into the chocolate glaze and then freeze them again until the chocolate sets. I love making this recipe because these fat bombs are incredibly yummy and they're such a convenient snacking option to enjoy when you're feeling hungry and looking for something that's high in fat. I strongly recommend this recipe for anyone out there who's already a big fan of coconuts — it could very well become your new favorite keto snack!
More Keto Fat Bomb Recipes:
Mind-Blowing Chocolate Chip Cookie Dough Fat Bombs
Raspberry Cheesecake Fat Bombs (Holy Yumoly)
Keto Peppermint Patty Fat Bombs (Addictive and Refreshing)
The Best Peanut Butter and Chocolate Keto Fat Bombs (Try These)
Keto Buttercream Fat Bombs (Creamy Deliciousness)
Print Recipe
Chocolate Dipped Keto Coconut Fat Bombs
Author:
Prep Time:

15 minutes

Cook Time:

3 minutes

Total Time:

18 minutes

Yield:

1

4

1

x
FREE KETO RECIPES + 5-INGREDIENT KETO COOKBOOK

Make sure to sign up for free to get instant access to the 5-Ingredient Keto Cookbook, which includes my favorite 20+ keto recipes of all-time, all under 5 ingredients.
Scale
For the balls:
1 ½ cup finely shredded unsweetened coconut
¼ cup coconut oil
¼ cup butter
2 tsp vanilla extract
2 tbsp granulated Stevia or other low carb granulated sweetener
pinch of salt

For the chocolate glaze:
4 oz sugar-free dark chocolate
1 ½ tsp coconut oil
To make the balls, place the shredded coconut, coconut oil, butter, vanilla extract and sweetener in a food processor and process until combined.
Roll the coconut mixture into balls and freeze for 30 minutes.
To make the glaze, melt the chocolate and coconut oil together, in a double broiler or microwave, until smooth. If you microwave, stir every 30 seconds until the chocolate mixture is completely smooth.
Let it cool slightly.
Remove the balls from the freezer.
Use two forks to dip each ball into the chocolate.
Shake a little to let the excess chocolate drip.
Pop the balls back into the freezer until the chocolate sets.
Keep refrigerated in an airtight container until serving.