Keto Recipes
Gooey (And Fluffy) Keto Cinnamon Rolls with Cream Cheese Icing
What's your favorite baked sweet? Is it banana bread? Chocolate chip muffins? Maybe a freshly baked batch of cookies warm out of the oven? For me, it's always been cinnamon rolls. I've loved cinnamon rolls ever since I was a kid growing up, and to this day, they're still my all time favorite. Even when I switched over to the keto diet, one of the first things that I did was look for a recipe for keto cinnamon rolls.
The one that I'll be sharing today is hands down the best keto cinnamon roll I've tried, so if you're craving, you've come to the right place!
Low Carb Cinnamon Rolls Are the Best Kind of Cinnamon Rolls
There's nothing better than having your cake and eating it too. With this recipe, you get the best of both worlds because it's completely guilt-free but absolutely satisfying.
I have to admit that even I was quite impressed with how well these cinnamon rolls turn out. In all honesty, I think that mainly comes down to using some incredibly smart ingredient choices in order to keep this recipe 100% keto friendly.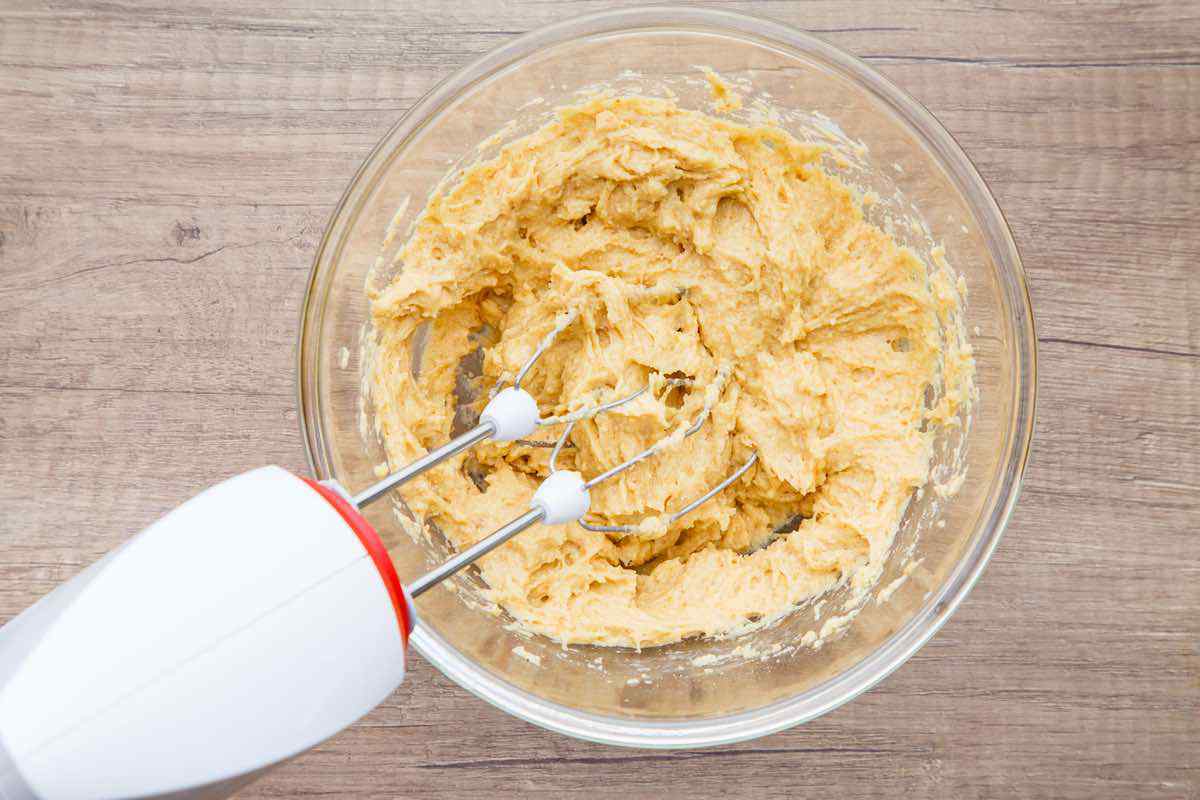 When making the cinnamon roll dough, you'll start out by combining one tablespoon of active dry yeast in a bowl with another tablespoon of maple syrup, three tablespoons of warm water, and four tablespoons of warm heavy cream. Cover the bowl with a towel and leave it in a warm place for between 5-7 minutes to allow the dough to rise.
Once the dough rises and turns kind of bubbly, you can then grab a separate bowl and combine ⅓ cup of coconut flour, ¼ cup of granulated Stevia (or your preferred low carb sweetener), 18 tablespoons of almond flour, three tablespoons of flax meal, two teaspoons of baking powder, and a single teaspoon of xanthan gum.
In a third bowl, take three large eggs, two tablespoons of softened butter, three teaspoons of apple cider vinegar, and two teaspoons of pure vanilla extract and combine them all.
You can then slowly add your active yeast mixture and your egg mixture in with the almond flour mixture, beating everything constantly. Take the dough and place it on top of lightly oiled cling film, wet your hands, and spread it into a ¼" thick rectangle.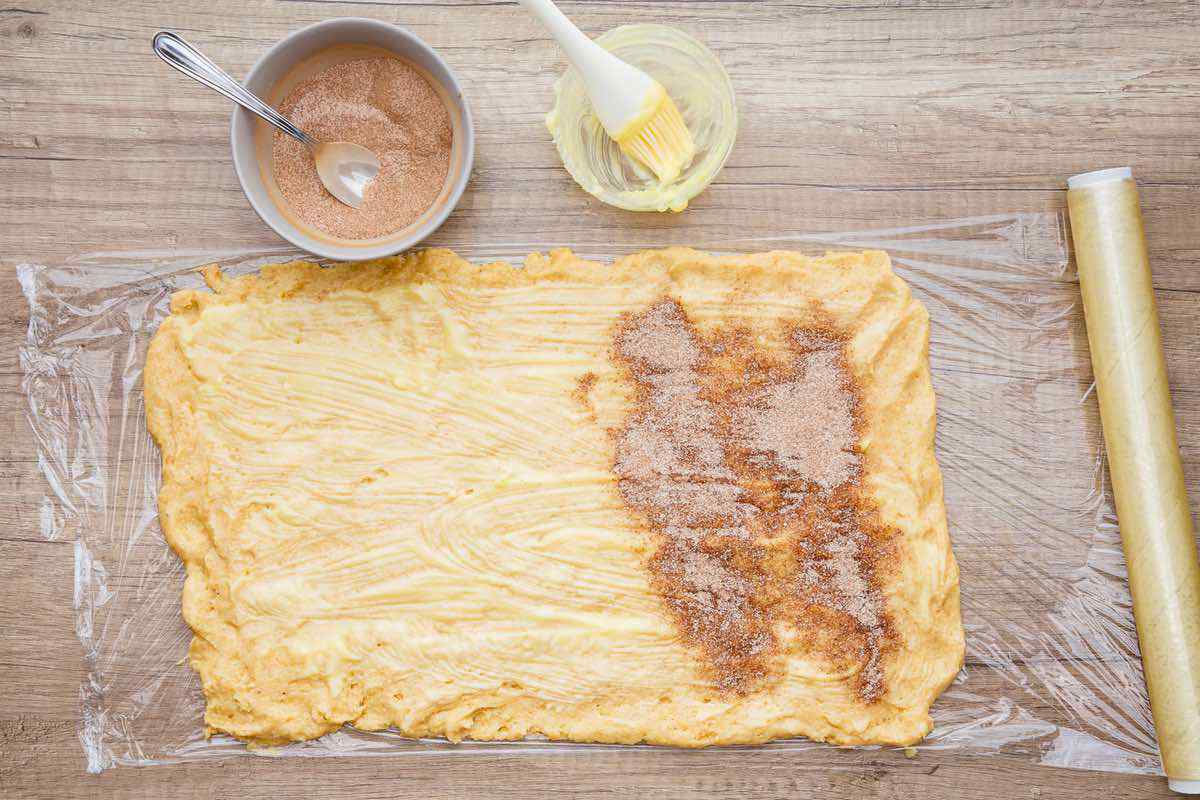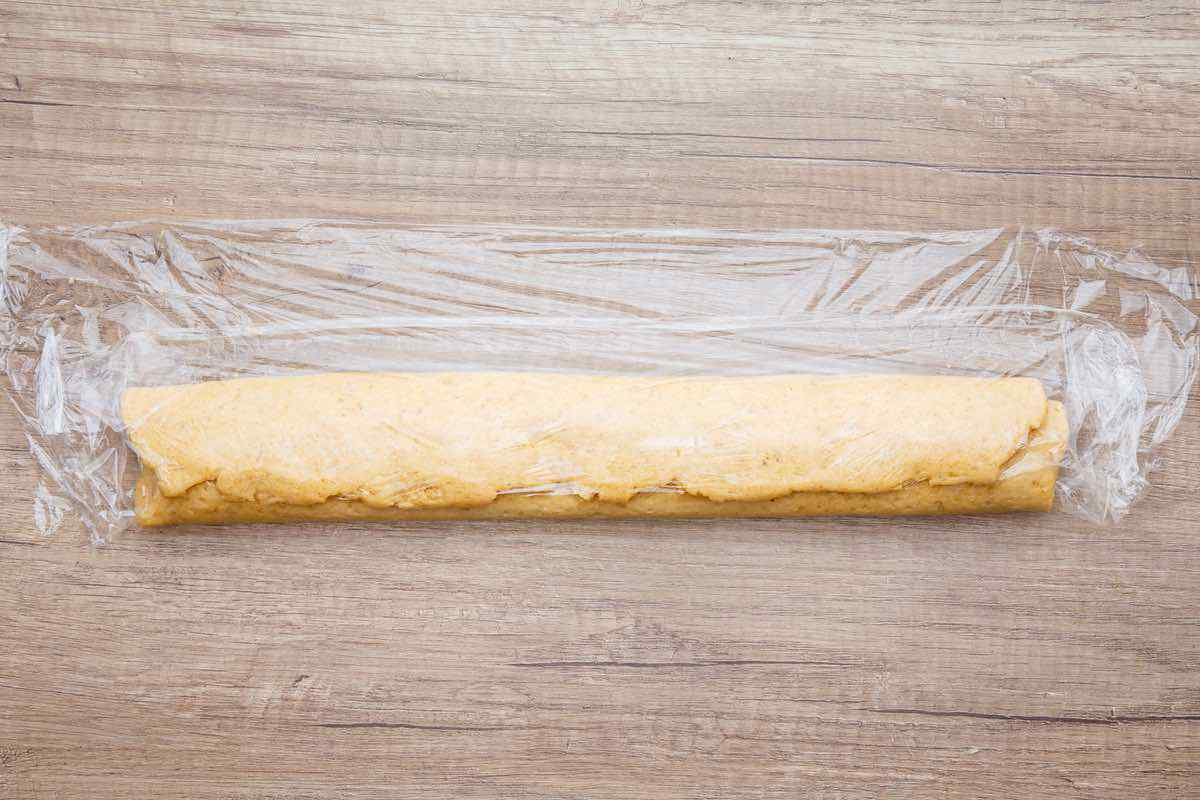 A Tasty Homemade Filling & DIY Cream Cheese Frosting
Once you've gotten the cinnamon roll dough out of the way, you can prepare the homemade filling by combining two tablespoons of ground cinnamon with four tablespoons of Stevia in a small bowl. Brush your prepared dough with a bit of softened butter and then sprinkle it with the cinnamon mixture.
You can now use the cling film as an aid to roll the dough into a tight log, sealing it with your wet fingers. Cut the log into approximately 13 equal pieces and then transfer the rolls to an 8×8 pan lined with parchment paper. You'll then want to once again cover the dough with a towel and let it rise in a warm location until the dough doubles in size.
While you're waiting for the dough to rise, you can go ahead and preheat your oven to 400°F. Once you're ready to throw them in the oven, bake the cinnamon rolls for 17-25 minutes or just long enough for them to turn golden brown.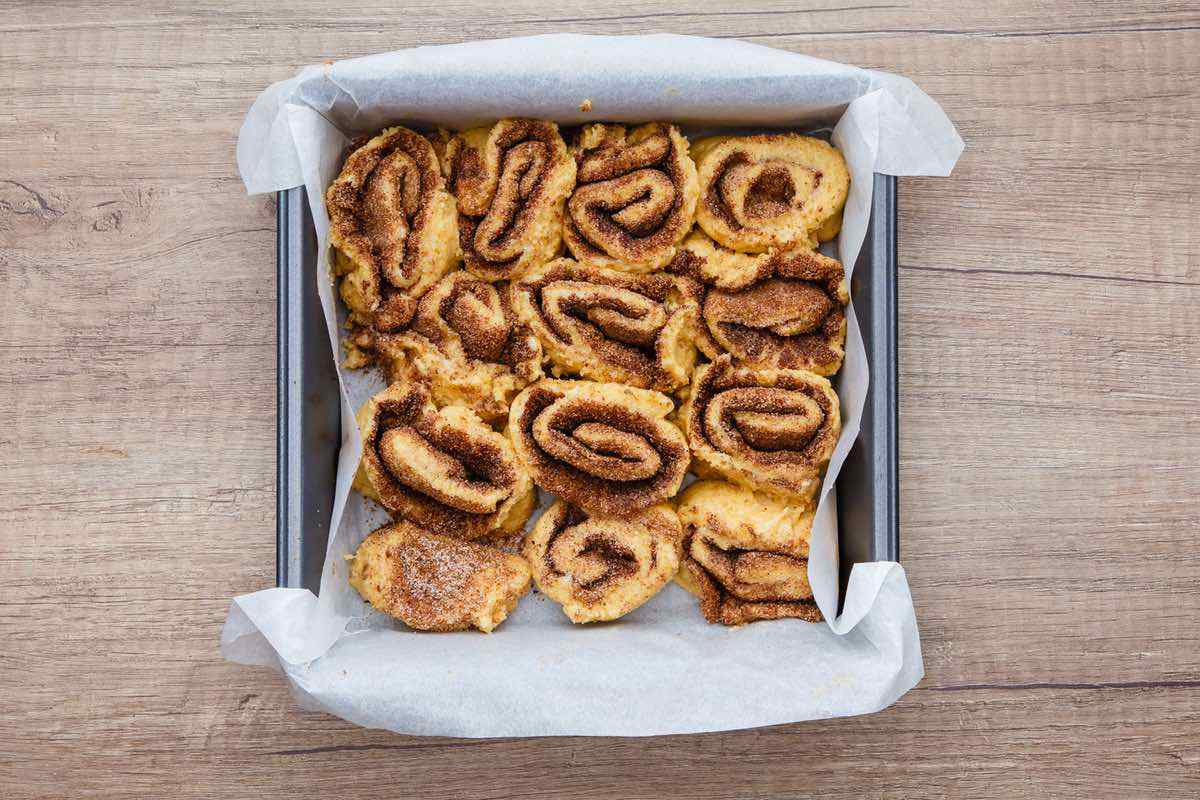 While the cinnamon rolls are baking, you can feel free to make the cream cheese frosting by combining two ounces of softened cream cheese, two tablespoons of softened butter, two tablespoons of Stevia, one teaspoon of vanilla extract, and two tablespoons of heavy whipping cream in a bowl. Whisk it all together until it's well combined and then spread your frosting over top of the cinnamon rolls before serving them.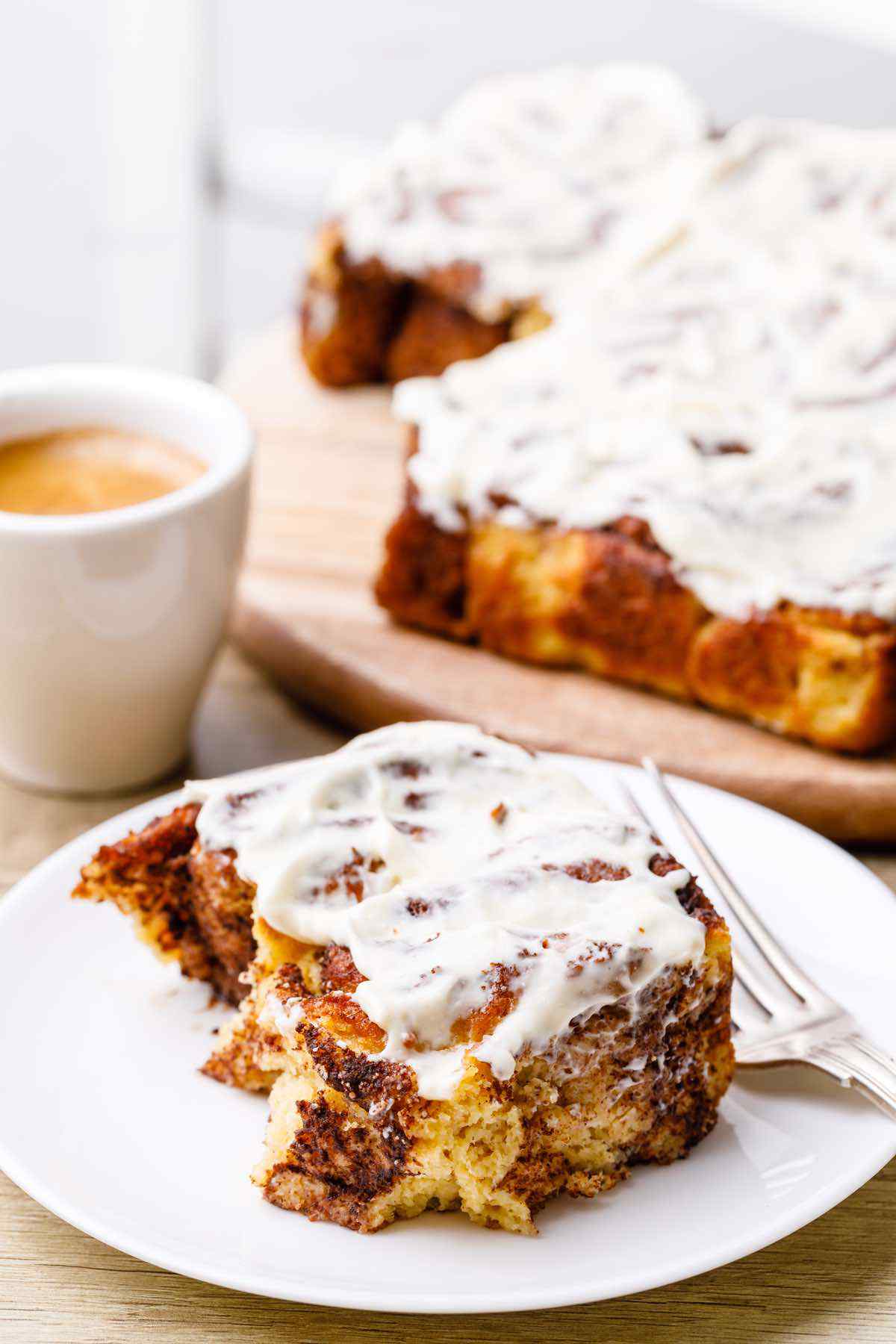 Do I Need to Wait for the Dough to Rise?
Yes, this is an important step in the process and will greatly affect the texture of your cinnamon roll, so be sure to allot enough time for this. If you don't give your dough enough time to rise before baking, you could end up with dense, overly firm cinnamon rolls.
My Cinnamon Rolls are Undercooked in the Center
If your cinnamon rolls are a little undercooked in the center, don't worry because there are easy fixes for that. You can try to make your rolls a little smaller by cutting the dough into 14 equal pieces instead of 13. You could also try a 10×10 inch pan instead of an 8×8 inch pan. Finally, try baking it for another 1-3 minutes, keeping a close eye on it and checking every minute or so.
Print Recipe
Gooey (And Fluffy) Keto Cinnamon Rolls with Cream Cheese Icing
Author:
Prep Time:

30 minutes

Cook Time:

20 minutes

Total Time:

50 minutes

Yield:

1

3

1

x
FREE KETO RECIPES + 5-INGREDIENT KETO COOKBOOK

Make sure to sign up for free to get instant access to the 5-Ingredient Keto Cookbook, which includes my favorite 20+ keto recipes of all-time, all under 5 ingredients.
Scale
1 tbsp active dry yeast
1 tbsp maple syrup 
3 tbsp warm water
4 tbsp heavy cream, warmed 
18 tbsp almond flour 
1/3 cup coconut flour
1/4 cup granulated Stevia or other low carb granulated sweetener 
3 tbsp flax meal
2 tsp baking powder
1 tsp xanthan gum
3 large eggs, room temperature
2 tbsp softened butter
3 tsp apple cider vinegar
2 tsp vanilla extract
Filling:
1/4 cup butter, softened
4 tbsp granulated Stevia or other low carb granulated sweetener 
2 tbsp ground cinnamon
Cream Cheese Frosting:
2 oz softened cream cheese
2 tbsp softened butter
2 tbsp granulated Stevia or other low carb granulated sweetener 
1 tsp vanilla extract
2 tbsp heavy whipping cream
In a small bowl combine the active dry yeast, maple syrup, warm water and heavy cream. 

Cover it with a kitchen towel and let it rise in a warm place for 7-10 minutes. 

The mixture should be bubbly. 

In a large bowl combine the coconut flour, almond flour, sweetener, flax meal, baking powder, and xanthan gum. 

In another bowl combine the eggs, butter, apple cider vinegar and vanilla extract. 

Slowly add the yest mixture and egg mixture to the almond flour mixture, beating constantly. 

Place the dough on top of lightly oiled cling film. 

Spread with your wet hands into a 1/4-inch-thick rectangle.

 

To make the filling, in a small bowl combine the cinnamon and sweetener. 

Brush the dough with softened butter. 

Sprinkle with cinnamon mixture. 

Using the cling film as an aid, roll the dough up into a tight log. 

Seal the edge with wet fingertips.

Cut the log into 13 equal pieces.

Transfer the rolls to an 8x 8 inch pan lined with parchment paper.  

Cover it with a kitchen towel and let it rise in a warm place until the dough has almost doubled in size.

Preheat oven to 400°F while the dough is proofing.

Bake the rolls in preheated oven for 17-25 minutes or until golden brown.

Remove the rolls from the oven. 

To make the frosting, add all the ingredients in a bowl and whisk until well combined. 

Spread the frosting on the rolls and serve.