Keto Recipes
Easy 4-Ingredient Keto Chocolate Shake
The keto recipe that I'm about to share with you guys is probably the easiest keto shake recipe of all time. Don't let that fool you though — this 4-ingredient chocolate shake is unbelievably yummy and it's definitely well worth your time. Just as the name suggests, it's made with only four simple ingredients that all work together to produce a delicious low carb keto shake. The beauty of this recipe also lies in how easy it is to tweak it according to your needs. Want more protein in your shake? Just mix in some protein powder. Looking to up the fat content? No problem — just add a few extra fat-heavy ingredients like cocoa butter. Those suggestions are all totally optional though, as this shake easily stands on its own as one of the best tasting keto shakes you'll ever try.

A Little Taste of Heaven
I'm sure that you're all well aware by now how much I just love simplicity when it comes to my recipes. If a recipe is super easy to follow while still producing amazing results, then I'm all over it. That's precisely what this 4-ingredient chocolate shake recipe manages to do — just add some heavy cream, unsweetened almond milk, cocoa powder, and Stevia into a blender with some ice cubes. That's literally all you have to do! Blend it all together and get set to enjoy a delicious chocolate shake that's actually good for you.
Wondering what makes this chocolate shake so healthy? First off, the use of cocoa powder provides you with an abundance of antioxidants and anti-inflammatory compounds that help to prevent diseases and decrease insulin resistance. (1) Second, using Stevia as a low carb sweetener instead of refined sugar means that you can enjoy a yummy chocolate shake that won't contribute to obesity, tooth decay, or diabetes, as sugar is known to do. (2)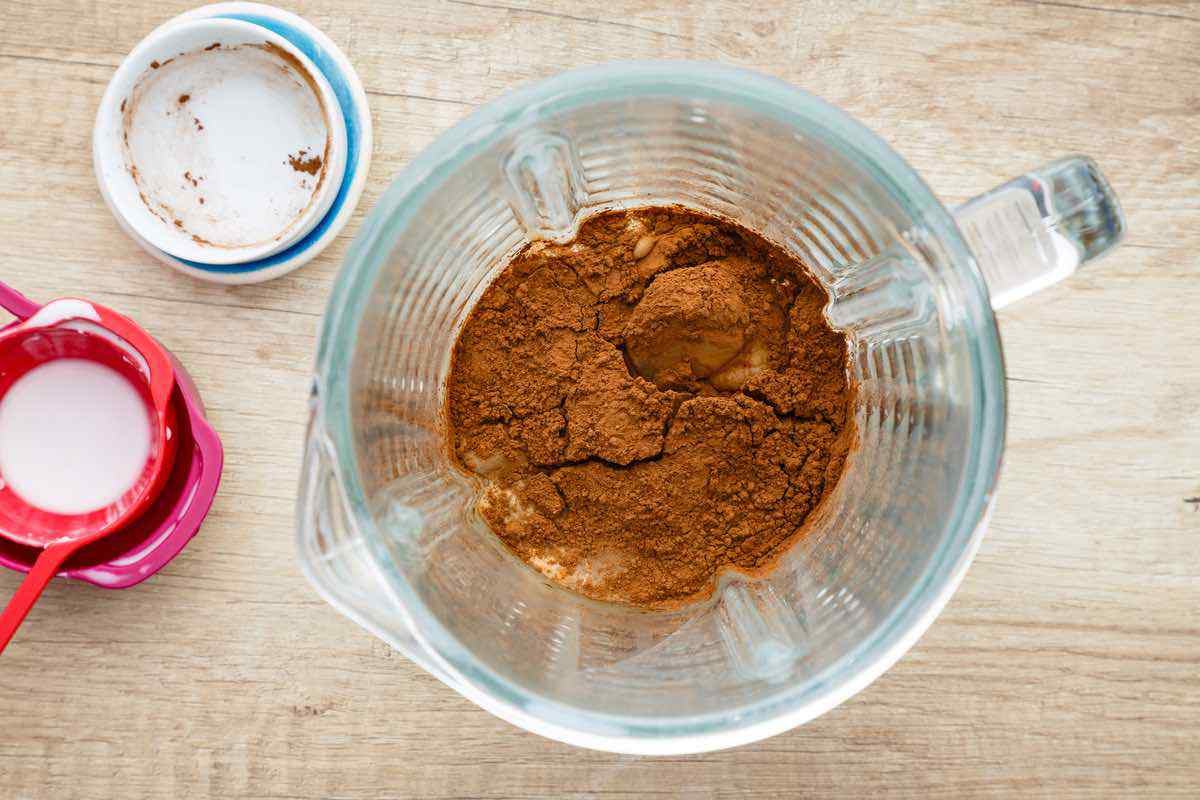 If you're also looking for some recommendations on either upping the protein or fat content of this recipe, I've got you covered there as well. To turn this tasty treat into a pre or post-workout protein shake, you can simply add in some keto-friendly chocolate protein powder. I recommend a chocolate powder made specifically for keto dieters that includes both grass-fed collagen and MCT powder, which you can buy here.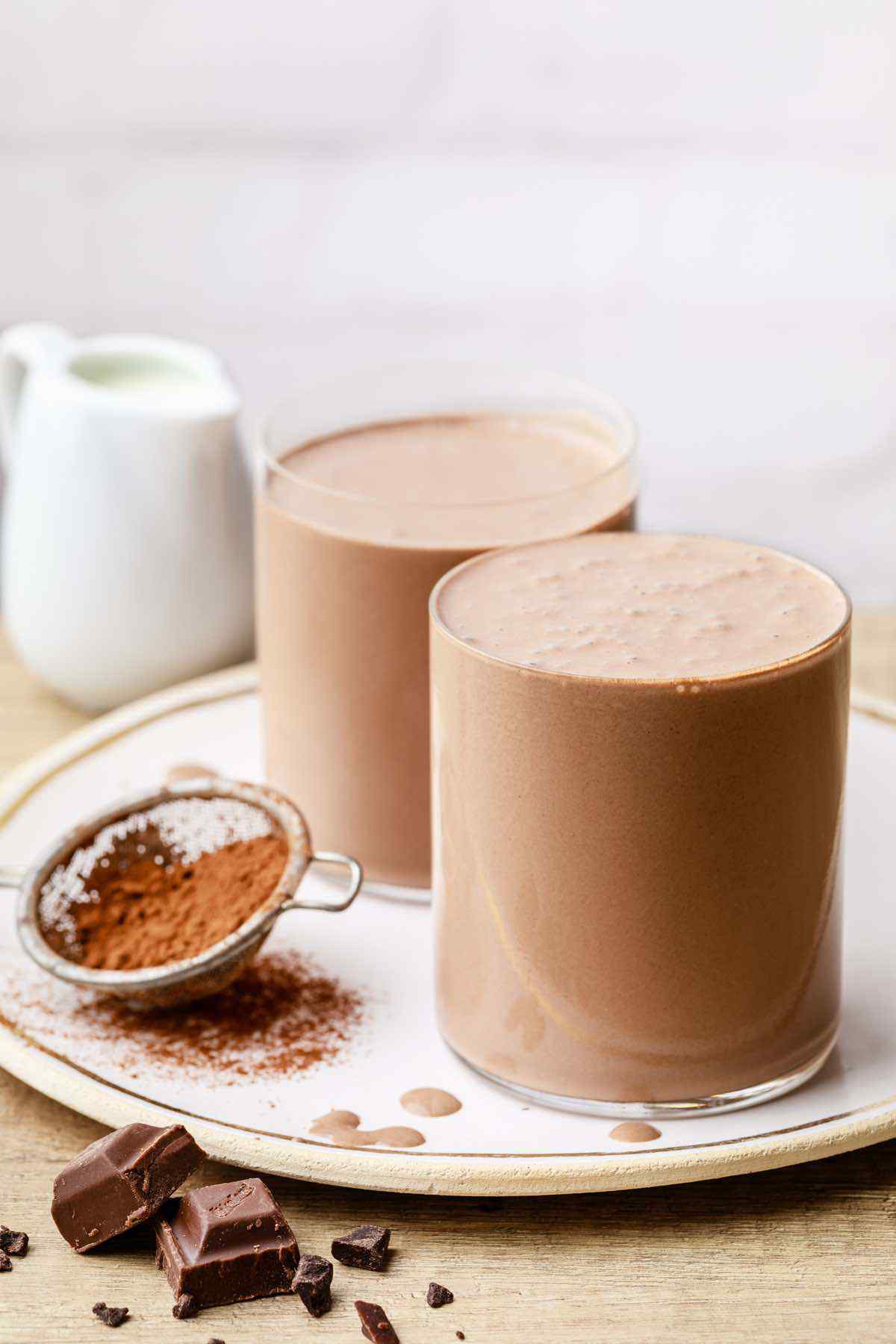 As far as increasing the fat content to make it even more keto-friendly, you've got quite a few options. Keeping with the chocolate theme, I would recommend adding some cocoa butter into the mix, or even some chocolate chips. We actually have a low carb and sugar-free homemade chocolate chips recipe that would make a perfect addition to this shake. Try it out!
More Keto Protein Shake Recipes:
Mocha Frozen Latte Keto Shake for Energy
Cinnamon, Blueberry and Almond Butter Keto Breakfast Shake
Quick and Easy Protein-Packed Keto Vanilla Shake
Raspberry Chocolate Keto Protein Shake – Low Carb Chocolate Goodness
Print Recipe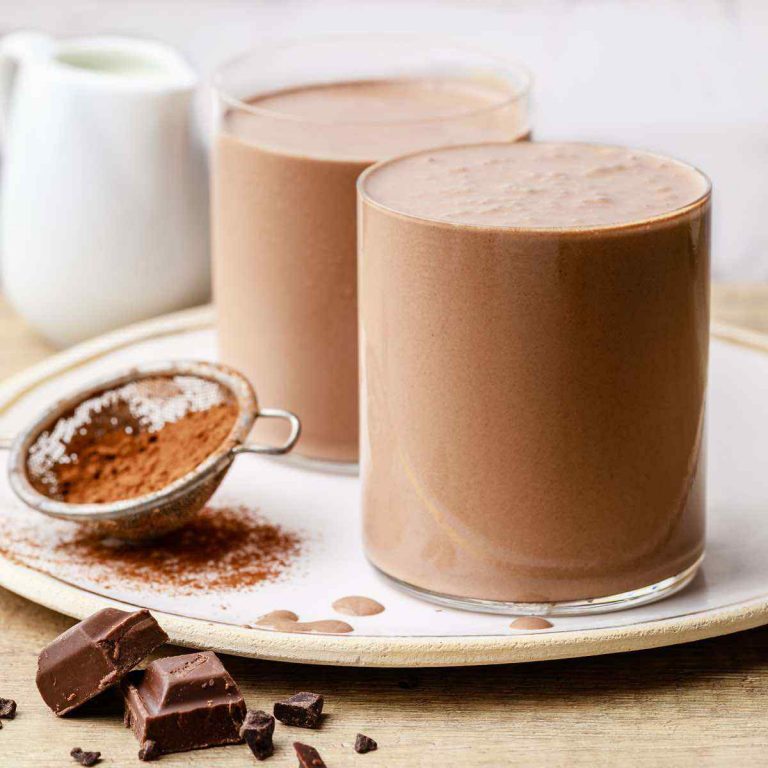 Easy 4-Ingredient Keto Chocolate Shake
Author: ketopots.com
Prep Time:

5 minutes

Total Time:

5 minutes

Yield:

1

1

x
Scale
1/3 cup heavy cream
½ cup unsweetened almond milk
3 tbsp cocoa powder
1 ½ tsp granulated Stevia sweetener or to taste
½ cup ice cubes
Place all the ingredients in a blender and blend until smooth.
Serve immediately.
FREE KETO RECIPES + 5-INGREDIENT KETO COOKBOOK

Make sure to sign up for free to get instant access to the 5-Ingredient Keto Cookbook, which includes my favorite 20+ keto recipes of all-time, all under 5 ingredients.