Keto Recipes
Raspberry Chocolate Keto Protein Shake – Low Carb Chocolate Goodness
Protein shakes are pretty much a gift from the gods as far as I'm concerned. They're a fantastic way to quickly and easily replace one of your meals if you live a busy, hectic lifestyle. And I can't think of any more convenient way to consume a solid amount of protein in a delicious way either before or after your workout than by making a tasty shake. Today I'm going to be sharing a raspberry chocolate keto protein shake recipe that's completely free of any unhealthy additives. You'll be using real frozen raspberries, cacao powder, and a few other terrific keto-friendly ingredients to make a yummy low carb shake that's full of protein and essential nutrients.

Chocolate & Raspberry Delight
Pretty much the only downside that I can think of when it comes to protein shakes is that all too often, some people tend to get just a little bit excessive when making them. They'll throw in pretty much everything but the kitchen sink in an effort to make a quick and easy meal replacement. As you can imagine, this usually leads to weight gain that accumulates in all the wrong places!
If you're going to be including protein shakes as part of your keto diet, it's imperative that you only use high quality ingredients and never go overboard. That's where we're here to help with fantastic recipes like this one. Using frozen raspberries is a great way to naturally sweeten your shake in a way that offsets the slightly bitter chocolate flavor provided by the cacao powder. They're also great for adding a good amount of disease-fighting antioxidants into your shake. In fact, red raspberries have demonstrated antioxidant effects that specifically help to kill stomach and colon cancer cells. (1)
Along with the raspberries, this recipe also uses liquid Stevia as an all-natural, zero calorie sweetening option. Both of them work incredibly well when paired with the cacao powder. While the cacao does indeed taste slightly bitter, it also adds a ton of nutritional value to this shake. The biological compounds found in cocoa and cacao products have been found to help with everything from lowering cholesterol levels, to increasing insulin sensitivity, and even helping to prevent neurodegenerative diseases. (2)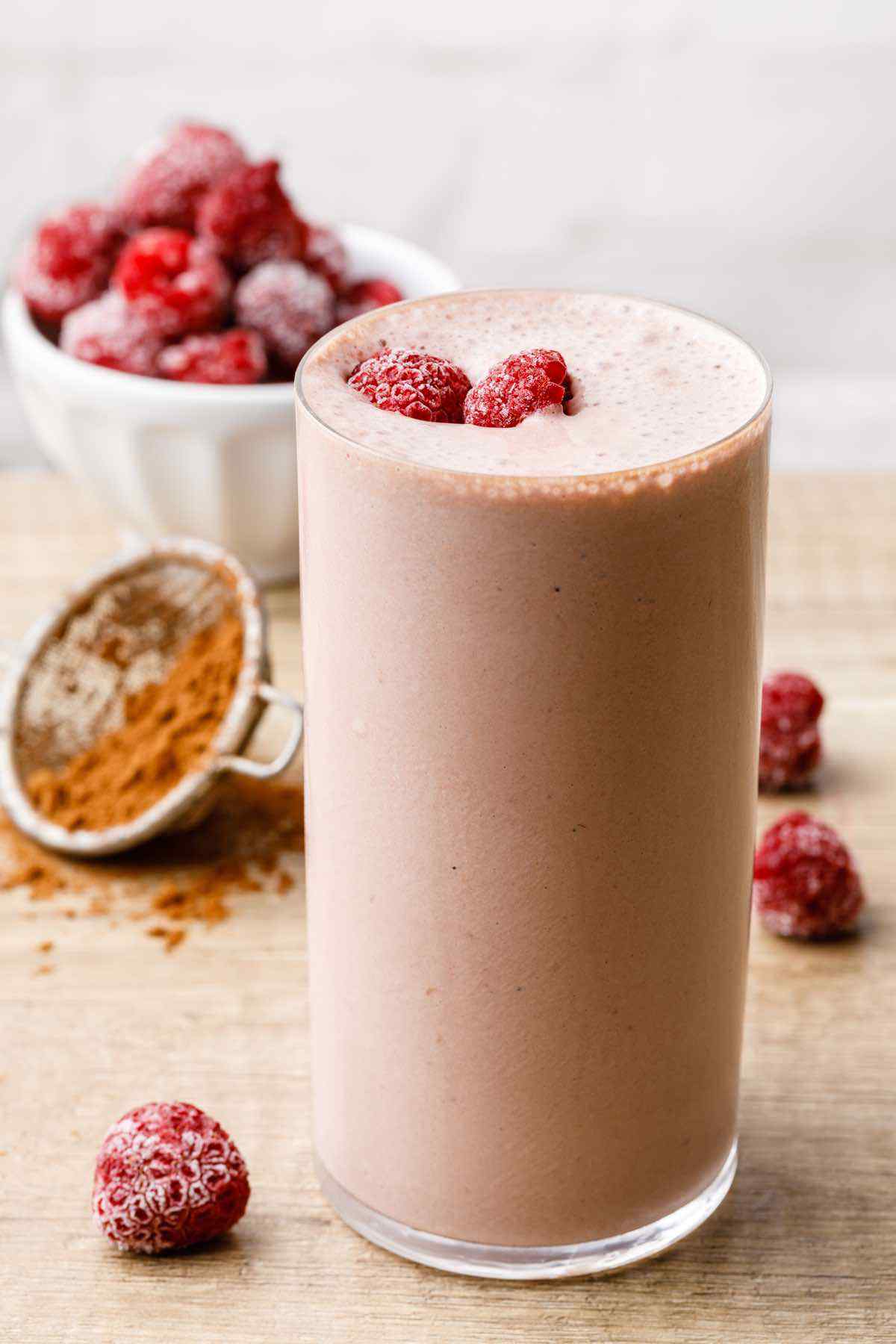 The recipe also recommends using unsweetened almond milk, but it's also perfectly acceptable to use either a sweetened version of even some full fat milk, especially if you'll be drinking this shake as a post-workout drink, when a slight insulin spike from their carb content is perfectly acceptable. (3) Using full fat milk is also a great way to add even more fat calories into this shake recipe, making it even more appealing for individuals on a keto diet.
Either way, you'll be adding some heavy cream into the shake anyway, which serves as a quality fat source that helps to thicken the consistency of your shake along with the raspberries. And of course, the final key ingredient to add in is your chocolate protein powder. If you're searching for a good protein powder to use, I would strongly recommend one specifically designed for the keto diet. You can purchase the brand that I use by clicking here. It's a delicious low carb protein powder with added MCT powder and grass-fed collagen–perfect for keto dieting!
Print Recipe
Raspberry Chocolate Keto Protein Shake
Author: ketopots.com
Prep Time:

5 minutes

Total Time:

5 minutes

Yield:

1

1

x
FREE KETO RECIPES + 5-INGREDIENT KETO COOKBOOK

Make sure to sign up for free to get instant access to the 5-Ingredient Keto Cookbook, which includes my favorite 20+ keto recipes of all-time, all under 5 ingredients.
Scale
¼ cup heavy cream
1/3 cup frozen raspberries
2/3 cup ice cubes
1 scoop (1oz) chocolate protein powder
1 tbsp cacao powder
½ cup unsweetened almond milk
liquid Stevia to taste
Place all the ingredients in a blender and blend until smooth.
Serve immediately.