Keto Recipes
The Best Gooey Keto Molten Chocolate Lava Mug Cake
Can you think of any more decadent dessert option than a molten chocolate lava cake? Even just thinking about the perfectly gooey center of melted chocolate surrounded by a moist chocolate crust is enough to get my mouth watering. I just knew I had to find a way to take this luscious dessert and make it keto-friendly. This gooey keto molten chocolate lava mug cake is the end result of that endeavor. It packs the delicious flavor of a molten lava cake into a quick and easy to make mug cake recipe. You'll be getting a double-whammy of chocolatey goodness in a totally healthy way thanks to the use of both sugar free dark chocolate and cacao powder. And of course, considering that this is a keto recipe, the rest of the ingredients are 100% free of sugar and flour as well!
A Decadent Overload of Chocolatey Goodness
The very first thing that you'll be doing when making this mug cake is preparing your ooey gooey chocolate lava center. Not to worry though as that's the easiest part of an already super easy recipe — simply add the butter and sugar free dark chocolate into a microwave-safe ramekin and microwave them on high in 30 second intervals.
Both of these ingredients help to make sure that your chocolate lava is full of high quality fats that will leave you feeling satisfied after enjoying this dessert. The use of dark chocolate instead of a more sugary option like dairy milk chocolate provides some excellent benefits as well, as polyphenols found in dark chocolate have demonstrated some excellent antioxidant and anti-inflammatory properties. (1)
Some of you may be thinking that the antioxidant and healthy fat content of dark chocolate sounds great and all, but you're really not a fan of how bitter it can taste. Not to worry as the next step is to mix in a zero calorie sweetening option (I always recommend using Stevia) — it definitely helps to offset the slightly bitter taste a bit. You can also go ahead and mix in a single egg along with the heavy cream at the same time. Not only do they help to add more quality fats and essential nutrients into your cake mix, but they're the main ingredients responsible for holding everything together once you start to microwave it.
After beating the above ingredients until they're nice and smooth, the final step is to prepare your chocolate crust by adding in the cacao powder. I love using raw cacao as a healthy chocolate source because it tastes great and it's an absolute nutritional powerhouse. Much like the dark chocolate, raw cacao powder contains cocoa polyphenols that have potential benefits that range from helping to prevent cancer to reducing your risk of heart disease by lowering both blood pressure and bad LDL cholesterol levels. (2)
Mix the cacao powder in until smooth, and then place the ramekin back in the microwave for between 60-70 seconds, once again on high. After it's done cooking, you can either enjoy your chocolate lava mug cake right out of the ramekin or gently turn it over onto a plate. Whatever you choose, be prepared to indulge in an incredibly decadent and healthy chocolate dessert — all in only three minutes! I would also strongly recommend adding a bit of whipped cream and fresh strawberries when you're eating the cake to really turn it into a heavenly treat.
Print Recipe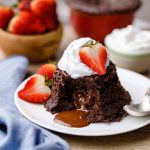 Keto Molten Chocolate Lava Mug Cake
Author: Keto Pots
Prep Time:

2 minutes

Cook Time:

1 minute

Total Time:

3 minutes

Yield:

1

1

x
FREE KETO RECIPES + 5-INGREDIENT KETO COOKBOOK

Make sure to sign up for free to get instant access to the 5-Ingredient Keto Cookbook, which includes my favorite 20+ keto recipes of all-time, all under 5 ingredients.
Scale
2/3 oz sugar free dark chocolate
1 ½ tbsp butter
1 tbsp heavy cream
1 egg
1 ½ tbsp granulated Stevia sweetener or other low carb sweetener
2 tbsp cacao powder
For decoration (optional):
whipped heavy cream
fresh strawberries
Place the chocolate and butter into a microwave-safe ramekin and microwave on high in 30-second intervals, stirring in between, until melted.
Add the egg, sweetener and heavy cream and beat until smooth.
Add the cocoa powder and mix until smooth.
Microwave on high for 60-75 seconds or until just firm to touch.
Serve the cake in the ramekin or gently turn the cake out onto a cake plate and serve.