Keto Recipes
OMG-Good Homemade Keto Chocolate Milk (try this!)
This recipe for making your own homemade keto chocolate milk is an absolute must try because it goes with so many keto recipes. Made with only 3 ingredients, it's definitely as clean as they come and also happens to be a dairy free.

How to Make Homemade Keto Chocolate Milk
It's so easy to make your own homemade keto chocolate milk. Just whip this up in your blender and you're good to go:
Combine the ingredients. Add the unsweetened almond milk, cocoa powder, and a low carb granulated sweetener like Stevia to a blender.
Blend until smooth.
Refrigerate. Refrigerate the chocolate milk until cold.
Serve. Serve once the drink is cold.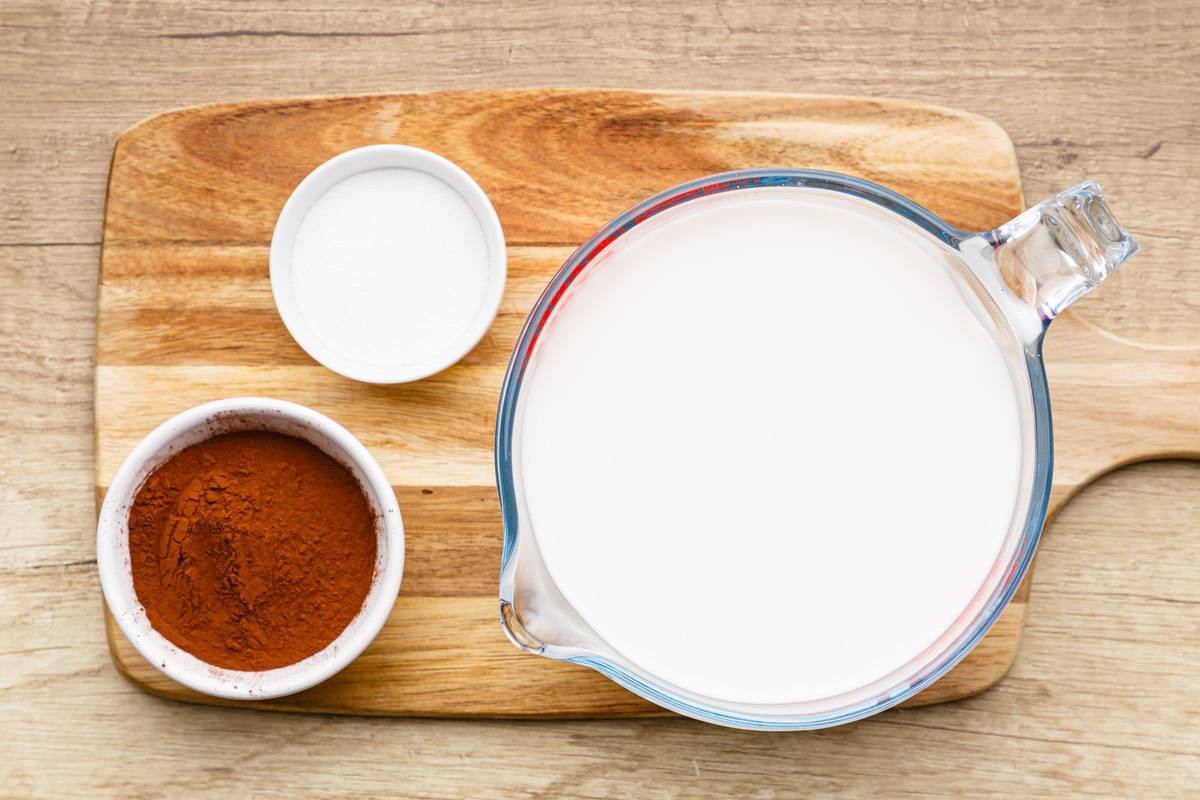 How to Make Your Own Almond Milk From Scratch
Since you're already making your own chocolate milk, why not take things a step further and make your own homemade almond milk as well? Here's exactly how you can quickly and easily make your own from scratch:
(Optional) Soak the almonds. Some people like to soak their almonds for 1-2 days before making almond milk. This is totally optional but it can help extract more of the almond flavor.
Drain. Properly drain and rinse the almonds.
Blend. Add the almonds into a high speed blender with a bit of water and blend on high speed for about 2 minutes.
Strain. Strain the mixture. You can use a cheesecloth for this to really squeeze out all the liquid.
(Optional) Sweeten. You can optionally add a sweetener like liquid Stevia to your almond milk.
NOTE: Homemade almond milk will typically keep in the fridge for up to 5-6 days.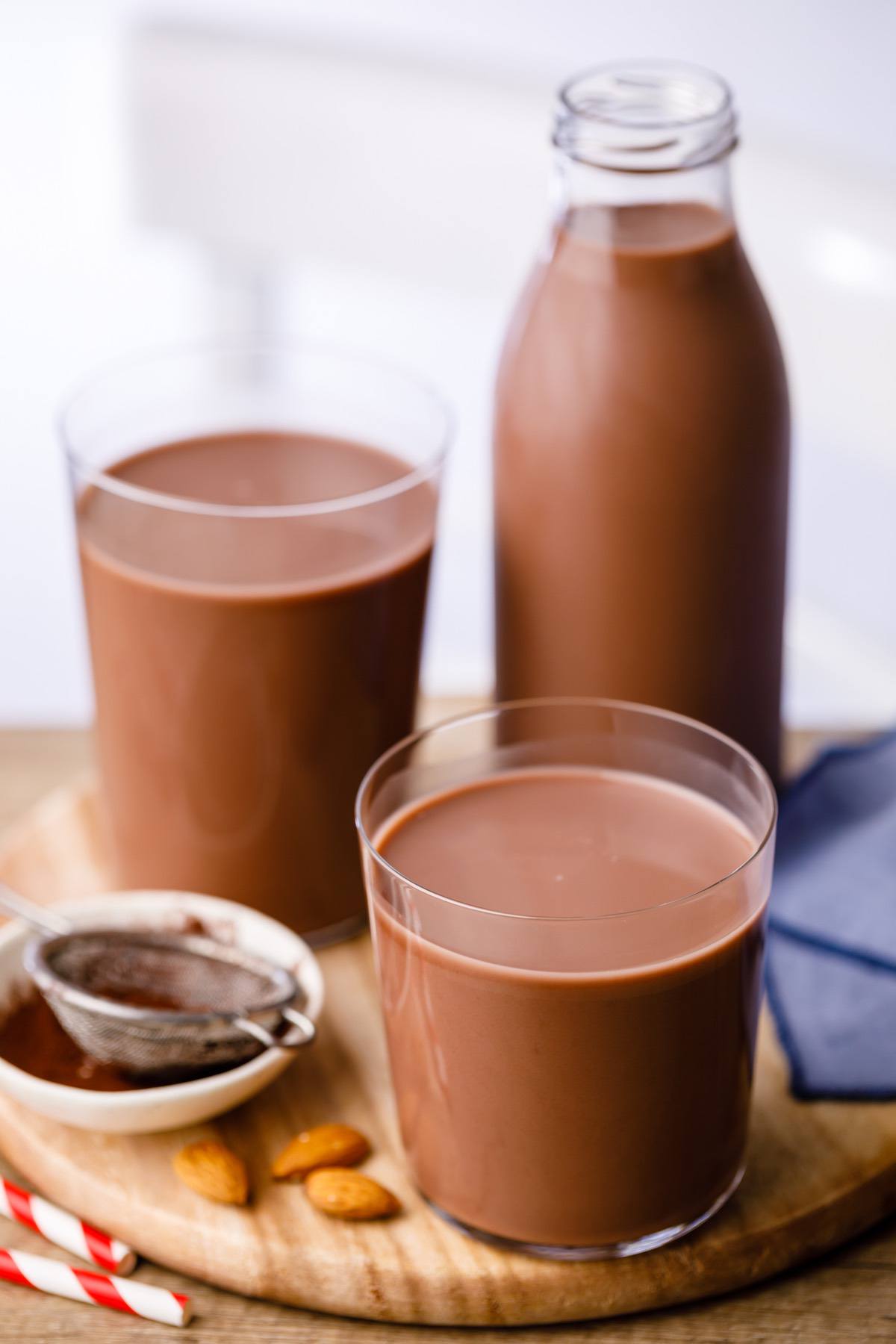 (Learn more: Is Almond Milk Keto?)
Cocoa Powder vs. Cacao Powder – Which is Better for This Recipe?
Both cocoa powder and cacao powder are quite similar, with the only major difference being that cocoa powder tends to be processed at much higher temperatures.
Cocoa powder can also be paired with added sugars and dairy byproducts, which tends to give it a sweeter taste when compared with cacao powder. With that in mind, if you're using cacao powder as a substitute, you'll probably want to use a slightly smaller amount, as cacao is indeed noticeably more bitter tasting.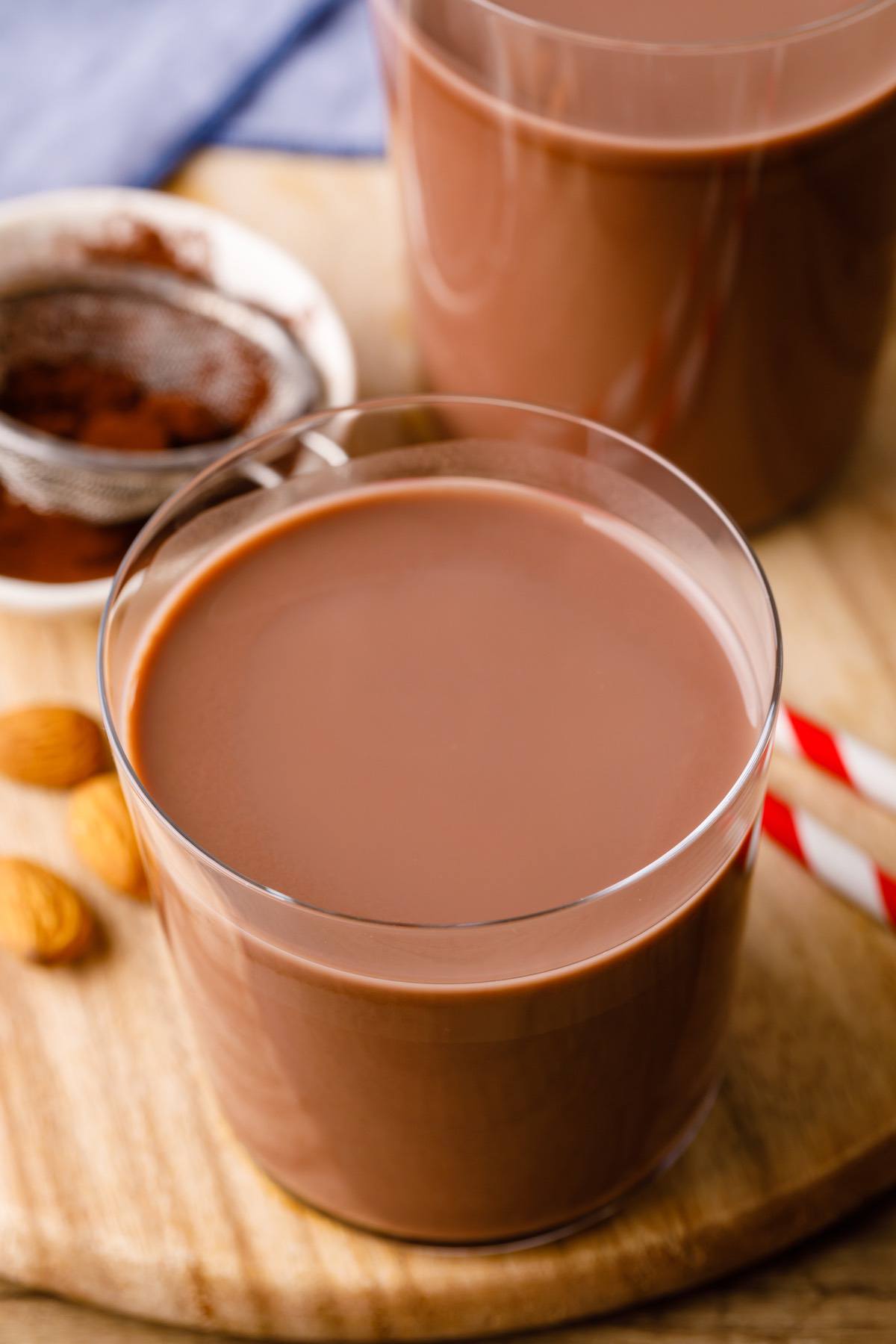 Shelf Life of Keto Chocolate Milk
The shelf life of this keto chocolate milk recipe is about one week. This is especially true if you're also making your own homemade almond milk to use when making this recipe.
If you're using store brand unsweetened almond milk, your chocolate milk might last for a little bit longer, but not by much. It's recommended to consume even store bought almond milk within 2 weeks of opening the container.
(You may also like: Homemade Chocolate Keto Fudge)
Print Recipe
OMG-Good Homemade Keto Chocolate Milk (try this!)
Author: Bree
Prep Time:

3 minutes

Total Time:

3 minutes

Yield:

4

1

x
Scale
4 cups

unsweetened almond milk 

1/3 cup

cocoa powder 

4 tbsp

granulated Stevia or other low granulated carb sweetener
Add all the ingredients to a blender and blend until smooth. 

Refrigerate until cold and serve.
FREE KETO RECIPES + 5-INGREDIENT KETO COOKBOOK

Make sure to sign up for free to get instant access to the 5-Ingredient Keto Cookbook, which includes my favorite 20+ keto recipes of all-time, all under 5 ingredients.