Keto Recipes
Keto Double Chocolate Chip Cookies (Better Than the Bakery!)
Wondering how in the world you can still eat double chocolate cookies without breaking every dietary guideline in the keto world? You make the recipe 100% keto approved, of course! At least, that's what I did, and I think the result is pretty awesome. I'm slightly biased of course because I like adding in my homemade keto chocolate chips, but don't worry, I'll link the recipe to that down below as well. For now, here's my base recipe for my famous double chocolate chip cookies. I say famous because I bake these for my neighbors all the time, and most of them have no idea that this is a healthy recipe. It's not too sweet, but the chocolate flavors definitely comes through. Here's how I make them.

Healthy Cookies Are The Best Cookies
Some will find it weird to see the words "healthy" and "cookies" in the same sentence but it's absolutely true. These cookies are incredible in that they're full of nutritious ingredients such as hazelnuts, coconut oil and unsweetened raw cocoa powder. Together, these ingredients support a strong immune system and cardiovascular health due to the monounsaturated fatty acid content, while the coconut oil in particular is an excellent source of medium-chain triglycerides (MCTs). MCTs are more easily metabolized by the body and are less likely to be stored as fat, something us keto dieters would do well to remember when choosing our fat sources. Not all of them are created equally, after all.
These keto double chocolate chip cookies are better than what you can get at your local bakery. A bold statement, but it's true. The secret is the use of ground hazelnuts which adds a delicious nutty flavor that goes so well with chocolate. There's a reason why so many people are addicted to chocolate-hazelnut spreads such as Nutella and hazelnut chocolate such as Ferrero Rocher. The sweet, nutty flavor of hazelnuts along with its crumbly, crunchy texture perfectly balances the richness of the gooey chocolate chips. It also has the ability to lower bad (LDL) cholesterol and total cholesterol, while providing the body with vitamins and minerals such as vitamins E and K, folate, potassium, selenium, and more. (1)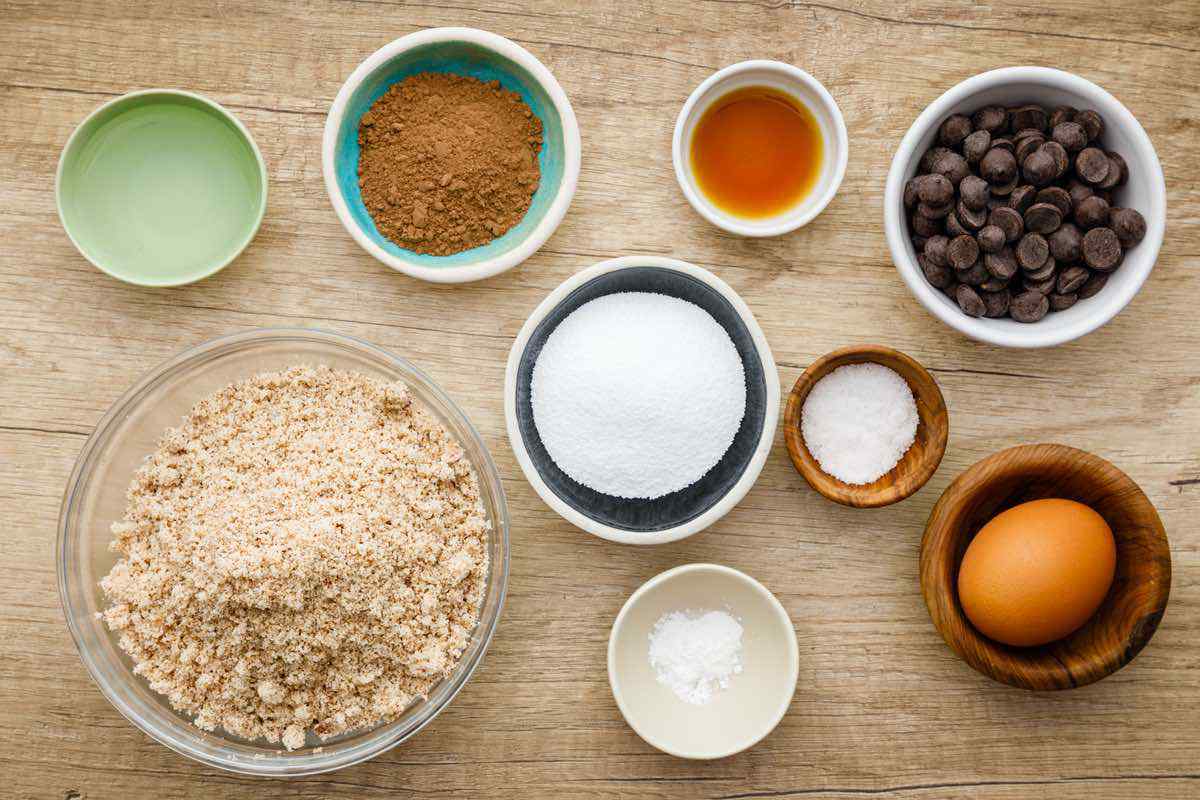 We'll also be adding some unsweetened cocoa powder to this recipe to help boost the chocolate flavor. I like unsweetened cocoa powder because it adds some fiber to the cookies, so they'll also be more filling. Cocoa powder actually contains polyphenols and antioxidants that protect your body from free radical damage and oxidative stress. We're exposed to a lot of toxins everyday, so it can't hurt to consume more antioxidants to help combat potential damage, right?
The egg and egg yolk in this recipe will add some more healthy fats to this dish, along with protein. A keto diet is centered around healthy fat content, it's also important to have a moderate amount of protein. Protein helps boost metabolic rate while also supporting tissue and bone health. These keto-friendly cookies contain only a trace amount of carbohydrates unlike the sugar-filled chocolate chip cookies you see being sold at the store. This is because we use a natural calorie-free sweetener called Stevia. Stevia is low-glycemic sweetener derived from Stevia leaves, so it's completely safe to use.
Following a ketogenic diet is a great way to be more creative with your dishes and recipes. You'll be surprised how learning to use keto-approved ingredients to substitute for other ingredients will allow you to fit in practically any food you want to your keto diet. One bite of these double chocolate chip cookies and you'll be searching for more, we guarantee it.
Print Recipe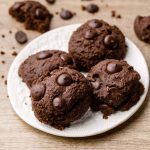 Keto Double Chocolate Chip Cookies
Author: ketopots.com
Prep Time:

15 minutes

Cook Time:

10 minutes

Total Time:

25 minutes

Yield:

1

6

1

x
Scale
2 cups ground hazelnuts
½ cup unsweetened cocoa powder
1 tsp baking powder
pinch of salt

2 tbsp melted coconut oil
½ cup granulated Stevia or other low carb granulated sweetener
1 tsp vanilla extract
1 egg
1 egg yolk
3 oz sugar free chocolate chips
Preheat oven to 350°F.
Line a baking sheet with parchment paper.
In a bowl combine the ground hazelnuts, cocoa powder, baking powder and pinch of salt.
In another bowl whisk the sweetener, egg, egg yolk, coconut oil and vanilla extract until smooth.
Stir the dry ingredients into the wet ingredients with a wooden spoon.
Fold in the chocolate chips.
Drop by rounded tablespoon onto the prepared baking sheet.
Bake for 10-12 minutes.
Remove from the oven and allow to cool completely before serving.
Store the cookies in a tightly sealed container for up to 5 days.
FREE KETO RECIPES + 5-INGREDIENT KETO COOKBOOK

Make sure to sign up for free to get instant access to the 5-Ingredient Keto Cookbook, which includes my favorite 20+ keto recipes of all-time, all under 5 ingredients.