Keto Recipes
Keto Chocolate Chip Cookie Dough Protein Bars
You know what's great about keto recipes like this one that I'm about to share with you guys? It's having the ability to take something that used to be one of my biggest dietary weaknesses (chocolate chip cookie dough) and being able to transform it into a healthy food. These keto chocolate chip cookie dough protein bars take one of my major guilty pleasures and turn it into a great tasting, healthy fuel source for my workouts. What's not to love about that? The "cookie dough" itself is made with some rather creative keto workarounds, and we include a yummy vanilla protein powder and plenty of other high fat ingredients that all work together to make this one keto protein bar recipe that you won't want to miss.

Heavenly Keto Chocolate Chip "Cookie Dough"
So what is it exactly that makes this chocolate chip cookie dough recipe a healthy, keto-friendly option to indulge in? It all comes down to the ingredients used. For starters, there's obviously not going to be any sugar used in this recipe, and refined wheat flour is off limits as well. Instead, you are going to be using coconut flour to serve as the base of your dough mixture. Not only is it unprocessed, but it's also an excellent source of protein, good fats, and dietary fiber — all of which are very important in a good keto-friendly food. Due to its high fiber content, it's also a rather low GI food, making it an ideal baking flour even for individuals who are diabetic. (1)
Along with using coconut flour, the other ingredients used here have all been carefully selected to make sure these bars stay sugar free and as low carb as possible. To that end, you'll be using a low carb granulated sweetener (I recommend Stevia over other artificial varieties), sugar free chocolate chips, and vanilla protein powder. It should also go without saying that you should choose a protein powder that has as close to zero carbs as possible.
In order to help make your protein bars as tasty as possible, you'll also be adding in some pure vanilla extract, melted coconut oil, and full fat milk. The coconut oil and full fat milk are both important for keeping the fat content of your bars high. Consuming full fat dairy also provides you with numerous other benefits, such as improved digestion and a lower risk of developing diabetes. (2) After combining all of these ingredients together in a small bowl, divide the resulting mixture and then freeze them for at least two hours before serving.
Thanks to all of the carefully selected ingredients, these keto protein bars satisfy the three key components of any good keto meal. They are high in healthy fats, provide a moderate amount of protein, and contain little to no carbs. Perhaps even more impressive is the fact that they literally manage to taste like an amazing dessert as well. Considering I've always been a sucker for chocolate chip cookie dough, I can't tell you how nice it is to be able to enjoy a recipe like this without having to feel an ounce of guilt.
More Keto Bar Recipes:
The Best Keto Protein Bars Ever (Save This Recipe)
Print Recipe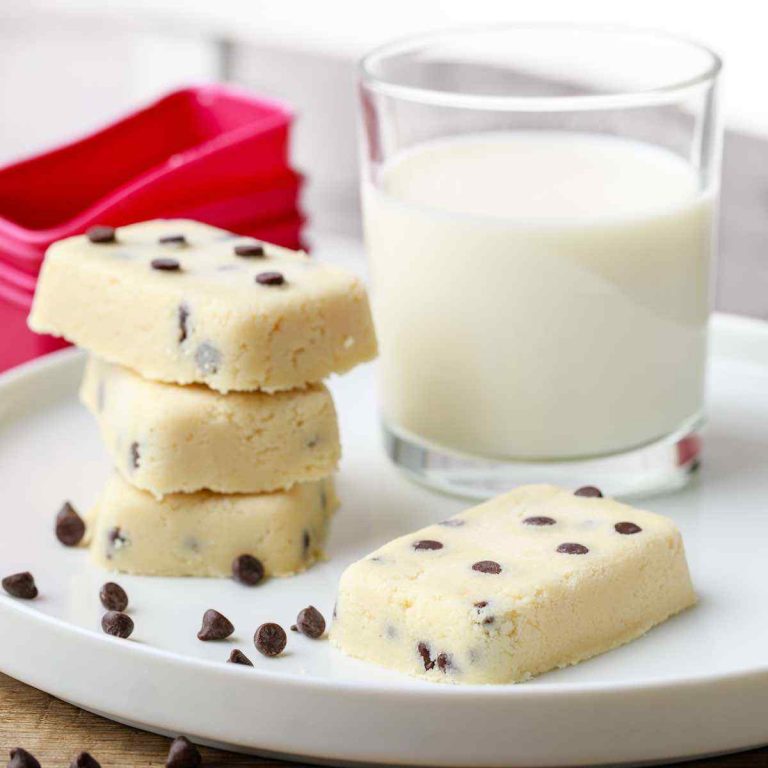 Keto Chocolate Chip Cookie Dough Protein Bars
Author: ketopots.com
Prep Time:

10 minutes

Total Time:

10 minutes

Yield:

6

1

x
Scale
½ cup coconut flour
6 tbsp vanilla protein powder
pinch of salt

2 tbsp granulated Stevia or other low carb granulated sweetener
2 tbsp sugar free mini chocolate chips
1 tbsp coconut oil, melted
9 tbsp full fat milk or dairy-free milk
1 ½ tsp vanilla extract
In a bowl palace the coconut flour, protein powder, pinch of salt, sweetener and chocolate chips.
Mix to combine.
Add the milk, melted coconut oil and vanilla extract and mix to combine.
Divide the mixture between six 3×1,5 inch silicone molds and press firmly.
Freeze for minimum 2 hours before serving.
Keep the bars in an airtight container in the freezer.
FREE KETO RECIPES + 5-INGREDIENT KETO COOKBOOK

Make sure to sign up for free to get instant access to the 5-Ingredient Keto Cookbook, which includes my favorite 20+ keto recipes of all-time, all under 5 ingredients.