Keto Recipes
Mind-Blowing Chocolate Chip Cookie Dough Fat Bombs
I used to always feel guilty whenever I would make chocolate chip cookies. The reason why? I couldn't help but to indulge in spoonful after spoonful of the cookie dough! There are few things in life more satisfying than licking a spoon clean of a yummy cookie dough mixture. So I obviously had a dilemma on my hands after I began to focus on healthier eating — I had to find a way to indulge this guilty pleasure in a more healthy way. The recipe that I'm about to share with you guys is the answer to that dilemma. These mind-blowing chocolate chip cookie dough fat bombs let me enjoy the taste of cookie dough without feeling any guilt and they also provide me with tons of healthy fats to enjoy while eating keto.
Satisfying Your Cravings In a Guilt-Free Way
The first step when making these fat bombs is to cream together your butter and low carb sweetener. For these two ingredients, I strongly recommend that you use Stevia for the sweetener and grass fed butter. The reason being is that butter produced by cows fed a diet that's completely free of grains tends to have a higher concentration of antioxidants and more beneficial effects on your cholesterol levels. (1) Next, add in your vanilla extract and the cream cheese and beat them in until the mixture is well blended. Cream cheese is such a clutch ingredient in so many keto dessert recipes, as it adds a ton of great flavor and healthy fats all in one convenient source.
The next step is to add in your almond flour to the mix. Almond flour is without a doubt my favorite type of wheat flour alternative to use when making my keto recipes because it's so incredibly nutrient-dense, as it provides plenty of healthy fats, fiber, vitamins, and minerals. It also adds a delightfully nutty aftertaste to these fat bombs, and since it's made with real almonds, it possesses all of the same cardiovascular health benefits as raw almonds do. (2)
Last but not least, go ahead and gradually fold in your pre-chopped dark chocolate into the mixture. There are several reasons why this recipe opts to include sugar free dark chocolate — it's obviously low carb, it tastes great, it's a rich source of antioxidants, and it adds even more fat calories to your fat bombs. There's even evidence to suggest that cocoa and dark chocolate can provide some neuroprotective benefits for your brain, helping to delay or prevent cognitive decline with aging. (3)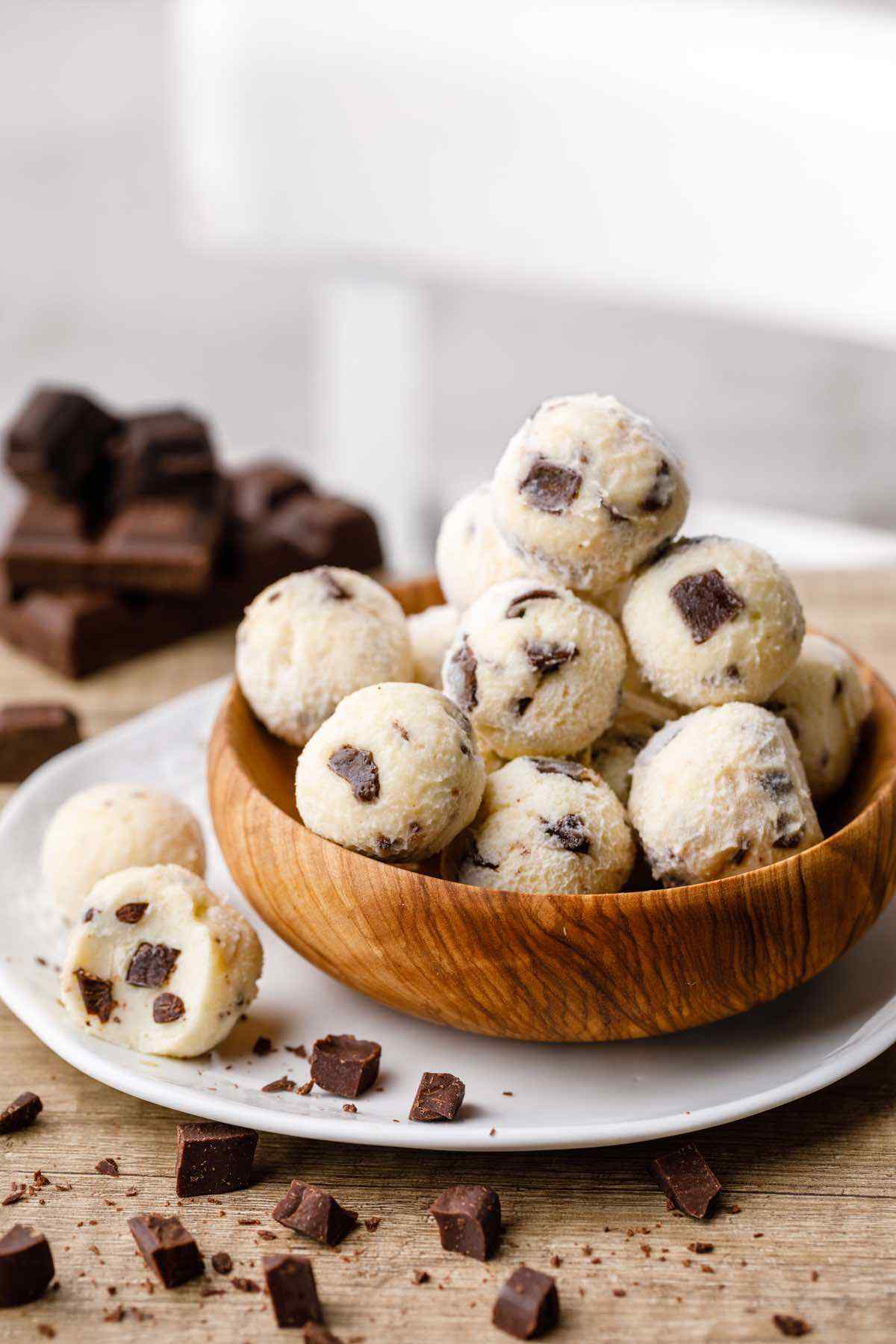 After adding in your dark chocolate chips, simply cover the dough and freeze it until it's firm enough to scoop into balls. This usually takes between 30-60 minutes, and the end result offers everything that you could ask for from a good keto snack — it provides an abundance of high quality fats all in one incredibly delicious package. Not only that, but as far as cookie doughs go, this recipe makes one of the better tasting varieties I've ever tried thanks to the use of ingredients like cream cheese and almond flour. Truly yummy!
More Keto Fat Bomb Recipes:
Raspberry Cheesecake Fat Bombs (Holy Yumoly)
Keto Peppermint Patty Fat Bombs (Addictive and Refreshing)
The Best Peanut Butter and Chocolate Keto Fat Bombs (Try These)
Keto Buttercream Fat Bombs (Creamy Deliciousness)
Print Recipe
Mind-Blowing Chocolate Chip Cookie Dough Fat Bombs
Author:
Prep Time:

15 minutes

Total Time:

15 minutes

Yield:

1

5

1

x
FREE KETO RECIPES + 5-INGREDIENT KETO COOKBOOK

Make sure to sign up for free to get instant access to the 5-Ingredient Keto Cookbook, which includes my favorite 20+ keto recipes of all-time, all under 5 ingredients.
Scale
4 oz full fat cream cheese, softened
2 oz butter, at room temperature
2 tbsp granulated Stevia or other low carb granulated sweeter
½ cup almond flour
1 tsp vanilla extract
pinch of salt

1/3 cup chopped sugar-free dark chocolate
In a bowl cream together the butter and sweetener.
Add the cream cheese and vanilla extract and beat until blended.
Add the almond flour and pinch of salt and mix to combine.
Fold in the chopped chocolate.
Cover and freeze until the dough is firm enough to scoop into balls, about 30-60 minutes.
Using a 1 tablespoon cookie scoop, scoop the balls.
Store the balls in an air-tight container in the freezer for up to a month.