Keto Recipes
Double Chocolate and Peanut Butter Keto Smoothie
Today I'm going to be sharing a keto-friendly smoothie recipe with you guys that's so incredibly delicious, you'll swear it's like enjoying dessert for breakfast. And unlike most breakfast cereals, which basically ARE dessert posing as breakfast, this yummy smoothie is actually super good for you. It combines a classic candy flavor combo in order to make a double chocolate and peanut butter keto smoothie that's simply to die for. This recipe offers a rich chocolate flavor provided by a mix of cacao powder and chocolate protein powder that's paired with all-natural peanut butter, resulting in one ridiculously great tasting smoothie that should definitely be on your "must try" list.
You Won't Want to Skip This Breakfast
As I mentioned above, this smoothie gets its double chocolate flavor thanks to a combination of chocolate protein powder and two tablespoons of cacao powder. When it comes to choosing a good protein powder to use in your keto recipes, you're obviously going to want to look for one that's low in net carbs. To make life easier, I'd strongly recommend going with a powder designed specifically for keto dieters. I use one such chocolate powder made by Left Coast Performance because it features added grass-fed collagen and MCT powder, you can get your own by clicking here.
Working in tandem with the protein powder to give your smoothie its rich chocolate taste is the cacao powder. While it's definitely a more bitter tasting source of chocolate, it's really not too bad when paired with the rest of the ingredients used in this smoothie. Besides, cacao powder is an incredibly nutritious way to satisfy your chocolate cravings. It's full of vitamins, minerals, and most impressively, it contains nearly four times the antioxidant power of dark chocolate. (1)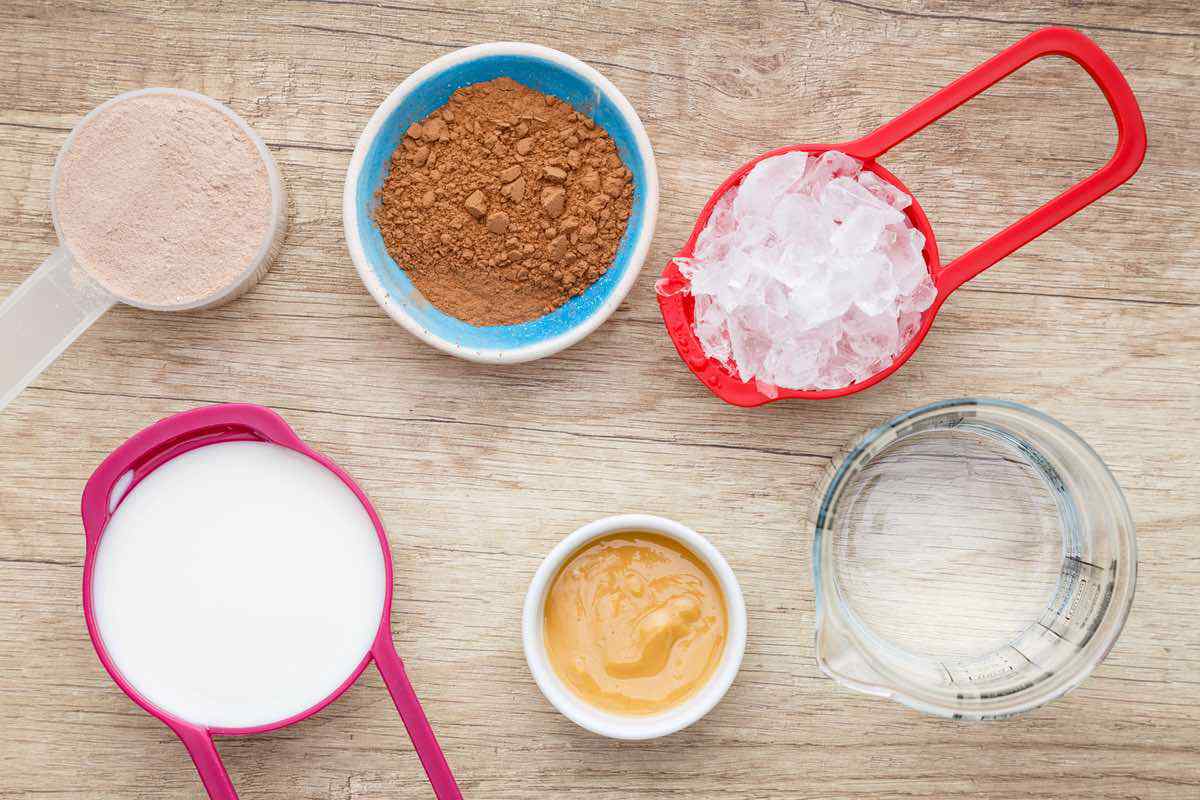 It's also important to make absolutely sure that you're using all-natural peanut butter — not just for this smoothie recipe, but in all of our recipes that call for its use. You definitely want to avoid some of the more common types of hydrogenated peanut butter brands. Even though many of these brands claim to be 100% trans fat free, quite often they do indeed still contain small amounts. I'm sure you're all well aware of how bad trans fats are for you. They're well known to contribute to heart disease but one study found that they're also directly linked to death from all causes. (2) What I'm trying to say is this: spare yourself the trouble and just go with natural peanut butter. Your body will thank you in the long run.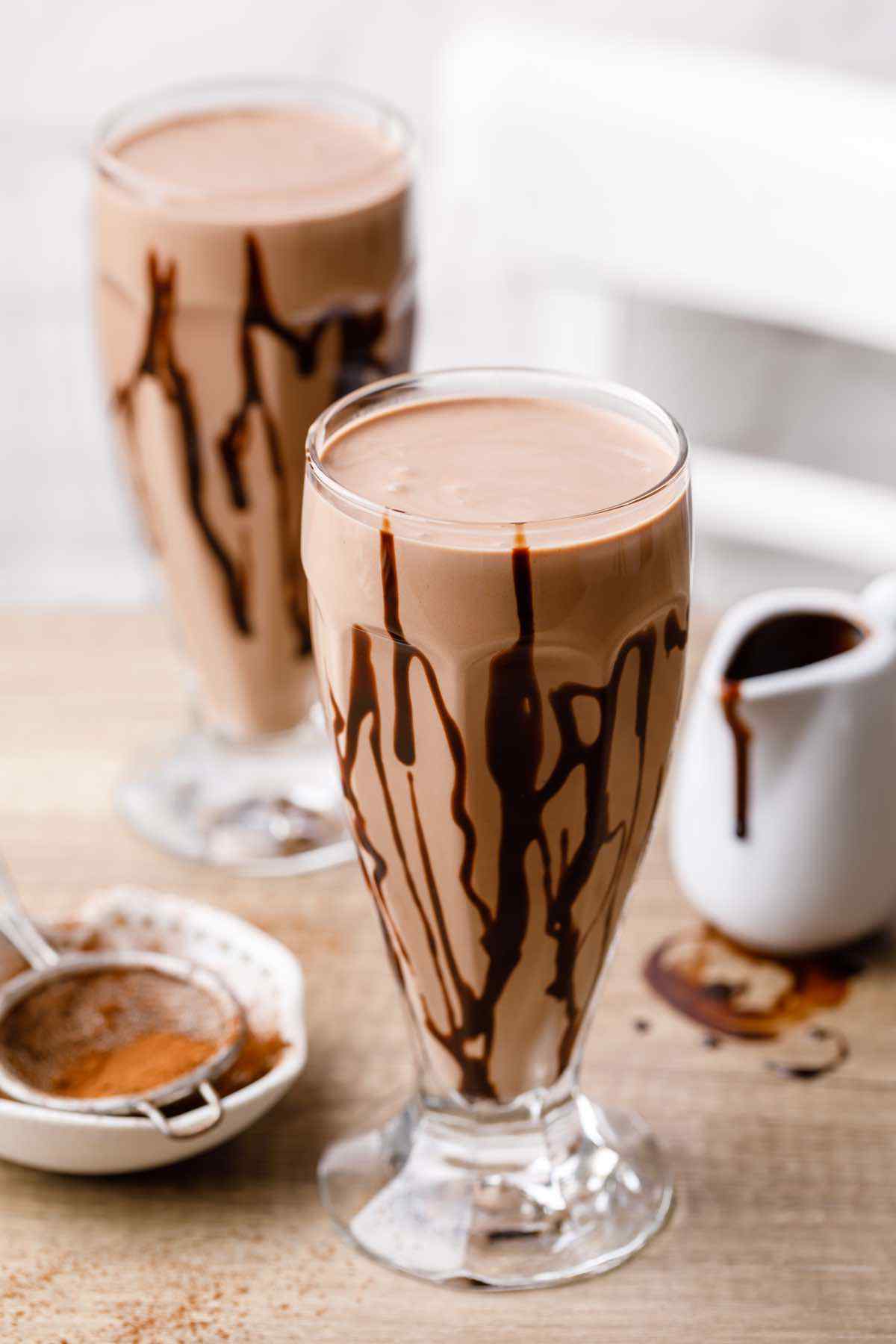 To finish the recipe off, you'll add a mix of water, crushed ice, and some unsweetened almond milk. Using an unsweetened variety helps to keep the sugar content to a minimum, while almond milk in general provides many of the same great benefits as raw almonds, such as helping to lower cholesterol levels and a reduced risk of heart disease. (3) You can also optionally add in some liquid Stevia if you still find the smoothie tastes a little bitter. I also like to top mine off with a bit of sugar-free chocolate syrup for even more chocolate goodness, I definitely recommend that you try that as well!
More Keto Smoothie Recipes:
The Best Keto Green Breakfast Smoothie Ever (Packed with Avocado)
Easy and Quick Keto Smoothie Recipe – Low Carb and High in Healthy Fats
Print Recipe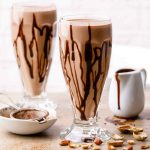 Double Chocolate and Peanut Butter Keto Smoothie
FREE KETO RECIPES + 5-INGREDIENT KETO COOKBOOK

Make sure to sign up for free to get instant access to the 5-Ingredient Keto Cookbook, which includes my favorite 20+ keto recipes of all-time, all under 5 ingredients.
Scale
1 scoop chocolate protein powder
2 tbsp cacao powder
1 tbsp natural peanut butter
½ cup unsweetened almond milk
½ cup water
1/3 cup crushed ice
liquid Stevia to taste (optional)
For decoration (optional):
sugar free chocolate syrup
Place all the ingredients in a blender and blend until smooth.
Drizzle a serving glass with sugar free chocolate syrup (if using).
Pour the smoothie in the glass and serve.