Keto Recipes
Secret to Award-Winning Chili – Homemade Chili Powder Recipe
Making an incredibly good bowl of chili shouldn't have to be a difficult process. Everyone who knows me knows that I like to keep my cooking as straightforward as possible. So when it comes to making tasty keto-friendly chili dishes, in order to make things as easy as possible for our readers, I wanted to share this homemade chili powder recipe. It's super easy to make, and it's guaranteed to take your chili dishes from ho-hum meal experiences to award-winning meals in no time at all.
Easy Does It When It Comes to This Chili Powder
So what exactly goes into making a chili powder that tastes good enough to win awards? I'm glad you asked! It starts with using two savory ingredients that each add a delightful amount of flavor into your chili powder: paprika and oregano. Each of these ingredients are also incredibly beneficial when it comes to your health as well. The oils found in oregano leaves are especially potent when it comes to their antiviral properties (1), while paprika offers many of the same great health benefits that are offered bell peppers and other fruits from the Capsicum annuum family.
Speaking of those benefits, this chili powder recipe also includes cayenne pepper. The cayenne pepper and paprika both contain capsaicin, the main biological compound responsible for giving them both their spicy kick and their health benefits. Studies have found that capsaicin acts as a potent anti-inflammatory substance that also provides benefits for everything from your cardiovascular system to your gastrointestinal system. (2)
Combining paprika, cayenne pepper, and oregano already provides this chili powder with an intense amount of spicy hot flavor, but we're not going to stop just yet. You'll also be adding in a bit of cumin, one of the main ingredients added to many store brand chili powders to add some kick. Not only does cumin help to increase the heat when it comes to making a yummy chili, but it also acts as a potent anti-inflammatory agent. (3) When you consider that inflammation is at the root of most modern diseases, you can quickly see why chili is such a popular meal. It really is the definition of nutritious and delicious!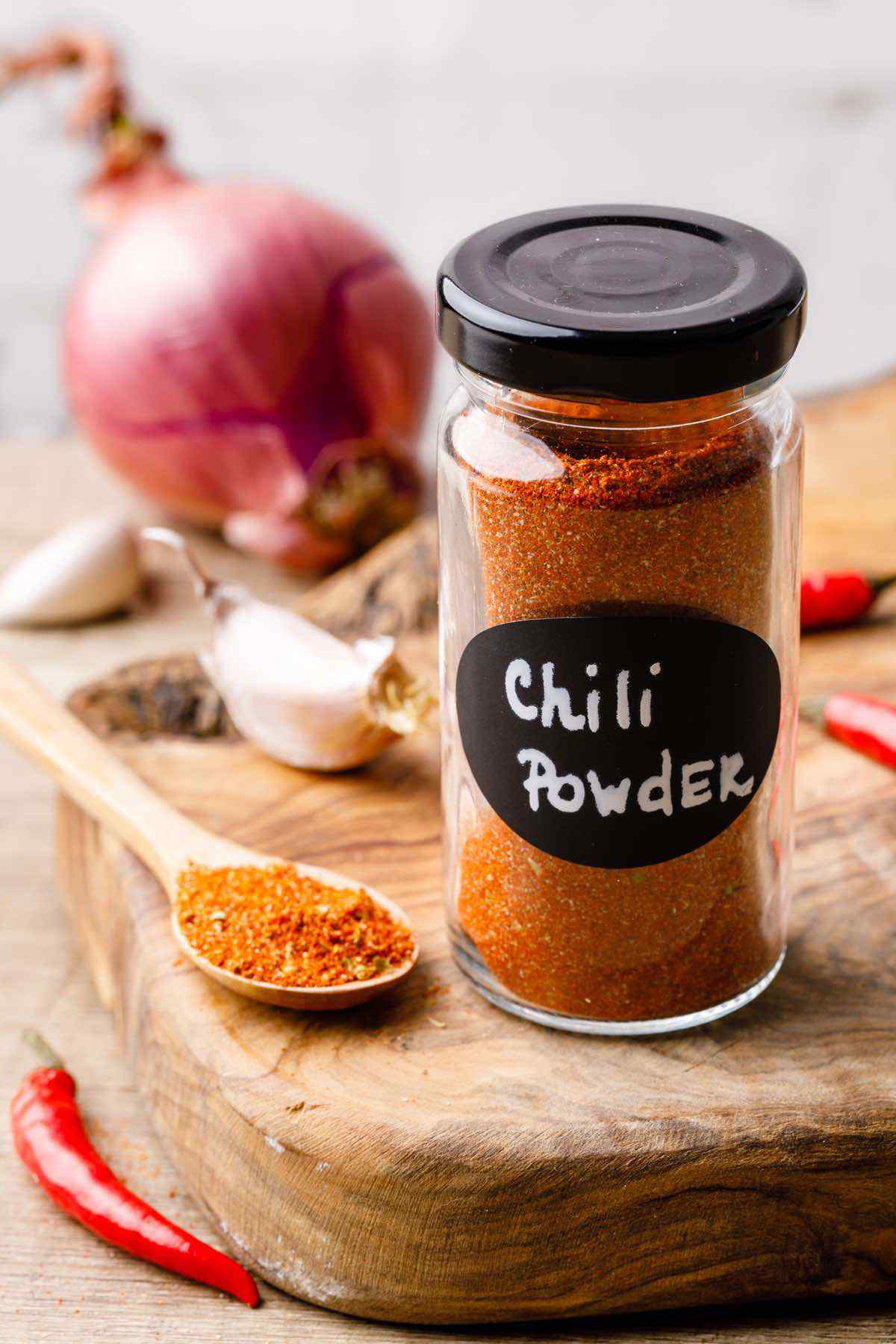 Last but definitely not least when it comes to flavor, you'll be adding a bit of garlic powder and onion powder to finish the recipe off. If you've been trying out some of the recipes that we've shared, then you're probably already aware of what an immense amount of flavor both garlic and onion provide to many keto dishes. And in keeping with the recurring theme of incredible health benefits offered by our chili powder, both garlic and onion are packed with some impressive cancer prevention properties. (4)
As you can see, each and every ingredient that goes into making an award-winning chili powder is chosen for two very good reasons. They all work together to make a chili powder that tastes amazing, and they all offer a particular benefit for your health. All you have to do is mix them all together in a bowl and then you can store the mix in a jar or an airtight container to have ready to go the next time you're craving some chili.
More Keto Chili Recipes:
Easy Crockpot Keto Chili Mac (Comfort in a Bowl)
Authentic Homestyle Texas Chili (Low Carb and Keto-Friendly)
Life-changing Keto Chili Verde (Green, Spicy and Yummy)
No Fail Southwest Keto Turkey Chili (One of My Go-To's)
Extra Beefy Caveman Crockpot Keto Chili (Mom-Approved)
Print Recipe
Homemade Chili Powder
Author: ketopots.com
Prep Time:

5 minutes

Total Time:

5 minutes

Yield:

1/4 cup

1

x
Scale
2 tbsp paprika
2 tsp oregano
1 ¼ tsp cumin
1 ¼ tsp garlic powder
1 ¼ tsp cayenne pepper
1 tsp onion powder
Place all the ingredients in a small bowl and mix to combine.
Transfer the mixture into a jar or airtight container.
FREE KETO RECIPES + 5-INGREDIENT KETO COOKBOOK

Make sure to sign up for free to get instant access to the 5-Ingredient Keto Cookbook, which includes my favorite 20+ keto recipes of all-time, all under 5 ingredients.