Keto Recipes
Keto Chili Dog Casserole (Easy and Comforting)
This crave-worthy keto chili dog casserole is full of meaty chili, low carb veggies, herbs, spices, and has an addictive gooey cheesy topping. It's truly a perfect keto meal and a must-try for anyone that loves chili dogs!

If you're looking for more ground beef keto casseroles and are not a big fan of hot dogs, give our Bacon Cheeseburger Casserole, Cheesesteak Casserole or Big Mac Casserole a try.
Keto Chili Dog Casserole Ingredients
The majority of the protein and fats that you'll be getting from this keto chili dog casserole dish are going to be coming from the use of both lean ground beef and a whopping 32 cocktail-size hot dogs. A couple of things that you're going to want to keep in mind is that you can definitely feel free to use medium ground beef if you'd prefer a fattier cut, and that you're going to want to make sure to use keto approved hot dogs when making this recipe
What I mean by that is making sure they're pretty much made with 100% meat with minimal filler ingredients — a lot of additives end up adding unwanted carbs. And if you're concerned about certain preservatives found in hot dogs, take a deep breath, because much like saturated animal fats, they actually might not be as bad for you as you've been told. (1)
How to Make Keto Chili Dog Casserole
The chili dog casserole also includes a mix of veggies and herbs that make it so, sooo good. It all starts by adding a bit of olive oil to a pan and then cooking an onion and red bell pepper in it for a few minutes. You can then add in the minced garlic cloves and cook them for about 30 seconds. As soon as the garlic starts to fry along with the onion and peppers, the aromatic scent will immediately hit your nostrils.
There are many good reasons why garlic is such a popular culinary herb. It doesn't just add a ton of flavor to this casserole, but it's also excellent for giving your immune system a boost, lowering your blood pressure, and relieving inflammation. (2)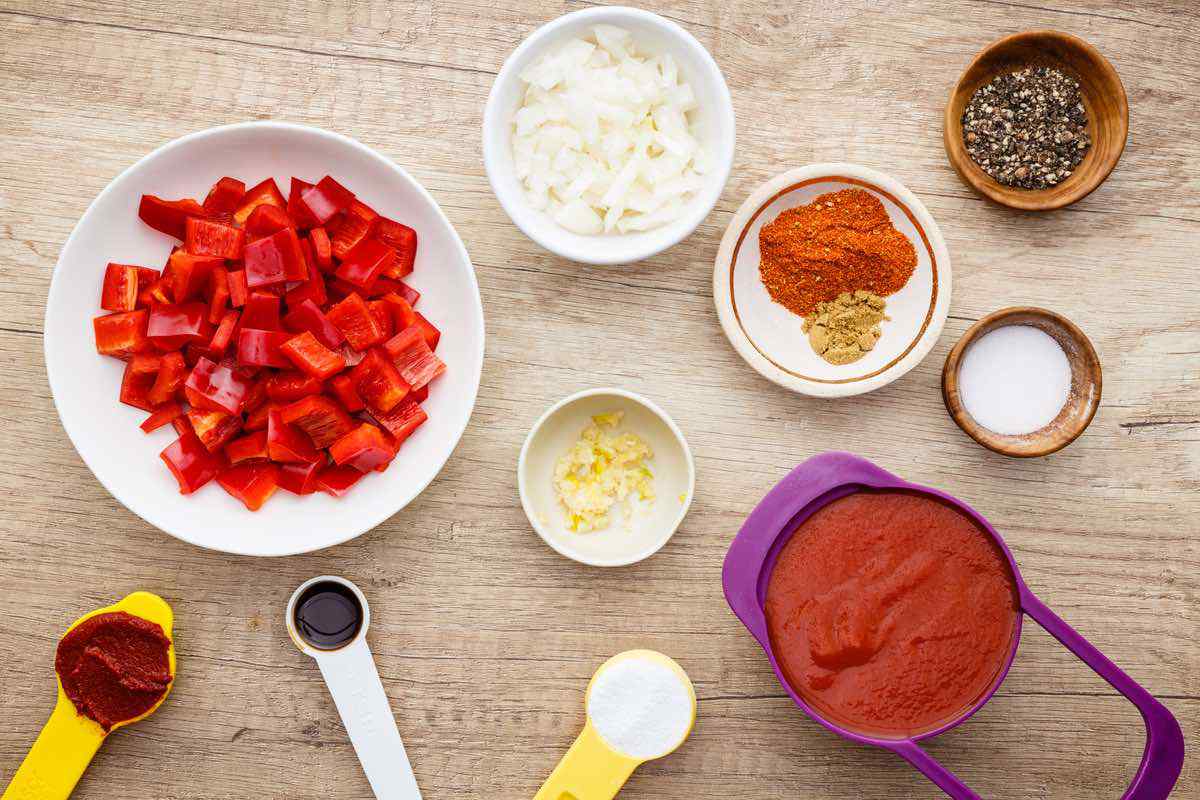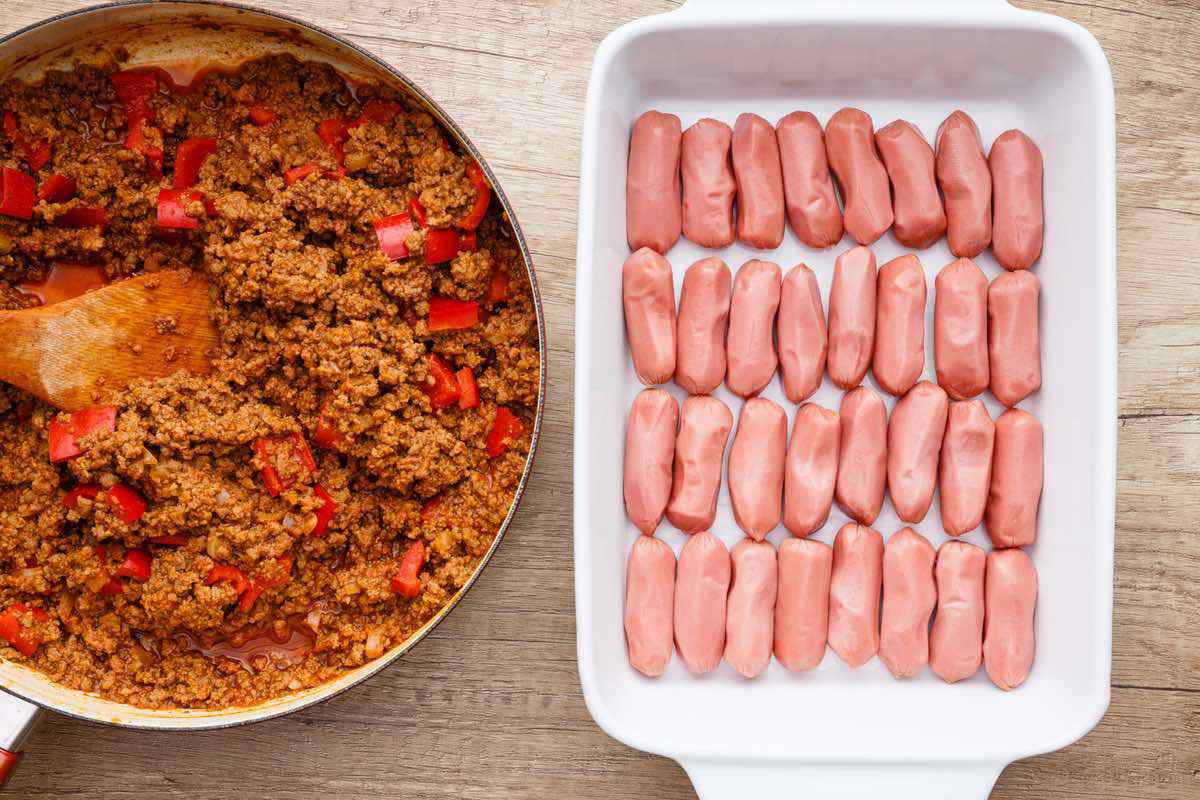 After cooking the garlic, go ahead and add in your ground beef and cook it until it's nice and brown, and then drain any excess fat if necessary.
Now it's time to add the spicy kick to this keto casserole. Mix in the chili powder, cumin, black pepper, salt, Worcestershire sauce, Stevia, water, tomato puree, and the tomato paste.
I tend to think that all of the best chili recipes are made with a hearty mixture of beef, spices, and tomatoes, so I'm sure you can already tell from the ingredients used here how much I love this casserole. And we haven't even added in the hot dogs yet!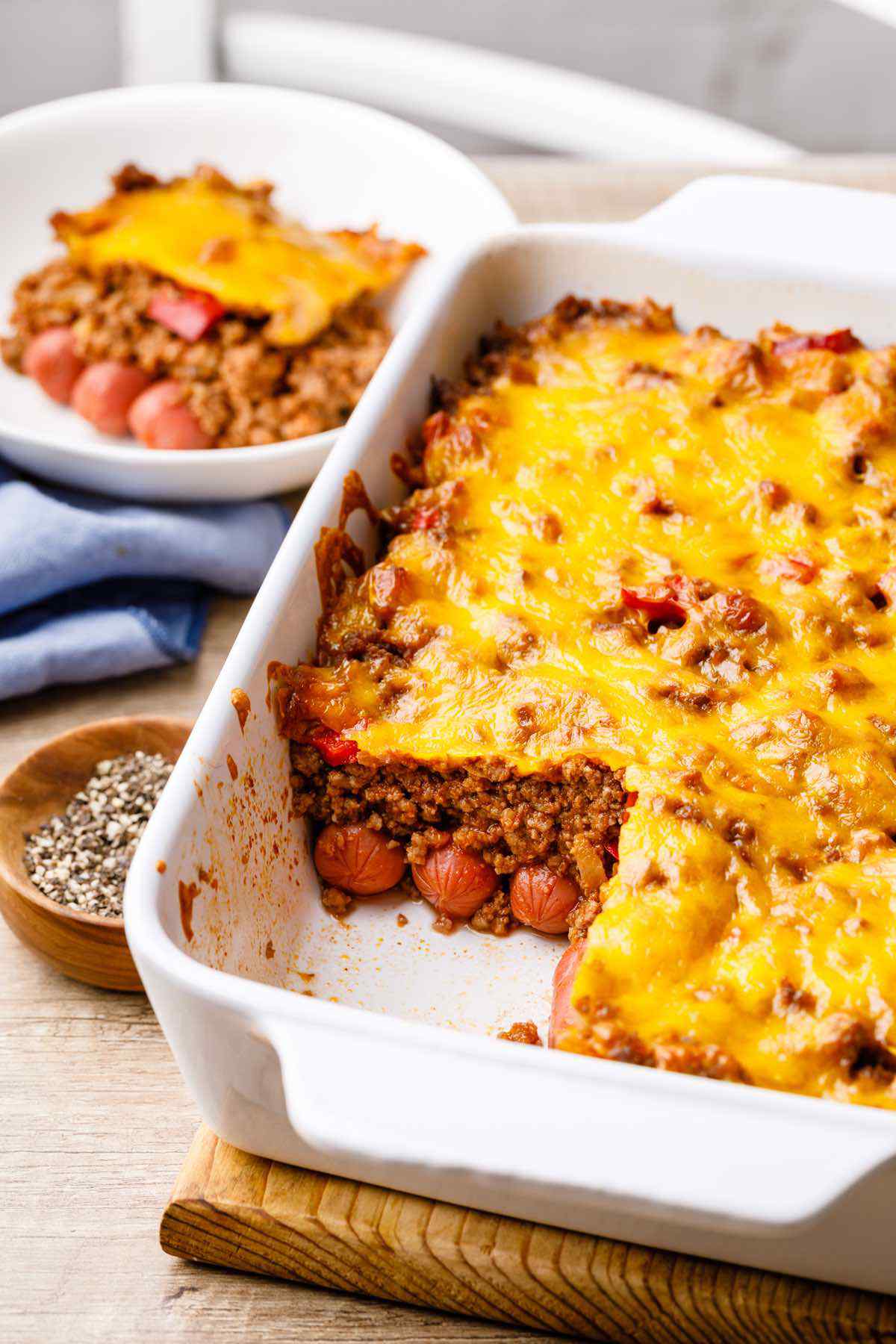 More Good Keto Casserole Recipes
Speaking of the hot dogs, you can leave your chili mixture to simmer for about 20 minutes while you add all of the hot dogs into a casserole dish. You'll be covering all 32 of the hot dogs with your chili mixture before sprinkling a generous amount of shredded cheddar cheese over top of the mixture.
With all of that out of the way, you can place your casserole in the oven and bake it for about 20 minutes, and then voila! You've got a mouthwatering keto-friendly casserole dish that doesn't just include hot dogs. It's also incredibly good for you as well thanks to the addition of savory spices and healthy veggies. Enjoy!
More Keto Chili Recipes:
Print Recipe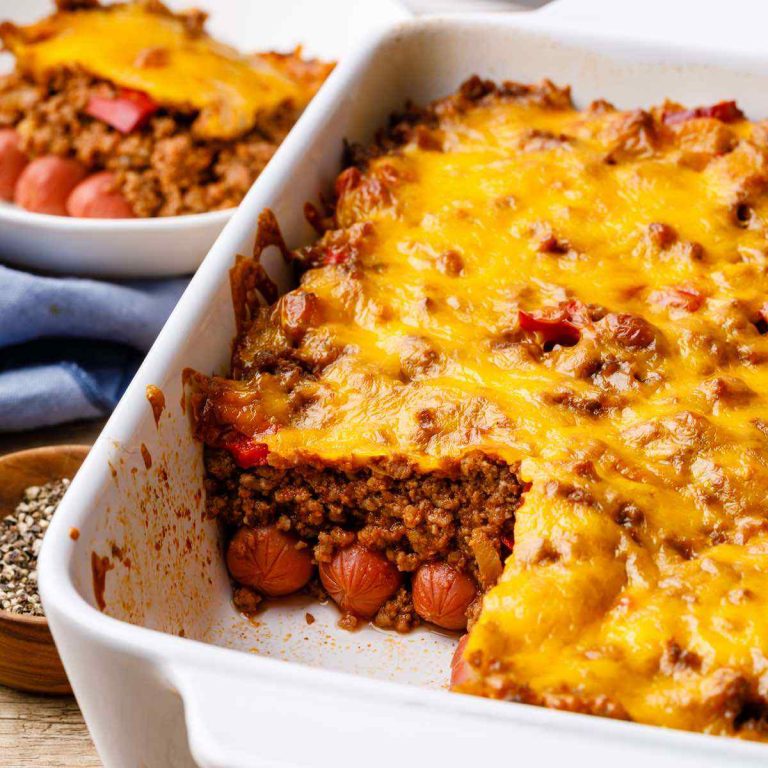 Chili Dog Keto Casserole
Author: ketopots.com
Prep Time:

15 minutes

Cook Time:

40 minutes

Total Time:

55 minutes

Yield:

8

1

x
FREE KETO RECIPES + 5-INGREDIENT KETO COOKBOOK

Make sure to sign up for free to get instant access to the 5-Ingredient Keto Cookbook, which includes my favorite 20+ keto recipes of all-time, all under 5 ingredients.
Scale
1 pound ground lean beef
1 tbsp olive oil
½ medium onion, diced
2 cloves of garlic, minced
½ large red bell pepper, diced
2 tsp chili powder
½ tsp cumin
¼ tsp black pepper
½ tsp salt
1 tsp Worcestershire sauce
1 tbsp granulated Stevia or other low carb granulated sweetener
1 cup tomato puree or strained tomatoes
1 cup water
1 tbsp tomato paste
32 cocktail-size keto approved hot dogs
1 cup shredded cheddar cheese
In a large skillet heat the olive oil over medium heat.
Add the onion and bell pepper and cook for 3 minutes.
Add the garlic and cook for 30 seconds.
Add the beef and cook, breaking apart with a spatula, until browned.
Drain the fat if necessary.
Add the chili powder, cumin, black pepper, salt, Worcestershire sauce, sweetener, tomato puree, water and tomato paste and mix to combine.
Simmer for 30 minutes.
Remove from the heat and add more salt or black pepper if necessary.
Preheat oven to 400°F.
Lay the hot dogs on the bottom of a casserole dish.
Cover with chili.
Sprinkle the shredded cheddar over the chili.
Bake in preheated oven for 15- 20 minutes or until hot and bubbly.
Serve warm.