Keto Recipes
Crockpot Keto Chicken Tortilla Soup (Low Carb)
This recipe for making an oh so good crockpot keto chicken tortilla soup is exactly what the soul needs on a dreary, rainy day. It's a classic comfort food in the truest sense, made all the better by the fact that it's low carb and 100% keto-friendly.
How to Make Keto Chicken Tortilla Soup
One of the best things about keto crockpot recipes is their simplicity, and this yummy chicken tortilla soup is no exception:
Add most of the ingredients to the slow cooker. Add the olive oil, chopped onion, minced garlic cloves, chopped carrots, chopped celery, one seeded and finely chopped jalapeno, chicken broth, one can of diced tomatoes with green chilies, one pound of chicken breasts, cumin, and chili powder to a slow cooker.
Cook. Cover the slow cooker with a lid and cook on low for 6 hours.
Shred the chicken. Open the lid and remove the chicken breasts from the slow cooker and then use 2 forks to shred.
Return the chicken. Add the shredded chicken back into the slow cooker.
Add the remaining ingredients. Stir in the chopped fresh cilantro and freshly squeezed lime juice.
Season. Season with salt and black pepper to taste.
Serve. Serve the soup warm with keto tortilla chips and your favorite toppings, such as avocado, chopped cilantro, sliced jalapenos, etc.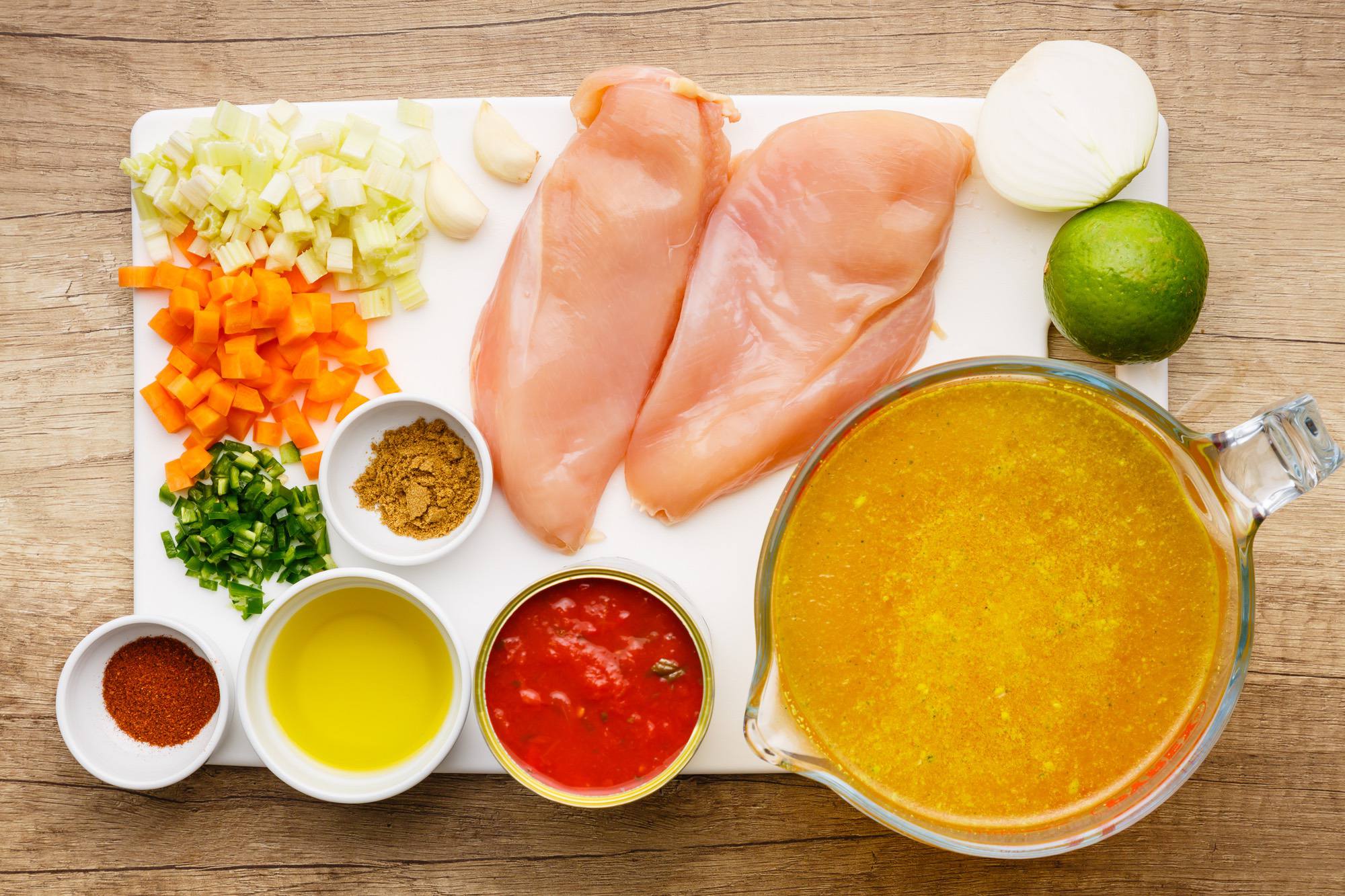 2 Useful Tips To Keep In Mind When Cooking Keto Soups
Here are a couple of general tips to keep in mind when it comes to cooking keto approved soups:
Don't forget the protein. While it's obviously essential to ensure you're including plenty of quality dietary fat sources as part of your keto diet, it's equally as important to also make sure that you're getting enough protein. This particular keto soup recipe uses chicken, but there are all kinds of other keto approved options that will work just as well in your soup recipes; don't be afraid to experiment!
Include a variety of veggies. Dietary fat and protein might be the 2 main macros that keto dieters are interested in but it's also important to include all of the necessary micronutrients that your body requires in your diet. With that in mind, including a variety of fresh vegetables in your soup recipes is a great way to provide your body with those essential vitamins, minerals, and disease-fighting antioxidants.
Can I Freeze Keto Chicken Tortilla Soup? (+ How to Reheat)
You can definitely freeze this keto chicken tortilla soup.
As with any warm food that you're planning on freezing, you'll first want to make sure that you allow the soup to cool off completely. You can then portion the soup out into individual serving sizes and transfer each serving into either an airtight container or a freezer-safe Ziploc bag.
You'll be able to keep this soup frozen for up to 6 months when stored like this.
When you're ready to reheat the soup, you can either warm it up in the crockpot on low or simply heat it up over the stove.
(Also try: Keto Cream of Chicken Soup)
Print Recipe
Crockpot Keto Chicken Tortilla Soup
Author:
Prep Time:

10 minutes

Cook Time:

6 hours

Total Time:

6 hours, 10 minutes

Yield:

6

1

x
FREE KETO RECIPES + 5-INGREDIENT KETO COOKBOOK

Make sure to sign up for free to get instant access to the 5-Ingredient Keto Cookbook, which includes my favorite 20+ keto recipes of all-time, all under 5 ingredients.
Scale
2 tbsp

olive oil

½

medium onion, chopped

2

garlic cloves, minced

¼ cup

chopped carrots 

¼ cup

chopped celery

1

jalapeno, seeded and finely chopped

4 cups

chicken broth

1

(14 oz) canned diced tomatoes with green chilies

1

pound chicken breast

1 tsp

cumin

1 tsp

chili powder

 ¼ cup fresh lime juice

½ cup

chopped fresh cilantro plus extra for decoration 

salt and black pepper to taste
Add all the ingredients except lime juice and cilantro to a slow cooker. 

Cover with a lid and cook on low for 6 hours. 

Open the lid and remove the chicken from the slow cooker.

Shred the chicken with 2 forks. 

Add the chicken back into the slow cooker.

Stir in the cilantro and lime juice.

Season to taste with salt and black pepper. 

Serve warm topped with keto tortilla chips and your favorite toppings (avocado, chopped cilantro, sliced jalapeno…)