Keto Recipes
Teriyaki Chicken Meatloaf with Fresh Scallions
What's the first thing that pops up in your head when you think of meatloaf? Do you think of leftovers from yesterday's lunch? Do you think of the boring, bland meatloaf that they serve at your office or school cafeteria? If so, you need to give meatloaf one more chance. There are so many delicious and unique meatloaf recipes to try, including this Asian-inspired teriyaki chicken meatloaf with fresh scallions. The thought of meatloaf will never be the same again after trying this wonderful dish.
Low-Calorie Meatloaf Recipe
This meatloaf recipe is not only keto-approved but also perfect for individuals who are trying to lose weight and fat. Other meatloaf recipes make use of ground beef or ground pork which are higher in fat. Higher fat recipes usually mean that they're also higher in total calories. For this teriyaki chicken meatloaf, we're going to use lean ground chicken. Lean ground chicken is much lower in fat and total calories, making it ideal for weight management.
Go Organic
When selecting your meat, try to use organic, grade A, free range chicken breast fillets (with the skin removed) that's free from antibiotics and hormones. (1) Ask your butcher to have your breast fillets ground after being cleaned or you can even do it yourself if you have a meat grinder available at home.
In a large bowl, combine the ground chicken, flaxseed meal, minced garlic, freshly grated ginger, 1 egg, soy sauce, freshly chopped scallions, salt and black pepper. All of these ingredients together will give your dish that signature Asian flavor, so be sure to mix everything well before setting it aside in the refrigerator to marinate for 15-20 minutes.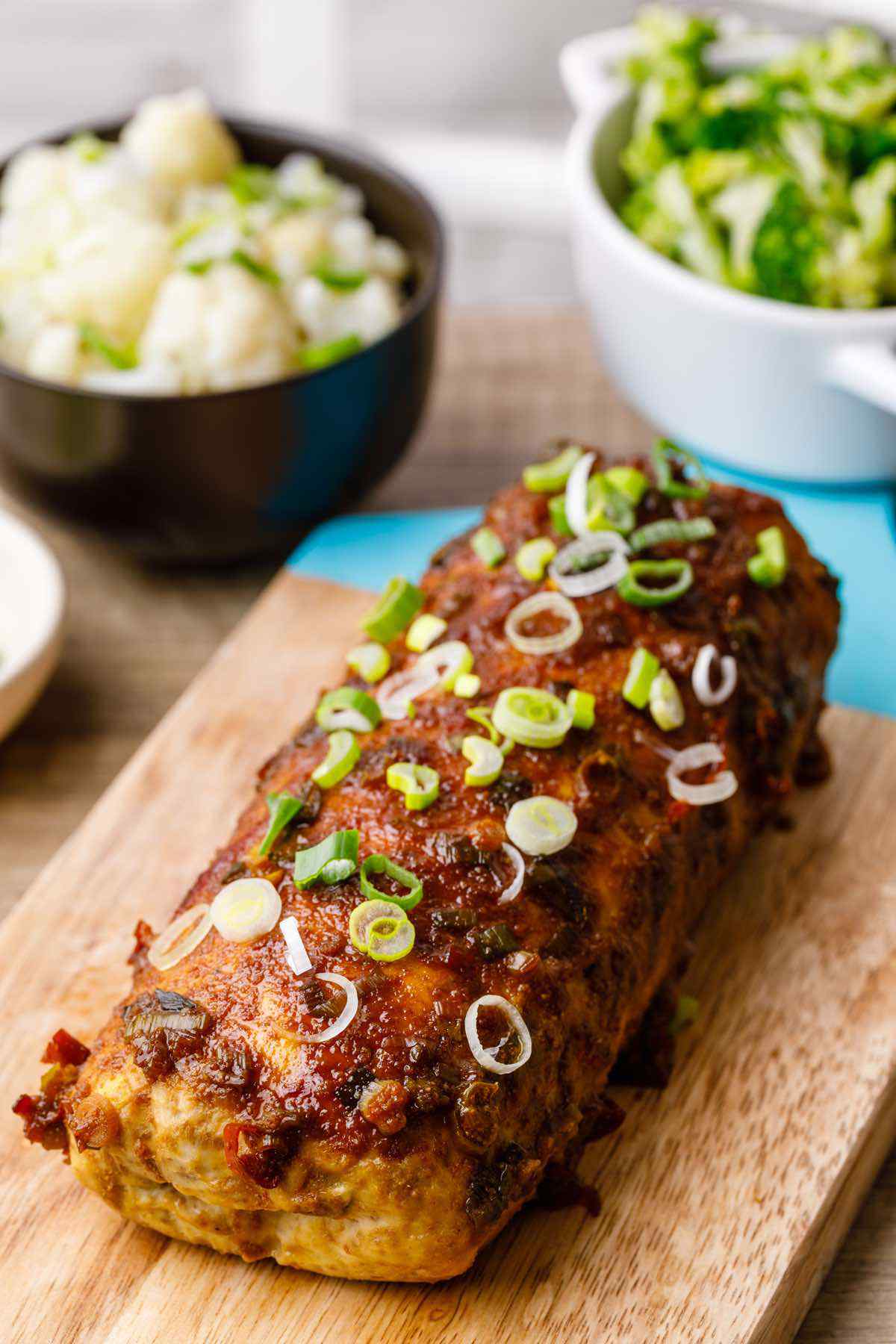 Tip: Let your meat marinate for at least 15-20 minutes to allow the meat to absorb all the spices and ingredients you've mixed in with it. This goes for beef, pork, chicken, fish, etc.
Take the mix out of the refrigerator and shape it into a loaf. Carefully place your meatloaf on a baking sheet lined with parchment paper and put it inside a preheated oven of 350 degrees Fahrenheit and let it cook for 20 minutes. Be sure to set a timer so you don't overcook it because the meatloaf will continue to cook even once it's out of the oven.
Keto Asian Sauce
While the meatloaf is roasting, it's time to make the sauce. Add sesame oil, rice wine vinegar, soy sauce, water, granulated sweetener and flaxseed meal in a small saucepan. Whisk the ingredients quickly to combine them, otherwise the sauce will separate and won't turn out well at all. Add chopped scallions and chili peppers for a little extra heat and allow the sauce to simmer and thicken. It may take a few minutes but just keep stirring.
After 20 minutes, take out the meatloaf and brush it evenly with the sauce. Return the meatloaf into the oven and let it roast for an additional 20 minutes. By the time it's done, the meatloaf will have soaked up all the flavors from the sauce, and your kitchen will smell absolutely amazing.
This teriyaki chicken meatloaf with fresh scallions will put an end to the thought of boring old meatloaf recipes. If you haven't already tried using ground chicken for meatloaf, now you know how tasty it can be.
More Keto Meatloaf Recipes:
Bacon Wrapped Keto Meatloaf with a Sweet and Sour Glaze
Classic Crockpot Keto Meatloaf for an Easy Family Meal
Print Recipe
Teriyaki Chicken Meatloaf with Fresh Scallions
Author: Bree - KetoPots.com
Prep Time:

15 minutes

Cook Time:

40 minutes

Total Time:

55 minutes

Yield:

4

1

x
FREE KETO RECIPES + 5-INGREDIENT KETO COOKBOOK

Make sure to sign up for free to get instant access to the 5-Ingredient Keto Cookbook, which includes my favorite 20+ keto recipes of all-time, all under 5 ingredients.
Scale
For the meatloaf:
1 pound ground chicken
1 egg
¼ cup flaxseed meal
2 garlic cloves, minced
2 tsp grated fresh ginger
1 tbsp soy sauce
2 tbsp chopped fresh scallion
¼ tsp black peppersalt to taste
For the sauce:
½ tsp sesame oil
1 tbsp rice wine vinegar
4 tbsp soy sauce
¼ cup water
1 tbsp granulated Stevia sweetener
2 tbsp chopped scallions
2 small dried chilies, seeded and chopped
¼ tsp flaxseed meal
For decoration (optional):
sliced scallions
Preheat oven to 350°F.
Line a baking dish with parchment paper. Set aside.
In a large bowl place the ground chicken, flaxseed meal, garlic, ginger, egg, soy sauce, scallions, black pepper and salt to taste.
With clean hands, mix the ingredients until well combined.
Place the meat mixture in the prepared baking dish, and form into a loaf.
Roast the meatloaf for 20 minutes.
Place the sesame oil, rice wine vinegar, soy sauce, water, sweetener and flaxseed meal in a small saucepan and whisk until combine.
Add the scallions and chili peppers and bring to boil.
Cook until the sauce reaches your desired thickness.
Remove the meatloaf from the oven.
Brush with the sauce then return to the oven for 20 minutes.
Remove from the oven, garnish with sliced scallions (if using) and serve.