Keto Chicken Recipes
Crunchy Munchy Baked Keto Chicken Tenders (Easy Recipe)
In my opinion, the best kind of keto recipes are the kind that the entire family can enjoy. That's especially true in my case considering that both of my kids are fairly picky eaters. Fortunately for me, there are all kinds of great keto recipes that I'm hooked on that my kids also love as well. A great example of that is this recipe for making crunchy keto chicken tenders. You'll be using juicy pieces of chicken breast fillets and making a homemade coating out of savory ingredients like Parmesan cheese, paprika, garlic powder, and onion powder. Talk about yummy!

Kids and Adults Alike Love These Chicken Tenders
The first time that I made these tenders, I was incredibly impressed with how yummy they turned out. But once my kids also told me how good they were, I knew I was on to something.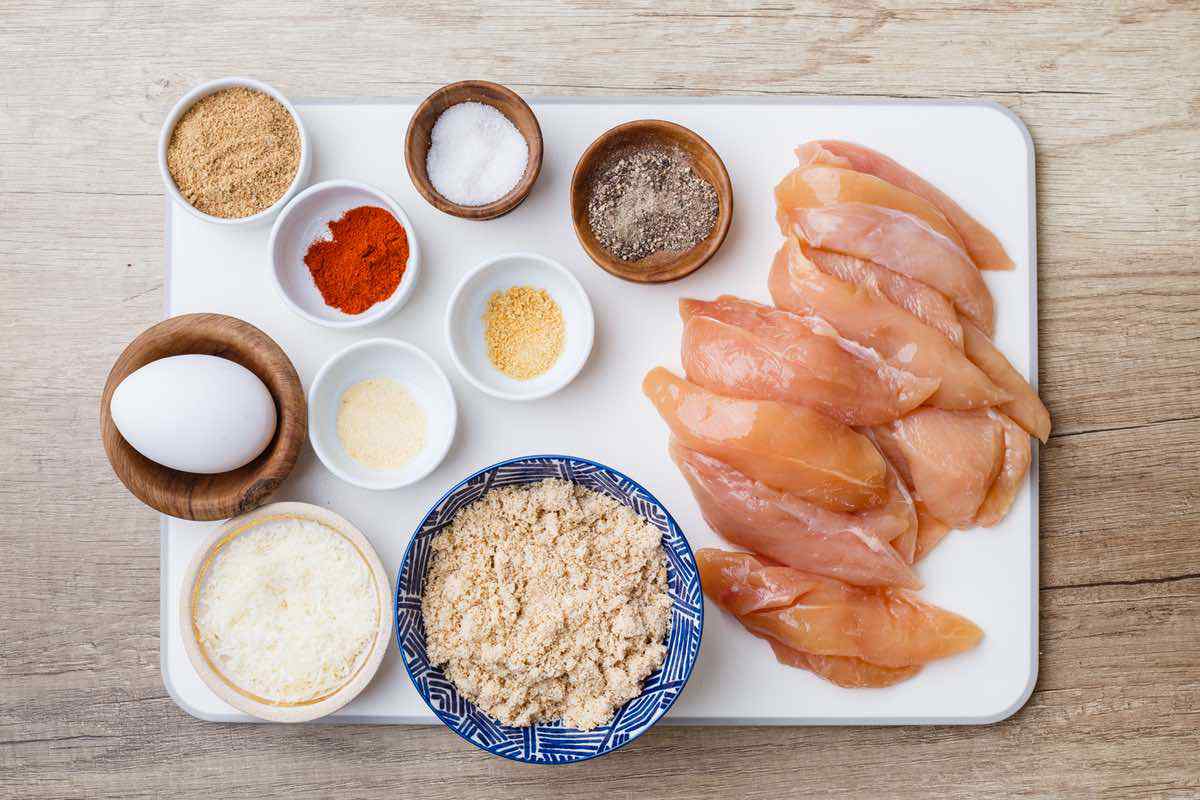 After preheating your oven to 350 degrees fahrenheit, you'll want to take your chicken breast fillets (you can also use dark meat cuts of chicken if you would prefer) and season them with salt and black pepper.
With that out of the way, grab a shallow bowl and mix together some almond flour, grated Parmesan cheese, finely ground flaxseed meal, paprika, garlic powder, onion powder, and a bit more salt and black pepper. Set this bowl to the side.
Grab another bowl and crack your egg into it before lightly beating it. Next, take each of your chicken fillets, dip them into the egg, and then coat them in the almond flour mixture. Once you're done with all of your fillets, arrange them evenly on a baking sheet lined with parchment paper.
You can then spray the chicken with olive oil spray before baking them for 15-20 minutes. Serve the chicken immediately along with your favorite dipping sauce.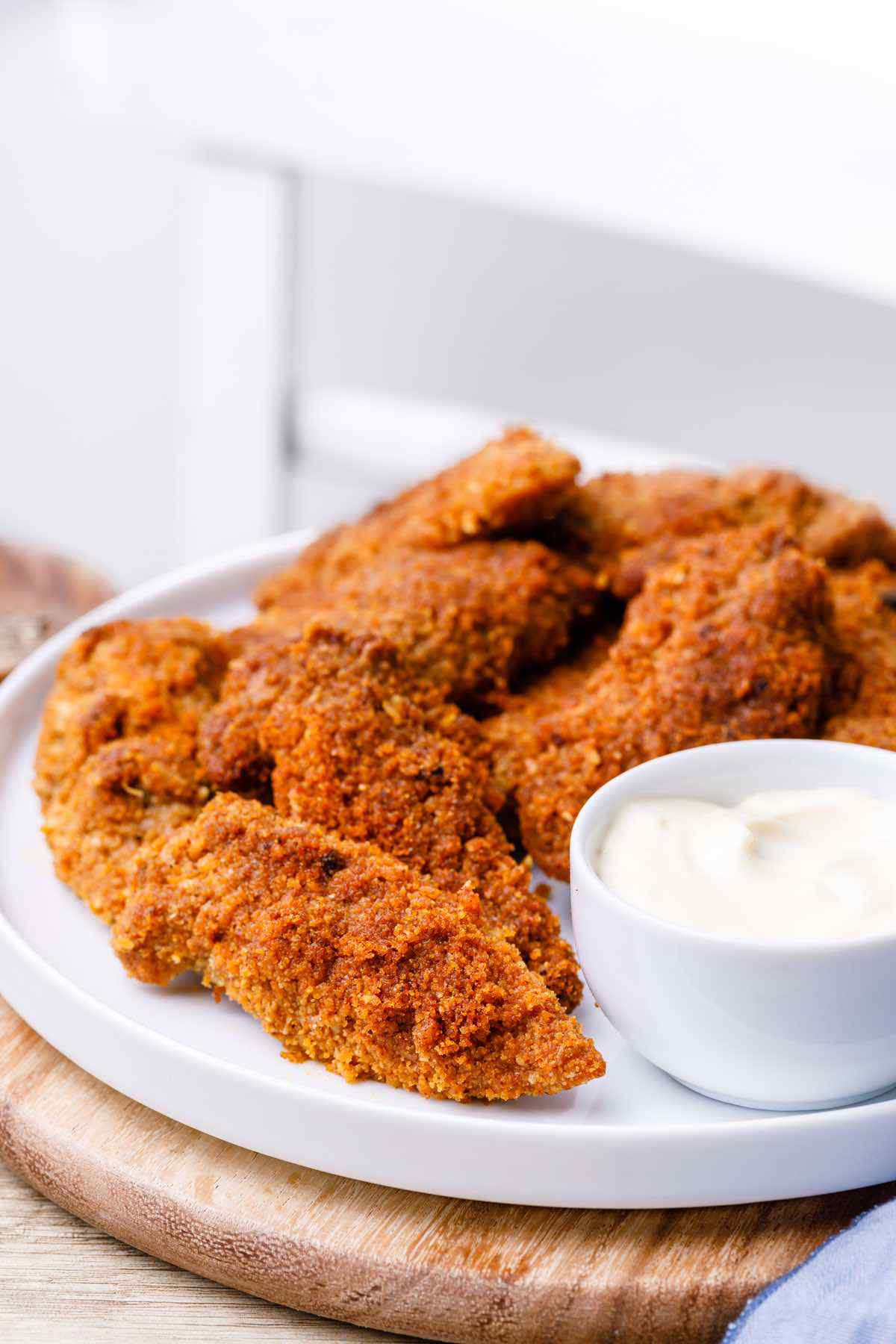 Chicken Breast vs Chicken Thighs for Tenders – Which is Better?
There's often a debate amongst keto dieters who love chicken. If you're wondering that same thing in regards to making this keto chicken tender recipe, then the best answer that I can give you in all honesty is that it comes down to personal preference.
Chicken thighs are typically juicer and more flavorful cuts of meat than chicken breasts. They also have a higher concentration of saturated fats, on top of typically being significantly less expensive than chicken breasts are.
However, with that being said, I personally prefer to use chicken breast fillets whenever I make this recipe. I get more than enough calories from quality fat sources in the rest of my diet, so the trade-off is worth it to me.

Once You're Hooked, You're Hooked!
I seriously end up getting a ton of questions regarding making keto friendly options, so I consider myself an expert on this topic after doing so much research. While this particular recipe happens to be my very favorite, I've also tried a handful of other truly good keto chicken tender recipes so here they are if you're curious:
What Should Be the Internal Cooking Temperature of Chicken?
Whether you're cooking white meat or dark meat chicken, the minimum safe internal temperature when cooking your chicken should be 165 degrees fahrenheit. The best method to determine the internal temperature of your meat is by using a meat or instant-read thermometer.
How to Reheat These Chicken Tenders
If you end up having some of these keto chicken tenders left over, you can always simply fire a few of them in the microwave for 30-60 seconds to reheat them. However, I like my leftover tenders to be a little bit on the crispy side of things, so I usually just heat up my oven to 400 degrees fahrenheit and throw the tenders in there for about 10 minutes or so.
Can I Freeze Cooked Chicken Tenders?
Yes, you may safely freeze your cooked chicken tenders for up to one month if you won't have time to finish them off for whatever reason. If you do end up freezing them, I definitely recommend reheating them in the oven whenever you're ready to enjoy them.
(View more: Easy Keto Chicken Recipes)
Print Recipe
Crunchy Munchy Baked Keto Chicken Tenders (Easy Recipe)
Author:
Prep Time:

20 minutes

Cook Time:

15 minutes

Total Time:

35 minutes

Yield:

6

1

x
FREE KETO RECIPES + 5-INGREDIENT KETO COOKBOOK

Make sure to sign up for free to get instant access to the 5-Ingredient Keto Cookbook, which includes my favorite 20+ keto recipes of all-time, all under 5 ingredients.
Scale
1

pound chicken tenders

1

egg

1 ½ cups

fine almond flour 

½ cup

grated Parmesan cheese

4 tbsp

finely ground flaxseed meal 

2 tsp

paprika

1 tsp

garlic powder

1 tsp

onion powder

salt and black pepper to taste 

olive oil cooking spray
Preheat oven to 350°F.

Season the chicken with salt and black pepper. 

Place the almond flour, Parmesan cheese, flaxseed meal, paprika, garlic powder, onion powder and salt and black pepper to taste in a shallow bowl and mix to combine. Set aside. 

Add the egg to another bowl and beat it lightly.

Dip each chicken piece in the egg then coat in the almond flour mixture. 

Repeat this step. 

Place them on a baking sheet lined with parchment paper. 

Spray the chicken with olive oil spray. 

Bake for 15-20 minutes or until golden. 

Serve immediately.