Keto Recipes
Genius Keto Chicken Pizza Crust (This is So Good!)
It never ceases to amaze me with just how creative some keto recipes can get. While the principles of keto eating will always remain the same (high fat/moderate protein/minimal carb), there are countless ways to make many of your old favorite foods completely keto-friendly. And not only can you do so, but quite often, the resulting keto style meal is actually even better than the original! This recipe is a prime example of that. It's both highly creative and unbelievably good. It makes a genius keto chicken pizza crust that is truly every bit as good as it sounds.

One Truly Tasty Pizza Crust
Before we dive into the meat and potatoes of this particular recipe, I wanted to give you guys a heads up that, as with most of our keto pizza recipes, you're going to want to have a pizza stone to make this. I personally use and recommend a Heritage 15 inch ceramic pizza stone and it works wonderfully. You can order one yourself online by clicking here. With that disclaimer out of the way, let's get into how to actually make this yummy pizza crust.
There are two main parts of this recipe: mixing the ingredients together and then getting your pizza dough prepped and ready to bake. In order to make the chicken crust, you'll be using one pound of ground chicken, mainly because the texture it provides works great for holding your dough together. It's also an excellent way to add a ton of protein and animal fats into the mix as well. To further help the dough keep its shape, you will also need a single large egg. This obviously also has the benefit of adding more protein and omega-3 fats, helping to make this pizza crust more appropriate for keto dieters.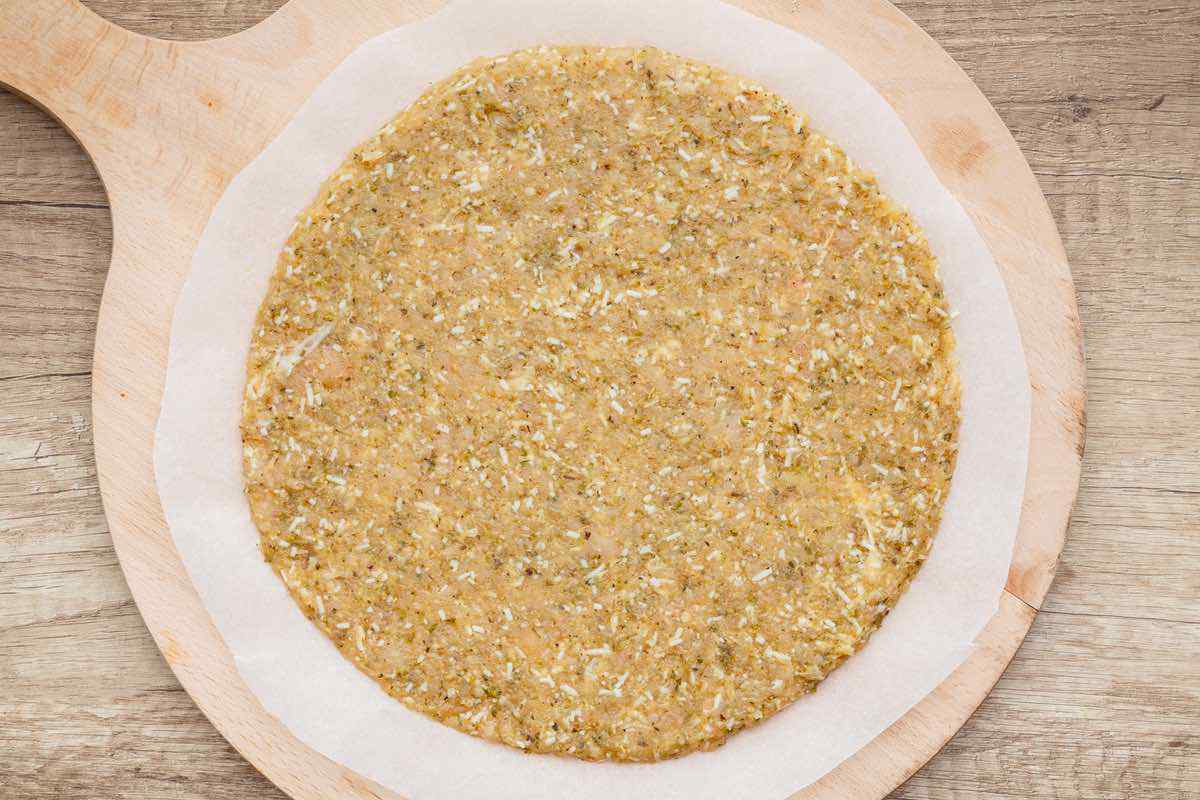 Don't Skimp on the Herbs and Spices
This recipe also calls for a delightful mix of herbs and spices to be used, including dried thyme and basil, oregano, black pepper, and garlic powder. Not only do all of these ingredients help to give your pizza crust a nice and distinctive flavor, but they also make it incredibly healthy as well. Herbs and spices are commonly used all over the world for the great taste that they provide, but also because they're packed with disease fighting antioxidants. (1)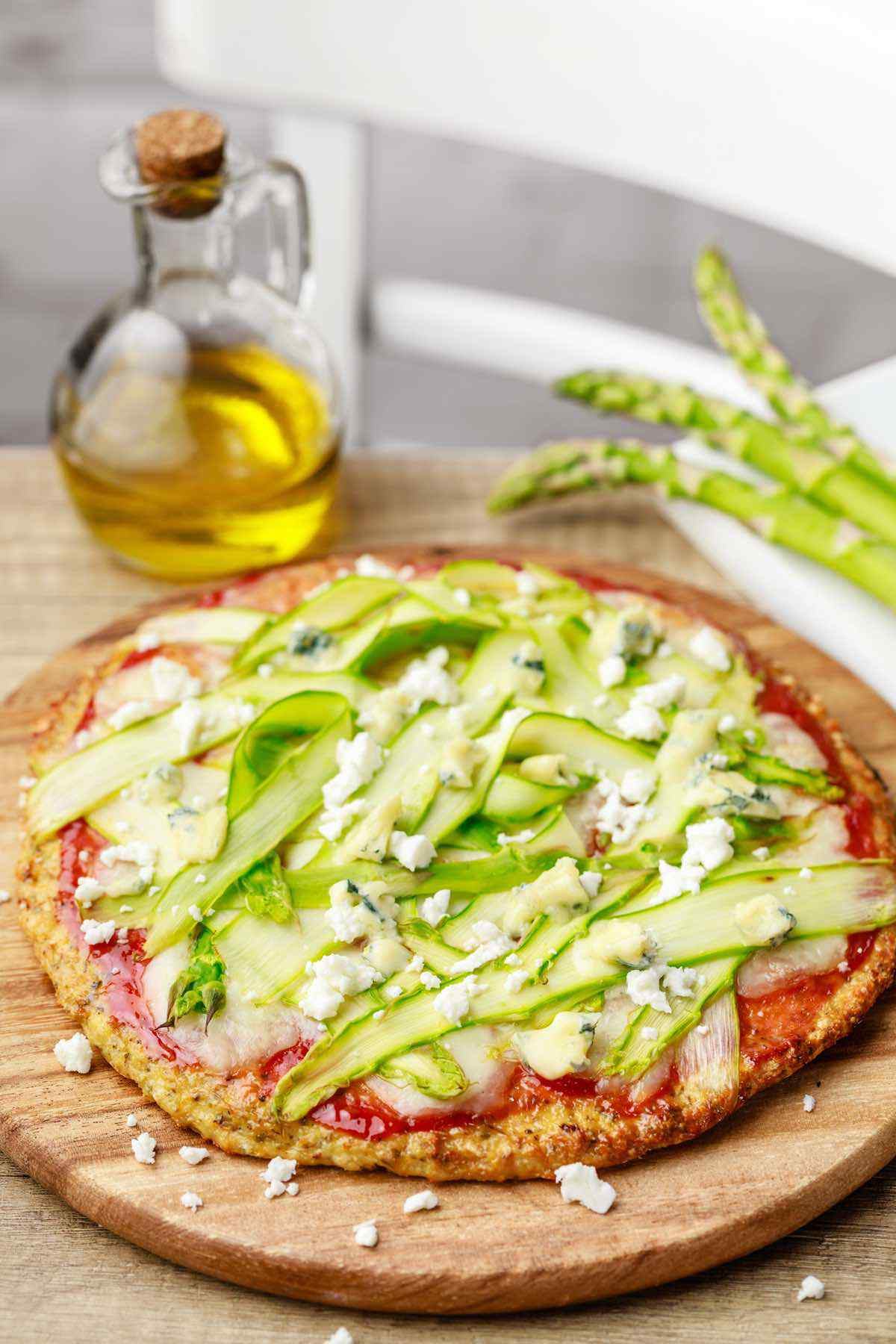 Finally, you'll also be adding Parmesan cheese into the mix. This adds yet another great source of protein and fat to your crust — not to mention the huge amount of flavor that it also provides. All of the above ingredients combine perfectly for one major purpose: making a great tasting homemade pizza crust that has next to no carbohydrates in it. You are now all set to get your parchment paper ready and follow the directions below to transfer your pizza dough to the pizza stone.
As soon as you get a taste of this chicken pizza crust, I'm sure you will agree with me that it is absolutely unreal. If you really want to take things a step further as well, I strongly recommend taking your crust and adding your own homemade buffalo chicken sauce and toppings to make a tasty buffalo chicken keto pizza. My mouth is watering just thinking about it!
More Good Keto Pizza Recipes
Print Recipe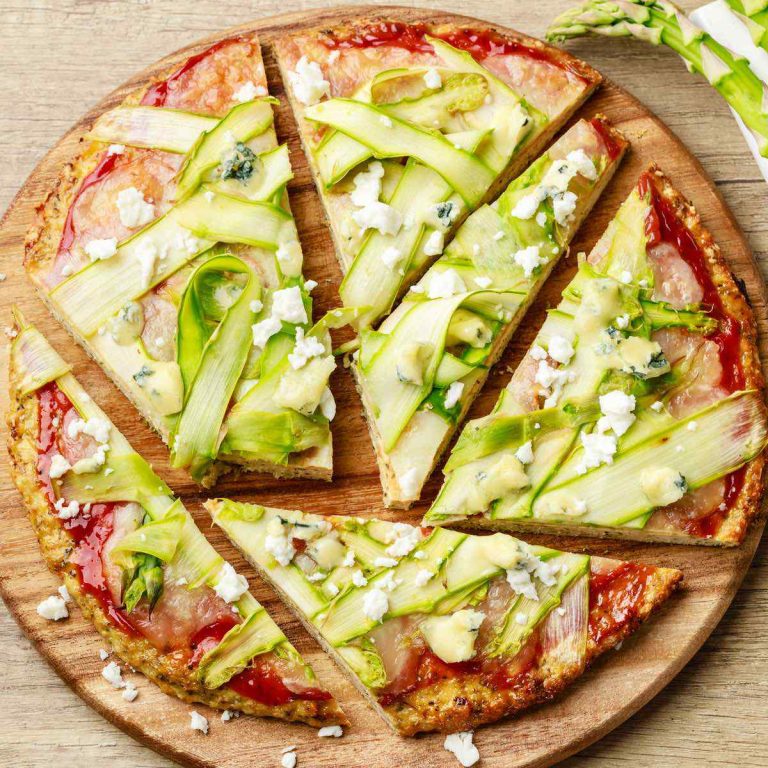 Genius Keto Chicken Pizza Crust
Author: ketopots.com
Prep Time:

10 minutes

Cook Time:

20 minutes

Total Time:

30 minutes

Yield:

4

1

x
FREE KETO RECIPES + 5-INGREDIENT KETO COOKBOOK

Make sure to sign up for free to get instant access to the 5-Ingredient Keto Cookbook, which includes my favorite 20+ keto recipes of all-time, all under 5 ingredients.
Scale
1 pound ground chicken
1 large egg
1 ½ tbsp oregano
1 tsp dried thyme
1 tsp dried basil
1 tsp garlic powder
½ tsp ground black pepper
½ cup grated Parmesan cheese
salt to taste
Place pizza stone in a cold oven on the lowest rack.
Preheat the oven to 425°F.
In large bowl place all the ingredients and mix to combine.
Place the chicken mixture between two pieces of parchment paper and roll out to 1/3″ thick.
Carefully remove the top piece of parchment paper.
Using the back side of a baking sheet, slide the crust with the parchment paper onto the hot pizza stone.
Bake for 15 minutes.
Remove from the oven and add desired toppings.
Bake for an additional 5-10 minutes.