Keto Recipes
Irresistible Crockpot Keto Cheeseburger Soup (A Family Favorite)
If there's one fast food item that is perfectly positioned to be a keto food, it would have to be the classic cheeseburger. I mean, seriously, think about it — a juicy beef hamburger with cheddar cheese melted over top of it, and then served with a few slices of bacon? I'll wait a few moments for your mouth to stop watering. Obviously, the only downside is how unhealthy fast food actually is. This recipe provides the perfect solution. It doesn't just make a tasty homemade cheeseburger — oh no, it goes a step further and makes an irresistible crockpot keto cheeseburger soup. It gives you everything that you know and love about cheeseburgers in an incredibly healthy soup format that's 100% keto-friendly.

An Amazingly Healthy Way to Enjoy Cheeseburgers
The recipe directions below call for using two pounds of lean ground beef, but you can feel free to opt for a medium ground beef instead — I usually do as it helps to squeeze a few extra fat calories into my meals. Whatever type of ground beef you decide to use, start by browning it in a pan with olive oil over a medium heat. Aside from coconut oil for certain recipes that call for it, I use olive oil for all of my keto cooking needs as it's an excellent source of heart healthy monounsaturated fatty acids that has been proven to help keep cardiovascular disease at bay. (1)
After adding the ground beef into your slow cooker, mix in your veggies, chicken broth, and dried basil and parsley. All of these ingredients act as a perfect complement to the beef and cheese found in this soup, while also adding in an abundance of essential vitamins, minerals, and potent antioxidants. More importantly though, when it comes to making a tasty soup, they all help to add a huge amount of great tasting flavor to this recipe.
Leave everything to cook in the crockpot for about four hours or so, and then you can add in cauliflower florets. When it comes to vegetables that should be in absolutely everybody's kitchen, cauliflower should be at the top of the list. It's so incredibly versatile as a low carb option that can honestly serve as a replacement for TONS of different things — it can be used for everything from replacing pasta noodles to making pizza crusts (and even fantastic pizza casseroles!).
Cauliflower is super good for you as well, as it's an excellent of vitamin C, minerals, and disease-fighting antioxidants. (2) Let your soup cook for an additional 30 minutes after adding the cauliflower florets before you then mix in a bit of heavy cream and shredded cheddar cheese to finish the recipe off with some nice fat-heavy ingredients. You can also optionally add some scallions as a topping when serving this soup if you wish.
I don't think it's an exaggeration when I say that this recipe just might make the most satisfying soup — keto or otherwise — that I've ever tasted. It perfectly captures everything that I love about cheeseburgers and makes it into an amazingly healthy soup meal that is way healthier than anything you could ever get from McDonalds or Burger King. The only thing that's missing is the bacon — but it's never a problem to make a handful (or a lot more!) of strips of bacon to go along with this soup, now is it? Enjoy!
One quick final note, as you can see from this cheeseburger soup recipe, you can take all kinds of classic foods and find a way to make them 100% keto-friendly. Some other favorites of mine that do the same thing include these genius cream cheese keto pancakes served with whipped cream and berries. Or how about this double dark chocolate keto ice cream? Last but not least, be sure to try out this crispy, crunchy keto fried chicken recipe — it's finger lickin' good!
More Keto Soup Recipes:
Nourishing Beef Bone Broth Keto French Onion Soup
Homemade Keto Cream of Mushroom Soup (Great for Making Casseroles)
Out of This World Keto Vegetable Soup (Wholesome and Delicious)
5-Ingredient Creamy Tomato and Basil Soup (Keto-Friendly)
Grandma-Approved Crockpot Keto Taco Soup
The Best Keto Broccoli Cheese Soup (More Cheddar, More Better)
Print Recipe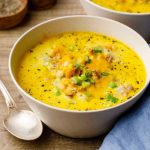 Crockpot Keto Cheeseburger Soup
Author:
Prep Time:

15 minutes

Cook Time:

5 hours

Total Time:

5 hours, 15 minutes

Yield:

6

1

x
FREE KETO RECIPES + 5-INGREDIENT KETO COOKBOOK

Make sure to sign up for free to get instant access to the 5-Ingredient Keto Cookbook, which includes my favorite 20+ keto recipes of all-time, all under 5 ingredients.
Scale
2 pounds ground lean beef
2 tbsp olive oil
2 tbsp chopped onion
1 medium carrot, grated
1 stalk celery, diced
2 tsp dried basil
2 tsp dried parsley
4 cups homemade chicken broth
2 cups cauliflower florets
2 cups shredded cheddar cheese
½ cup heavy cream
salt, black pepper to taste
2 tbsp sliced scallions (optional)
In a large pan heat the olive oil over medium heat.
Add the ground beef, breaking up the pieces with a wooden spoon, and cook until brown, about 10 minutes.
Transfer the beef into a slow cooker.
Add the chopped onion, grated carrot, celery, dried basil, dried parsley and chicken broth.
Mix to combine.
Cover with a lid and cook on low for 4 hours.
Add the cauliflower and cook for 30 minutes.
Stir in the heavy cream and shredded cheese and continue to cook until the cheese is melted.
Season with salt and black pepper to taste.
Divide the soup between bowls, top with scallions (if using) and serve.