Keto Recipes
Crockpot Keto Cheeseburger Soup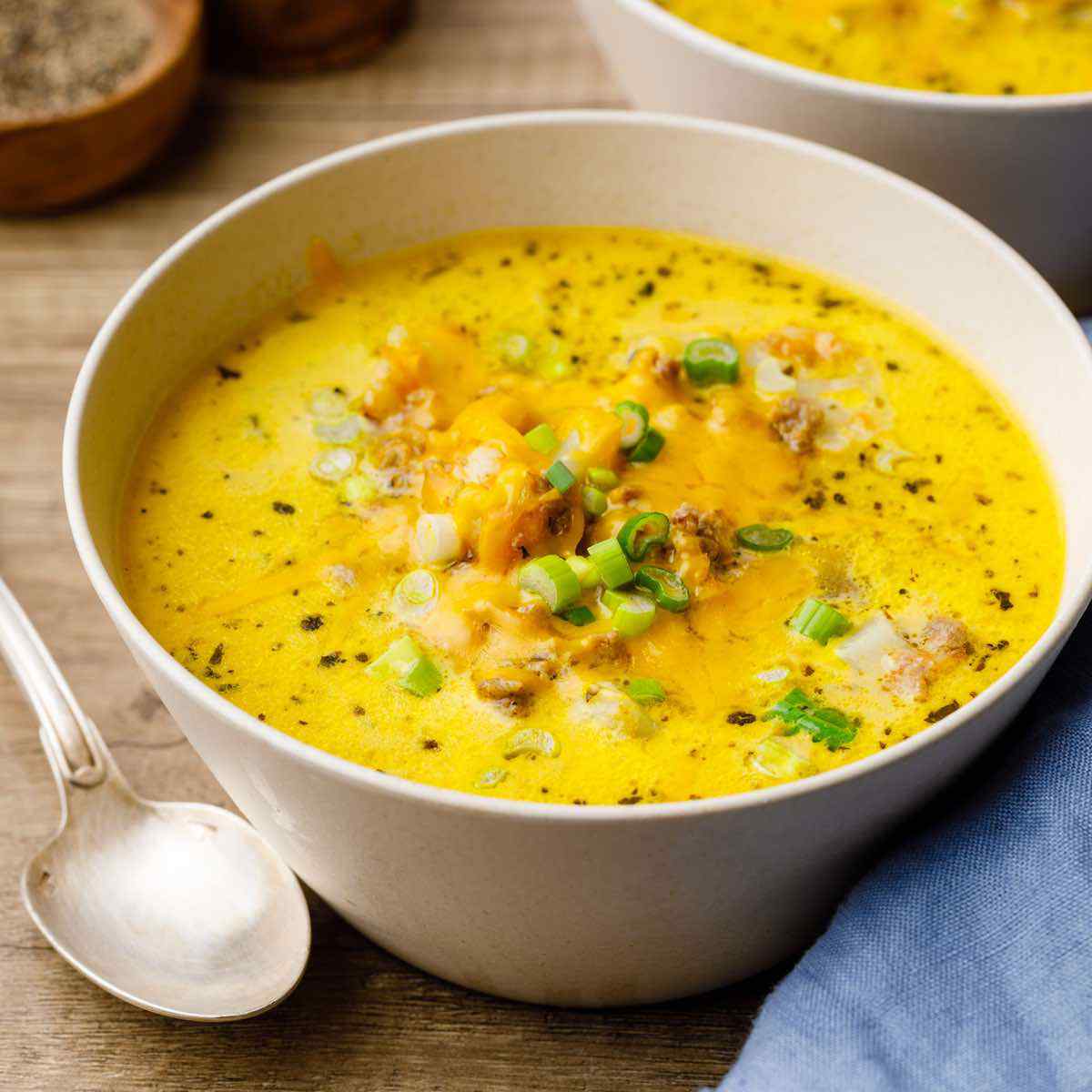 This is the most delicious crockpot keto cheeseburger soup recipe! Everything that you know & love about cheeseburgers in a healthy keto-friendly soup.
Want more cheeseburger goodness? Try this bacon cheeseburger casserole (for an easy, low carb dinner) or these bacon cheeseburger zucchini boats (they're so, so good!).
---
How to Make Crockpot Keto Cheeseburger Soup
The recipe directions below call for using two pounds of lean ground beef, but you can feel free to opt for a medium ground beef instead — I usually do as it helps to squeeze a few extra fat calories into my meals. Whatever type of ground beef you decide to use, start by browning it in a pan with olive oil over a medium heat.
Aside from coconut oil for certain recipes that call for it, I use olive oil for all of my keto cooking needs as it's an excellent source of heart healthy monounsaturated fatty acids that has been proven to help keep cardiovascular disease at bay. (1)
Related: Beer Cheese Soup
---
After adding the ground beef into your slow cooker, mix in your veggies, chicken broth, and dried basil and parsley.
All of these ingredients act as a perfect complement to the beef and cheese found in this soup, while also adding in an abundance of essential vitamins, minerals, and potent antioxidants. More importantly though, when it comes to making a tasty soup, they all help to add a huge amount of great tasting flavor to this recipe.
Leave everything to cook in the crockpot for about four hours or so, and then you can add in cauliflower florets. When it comes to vegetables that should be in absolutely everybody's kitchen, cauliflower should be at the top of the list.
---
It's so incredibly versatile as a low carb option that can honestly serve as a replacement for TONS of different things — it can be used for everything from replacing pasta noodles to making pizza crusts (and even fantastic pizza casseroles!).
Cauliflower is super good for you as well, as it's an excellent of vitamin C, minerals, and disease-fighting antioxidants. (2).
Let your soup cook for an additional 30 minutes after adding the cauliflower florets before you then mix in a bit of heavy cream and shredded cheddar cheese to finish the recipe off with some nice fat-heavy ingredients. You can also optionally add some scallions as a topping when serving this soup if you wish.
---
I don't think it's an exaggeration when I say that this recipe just might make the most satisfying soup — keto or otherwise — that I've ever tasted. It perfectly captures everything that I love about cheeseburgers and makes it into an amazingly healthy soup meal that is way healthier than anything you could ever get from McDonalds or Burger King.
The only thing that's missing is the bacon — but it's never a problem to make a handful (or a lot more!) of strips of bacon to go along with this soup, now is it? Enjoy!
P.S. If you're getting hit hard with a Big Mac craving, make sure to try this addictive Big Mac casserole recipe:
---
Print