Keto Recipes
Bacon Cheeseburger Keto Casserole (Low Carb Casserole Recipe)
This keto bacon cheeseburger casserole gives you all of the satisfaction of a bacon cheeseburger in an even easier to make form. As far as keto-friendly casseroles go, you'll be hard pressed to find a more satisfying recipe than this one.

If you LOVE cheeseburgers as much as I do and want more keto-friendly ideas, make sure to make my Keto Bacon Cheeseburger Zucchini Boats, Keto Cheeseburger Soup and Sheet Pan Keto Burgers as well.
How to Make Keto Cheeseburger Casserole
Every really good cheeseburger can be made into an outstanding cheeseburger with the right assortment of condiments. This casserole recipe definitely takes that statement to heart, as it includes quite a yummy assortment of extra ingredients! In fact, the very first thing that you'll be doing is mixing your lean ground beef together with some of these savory ingredients — the chopped onion, tomato paste, yellow mustard, and just a bit of salt.
I especially like the use of onion in this recipe (you'll also be using green onions in a bit), as they add a great deal of flavor (just like with real cheeseburgers!) while offering a solid amount of health benefits thanks to the flavonoids they contain. Some of the benefits offered by onions include anticarcinogenic and antiasthmatic activity, among others. (1)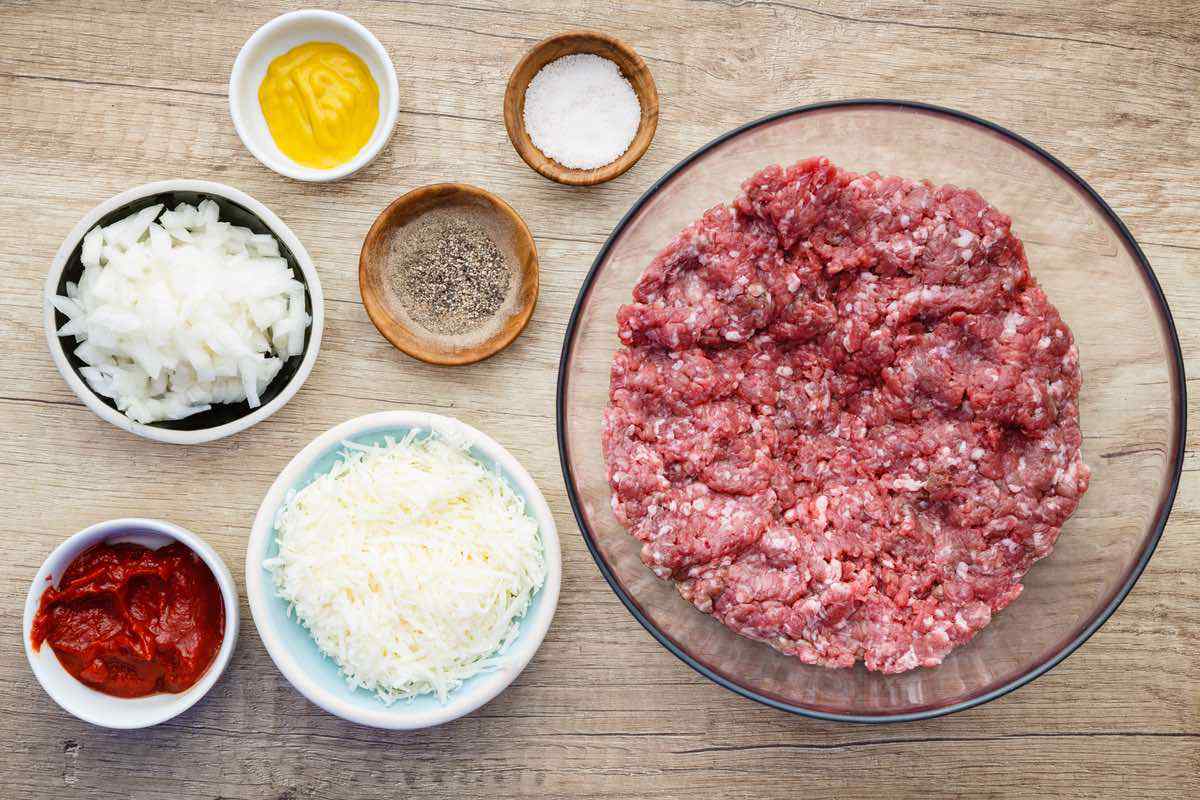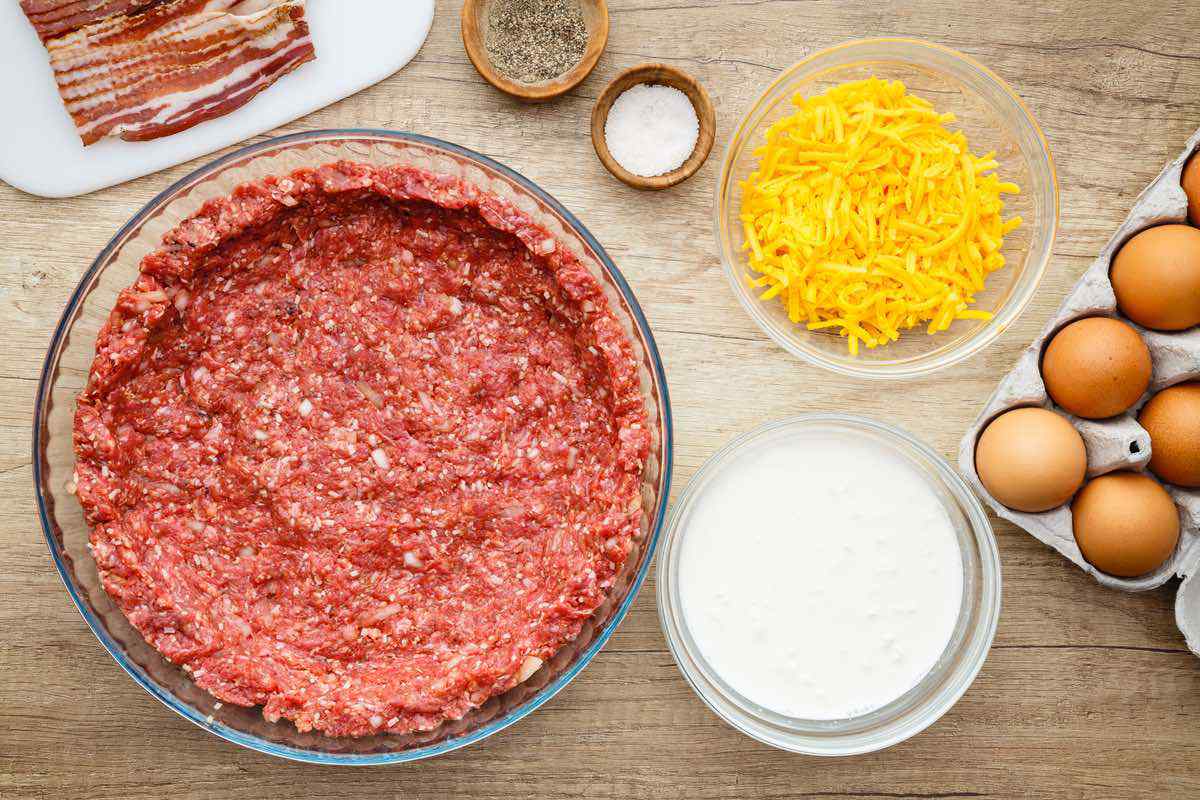 After mixing these ingredients together, press them into an eight inch pie plate before baking it for about 15-20 minutes. While your beef mixture is baking, you can turn your attention to combining your two eggs with the heavy cream and shredded cheddar cheese.
These three common keto ingredients combine excellently to make a deliciously cheesy casserole filling that you won't be able to get enough of — and best of all, it's absolutely loaded with healthy fats and protein. After you beef is done baking, you can pour the egg and cheese mixture over top of it and then return it to the oven for another 15-20 minutes.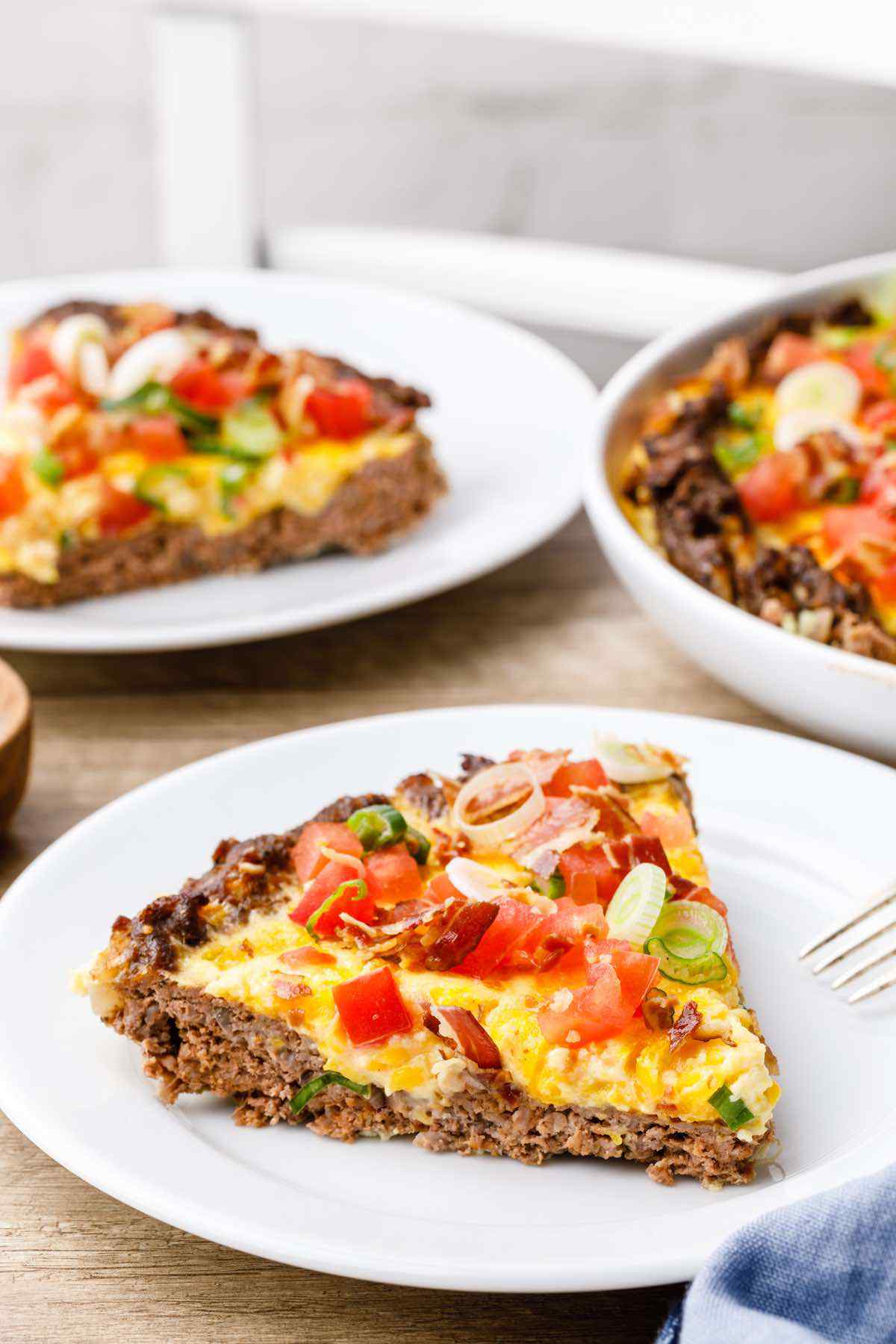 You're not quite done yet as there's still the matter of adding a few choice toppings to your casserole, including my personal favorite, the bacon (don't tell me you forgot about the bacon)! Along with the crumbled bacon, you'll be adding the aforementioned green onion and some chopped tomatoes.
(Also try: Low Carb Cauliflower Pizza Casserole)
Types of Bacon
You may be surprised to know that there are several types of bacon with varying macronutrient ratios; some contain more fat, while some have a higher protein content.
Canadian Bacon – This type of bacon is lower in fat than regular American-style bacon. It tastes similar to ham and is often cured.
American-Style Bacon – This is the most common type of bacon available. It is high in fat and low in protein, making it ideal for keto dieters.
Pancetta – Pancetta is Italian-style bacon typically sold at delis or specialty meat stores. It is cured with salt, cloves and peppercorns.
Part of the reason I love this casserole dish so much is because it actually does use all of the same toppings that I order on my bacon cheeseburgers — ketchup, mustard, onion, and tomatoes. Along with the incredibly tasty ingredients already discussed, don't underestimate just how much flavor the tomatoes add to this casserole as well. They're no slouch when it comes to nutritional value either, as they're a rich source of vitamin C, antioxidants, and other anticancer substances. (2) Once you've added the three toppings, go ahead and dig in!
Print Recipe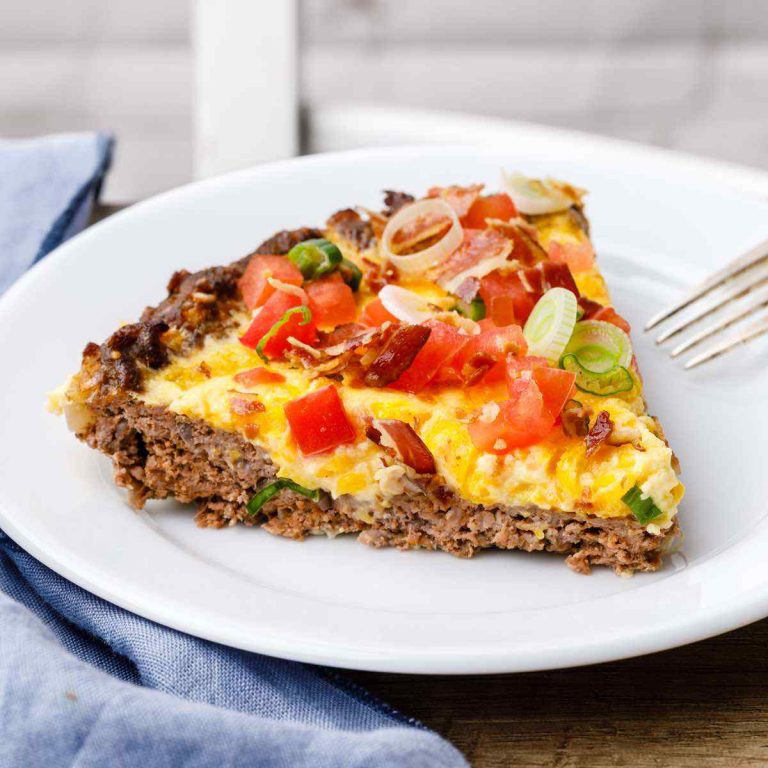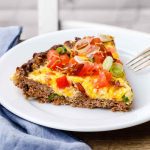 Bacon Cheeseburger Keto Casserole
Author: ketopots.com
Prep Time:

10 minutes

Cook Time:

45 minutes

Total Time:

55 minutes

Yield:

6

1

x
FREE KETO RECIPES + 5-INGREDIENT KETO COOKBOOK

Make sure to sign up for free to get instant access to the 5-Ingredient Keto Cookbook, which includes my favorite 20+ keto recipes of all-time, all under 5 ingredients.
Scale
1 pound extra-lean ground beef
¼ cup finely chopped onion
2 tbsp tomato paste
2 tsp yellow mustard
2 eggs
½ cup heavy cream
1 cup shredded Cheddar cheese
1 medium tomato, chopped
3 slices bacon, cooked and crumbled
2 green onions, sliced
salt, black pepper to taste
Preheat oven to 375°F.
In a bowl add the ground beef, chopped onion, tomato paste, yellow mustard and ½ tsp salt and mix to combine.
Press the mixture in an 8 inch pie plate.
Bake for 15- 20 minutes.
Meanwhile, in another bowl whisk together the eggs, heavy cream and cheddar cheese.
Season to taste with salt and black pepper.
Remove the beef crust from oven and pour off any drippings.
Pour the egg mixture over the beef crust and return to the oven.
Bake for 15-20 minutes.
Remove the casserole from the oven.
Top with chopped tomato, sliced green onions and crumbled bacon and serve.