Keto Bread
Keto Cheddar Bay Biscuits (Copycat Recipe)
When I used to go out to eat with my family as a kid, I would always order cheddar bay biscuits if they were on the menu. I was so hooked! Now that I'm older and have a splendid kitchen of my own, I figured it was time for me to experiment, and that's exactly how this keto cheddar biscuit recipe was born!
If you're looking for something more classic, try these southern keto biscuits.
---
How to Make Keto Cheddar Bay Biscuits
This popular cheddar bay biscuit copycat recipe i'm going to be sharing with you below quickly became my favorite (and they are so easy to make!).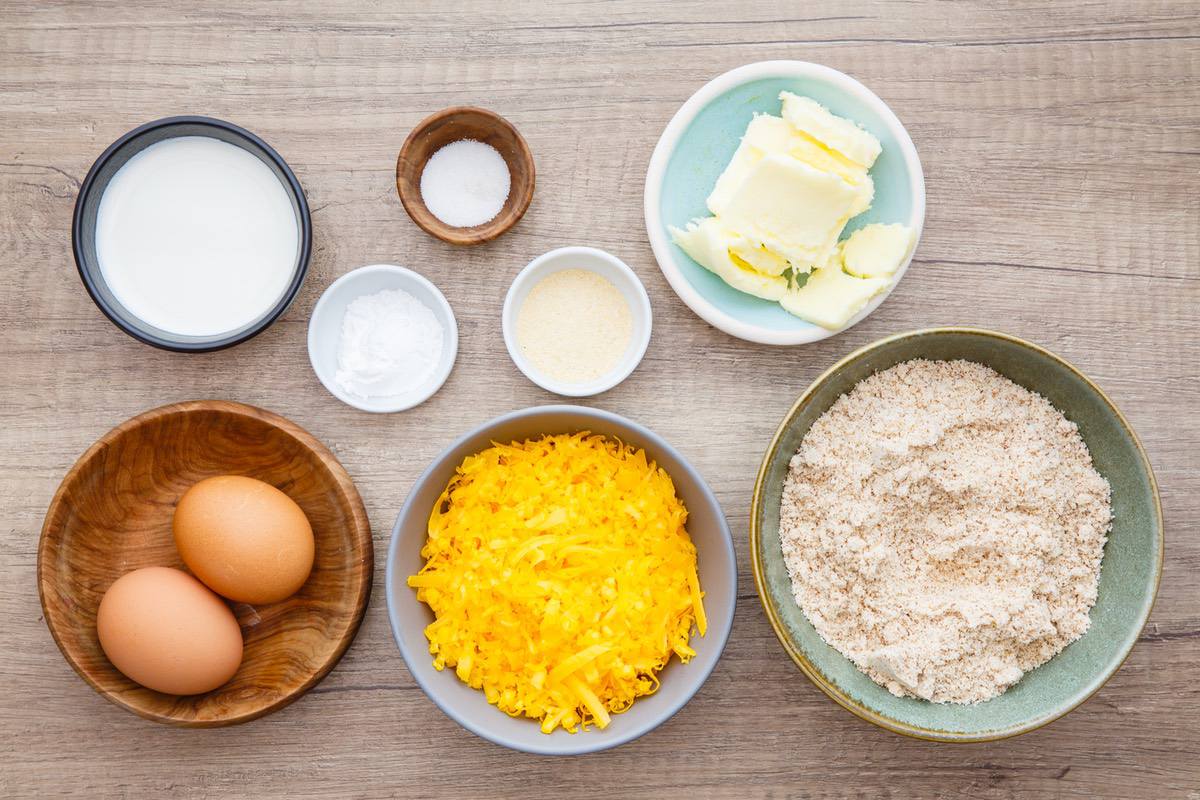 After preheating your oven to 350°F, you'll want to line a 12-cup muffin pan with either silicon or paper cups before setting it to the side. Next, grab a bowl and combine your almond flour, baking powder, garlic powder, and salt. Set this bowl aside and then grab a separate large bowl.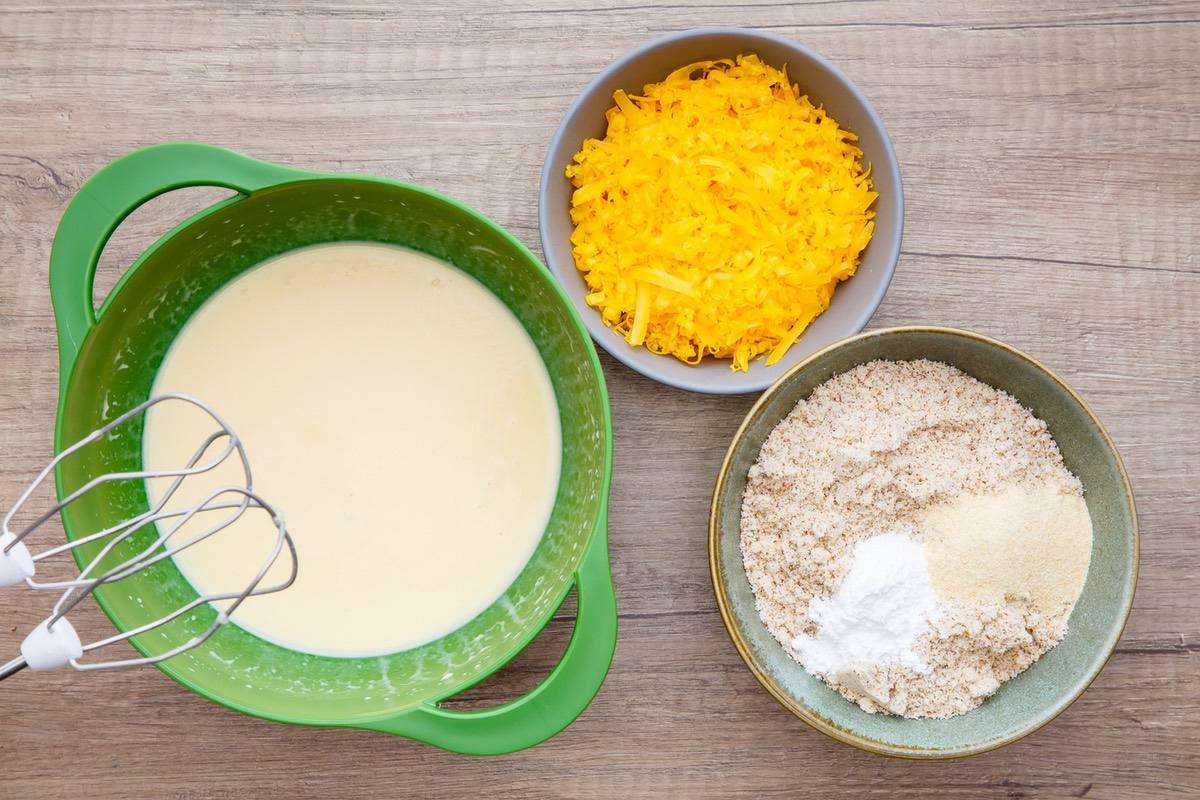 Add in your eggs, heavy cream and butter, and then beat until well combined. You can then add in your almond flour mixture and beat to combine once more.
You'll then want to fold in some shredded cheddar cheese before dividing your mixture among the 12 muffin cups. Bake at 350°F for 15-20 minutes, or just long enough for the biscuits to become firm and golden.
I have to tell you, the smell of this coming out of the oven is simply sublime! You'll want to make an extra large batch just to be safe.
How to Make Denser Cheddar Biscuits (If Preferred)
If you're interested in biscuits that are a bit flatter and denser, the best way to achieve that result is to simply spend a few extra minutes beating together your almond flour and egg mixtures when preparing this recipe.
Another way you can potentially increase the density of your cheddar biscuits is through adding more cheese with the same amount of almond flour. This quite the easy fix, not to mention it's enjoyable if you're a cheese lover like me!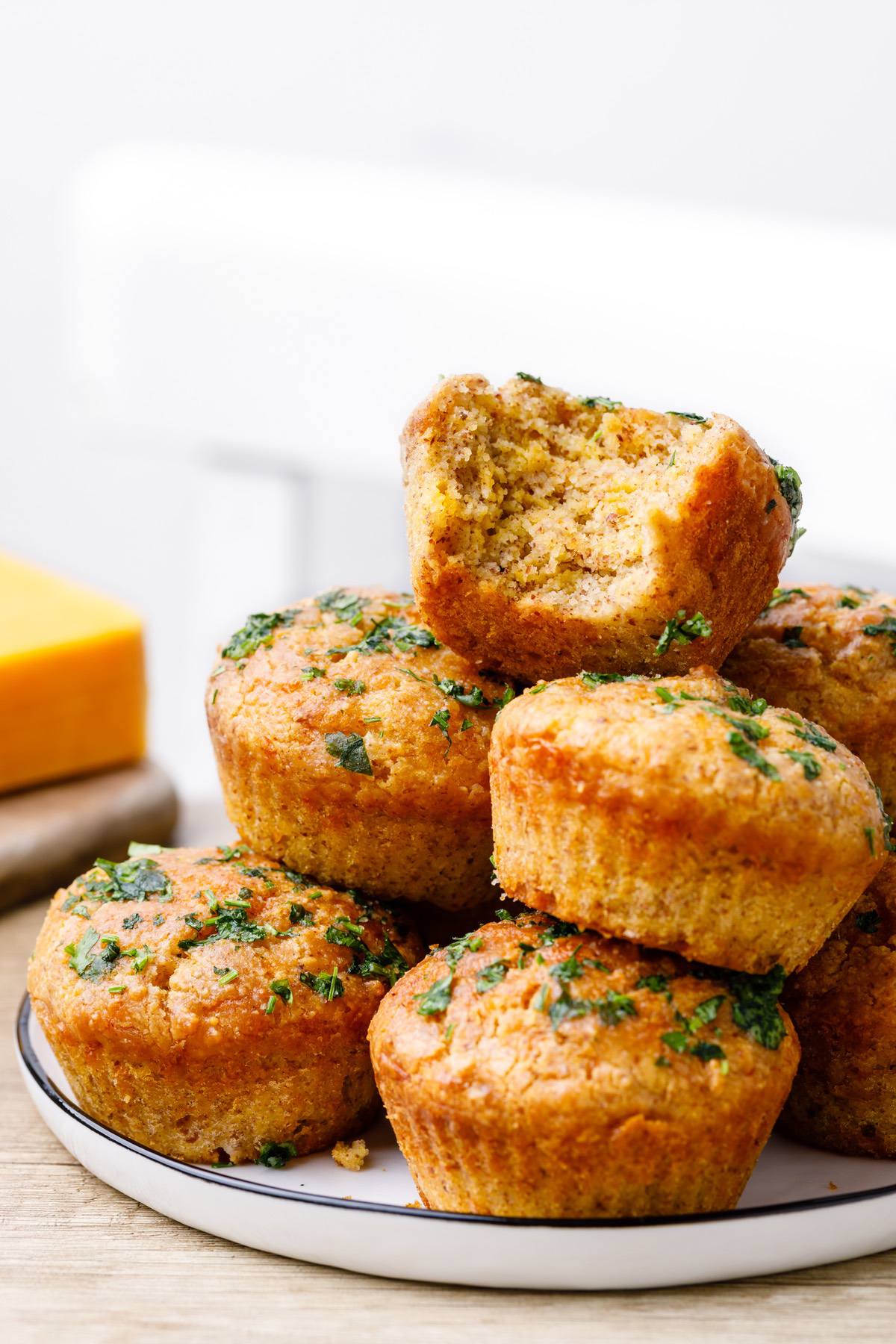 Can I Freeze Keto Cheddar Bay Biscuits?
Yes, you absolutely can freeze these cheddar biscuits!
For best results, you'll want to individually wrap each of your keto biscuits in plastic wrap. After wrapping them, place them in an airtight container that's freezer safe (or you can simply use a freezer bag).
Stored like this, you can expect your biscuits to last in the freezer for up to one month.
How to Reheat Cheddar Biscuits
In case you end up freezing your cheddar biscuits, be sure to reheat them properly to enjoy the same great taste and texture.
I would recommend preheating your oven to 350°F and placing your biscuits on a baking sheet. Throw them in the oven for 5-6 minutes (or until they're heated through). To reheat biscuits that haven't been frozen, you can heat them up in the microwave for approximately 20 seconds.
Be careful not to overcook your cheddar biscuits as you're reheating them as they will quickly dry out.
Are Low Carb Cheddar Bay Biscuits Healthy?
If you were to ask your average person if they considered Cheddar Bay Biscuits to be a healthy food option, many of them would probably say no thanks to all of the cheese and butter. With that being said, this particular recipe for making keto friendly Cheddar Bay Biscuits can definitely be considered healthy thanks to a few key ingredients.
Using almond flour as a keto friendly substitute for refined wheat flours provides an abundance of heart healthy monounsaturated fatty acids, dietary fiber, protein, and other essential micronutrients.
And while it's true that this recipe uses a few dairy products like butter, heavy cream, and cheddar cheese, all three of these ingredients add protein and essential minerals like iron and calcium to the final product.
P.S. Also make sure to try this southern favorite – keto fried chicken (the perfect combo with these cheddar bay biscuits!): https://ketopots.com/keto-fried-chicken
Keto-friendly Cheddar Bay Biscuit Alternatives
90 Second Cream Cheese Bread
Double Cheese Keto Chips
Keto Dinner Rolls
Print Recipe
Keto Cheddar Bay Biscuits (Copycat Recipe)
Author: Bree
Prep Time:

15 minutes

Cook Time:

15 minutes

Total Time:

30 minutes

Yield:

1

2

1

x
Category:

Bread

Method:

Baked

Cuisine:

American
Scale
For the biscuits: 
2 cups

almond flour

2 tsp

baking powder

1 tsp

garlic powder

½ tsp

salt

2

medium eggs

1/3 cup

heavy cream

1/3 cup

unsalted butter, melted

1 ½ cup

shredded cheddar cheese
For the toping: 
2 tbsp

butter, melted

1 tbsp

minced fresh parsley

½ tsp

garlic powder
Preheat oven to 350°F. 

Line a 12-cup muffin pan with silicon or paper cups. Set aside. 

In a bowl combine the almond flour, baking powder, garlic powder and salt. Set side. 

Add the eggs, heavy cream and melted butter to a large bowl and beat until well combined. 

Add the almond flour mixtures and beat to combine. 

Fold in the cheddar cheese. 

Divide the mixture between prepared muffin cups. 

Bake in preheated oven for 15-20 minutes or until firm and golden. 

Remove from the oven and set aside. 

In a small bowl combine the melted butter, parsley and garlic powder. 

Brush the biscuits with the butter mixture. 

Serve warm.
Keywords: cheddar bay, biscuit
FREE KETO RECIPES + 5-INGREDIENT KETO COOKBOOK

Make sure to sign up for free to get instant access to the 5-Ingredient Keto Cookbook, which includes my favorite 20+ keto recipes of all-time, all under 5 ingredients.