Keto Recipes
Keto Chai Tea (Low Sugar, Low Carb)
This recipe for making a fat burning keto chai tea is an instant refresher, whether you enjoy your beverages hot or cold. It's quite tasty and incredibly easy to make as well; you'll only need a handful of popular keto ingredients to make this chai tea.
How to Make Keto Chai Tea
Making your own keto-friendly chai tea is super simple with this easy to follow recipe:
Boil. Use a small saucepan to bring one cup of water to a boil.
Steep. Add in 2 chai tea bags and allow to steep for 4 to 5 minutes.
Add the remaining ingredients. Remove the tea bags and then stir in a low carb granulated sweetener like Stevia, heavy cream, MCT oil, and butter.
Blend. Use an immersion blender to blend the mixture until frothy.
Pour. Pour the chai tea into a mug.
Serve. Serve immediately.
What is Chai Tea?
Green tea, black tea, matcha tea, chai tea…there are plenty of varieties of healthy tea options available to keto dieters. However, if you're a novice tea drinker, you might just be wondering what exactly the difference is between all of these different types of teas.
Chai tea actually traces its origins to India; the term 'chai' actually means tea in India. And since tea is typically served in India with milk and sugar (and sometimes honey), it quickly turned into any tea recipe that includes those aforementioned ingredients simply being called 'chai tea'.
Beyond that, several different variations of chai tea have become popular over the years. You can add ginger to create a tea known as 'adrak chai' or make a 'masala chai' that consists of various spices like cinnamon or cloves.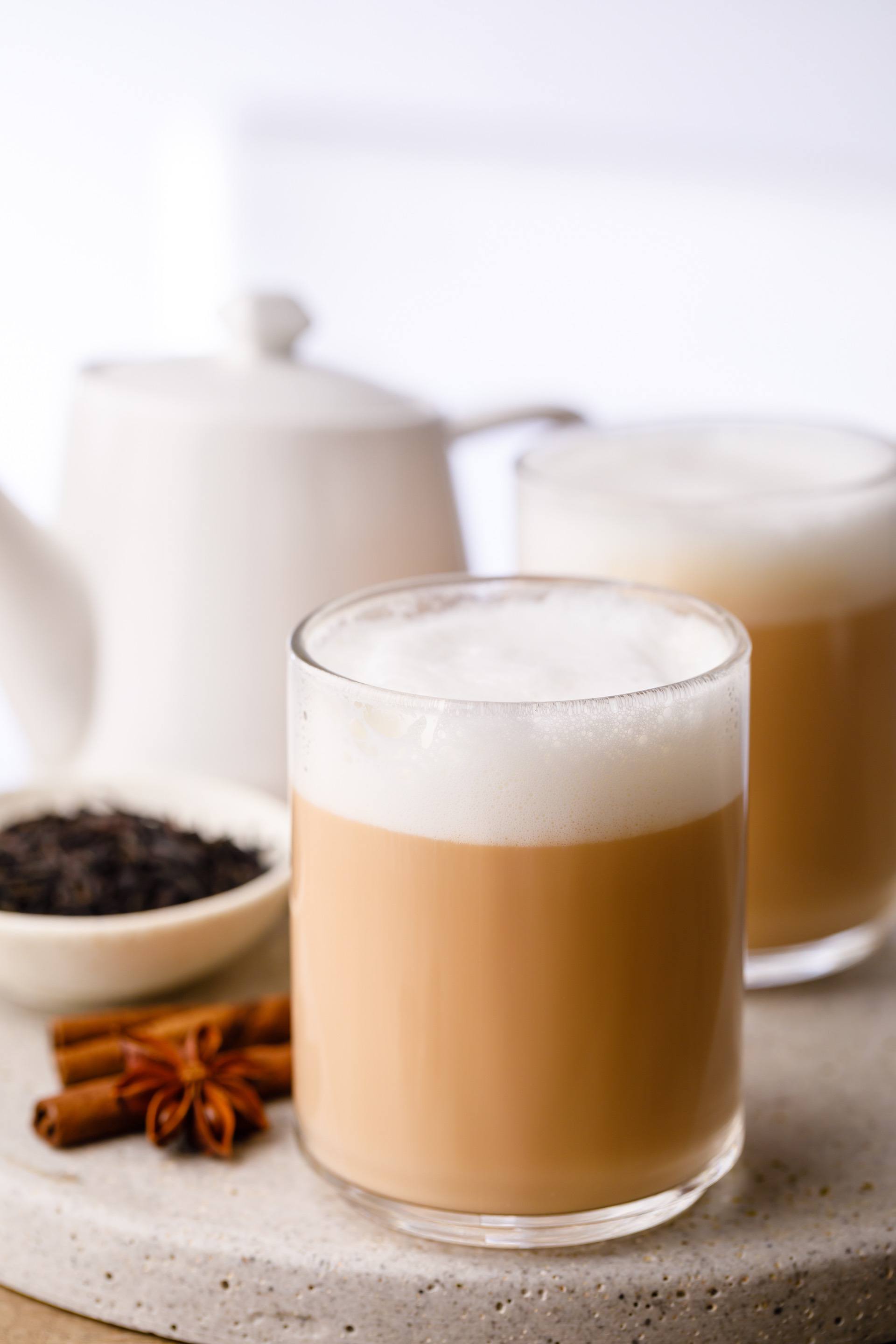 3 Benefits of Drinking This Keto Chai Tea
As with most tea drinks, chai tea is quite good for your health. With that being said, here are 3 proven benefits that you can gain by making this keto chai tea recipe:
Good source of antioxidants. Like many types of tea, chai tea is rich in important disease-fighting antioxidants such as catechins and theaflavins. These potent antioxidants can help to prevent cellular damage caused by exposure to harmful free radicals, which in turn can help to protect against various types of disease. (1)
May help prevent binge eating. Since this chai tea uses MCT oil, there is a chance that it may help to prevent potential binge eating by increasing feelings of satiety. Studies have found that MCT oil can actually make you feel more full by releasing 2 hormones linked to satiety: leptin and peptide YY. (2)
Can assist with entering (and staying in) ketosis. MCT fatty acids head directly for your liver, where they are then converted into the ketones necessary for your body to enter a state of ketosis. MCT oil is actually a preferred fat source for this as it is less likely to be stored as body fat. (3)
(Also try: Iced Keto Bulletproof Tea)
Print Recipe
Keto Chai Tea (Low Sugar, Low Carb)
Author: Bree
Prep Time:

5 minutes

Cook Time:

5 minutes

Total Time:

10 minutes
FREE KETO RECIPES + 5-INGREDIENT KETO COOKBOOK

Make sure to sign up for free to get instant access to the 5-Ingredient Keto Cookbook, which includes my favorite 20+ keto recipes of all-time, all under 5 ingredients.
Scale
2

chai tea bags

1 cup

water 

2 tbsp

heavy cream

1 tbsp

granulated Stevia or other low carb granulated sweetener 

 1 tsp MCT oil

 1 tsp butter
In a small saucepan, bring water to a boil. 

Add in tea bags and steep for 4-5 minutes. 

Remove the tea bags and stir in the sweetener, heavy cream, MTC oil and butter. 

Using an immersion blender, blend until frothy. 

Pour in a mug and serve immediately.