Keto Recipes
Easy Keto Cauliflower Rice (Low Carb Recipe)
I don't know about you, but whenever I order Asian take-out, I almost always need to have fried rice. That had to change when I switched over to a keto diet of course, but I'm a little stubborn, what can I say? I knew I had to find a way to still have my friend rice. That's exactly how this easy keto cauliflower rice recipe was born. It's a great base for my favorite Asian fried rice, and is perfect as is, really.

In just 15 minutes, you'll have yourself about 6 servings of cauliflower rice. This is the perfect size for a small family, or to make for yourself if you prepare your meals in advance, say for lunch and dinner for a couple of days. Just add in a protein and fat source and you're good to go for healthy keto meals.
On to the recipe, though. You'll need about 2 pounds of cauliflower cut into large florets. Cauliflower contains more vitamins and minerals than regular white rice, while containing fewer carbs and more dietary fiber per serving. It contains vitamin K, folate, potassium, magnesium, pantothenic acid, and more. First, pulse your cauliflower in a food processor until the texture starts to resemble rice. It'll take just a few moments so keep a close eye on it; you don't want it to turn into a pile of mush. Next, you'll need to cook your cauliflower. Some people like to steam their cauliflower before processing it, but this recipe will cook it after. I find that it's easier to season it this way and I can really keep the cauliflower tender with a bit of bite to it.
Heat some olive oil, a good source of monounsaturated fats by the way, in a large skillet then add your cauliflower rice. Season it with some salt and black pepper to taste and stir well. It'll take around 3-5 minutes for your cauliflower to soften and cook. That's it!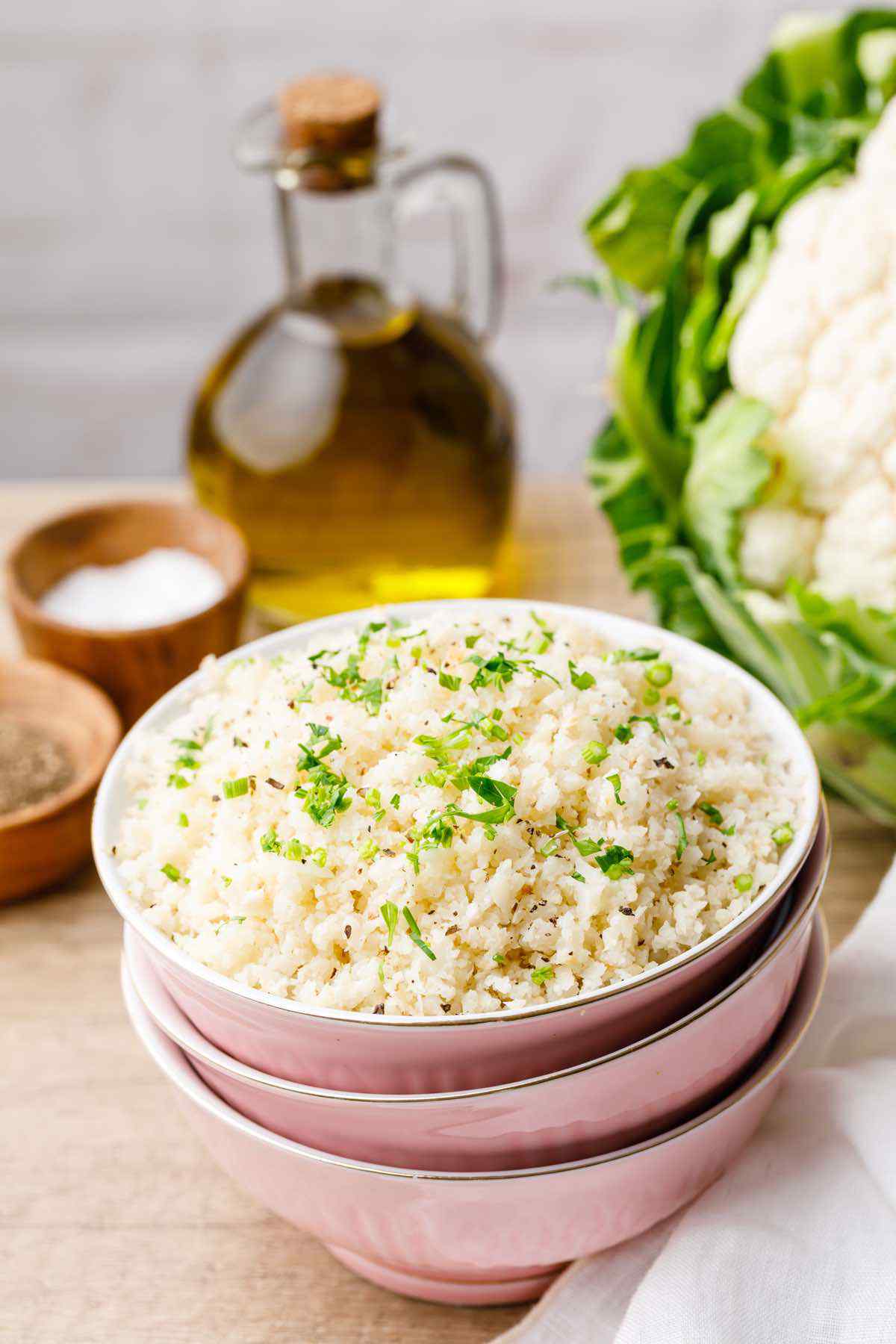 As you can see, it takes no time at all for you to prepare a batch of cauliflower rice. You can add other ingredients such as sautéed garlic, onion, and egg to make a keto version of Japanese rice, or add some Chinese ham and bacon to it to make it more of a Chinese fried rice version. Regardless, you'll be able to make something delicious out of this recipe, I guarantee you. Give it a try and thank me later!
More Low Carb Keto Cauliflower Recipes:
Gooey, Cheesy Twice Baked Loaded Keto Cauliflower Casserole
Creative Keto Cauliflower Mac and Cheese (Easy and Down Home)
Magical Homemade Keto Mashed Cauliflower (Buttery and Creamy)
Print Recipe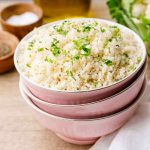 Easy Keto Cauliflower Rice (Low Carb Recipe)
Author: Bree - KetoPots.com
Prep Time:

10 minutes

Cook Time:

5 minutes

Total Time:

15 minutes

Yield:

6

1

x
FREE KETO RECIPES + 5-INGREDIENT KETO COOKBOOK

Make sure to sign up for free to get instant access to the 5-Ingredient Keto Cookbook, which includes my favorite 20+ keto recipes of all-time, all under 5 ingredients.
Scale
1 large head (about 2 pounds) cauliflower, cut into large florets
2 tablespoons extra-virgin olive oil
salt, black pepper to taste
chopped fresh parsley (optional)
Place the cauliflower florets in a food processor and pulse until the mixture resembles rice.
Heat the olive oil in a large skillet.
Add the cauliflower 'rice'.
Season with salt and black pepper to taste.
Stir to combine.
Cover with a lid and cook for 3-5 minutes.
Sprinkle with parsley (if using) and serve.