Keto Recipes
Low Carb Keto Cauliflower Mac and Cheese
After a long stressful day, sometimes you just want to melt into a comfy chair, turn on the TV, and enjoy a good hearty meal. For many, a warm bowl of macaroni and cheese is the ultimate comfort food. Those who enjoy mac and cheese but are on a ketogenic diet will go nuts for this recipe because we found a way to substitute regular carb-heavy pasta with a keto approved ingredient. What's more, this keto-friendly version of mac and cheese is just as good, if not better than the original!
That's right, you heard me, it rivals regular mac and cheese. For one, it's guilt-free tanks to our secret ingredient–cauliflower. With this simple ingredient swap, your dish only has a total of about 60 grams of carbohydrates for the entire recipe. Since there are 6 total servings, each serving only has roughly 10 grams of carbs. (1) Now that's amazing!
Even though this recipe is low in carbs, it's definitely not lacking in flavor. Our rich and creamy mac and cheese recipe has not one, not two, but three different kinds of cheeses that have their own distinct flavor and texture.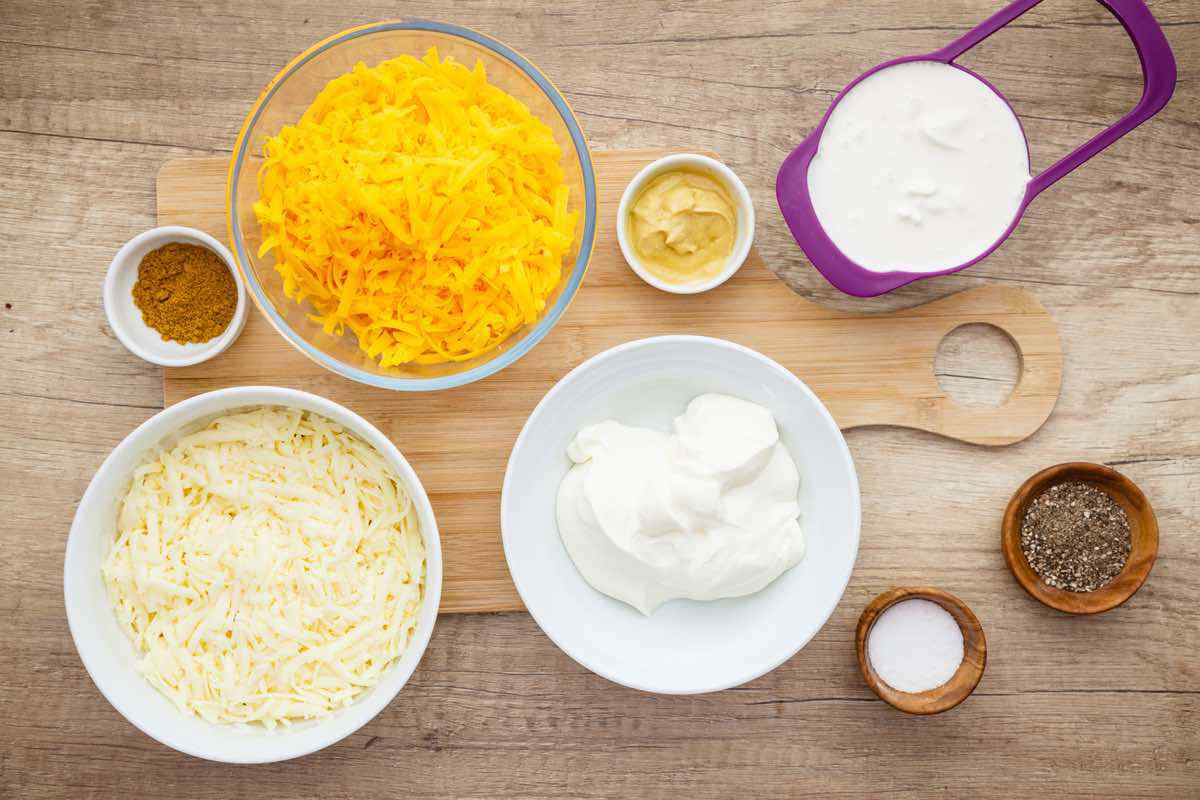 The Cheesier, The Better
The first cheese we'll be using is cream cheese. Cream cheese is as the name implies, creamy, and has a mild salty, sweet taste. The second type of cheese used for this recipe is mozzarella cheese. Try to use the freshest mozzarella cheese you can find for this recipe. The fresher the mozzarella, the milkier and creamier the taste will be. (2) For the last cheese, we're going to use sharp cheddar. When compared to the other two cheeses, sharp cheddar has a full flavor and texture due to the aging process. It's sharper on the tongue compared to cream cheese and mozzarella cheese which nicely balances the flavors of all three cheeses.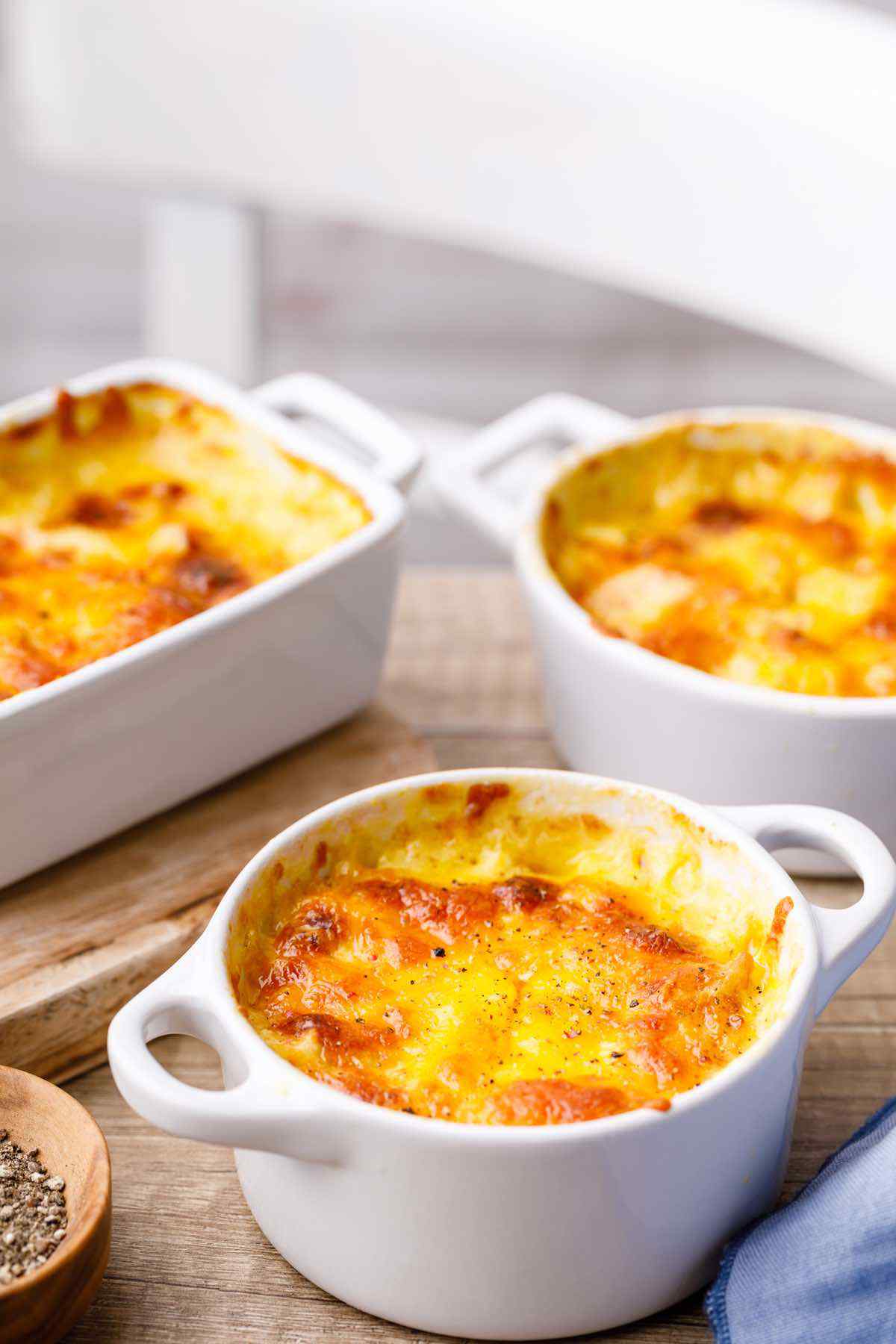 In order to balance the richness and creaminess of this recipe, we're going to need seasoning with unique, bold flavors. One of the seasonings this recipe makes use of is curry powder. Even though curry powder is not a typical macaroni and cheese ingredient, it gives this recipe balance. Curry has a distinct flavor that's earthy, savory, spicy, and somewhat sweet. If you want to add more heat to your mac and cheese, select a curry powder made of hot peppers and chili. A mildly spiced mac and cheese should make use of a curry powder made with black pepper or ginger. That's not the only reason why we added curry to this recipe, though. Curry spices are rich in antioxidative compounds such as curcumin and eugenol which have potent antibacterial, antiviral, anti-inflammatory, antitumor and antioxidant properties. (3)
Another ingredient to cut through the richness of the cheeses is Dijon mustard. Dijon mustard has a strong, sharp and pungent flavor that also adds a bit of heat to your dish, but did you know that mustard seeds have been shown to have anti-cancer benefits? In several studies, it has been shown that there is a link between consumption of mustard seed derivatives and a lower incidence of bladder cancer, tumor growth, and tumor proliferation. (4) So don't skip this step if you have mustard on hand. It can't hurt, right?
The directions for this recipe are fairly easy to follow. First, place 8 cups of cauliflower florets in a large microwave-safe bowl. Season it lightly with salt and toss to combine. Cover the bowl with saran wrap and pierce it with a knife a few times. Microwave the cauliflower on high for 8-10 minutes or until the cauliflower is tender enough to pierce with a fork. Remove the saran wrap carefully and drain the excess liquid from the bowl.
In another bowl, combine the cream cheese, heavy cream, curry powder, Dijon mustard, mozzarella cheese and sharp cheddar cheese. Mix the ingredients well and add the cauliflower. Toss the cauliflower to incorporate it well into the mixture. Season the mix with salt and black pepper. Take the bowl and place it in 1 large or 6 small baking dishes. Be sure to sprinkle the remaining sharp cheddar on top of your dish or dishes.
In a preheated oven of 350 degrees Fahrenheit, bake the cauliflower mac and cheese. If you used a single large bowl, time it for 45 minutes. If you used smaller dishes to bake the mac and cheese, set your kitchen timer to 30 minutes. Carefully remove the dish from the oven and serve warm.
Now you know why we named this recipe "creative" keto cauliflower mac and cheese. It's definitely not your typical mac and cheese recipe because of the unique blend of cheeses, the distinct flavors of the seasonings, and of course, the cauliflower substitute for pasta. It's a perfectly balanced dish that keto dieters will love. Heck, it's a dish that everyone will love!
More Low Carb Keto Cauliflower Recipes:
Magical Homemade Keto Mashed Cauliflower (Buttery and Creamy)
Print Recipe
Low Carb Keto Cauliflower Mac and Cheese
Author: Bree - KetoPots.com
Prep Time:

15 minutes

Cook Time:

40 minutes

Total Time:

55 minutes

Yield:

6

1

x
Scale
8 cups cauliflower florets
1 cup heavy cream
6 ounces cream cheese
1tsp curry powder
1 tsp Dijon mustard
6 ounces mozzarella, shredded
6 ounces sharp cheddar, shredded, plus more for sprinkling
salt, black pepper to taste
Preheat oven to 350°F.
Place the cauliflower in a large microwave -safe bowl.
Add pinch of salt and toss to combine.
Cover with plastic wrap.
Pierce the plastic with a knife a few times.
Microwave on high for 8-10 minutes or unit cauliflower is fork tender.
Carefully remove the plastic and drain the cauliflower. Set aside.
In a bowl combine the cream cheese, heavy cream, curry powder, mustard, mozzarella and cheddar.
Add the cauliflower and toss to combine.
Season with salt and black pepper to taste.
Place the mixture in one large baking dish or 6 small dishes.
Sprinkle with extra cheddar cheese.
Bake in preheated oven for 45 minutes for large dish or 30 minutes for small dishes.
Serve warm.
FREE KETO RECIPES + 5-INGREDIENT KETO COOKBOOK

Make sure to sign up for free to get instant access to the 5-Ingredient Keto Cookbook, which includes my favorite 20+ keto recipes of all-time, all under 5 ingredients.