Keto Recipes
Gooey, Cheesy Twice Baked Loaded Keto Cauliflower Casserole
Everyone loves a good casserole dish or at least my family does anyway. Casserole recipes don't require expert technical cooking skills and you also don't need a lot of materials to cook it so cleaning up is fast and easy which is why I love them. In fact, all you really need is a sharp knife to cut all your ingredients, a few bowls to combine them, and a casserole for baking. Casseroles are great for picnics, parties, potlucks, or even just a simple family dinner. Additionally, it's easy to store the leftovers. Simply cover it with saran wrap, store it in the refrigerator, and heat it up for the next meal.

We also like to call this recipe the ultimate cauliflower casserole because it has all the flavors you want in a single dish! It's made with two kinds of cheese, green onions, sour cream, and of course, bacon. Not only is this dish delicious, but it's also sugar-free, grain-free and 100% keto-friendly!
Sneak In Your Veggies
One reason why we love this recipe so much is because it's an excellent way to get in a healthy serving of vegetables. And we don't just mean any vegetable. We're talking about cauliflower. It's one of the healthiest food in the cruciferous family of vegetables. Sulforaphane, a chemical that's produced when we eat cauliflower, has been proven by studies to be an effective tool for fighting cancer. (1) Furthermore, there are high levels of choline found in cauliflower that may assist in optimal brain development especially during pregnancy. (2)
So how are we sneaking in the cauliflower? The answer is simple. Add two kinds of cheeses, throw in some sour cream, and top it off with crispy, savory bacon. The two varieties of cheese we'll be using for this recipe is cream cheese and shredded cheddar cheese. The cream cheese will add a creamy taste and soft texture while the cheddar cheese adds a bit of salty, sharpness.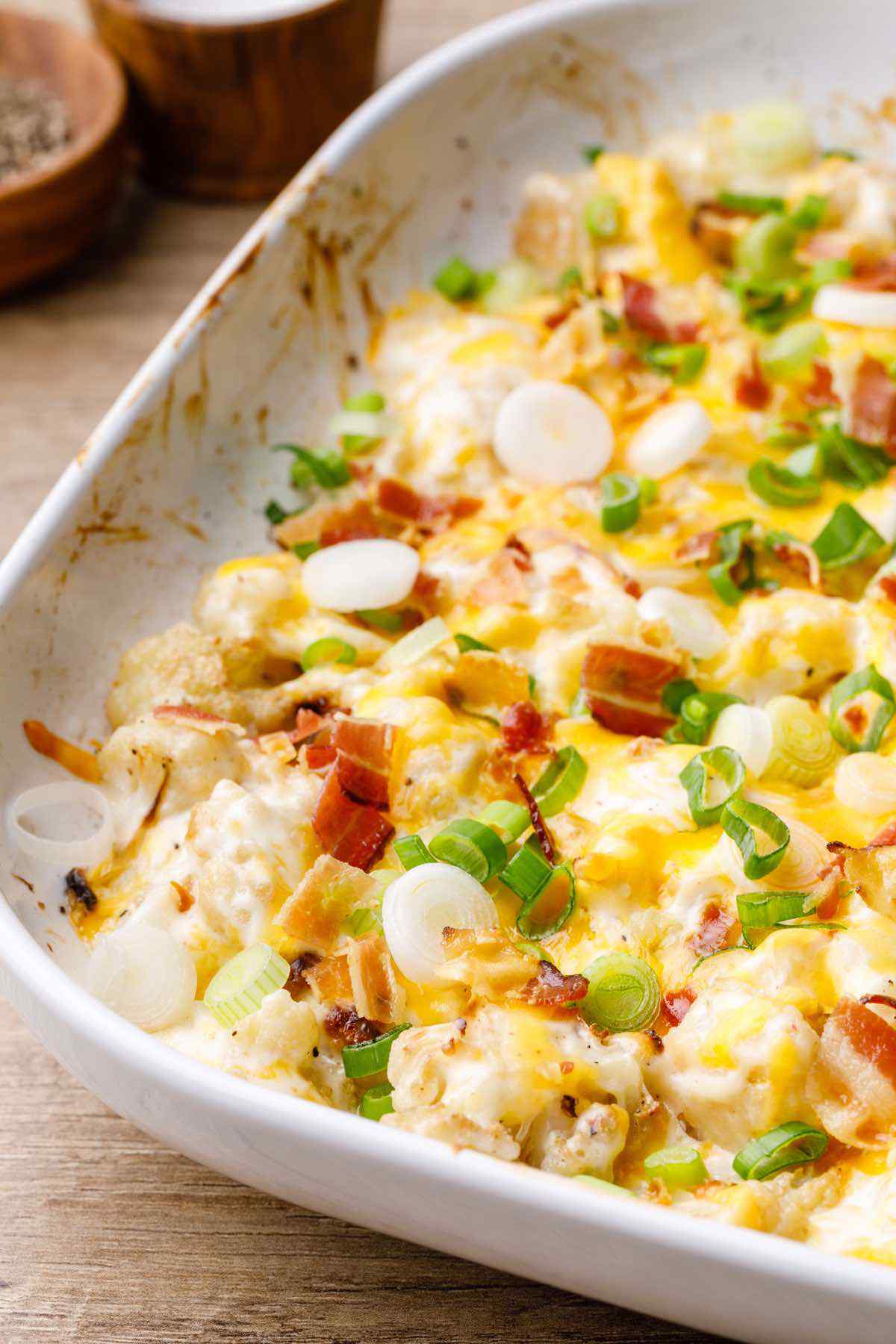 Additionally, the sour cream with green onions add a refreshing, cool flavor which perfectly balances the salty, savory bacon. You know you have a great dish when all the flavors and aromas combine nicely. There's not a single ingredient in this recipe that's overpowering in terms of taste.
An Easy-To-Follow Recipe
Another reason why we enjoy this recipe is because it's fairly easy to make. First, place 2 pounds of cauliflower cut into bite-size florets in a baking dish. Next, drizzle extra virgin olive oil on the cauliflower. Extra virgin olive oil is rich in healthy monounsaturated fat to protect against cardiovascular diseases. Season the cauliflower with salt and black pepper and bake it in a preheated oven of 425 degrees Fahrenheit for 30 minutes.
While your cauliflower is baking, fry 6 slices of bacon in a nonstick skillet until it becomes crispy. Crumble up the bacon and set it aside. In another bowl, combine cream cheese, cheddar cheese and sour cream. Mix the ingredients well and season it lightly with salt. Carefully remove the baking dish from the oven and dollop the cheese mixture over the cauliflower. Last, sprinkle the remaining cheddar cheese on the cauliflower and return the baking dish in the oven to cook for another 5-7 minutes. Make sure the topped cheddar cheese is completely melted. Take your dish out of the oven and sprinkle it with the crumbled bacon and sliced green onions.
So there you have it, the ultimate cauliflower casserole recipe that you'll savor to the very last bite!
More Low Carb Keto Cauliflower Recipes:
Print Recipe
Cheesy Twice Baked Loaded Keto Cauliflower Casserole
Author:
Prep Time:

15 minutes

Cook Time:

40 minutes

Total Time:

55 minutes

Yield:

6

1

x
Scale
6 slices bacon
1 large head (about 2 pounds) cauliflower, cut into bite-size florets
1 tbsp olive oil
6 oz cream cheese, softened
2 cups shredded cheddar cheese
4 green onions, thinly sliced
2/3 cup sour cream
salt, black pepper to taste
Preheat oven to 425°F.
Place the cauliflower florets in a baking dish.
Drizzle with olive oil.
Season with salt and black pepper to taste.
Bake in preheated oven for 30 minutes.
Meanwhile, cook the bacon in a nonstick skillet until brown and crispy.
Crumble and set aside.
In a bowl combine the cream cheese, 1 cup shredded cheddar and sour cream.
Season with salt to taste.
Remove the baking dish from the oven.
Dollop the cheese mixture over the cauliflower.
Sprinkle with remaining shredded cheddar.
Return the baking dish in the oven and bake for additional 5-7 minutes or until cheddar is melted and bubbly.
Sprinkle with crumbled bacon and sliced green onions and serve.