Keto Recipes
Magical Almond Flour Carrot Cake with Rich Cream Cheese Frosting
Today I'm going to be sharing a keto-friendly carrot cake recipe with you guys that can only be described as magical. Even if you don't believe in magic, this is still guaranteed to be one of the tastiest carrot cakes that you'll ever try. It's made with a winning combination of real carrots, a delightful mix of savory spices, and a mouthwatering homemade cream cheese frosting. It also provides you with a solid amount of high quality fats thanks to the use of chopped walnuts, both in the cake and as an added topping.
Can't Get Enough of This Carrot Cake
The secret of why this keto carrot cake is so incredibly tasty all comes down to a few specific ingredients that have been carefully selected for this recipe. Using almond flour is a fantastic healthy alternative to refined wheat flours, as it adds plenty of healthy fats, fiber, protein, and essential vitamins and minerals into the mix.
You'll be mixing the almond flour with a tasty mixture of shredded coconut, ground cinnamon, and ground ginger. All three of those ingredients provides some fantastic benefits to this carrot cake. Shredded coconut has been found to have a cholesterol-lowering effect (1), cinnamon works to reduce blood pressure and help prevent metabolic syndrome (2), while the ground ginger is packed full of potent antioxidant and anti-inflammatory properties. (3)
After mixing all of the above ingredients together, set them aside and start making your 'wet' mixture. Beat together your eggs and Stevia for about five minutes, and then reduce the speed to low while gradually mixing in the melted butter and vanilla extract. Once this mixture has a smooth texture, you can then add in the dry almond flour mix. Make sure everything is well combined before adding in the final two cake ingredients — the grated carrots and chopped walnuts.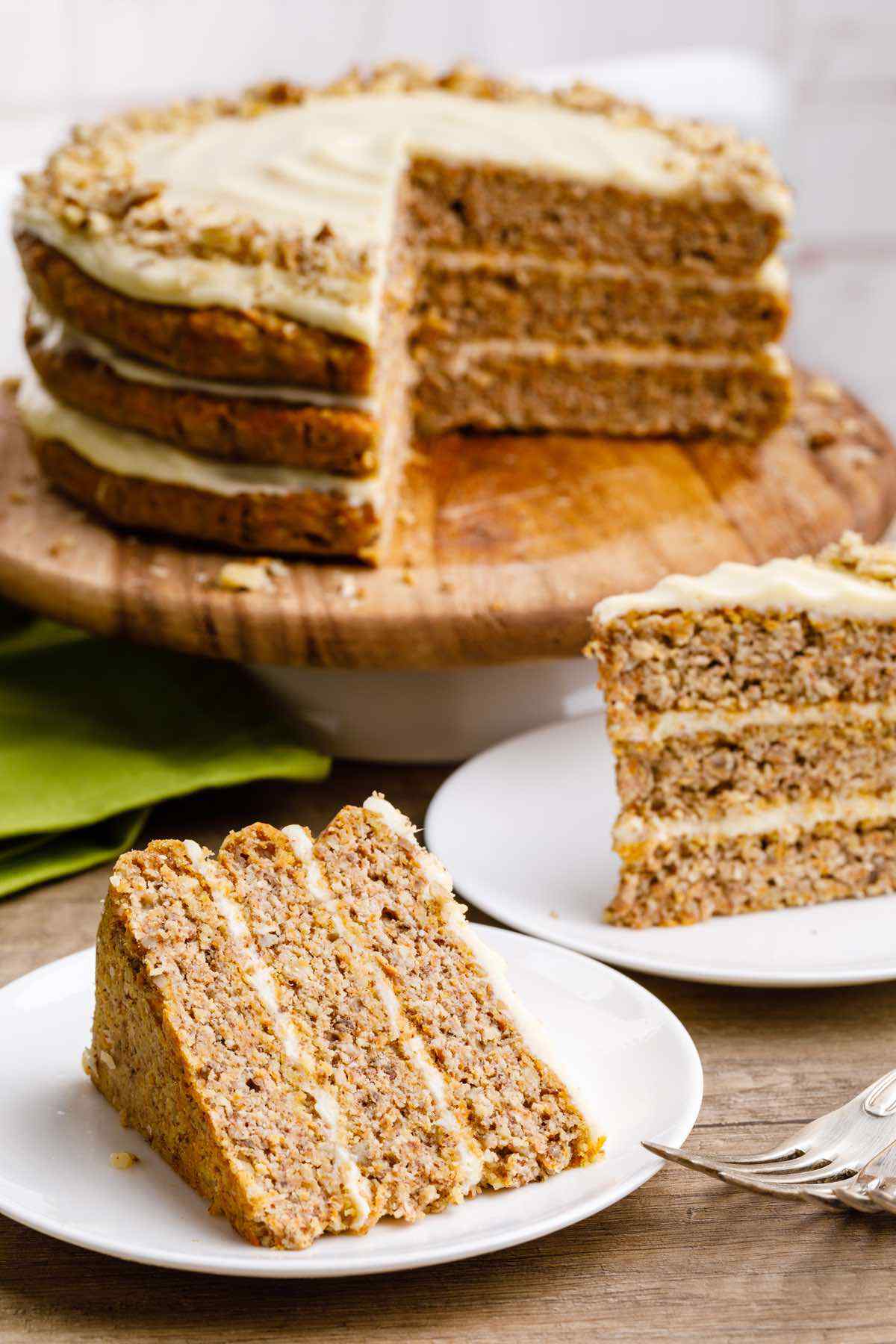 Carrots are another great food to include in your diet for a multitude of reasons. They're a potent source of antioxidants and vitamin A, and some studies have found that they can actually modify cholesterol absorption, which could give them some interesting uses when it comes to protecting against cardiovascular disease. (4) Meanwhile, the chopped almonds add yet another source of heart healthy fats into this recipe, and they even help to give your brain power a boost by reducing the oxidant and inflammatory load of your brain cells. (5)
Last but certainly not least, the rich cream cheese frosting is super easy to prepare as well. Simply beat together more Stevia with some cold butter, and then gradually add in cream cheese and vanilla extract until the frosting is nice and smooth. After layering and frosting your carrot cake according to the instructions below, you can also optionally sprinkle the top of the cake with some more chopped walnuts.
More Good Keto Cake Recipes
Print Recipe
Almond Flour Carrot Cake with Cream Cheese Frosting
Author: Bree - KetoPots.com
Prep Time:

30 minutes

Cook Time:

22 minutes

Total Time:

52 minutes

Yield:

1

2

1

x
FREE KETO RECIPES + 5-INGREDIENT KETO COOKBOOK

Make sure to sign up for free to get instant access to the 5-Ingredient Keto Cookbook, which includes my favorite 20+ keto recipes of all-time, all under 5 ingredients.
Scale
For the cake:
2 ½ cups almond flour
2 oz finely shredded unsweetened coconut
1 tsp ground cinnamon
1 tsp ground ginger
2 tsp baking powder
5 eggs
½ cup granulated Stevia or other low carb granulated sweetener
7 oz butter, melted
2 tsp vanilla extract
2 cups grated carrots
2 oz walnuts, chopped plus extra for decoration
For the frosting:
8 oz cream cheese
4 tbsp butter, cold
6 tbsp granulated Stevia or other low carb granulated sweetener
1 tsp vanilla extract
Preheat oven to 350°F.
Line three 6 inch pans with parchment paper or grease with butter. Set aside.
In a bowl mix the almond flour, finely shredded coconut, cinnamon, ginger and baking powder. Set aside.
In the bowl of a stand mixer fitted with the whisk attachment beat the eggs and sweetener until pale and fluffy, about 3-5 minutes.
Reduce speed to low and add the melted butter and vanilla extract.
Beat until smooth.
Switch to paddle attachment.
Slowly add the almond flour mixture and mix until well combined.
Add the carrots and walnuts and mix to combine.
Divide the batter between the prepared pans.
Bake in preheated oven for 20-25 minutes or until a toothpick inserted into the center comes out clean.
Remove from the oven and allow to cool completely.
To make the frosting, beat the butter and sweetener at medium speed until creamy.
Add the cream cheese and vanilla extract and beat until smooth.
Remove the cakes from the pans.
Place one of the cakes on a platter and spread 1/3 of the frosting evenly.
Carefully place the 2nd layer of cake on top.
Spread 1/3 of the frosting.
Add the last layer of cake on top.
Spread the remaining frosting.
Sprinkle the top with extra chopped walnuts (if using) and place in a fridge for minimum two hours before serving.