Keto Desserts
How to Make The Best 4-Ingredient Keto Caramel (Sugar-Free)
If you've been itching for a recipe to try out that will satisfy your sweet tooth while on the keto diet then today is your lucky day. I'm going to be sharing a recipe that will show you how to make what is hands down the best 4-ingredient keto caramel I've ever had. My favorite thing about this caramel recipe is definitely the fact that it goes amazingly well with all kinds of tasty keto friendly treats as well.

Easy Homemade Keto Caramel Without The Guilt
To make the caramel, you'll first need to add the unsalted butter into a small saucepan and simmer it over a medium low heat, stirring frequently, for about five minutes.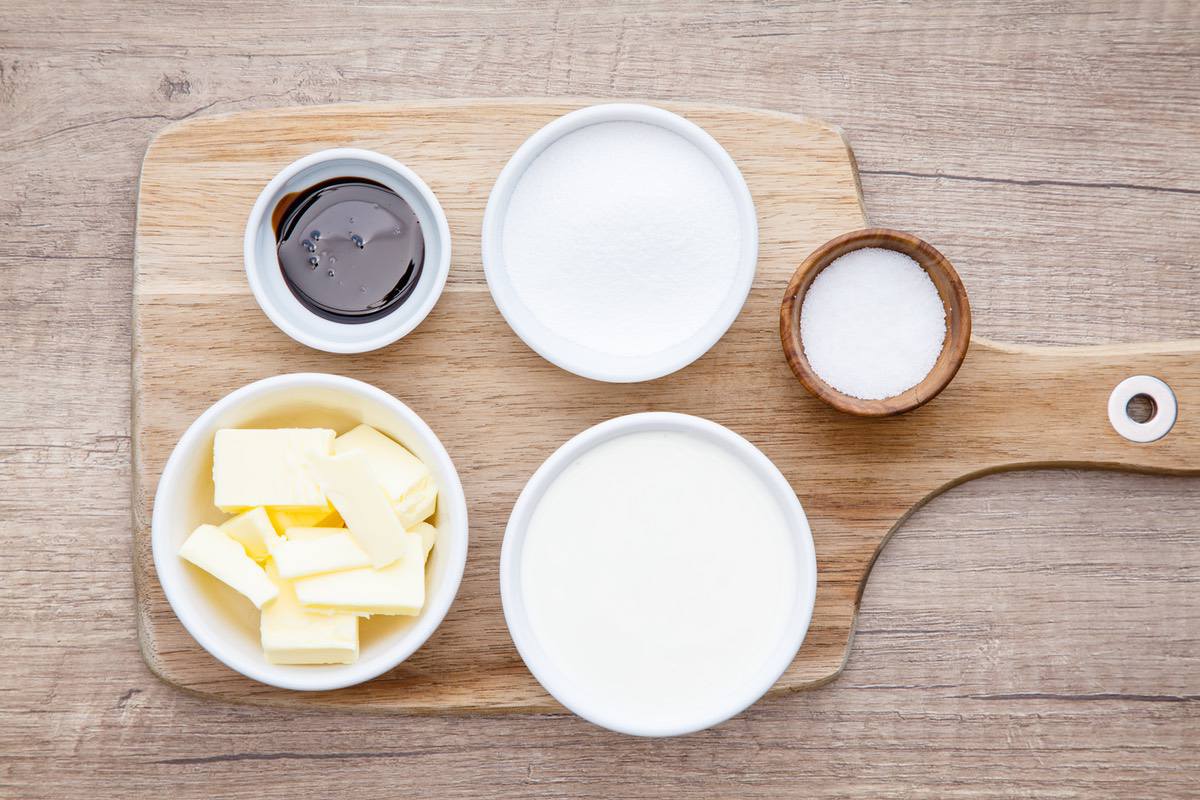 You can then add in the Stevia (or your preferred low carb granulated sweetener), heavy cream, blackstrap molasses, and just a pinch of salt. Mix everything together until it's well combined and then leave it to simmer over low heat for approximately 15 minutes. Do not stir the mixture while it simmers because it will affect the texture of your caramel!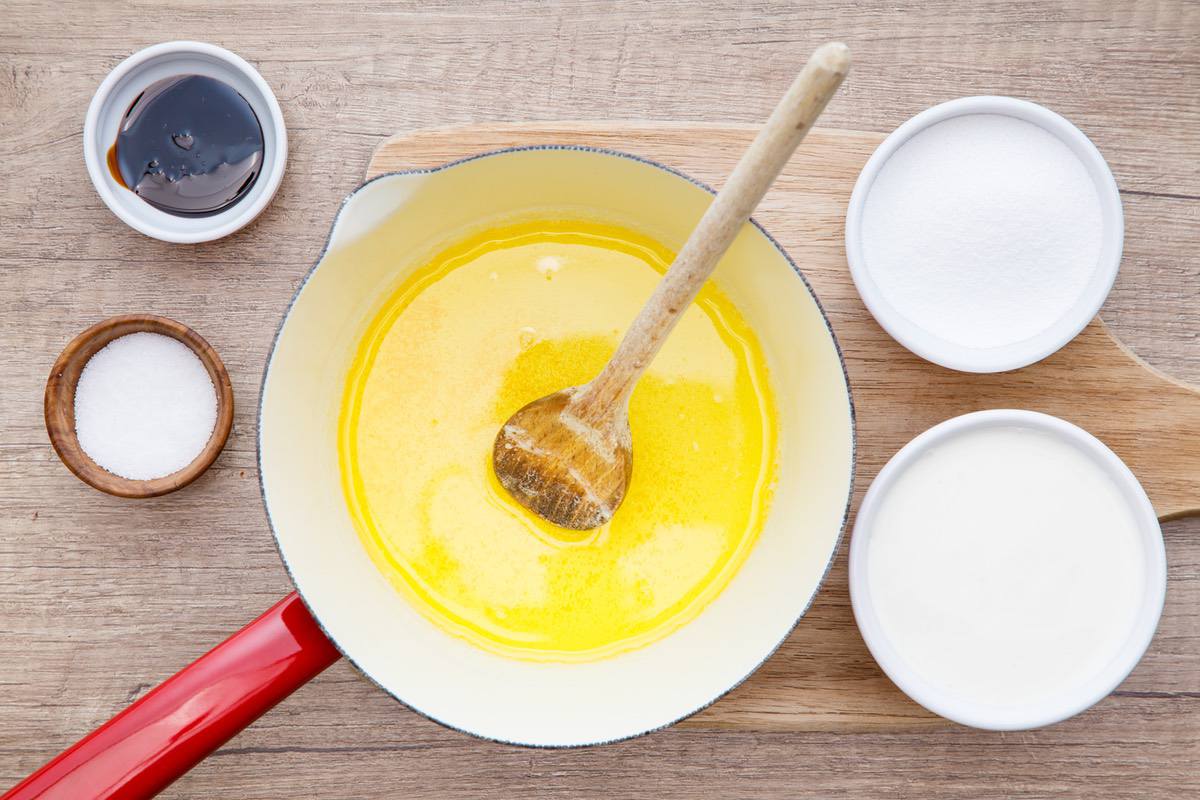 When the 15 minutes is up, transfer the caramel into an airtight jar and refrigerate it until you're ready to enjoy it. When you're ready to take it out, you can either heat it up in the microwave or on the stove top until the caramel reaches your desired consistency.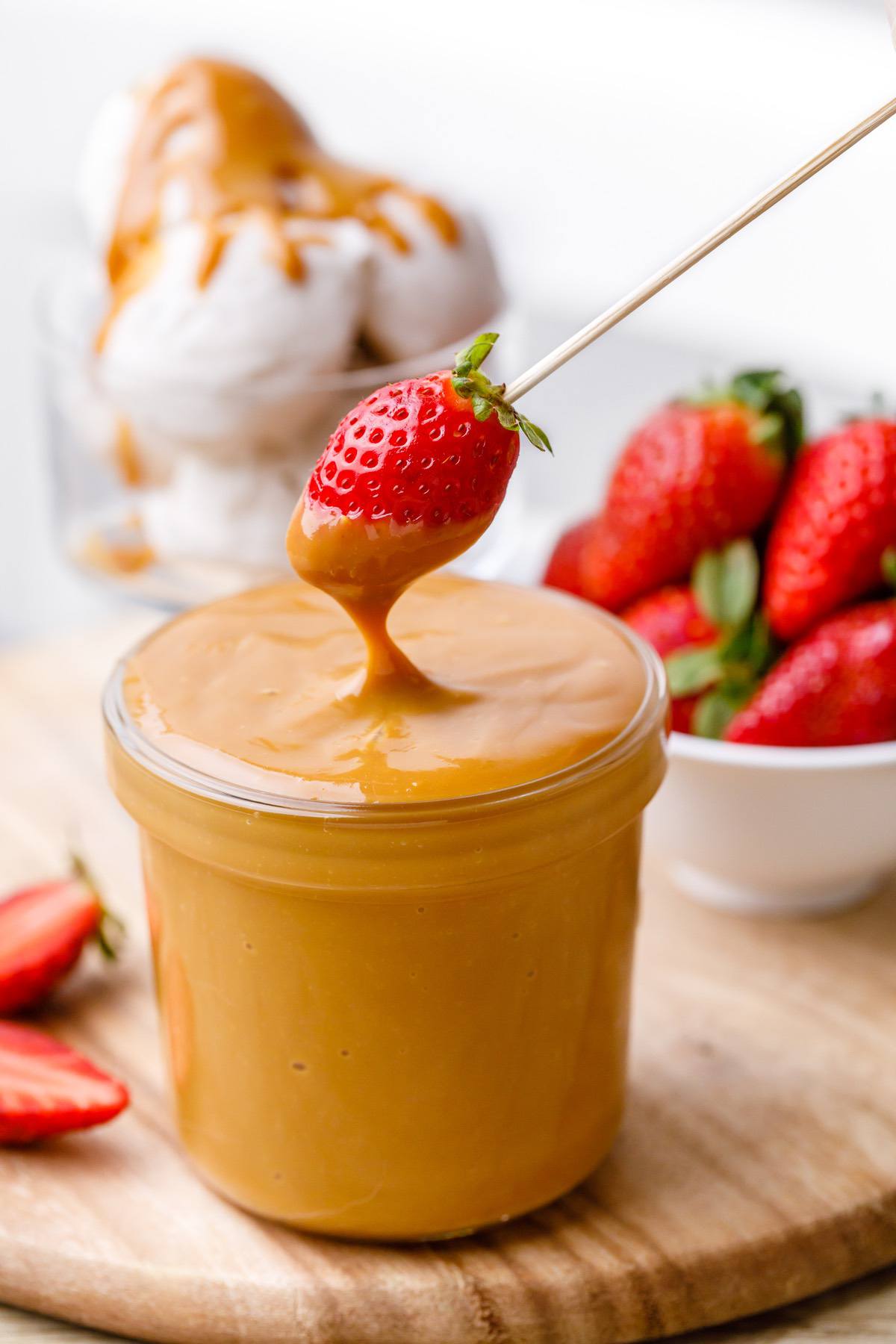 5 More Deliciously Sweet (And Low Carb!) Keto Caramel Recipes
A lot of my friends and family are quite surprised to learn that you can indeed make caramel that is keto friendly and tastes just as good as its carb-heavy counterpart. They're even more surprised when they find out that there are actually several different ways that you can make it. With that in mind, I wanted to share five more of my personal favorite keto friendly caramel recipes with you guys today. All five of these recipes have been personally put to the taste test by yours truly and passed with flying colors, so you'll definitely want to give them each a try: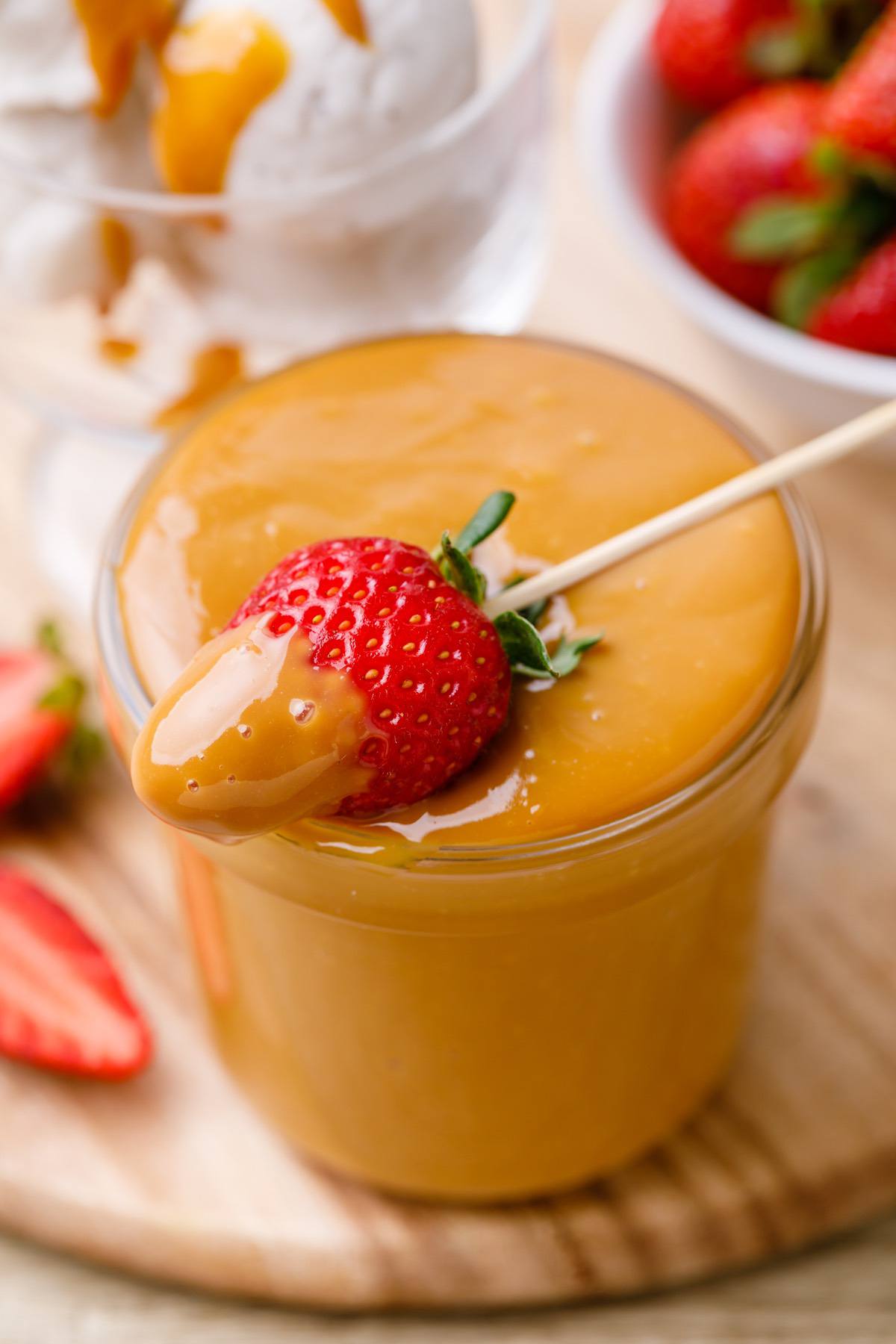 What Other Keto Sweeteners Can I Use In Place of Blackstrap Molasses?
I like to use blackstrap molasses when I make my own keto caramel because not only does it provide just the right amount of sweetness, but it also offers up some pretty nifty health benefits as well. Blackstrap molasses is rich in essential vitamins and minerals, and it's even an excellent source of disease fighting antioxidants as well. (1)
With that being said, blackstrap molasses is admittedly rather high in its carb content. That doesn't bother me because I've learned how important it is to leave some room for flexibility, especially when it comes to enjoying sweet treats like caramel on the keto diet.
However, if you would rather go with a more low carb option, then here are a few suggestions that you can try out:
Sugar free maple syrup
Maple flavoring
Monk fruit sweetened syrup
Why Is My Caramel Turning Out Grainy?
Interestingly enough, grainy caramel is caused by quite a series of scientific reactions. When caramel ingredients (sugar and water in particular) boil, a syrupy mixture can splash onto the side of the pan, where it rapidly evaporates and forms sugar crystals. All it takes from there is one single sugar crystal falling back into the caramel mixture to set off a chain reaction, which causes your caramel to turn out grainy.
If this happens to your caramel, you can try to bring your grainy caramel mix to a simmer and then add in ¼ cup of lemon juice. Mix the lemon juice in slowly by carefully moving the saucepan from side to side and front to back. This should make it return to a more clear consistency.
However, it your caramel doesn't turn out exactly how you expected, I can assure you that practice indeed makes perfect!
How Can I Fix Runny Caramel?
The first thing to keep in mind if you're worried about your caramel being too runny is that it will definitely thicken up quite a bit once it cools down. However, if your caramel is still too thin, then simply simmer it for another 5-10 minutes or so. This will cause the caramel to thicken without causing it to darken.
(You may also like: Quick 3-Minute Keto Whipped Cream (Fluffy and Thick))
Print Recipe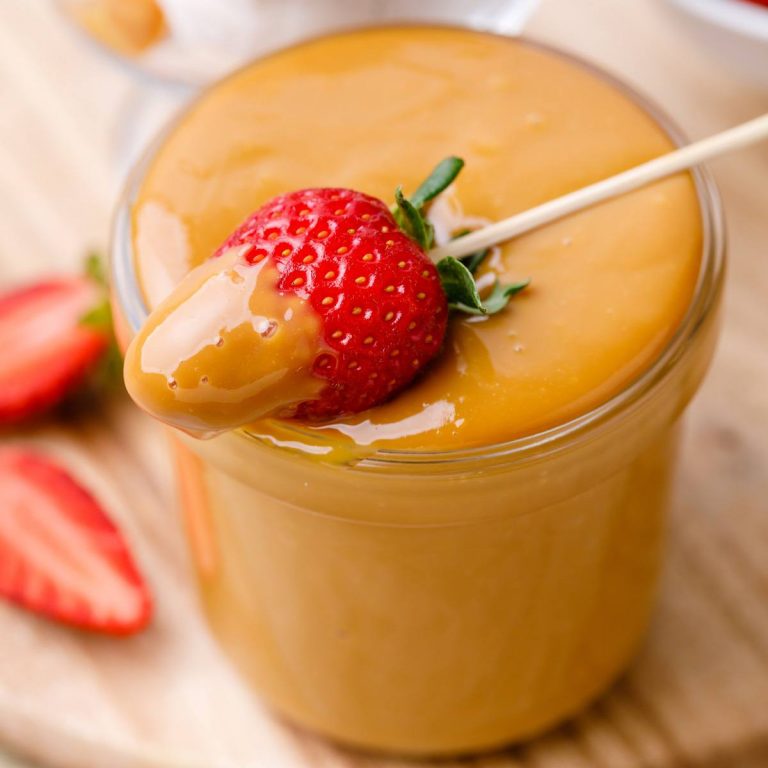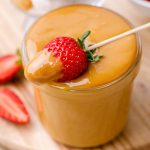 How to Make The Best 4-Ingredient Keto Caramel (Sugar-Free)
Author: Bree - KetoPots.com
Prep Time:

5 minutes

Cook Time:

20 minutes

Total Time:

25 minutes

Yield:

3/4 cup

1

x
Scale
¼ cup

unsalted butter

½ cup

granulated Stevia or other low carb granulated sweetener 

½ cup

heavy cream

1 tsp

blackstrap molasses

pinch of salt   
Add the butter to a small saucepan. 

Simmer over medium low heat, stirring frequently, for 5 minutes. 

Add the remaining ingredients and mix to combine. 

Simmer over low heat for 15 minutes. Do not stir. 

Remove from the heat. 

Transfer to a jar and refrigerate until ready to use. 

To use, reheat in the microwave or on the stove to desired consistency.
More Easy Keto Dessert Recipes:
FREE KETO RECIPES + 5-INGREDIENT KETO COOKBOOK

Make sure to sign up for free to get instant access to the 5-Ingredient Keto Cookbook, which includes my favorite 20+ keto recipes of all-time, all under 5 ingredients.