Keto Desserts
Make-Ahead Keto Chocolate Mug Cake Mix for an Easy, Quick Dessert
When I need a sweet treat and craving chocolate, this is the mug cake mix I turn to. It's incredibly quick and easy to make since you make the keto cake mix ahead of time and only takes 50 seconds to microwave! If you've never had mug cake before, this is the recipe you need to try first.

5 Reasons to Always Have This Keto Cake Mix in Your Pantry
When it comes to quick and easy recipes, this keto mug cake mix recipe is one of my all-time favorites for many reasons:
It calms my sweet tooth. As someone who goes nuts for anything chocolate flavored, this cake mix always does the trick.
It's a good source of healthy fats. Almond flour contains monounsaturated fats which are good for cardiovascular health.
It stays moist. This cake mix always turns out moist mug cakes, even when I accidentally leave it in the microwave a little too long.
It's an excellent cake base. I love topping my mug cakes with my favorite keto spreads or nut butters!
It's ready in a minute. Craving for cake at random hours? This keto mug cake needs just one minute in the microwave, so you can have it anytime the mood strikes you.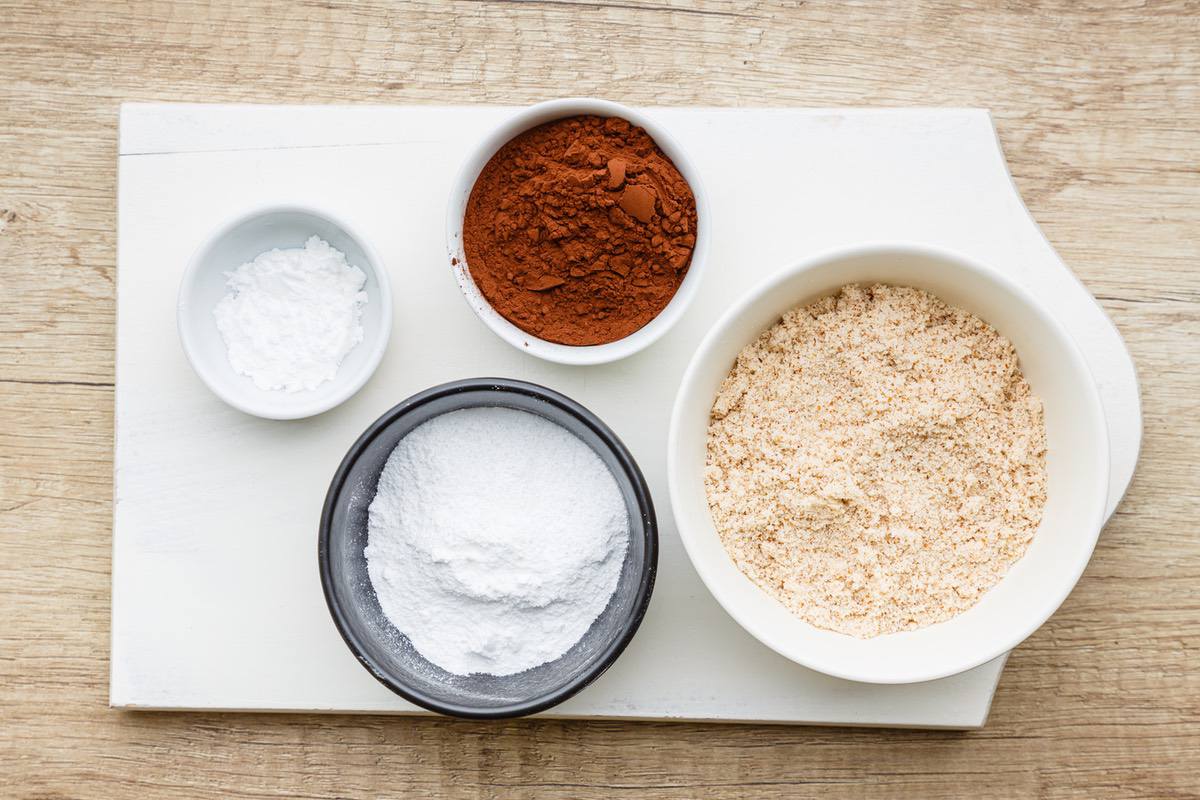 How to Make Homemade Mug Cake Keto Cake Mix
If you haven't made a mug cake before, don't worry because it's so easy! Here's how:
Measure out the ingredients and mix together. You can even make your own almond flour to ensure that it stays fresh for longer.
Store and cover tightly. Make sure the lid is secured well and it is stored in cool, dry place.
Add butter, egg yolk, vanilla extract. Once you're ready to cook your mug cake, add these and whisk together.
Microwave. Just under a minute on high is enough to make your mug cake.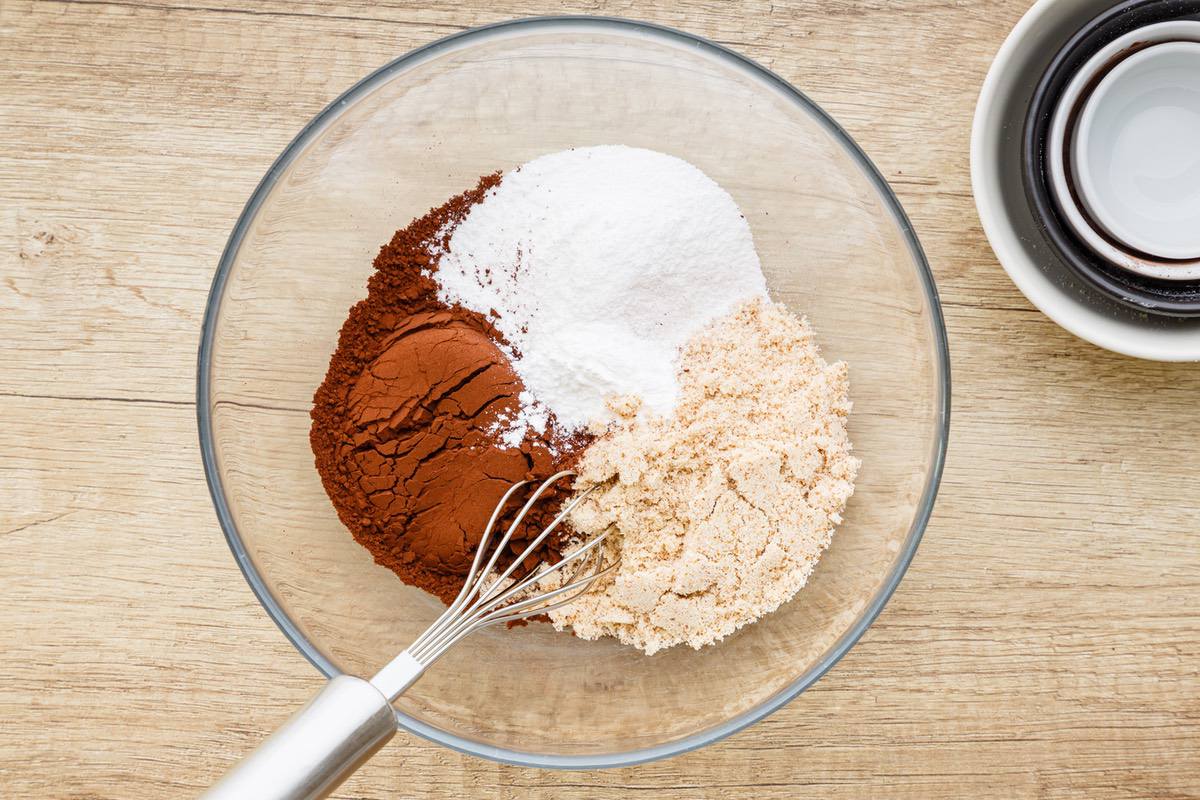 How Long Can You Store Homemade Keto Cake Mix?
The great part about this keto cake mix is it can be stored for a few months without spoiling. Personally, I wouldn't go more than 3-4 months in the freezer and 1-2 months in the pantry.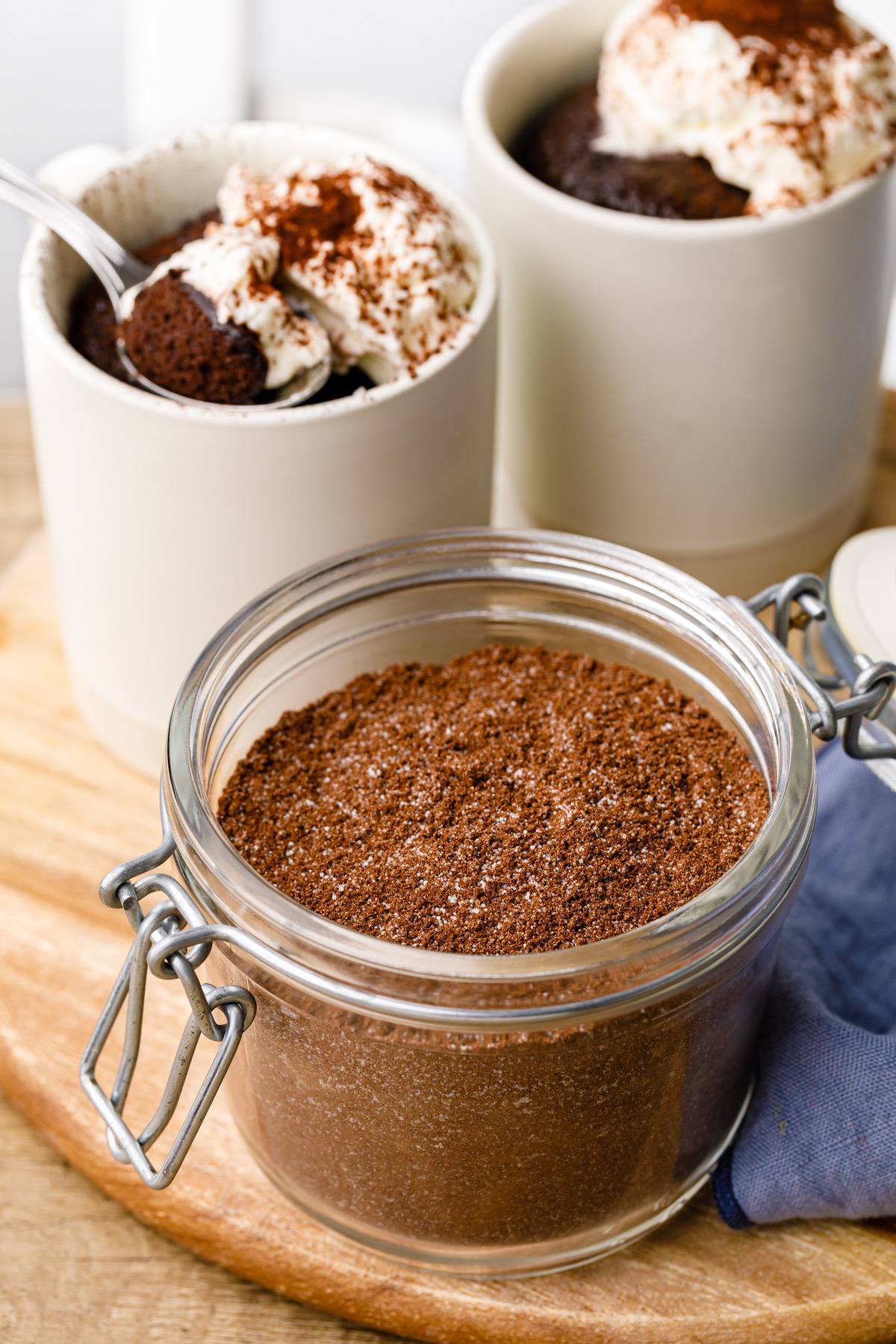 Almond flour contains a lot of fat, so it tends to go rancid more quickly than say, flour. This is why it's advisable to keep it in the freezer if you plan to keep it longer than a month or two in the pantry.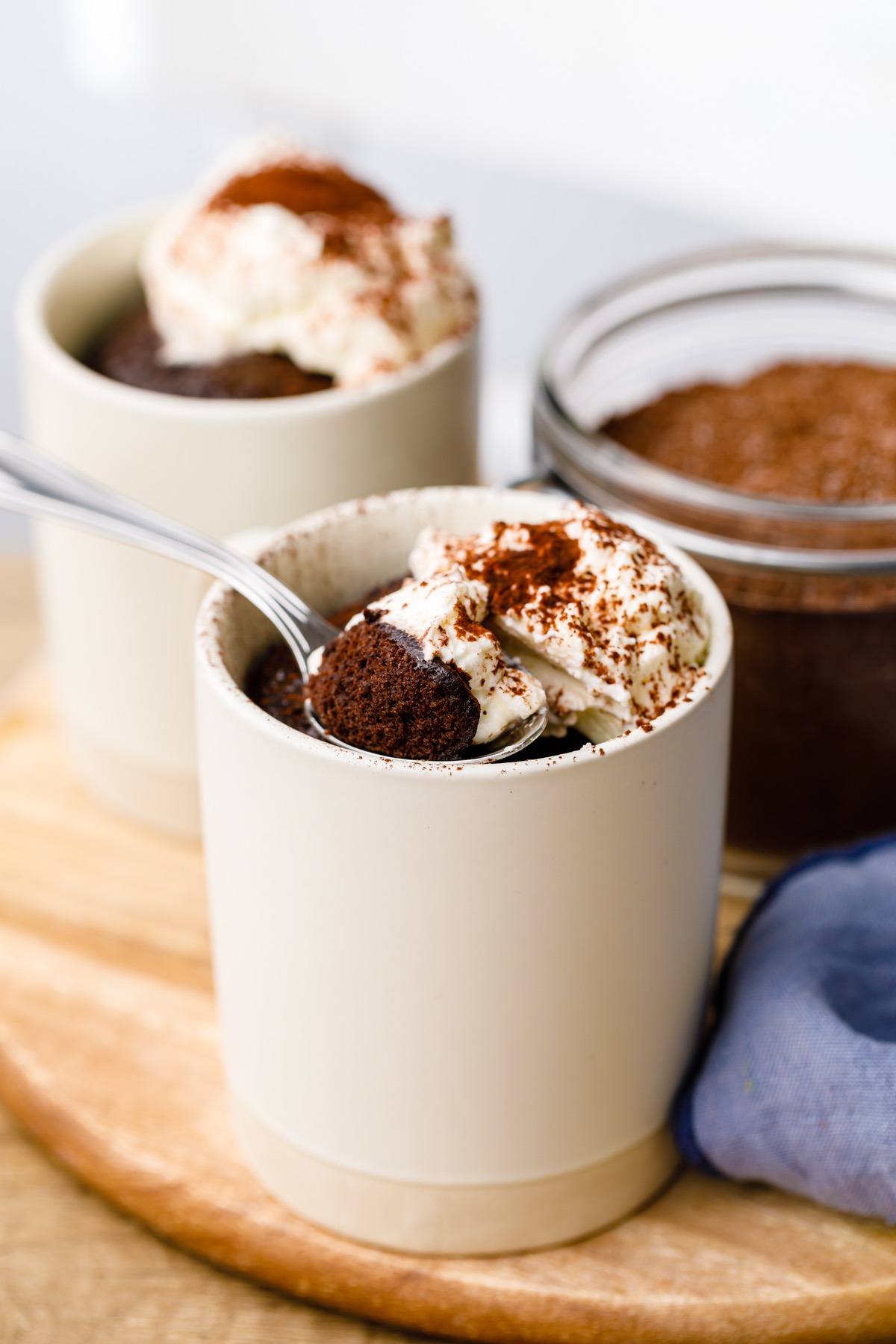 Are All Cocoa Powders Keto-friendly?
Not all cocoa powders are keto-friendly. It's important to check that your cocoa powder is unsweetened as the sweetened variety tends to contain anywhere between 8-15 grams of sugar per ½ cup.
Unsweetened cocoa powder still contains some carbs, most is mostly dietary fiber, which still helps keep the net carb content low.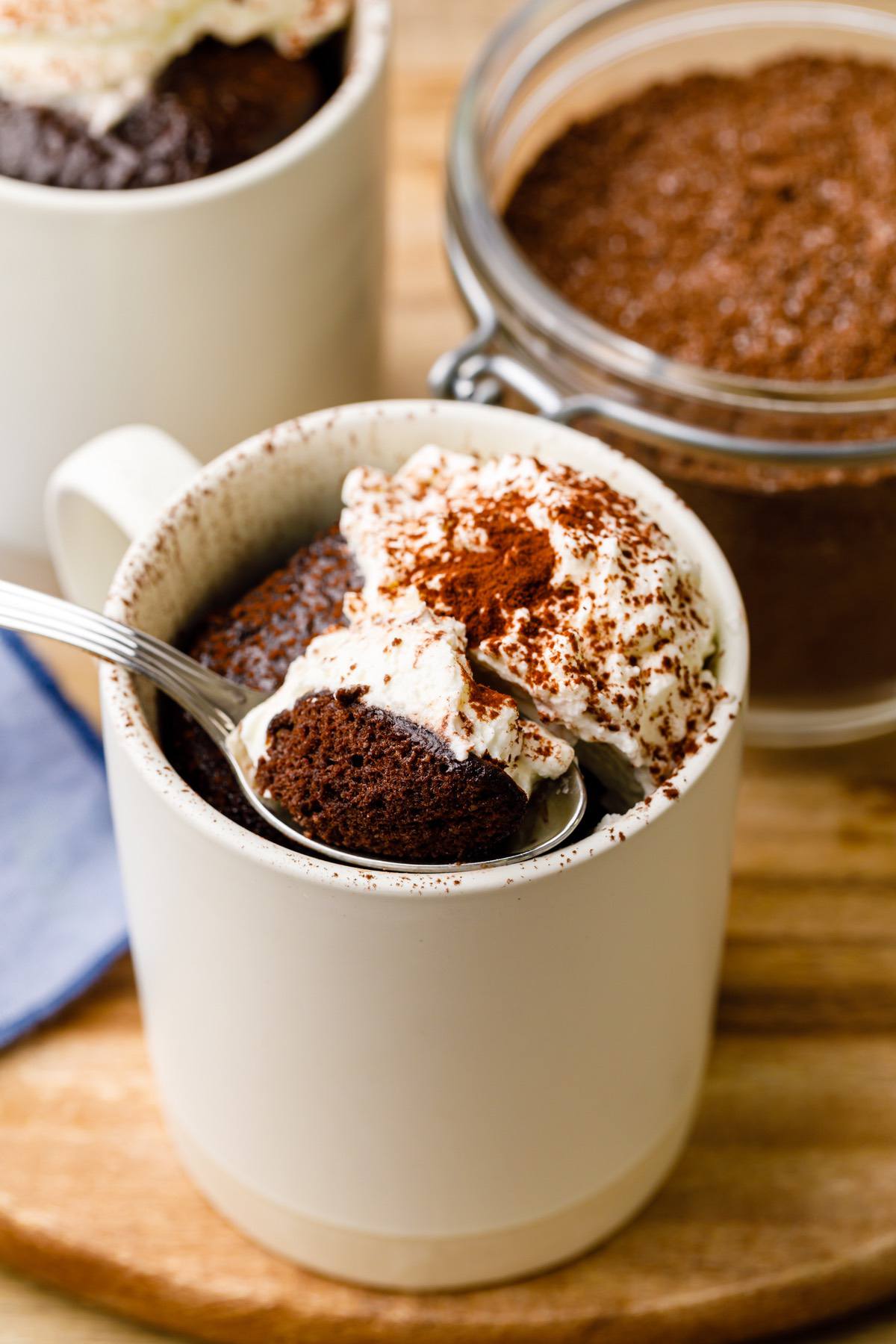 More Easy Keto Mug Cakes You'll Love
3-Minute Coconut Flour Mug Cake – Coconut, cacao and peanut butter in one fell swoop–this is my kind of midnight snack.
Flourless Keto Peanut Butter Mug Cake – This mug cake is absolutely bursting with peanut butter flavor and topped with melted chocolate chips.
Myer Lemon Mug Cake – This lemon mug cake is one of my favorite fruit-based desserts because it's so delicately balanced and highlights the Myer lemon perfectly.
Cinnamon Roll Mug Cake – A deliciously fluffy cinnamon roll in a quick and easy-to-make mug cake form–what's not to love about this recipe?
Bulletproof Coffee Keto Mug Cake – This sweet and buttery mug cake made with the ever popular bulletproof coffee is everything I look for in a pick me up snack.
Coconut Mug Cake with a Dark Chocolate Drizzle – Coconut and chocolate together is such a delectable combination, it transforms any mug cake into a gourmet dessert.
Gooey Keto Molten Chocolate Lava Mug Cake – Trust me when I say that you'll be dreaming about the gooey, molten chocolate center of this lava mug cake for days to come.
Print Recipe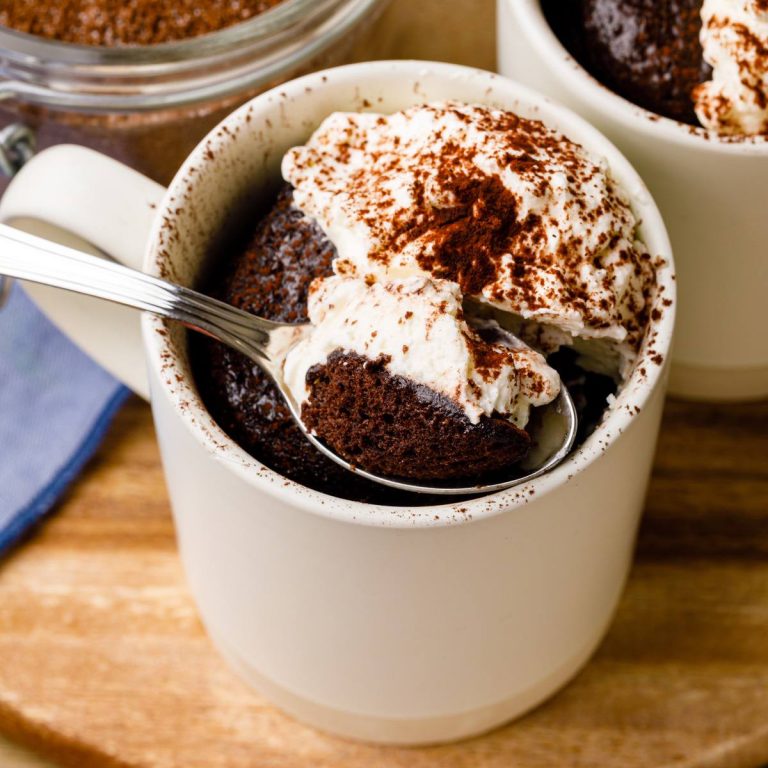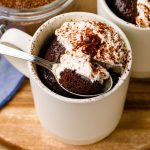 Make-Ahead Keto Chocolate Mug Cake Mix for an Easy, Quick Dessert
Author: Bree - KetoPots.com
Prep Time:

5 minutes

Cook Time:

50 seconds

Total Time:

5 minutes, 50 seconds

Yield:

4

1

x
Scale
½ cup

almond flour

¼ cup

cocoa powder

¼ cup

granulated Stevia or other low carb sugar 

1 tsp

baking powder
To make the mug cake mix, add all the ingredients to a bowl and mix to combine. 

Transfer to a jar and cover with a lid. 

To make the mug cake, in a microwave-safe mug place 4 tablespoons of mixture, 1 tablespoons of melted butter, 1 egg yolk and 1 teaspoon of vanilla extract and whisk to combine.

Microwave on high for 50-60 seconds or until just firm to touch and toothpick inserted into the center comes out clean.  

Top with whipped cream and serve.
FREE KETO RECIPES + 5-INGREDIENT KETO COOKBOOK

Make sure to sign up for free to get instant access to the 5-Ingredient Keto Cookbook, which includes my favorite 20+ keto recipes of all-time, all under 5 ingredients.