Keto Recipes
2-Minute Creamy Keto Caesar Dressing (Quick Homemade Recipe)
This keto caesar dressing recipe is low carb and one of the best homemade keto salad dressings ever! If you love caesar salad, definitely give this one a try.
Keto Caesar Dressing Ingredients
Once you have all these ingredients, it's actually so easy to make keto caesar dressing at home. Here's a quick rundown of what you'll be needing:
Mayonnaise – This will serve as the base of your caesar dressing.
Garlic cloves – Just a couple of garlic cloves will do. Make sure to mince the garlic cloves to help release the flavors.
Lemon juice – The tanginess from the lemon juice will help offset the richness of the mayonnaise.
Anchovy paste – The secret to any caesar dressing, in my opinion. You won't need much but it makes a big difference.
Dijon mustard – Like the lemon juice, Dijon mustard adds a bit of tanginess to the recipe while also giving it another layer of flavor.
Worcestershire sauce – I absolutely love a dash of Worcestershire in my caesar dressing. A little goes a long way.
Parmesan cheese – This is non-negotiable for any caesar dressing. With it, you won't even need to top your recipes with parmesan cheese because the flavor's already there!
Salt and black pepper – As with any recipe, be sure to season it to bring out all the flavors.
How to Make the Best Keto Caesar Dressing
Gather all your ingredients. It's important that you have all the ingredients listed because they all play a part in the finished product!
Mix everything together except for the salt and pepper. The salt and pepper go last during the taste test.
Sometimes the saltiness from the Parmesan cheese is all you need to season the dressing. Feel free to adjust this to your liking.
How Long Does Keto Caesar Salad Dressing Last in the Fridge?
You can store this Caesar salad dressing for about a week in the fridge. Be sure to store it in an airtight glass container to keep it as fresh as possible. Some discoloration is normal after a few days.
I don't recommend storing it in the freezer as the texture will be different once defrosted.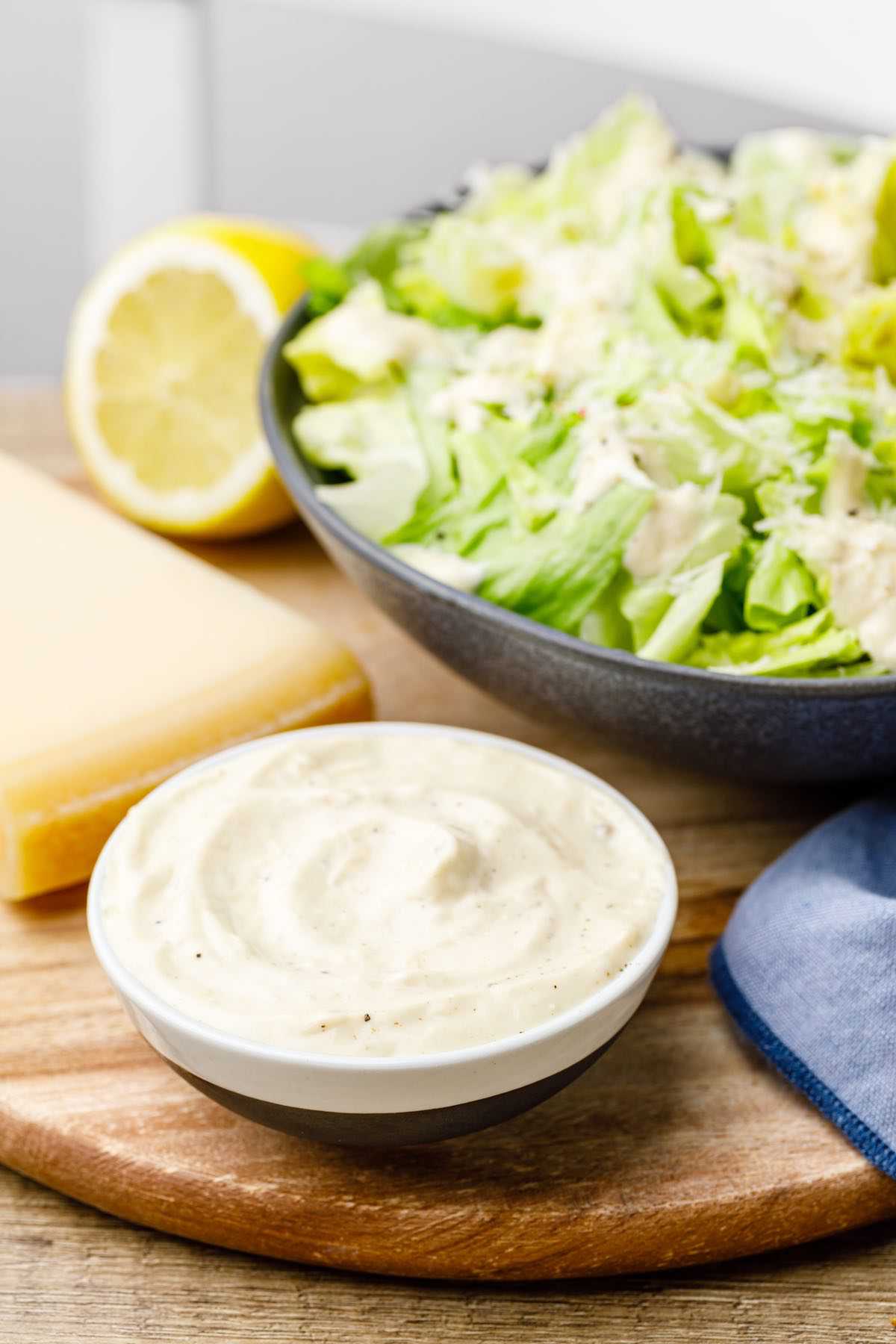 Is Caesar Dressing Keto-Friendly?
Even though most caesar dressing bases are made with mayonnaise, sour cream, heavy cream or a combination of these three, not all caesar dressings are keto-friendly. Store-bought varieties may have other additives and sugars to help preserve them, which is why it typically lasts longer than homemade dressings.
This low carb Caesar dressing recipe is 100% keto-friendly and highly recommended for anyone who is looking for delicious salad dressing without the unnecessary ingredients.
Print Recipe
2-Minute Creamy Keto Caesar Dressing (Quick Homemade Recipe)
Scale
1 cup

mayonnaise

2

garlic cloves, minced 

2 tbsp

lemon juice

1 ¼ tsp

anchovy paste

1 tsp

Dijon mustard

1 tsp

Worcestershire sauce

1/4 cup

grated Parmesan cheese

salt, black pepper to taste
Add all the ingredients to a bowl and mix to combine. 

Refrigerate until ready to use.
Not a Huge Fan of Caesar Dressing? Try These Keto Salad Dressing Recipes Instead
I have quite a few salad dressing recipes in heavy rotation, but these are definitely at the top of my list because they double as both salad dressing and dip. Give them a try if you're not a huge fan of caesar dressing:
Keto Dump Ranch Dressing – I love this for chicken-based salads or even as a dip for my keto chips. It goes great with almost anything.
Creamy Keto Blue Cheese Dressing – A creamy salad dressing recipe that highlights the saltiness and sharpness of blue cheese and a must-try for buffalo-flavored anything. Wings, anyone?
FREE KETO RECIPES + 5-INGREDIENT KETO COOKBOOK

Make sure to sign up for free to get instant access to the 5-Ingredient Keto Cookbook, which includes my favorite 20+ keto recipes of all-time, all under 5 ingredients.