Keto Dinner
Rice-less Keto Stuffed Cabbage Rolls (Comforting Crockpot Recipe)
These keto cabbage rolls are stuffed with beef and spices and slow cooked to perfection in a flavorful tomato sauce. They're incredibly easy to make in a slow cooker and perfect as leftovers.

How to Make Keto Cabbage Rolls in a Slow Cooker
Prepare the cabbage. Remove the core of the cabbage.
Blanch the cabbage. In a small saucepan with boiling water, soak the cabbage for about 15 minutes.
Cut out the center and separate the leaves. Do this once the leaves have softened during cooking.
Make the ground beef mixture. In a bowl, mix together the dry ingredients and season with salt and pepper.
Assemble the cabbage roll. Place the beef mixture in the cabbage leaf and roll tightly.
Place the cabbage rolls side by side inside the slow cooker. Make sure the seam side of the cabbage leaf is placed down.
Make the tomato sauce. Combine the crushed tomato, olive oil, vinegar and spices and pour over the cabbage rolls.
Cook. Cook the cabbage rolls and tomato sauce on low for 6 hours.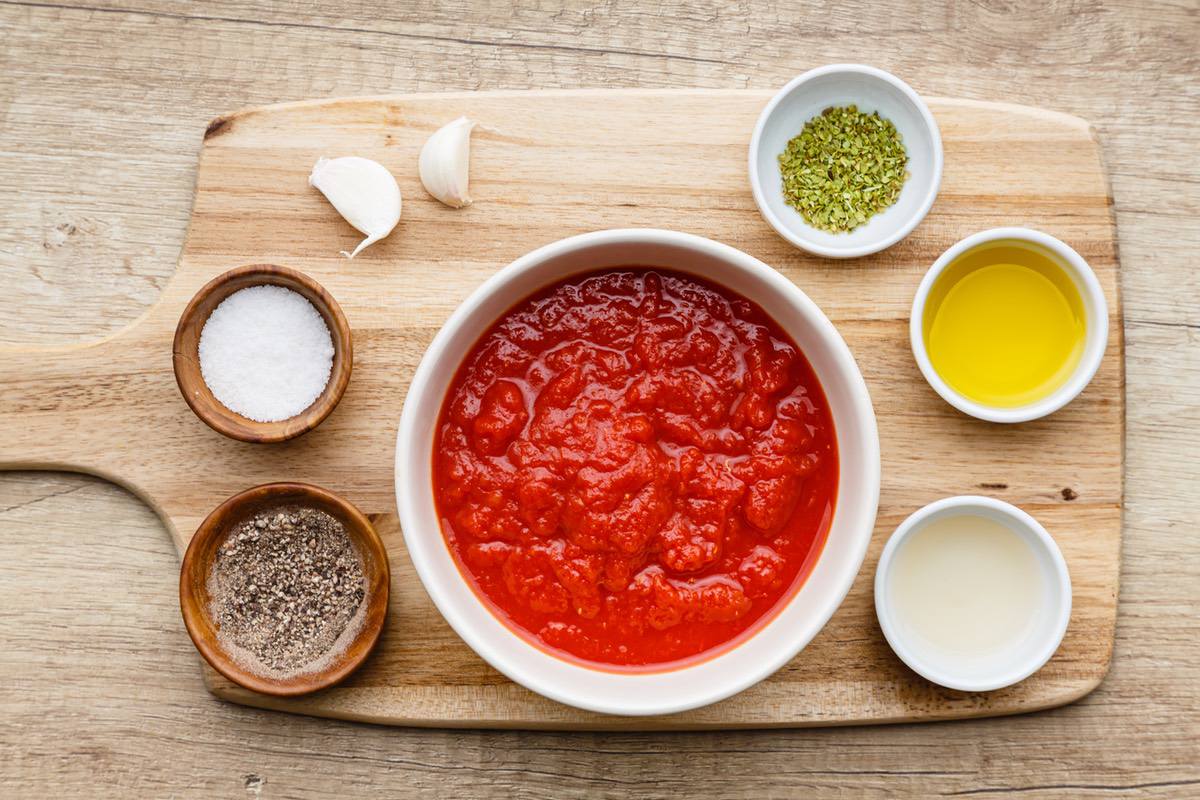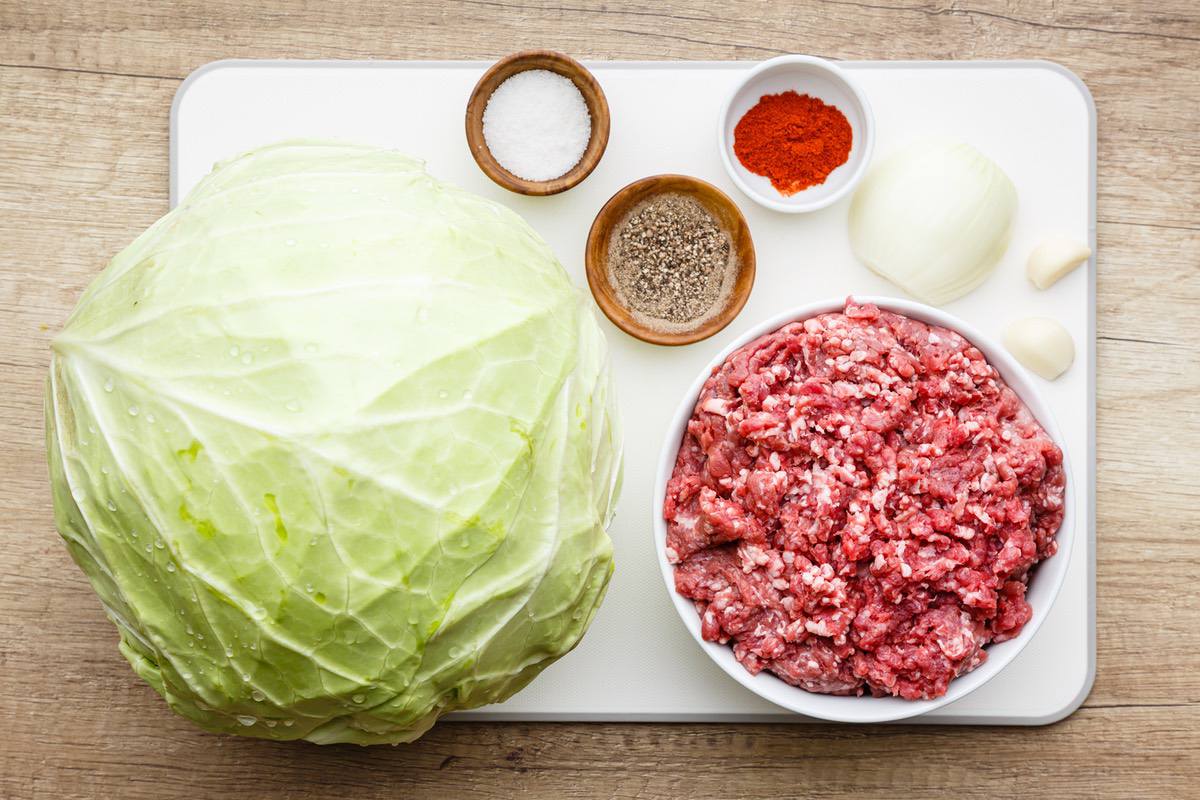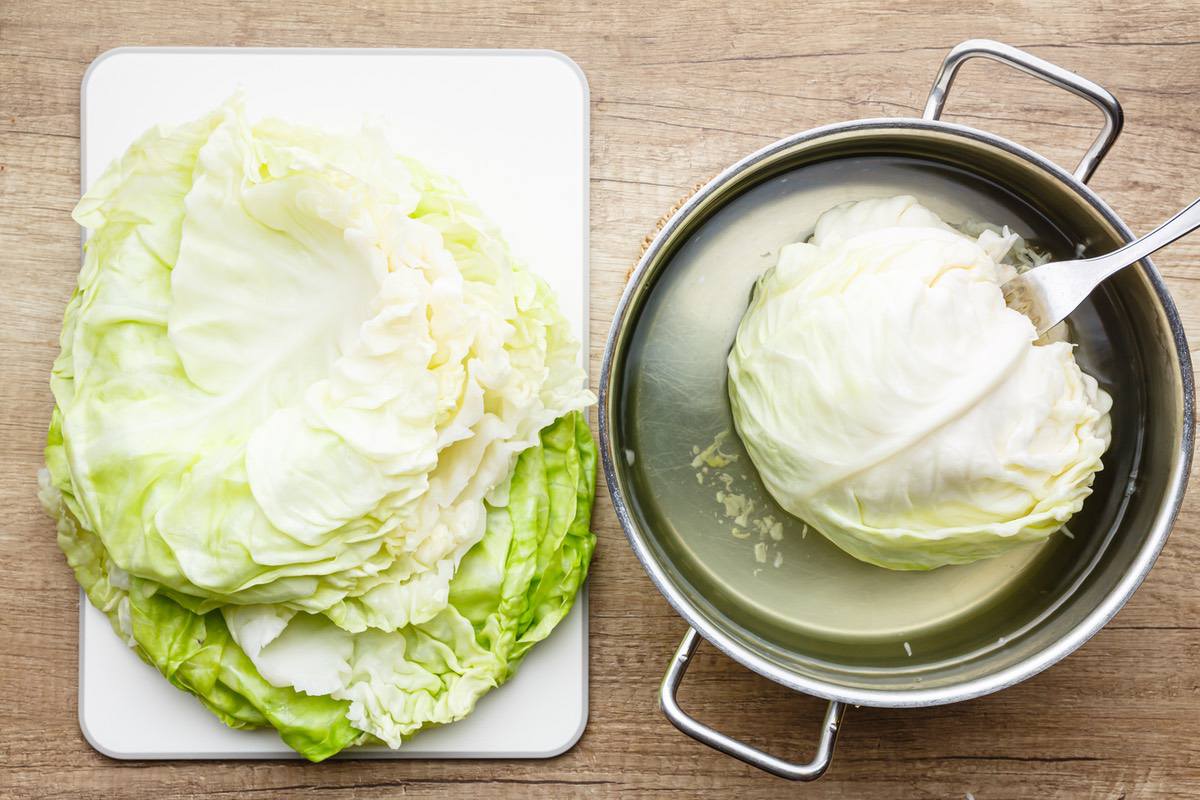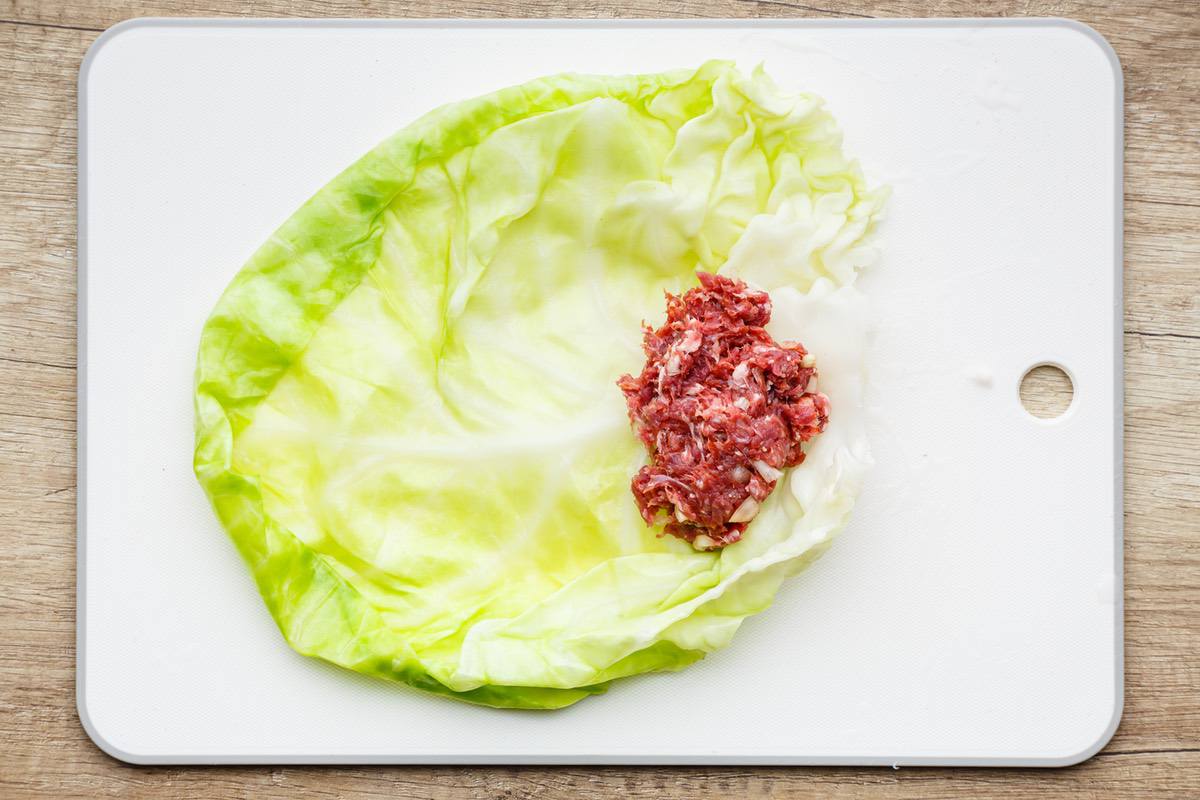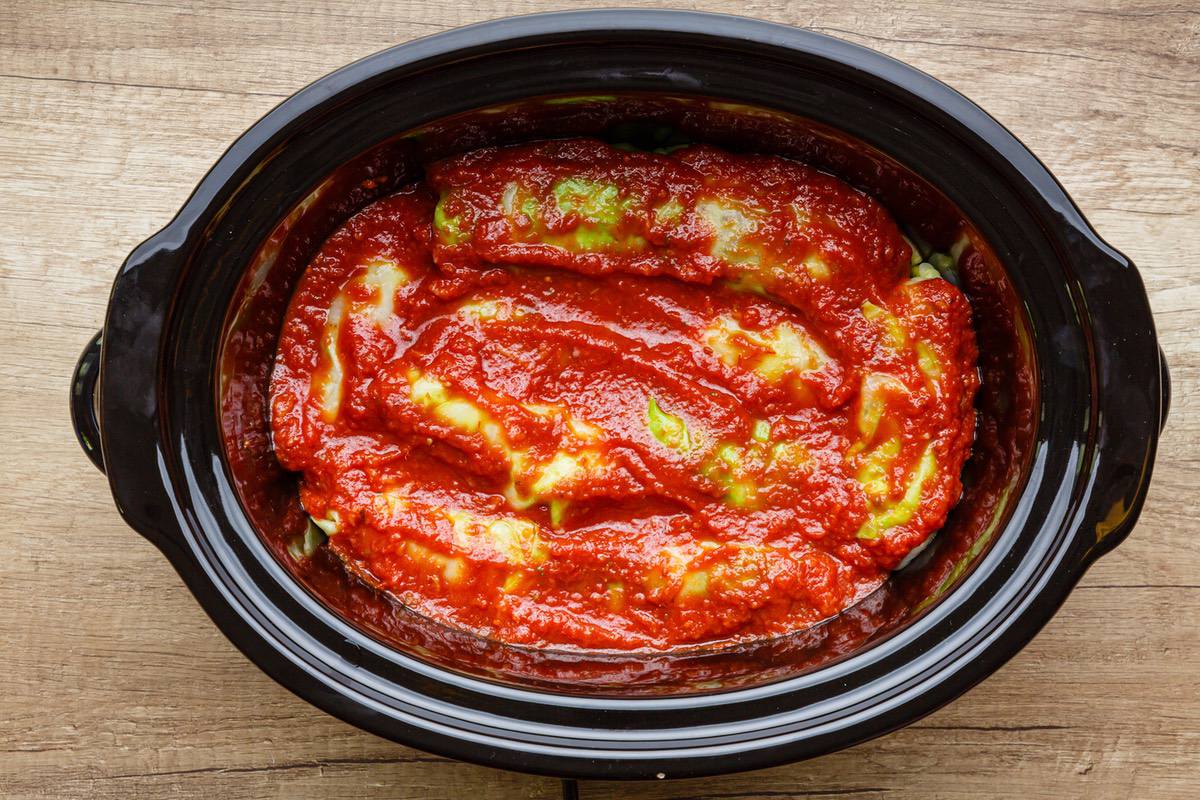 Is Cabbage Keto-friendly?
If you're looking for a low carb keto-approved vegetable that's versatile and easy to cook with, there are few other veggies I'd recommend over the humble cabbage. Cabbage can be used in a variety of keto-friendly dishes as the main ingredient or as a side dish.
Are Cabbage Rolls Low Carb?
Yes, they are! In fact, it is low in carbs and packed with protein and fat, so it's the perfect keto-friendly dish that's full of nourishing ingredients.
Each serving contains about 3-5 grams of carbs with 2-3 grams of those being dietary fiber. This means that your net carbs per serving is 2-3 grams.
Can You Freeze Cabbage Rolls?
It is best to freeze uncooked cabbage rolls. When ready to cook, make sure to defrost and drain the frozen rolls in the refrigerator first to avoid excess liquid build-up while cooking.
For best results, freeze only the cooked beef mixture and blanch the cabbage rolls when you're ready to cook. This way, the cabbage stays fresh and the texture retains its crunch before blanching, to avoid mushy cabbage leaves.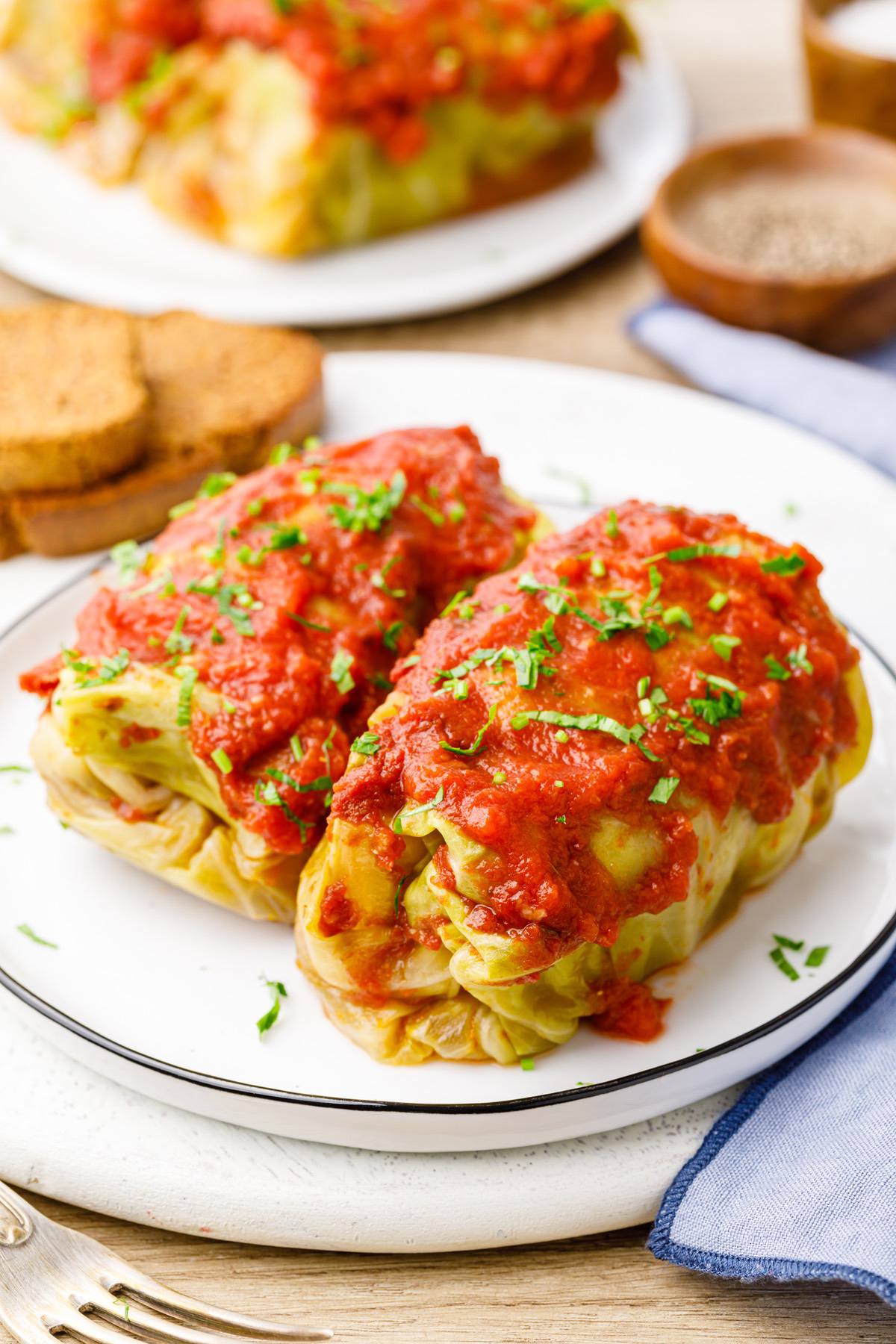 Can You Make Cabbage Rolls Ahead of Time and Store in the Refrigerator?
You can store cooked cabbage rolls in an airtight container for up to 3-4 days in the refrigerator. I highly recommend draining any excess liquid before storage to ensure that your cabbage leaves stay nice and crisp.
Excess liquid can make the leaves soggy, making it harder for you to preserve the original texture of the dish.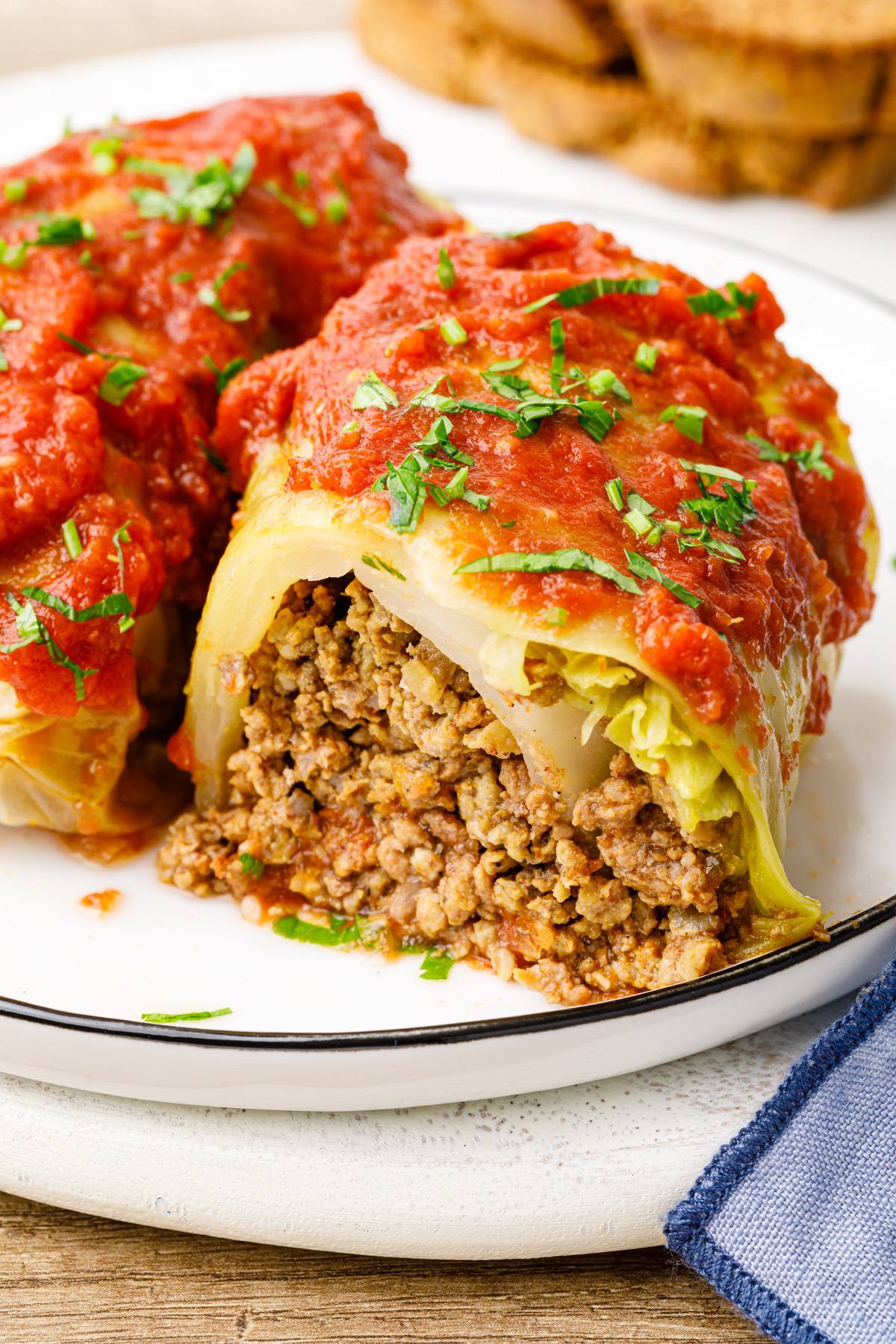 What to Serve with Keto Cabbage Rolls
Garlic Keto Flatbread – You can't go wrong with this mouthwatering keto flatbread recipe made with cream cheese and mozzarella cheese.
Fluffy Keto Dinner Rolls – The fluffiest keto dinner rolls inspired by the famous Fathead dough recipe gets even better when paired with these hearty cabbage rolls.
Keto Garlic Breadsticks – These are perfect as a side dish or as a snack, and especially good when dipped in the cabbage roll tomato sauce.
Print Recipe
Rice-less Keto Stuffed Cabbage Rolls (Comforting Crockpot Recipe)
Author: Bree - KetoPots.com
Prep Time:

20 minutes

Cook Time:

6 hours

Total Time:

6 hours, 20 minutes

Yield:

1

0

1

x
Scale
2

pounds ground lean beef 

¼ cup

chopped parsley (optional) 

1

small onion, chopped 

2

garlic cloves, minced 

2 tsp

paprika (optional) 

1

large cabbage 

1

(14 oz) can crushed tomato 

2 tbsp

olive oil

1 tbsp

white vinegar

1 tsp

dried oregano

½ tsp

garlic powder

salt and black pepper to taste 
For serving(optional): 
Core the cabbage. 

Bring a large pot of salted water to a rapid boil. 

Add the cabbage and blanch it for 15 minutes, turning often or until leaves are softened.

Gently separate leaves. 

Carefully cut out the center vein from 10 of the largest leaves and set the leaves aside.

To make the filling, add the ground beef, onion, garlic, parsley and paprika (if using) to a bowl and mix to combine. 

Season to taste with salt and black pepper. 

Place about ½ cup of the filling in the center of the leaf. Fold bottom half of leaf over filling, then fold in sides and roll up tightly.

Place the cabbage rolls side by side in rows, seam-side down, in a slow cooker. 

The cabbage rolls should be tightly packed in a single layer.

To make the sauce, in a bowl combine the crushed tomato, olive oil, vinegar,  dried oregano and garlic powder. 

Pour the sauce over the cabbage rolls. 

Cover with a lid. 

Cook on LOW for 6 hours. 

Sprinkle with chopped parsley (if using) and serve with keto bread.
More Easy (And Comforting) Ground Beef Keto Meals
Keto Ground Beef Stroganoff – Turn regular old ground beef into this immensely satisfying stroganoff dish made with tangy sour cream and flavorful beef broth.
Crockpot Keto Chili – Perfect for lazy days, this crockpot recipe is the ultimate comfort food for you and the family to enjoy alongside your favorite keto side dishes.
Keto Sloppy Joes with Cloud Buns – There's nothing like this American classic consisting of beef, onions, hot peppers, garlic, tomato sauce all served with a fluffy bun.
FREE KETO RECIPES + 5-INGREDIENT KETO COOKBOOK

Make sure to sign up for free to get instant access to the 5-Ingredient Keto Cookbook, which includes my favorite 20+ keto recipes of all-time, all under 5 ingredients.