Keto Recipes
The Best Keto Sugar Cookies Ever (These are Butter Bombs)
These butter keto sugar cookies are so much better than your classic sugar cookie and really easy to make. If you're looking for a low carb keto cookie recipe with minimal ingredients that are quick and no-hassle with freezable dough, definitely give these a try.
How to Make Butter Keto Sugar Cookies
Combine the dry ingredients. I use a combination of almond flour and coconut flour for this recipe. Also a bit of baking powder, and a pinch of salt.
Cream the remaining ingredients. Use a separate bowl to cream the butter and sweetener together until light and fluffy. Then, beat in the egg and pure vanilla extract. Don't add the ingredients all at once.
Combine. Slowly add your almond flour mixture in with the butter mixture. Beat until the dough comes together and refrigerate for about 4 hours.
Freeze. Next, you're going to roll out your chilled dough and slice it into ⅓ inch thick pieces. Freeze these cookie slices on a baking sheet for about 20 minutes, just to firm them up again.
Preheat the oven. Preheat your oven to 325℉ while the dough is freezing.
Bake. Straight out of the freezer and into the oven to bake for 8-12 minutes. They're ready once they start to brown. Watch the edges especially!
Serve. Remove the baking sheet from the oven and allow the cookies to cool completely before serving.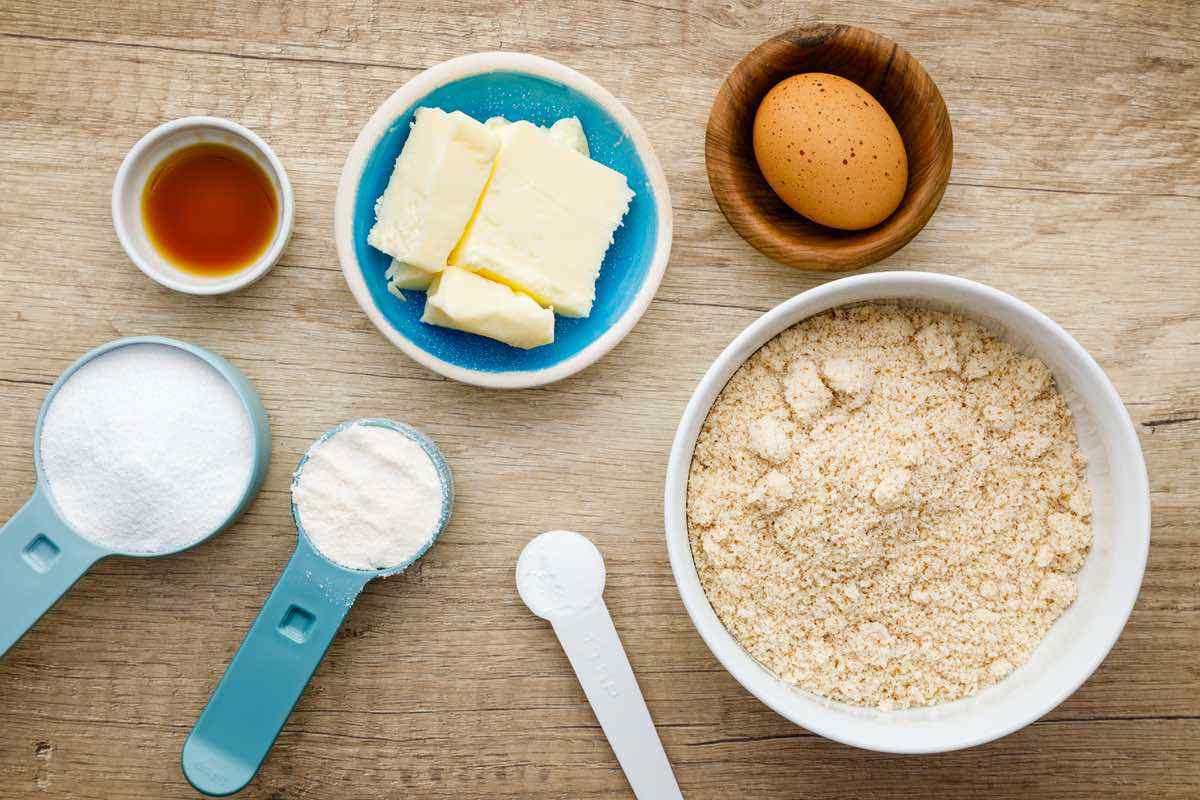 Other Low Carb Flours for Keto Cookies
There are many different types of baking flours that you can use to make your cookie recipes keto-friendly. Check out this handy cheat sheet of low carb flours you can use, complete with comparisons of their fat, protein, and carb content.
Almond flour – 28 grams of fat, 12 grams of protein, 12 grams of carbs per ½ cup.
Coconut flour – 10 grams of fat, 20 grams of protein, 4 grams of carbs per ½ cup.
Hazelnut flour – 35 grams of fat, 9 grams of protein, 10 grams of carbs per ½ cup.
Walnut flour – 61 grams of fat, 14 grams of protein, 6 grams of carbs per ½ cup.
When making substitutions in your keto recipes, try a tablespoon at a time and assess texture from there; don't do a 1:1 ratio substitution right away.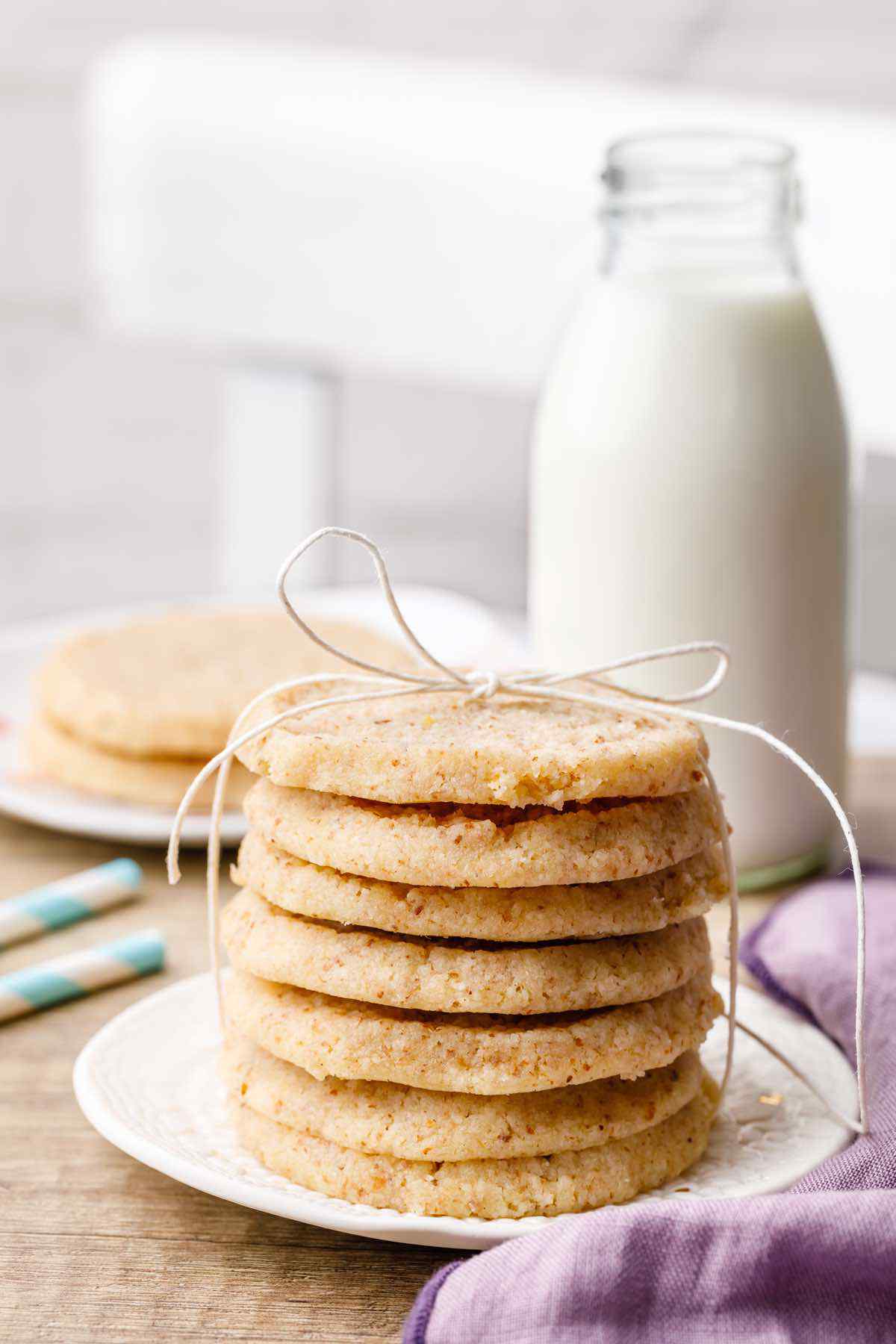 How Long Do Keto Cookies Keep in the Refrigerator?
These low carb keto sugar cookies will keep in the refrigerator for up to 1 week before they start to change in texture. Of course, that's assuming that you're keeping them sealed up properly inside of some type of airtight container.
Alternatively, you may wish to freeze these cookies instead.
Simply let them cool off completely out of the oven first and then transfer the cookies to a freezer-safe container. You can keep them in the freezer like this for up to 5-6 months.
When you're ready to thaw them out again, simply leave them in the refrigerator overnight first and then you can just warm them up in the oven at 325℉ again for a few minutes.
(You may also like: 3-Ingredient Keto Peanut Butter Cookies)
Print Recipe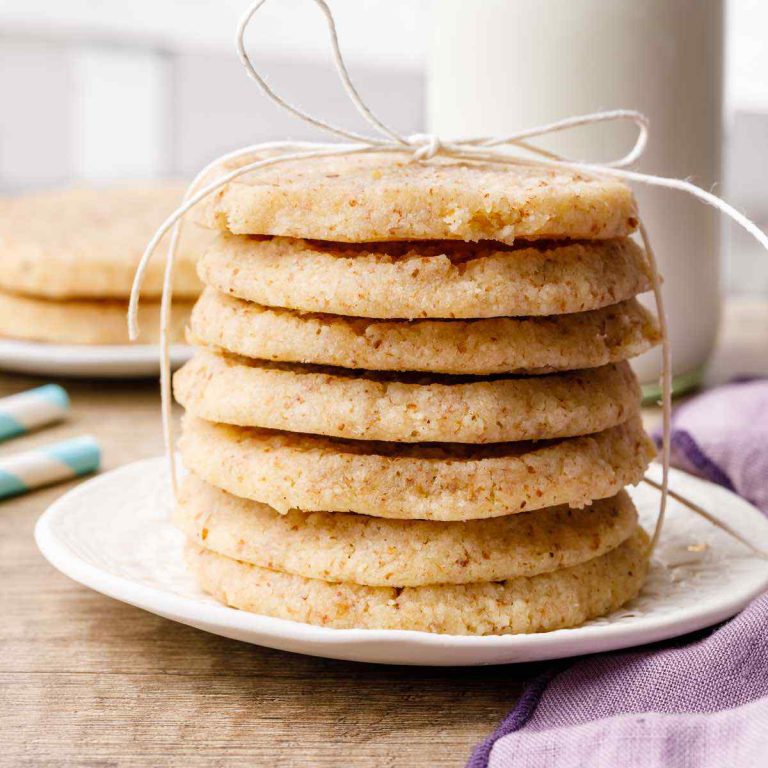 Keto Sugar Cookies
Author: ketopots.com
Prep Time:

20 minutes

Cook Time:

10 minutes

Total Time:

30 minutes

Yield:

1

6

1

x
Scale
1 ½ cup almond flour
¼ cup coconut flour
1 tsp baking powder
pinch of salt

1/3 cup butter (or ghee), softened
1/3 cup granulated Stevia or other low carb granulated sweetener
1 large egg
1 tsp vanilla extract
In a bowl combine the almond flour, coconut flour, pinch of salt and baking powder.
In another bowl cream the butter and sweetener until light and fluffy.
Beat in the egg and vanilla extract.
Slowly add in the almond flour mixture and beat until the dough comes together.
Chill the dough for at least 4 hours.
Roll the dough into a log about 6-7 inches long.
Slice the cookies about 1/3-inch thick and place on a baking sheet lined with parchment paper.
Freeze for 20 minutes.
Preheat oven to 325°F.
Remove the baking sheet from the freezer and bake for 8-12 minutes or until cookies begin to brown.
Remove from the oven and allow to cool completely on the pan.
FREE KETO RECIPES + 5-INGREDIENT KETO COOKBOOK

Make sure to sign up for free to get instant access to the 5-Ingredient Keto Cookbook, which includes my favorite 20+ keto recipes of all-time, all under 5 ingredients.