Keto Recipes
The Best Keto Sugar Cookies Ever (These are Butter Bombs)
Today I'm going to be sharing a nice and easy recipe that makes what are literally the best keto sugar cookies ever. These cookies are packed with a deliciously sweet and creamy buttery flavor that you're going to absolutely love. But do you want to know the real secret of these keto sugar cookies? It's the fact that they aren't even made with sugar at all. In fact, not only are they 100% sugar-free, but they're also grain and gluten-free as well. What that means is that not only does this recipe make some incredibly tasty sugar cookies, but they're also quite healthy as well!
The Amazing Sugarless "Sugar" Cookies
Not only are these keto sugars actually made without the use of sugar, but for all intents and purposes, they're also flourless. Well, sort of. They don't contain the traditional kind of refined wheat flours that most people use for baking. The reason for that is twofold — wheat can be highly inflammatory for many people, and the actual process of refining said flours ends up stripping the vast majority of the nutritional value out of the flour. (1)
These cookies instead use two different types of flour — almond flour and coconut flour. They're both amazing alternatives to use in place of refined wheat flour for many reasons. The main benefit that both types of flour have for keto dieters is that they're both excellent sources of healthy fats and dietary fiber, two things that are essential for anyone following a keto diet. You'll be combining the almond flour and coconut flour in a bowl along with some baking powder and a pinch of salt.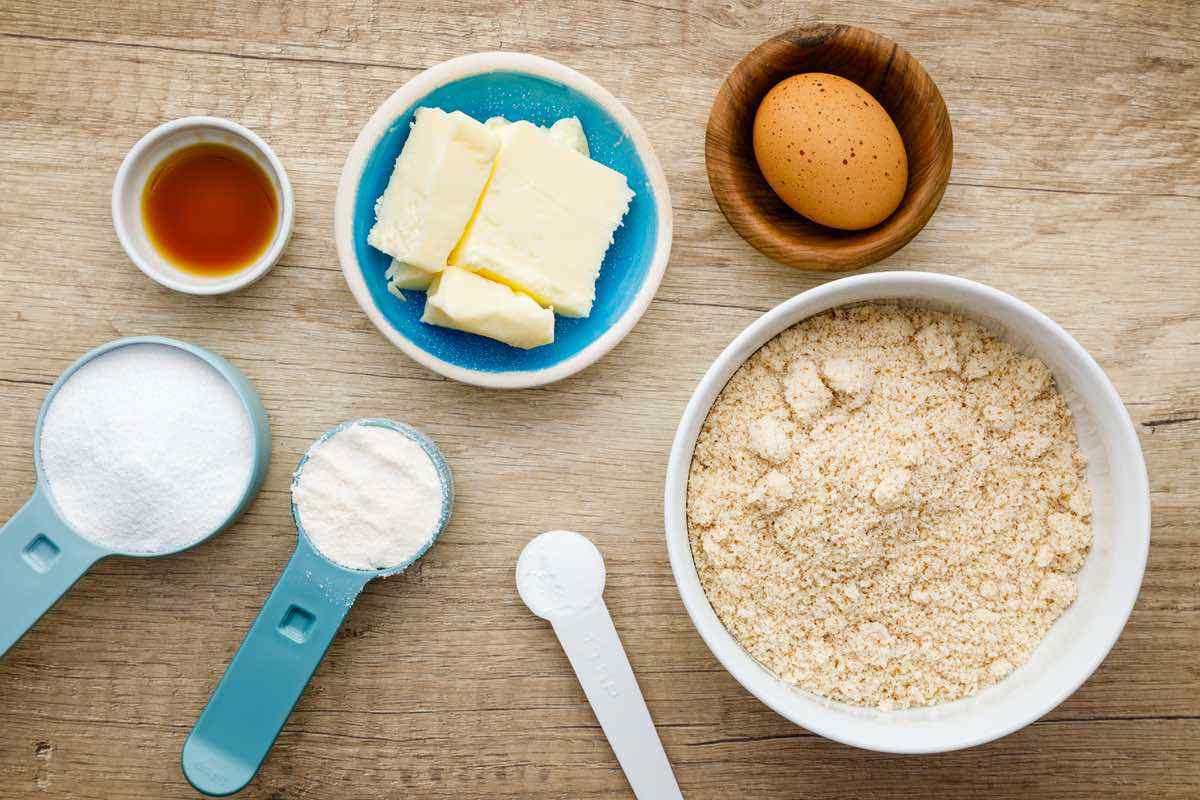 Just as you end up replacing wheat flour with almond flour and coconut flour, so too will you replace sugar with a zero calorie sweetening option. Using a low carb sweetener like Stevia is important to not only keep the cookies keto-friendly, but also because it's a much healthier alternative. Just like wheat flour, sugar is full of refined carbohydrates that are a huge cause of inflammation in the body, while plant-based foods and keto-friendly options like olive oil, nuts, and fatty fish all help to fight inflammation. (2)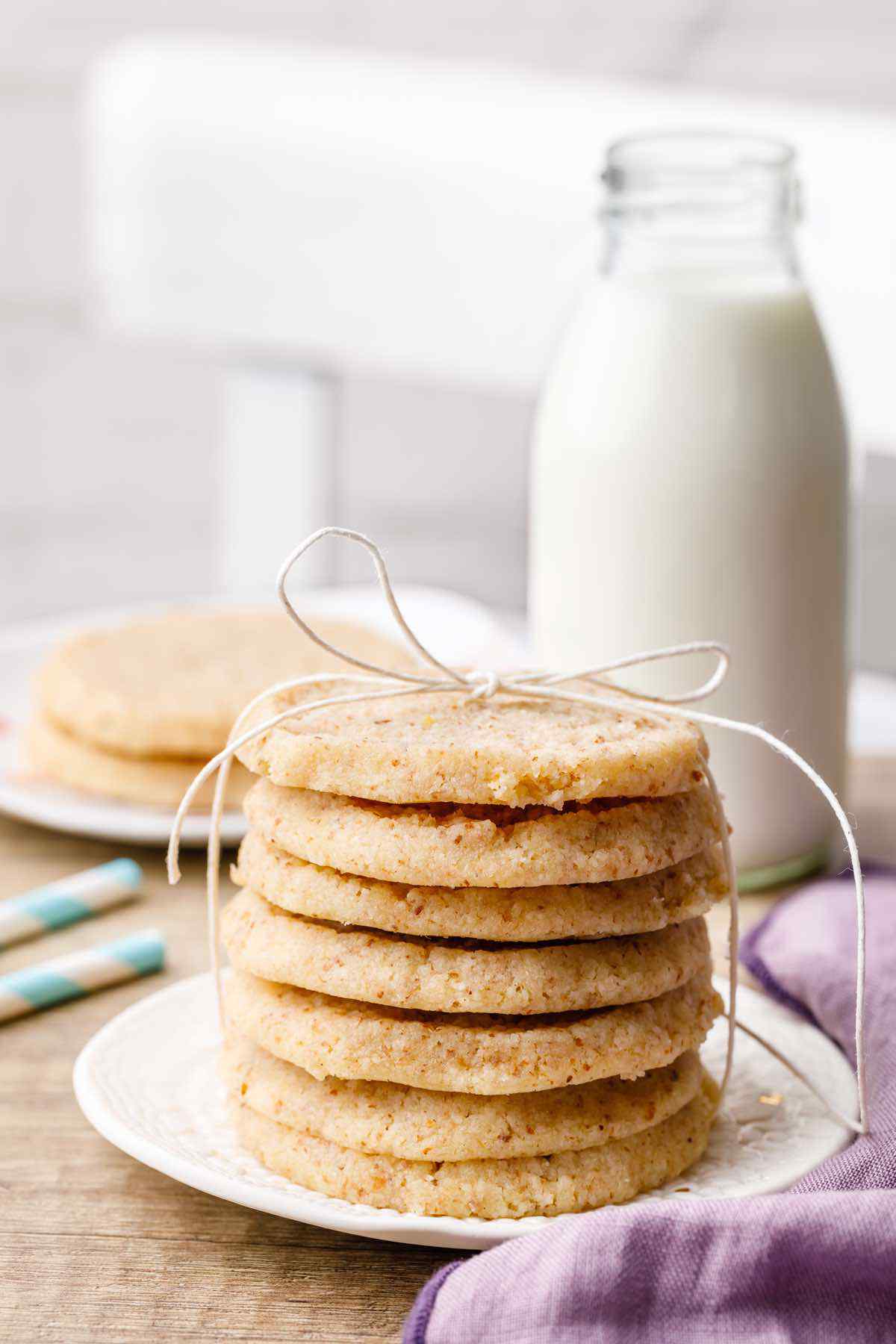 Cream your Stevia together with some softened butter until it's light and fluffy, and then beat in a large egg and some pure vanilla extract. I highly recommend using grass-fed butter when making all of our keto recipes, as it has been found to have a much higher concentration of omega-3 fatty acids compared to butter from grain-fed cows. (3) You can then gradually add in your flour mixture and beat them until it forms a dough-like mixture.
You're going to have to spend some time waiting next, as you'll need to chill the dough for at least four hours. You can then roll it into a log before slicing it into your cookies. The last thing to do before you can finally bake your cookies is to freeze them for about 20 minutes. With that out of the way, you can at last bake your cookies. They really do make a delightfully sweet treat that your whole family will love. My kids were completely shocked that these "sugar" cookies weren't actually made with any sugar — the cookies tasted so good that they didn't believe me!
More Keto Cookie Recipes:
Easy 3-Ingredient Keto Peanut Butter Cookies (These are My Favorite)
Keto Double Chocolate Chip Cookies (Better Than the Bakery!)
Print Recipe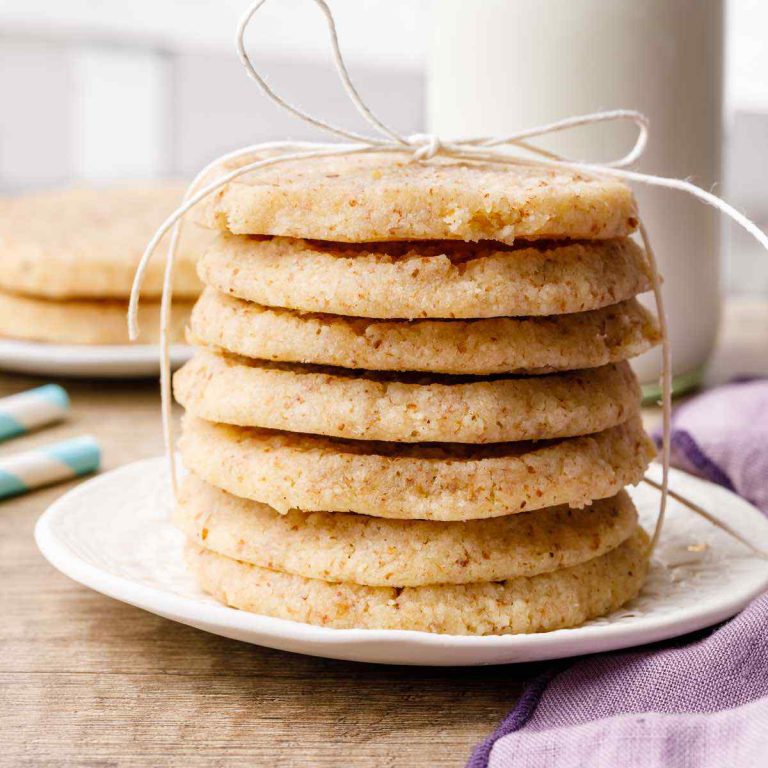 Keto Sugar Cookies
Author:
Prep Time:

20 minutes

Cook Time:

10 minutes

Total Time:

30 minutes

Yield:

16

1

x
FREE KETO RECIPES + 5-INGREDIENT KETO COOKBOOK

Make sure to sign up for free to get instant access to the 5-Ingredient Keto Cookbook, which includes my favorite 20+ keto recipes of all-time, all under 5 ingredients.
Scale
1 ½ cup almond flour
¼ cup coconut flour
1 tsp baking powder
pinch of salt

1/3 cup butter (or ghee), softened
1/3 cup granulated Stevia or other low carb granulated sweetener
1 large egg
1 tsp vanilla extract
In a bowl combine the almond flour, coconut flour, pinch of salt and baking powder.
In another bowl cream the butter and sweetener until light and fluffy.
Beat in the egg and vanilla extract.
Slowly add in the almond flour mixture and beat until the dough comes together.
Chill the dough for at least 4 hours.
Roll the dough into a log about 6-7 inches long.
Slice the cookies about 1/3-inch thick and place on a baking sheet lined with parchment paper.
Freeze for 20 minutes.
Preheat oven to 325°F.
Remove the baking sheet from the freezer and bake for 8-12 minutes or until cookies begin to brown.
Remove from the oven and allow to cool completely on the pan.