Keto Recipes
Scrumptious Keto Butter Pecan Fudge
Whether you're a dessert lover or you just enjoy having a small treat at the end of each meal, this keto butter pecan fudge is one of the best recipes to have in your arsenal. It's so incredibly rich, and it actually tastes like thick, butter pecan.
How to Make Keto Butter Pecan Fudge
There's just no way fudge can be this good and still be healthy, right? Wrong! Check out the recipe below and see how easy it is to make from scratch:
Prepare the baking pan. Line an 8×8 inch baking pan with parchment paper and set aside.
Boil. Add the heavy cream, butter, and a low carb granulated sweetener like Stevia to a heavy-bottomed saucepan and mix to combine. Bring the mixture to a low boil over medium low heat, stirring constantly until the sweetener has dissolved and the mixture has thickened to your liking.
Finish it off. Remove the mixture from the heat and stir in the pure vanilla extract and chopped pecans.
Spread. Immediately spread the mixture into the prepared pan.
Refrigerate the fudge. This is the hardest part about any fudge recipe. Let it refrigerate for at least a few hours to really give it time to thicken up.
Serve. Remove from the fridge, slice, and serve.
2 Quick Tips for Making Smoother Keto Fudge At Home
Making your own keto fudge can differ slightly from making regular types of fudge. This is largely because you'll be using low carb granulated sweeteners instead of the typically used white sugar.
With that in mind, here are a few handy tips to keep in mind that should help you when it comes to making smooth homemade keto fudge:
Choose the right pan. Whenever you're making fudge, you're going to want to make sure that you're using a heavier pan that can properly distribute the heat as you cook your mixture. This will help to prevent your fudge mixture from sticking.
Switch up the sweetener. If you're constantly running into trouble when making homemade fudge, then consider swapping out the low carb granulated sweetener for something like powdered erythritol instead. Erythritol is one of my go to ingredients for making smooth, creamy baked keto goods like fudge.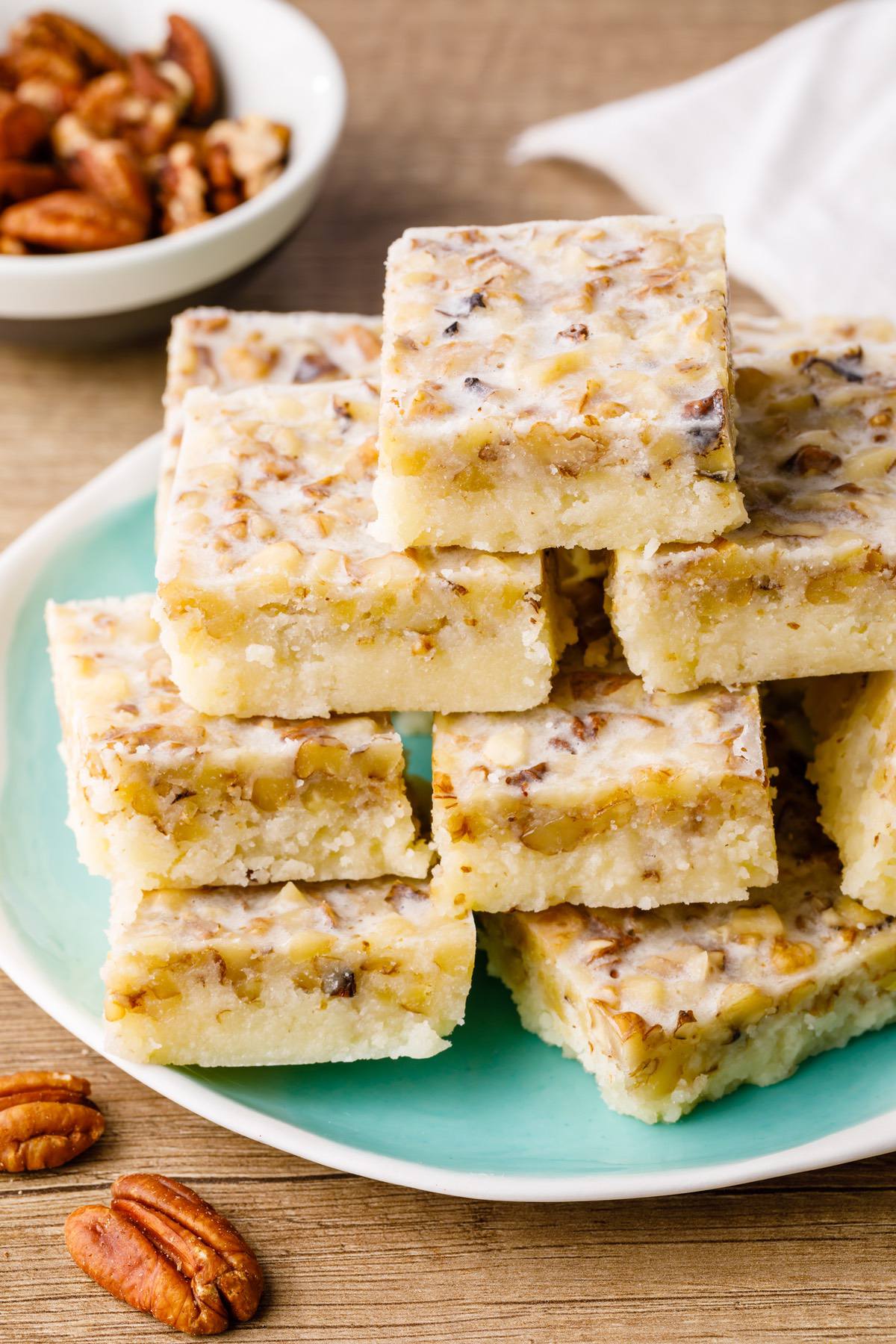 Can I Freeze This Homemade Keto Fudge? (+ the Best Way to Store Fudge)
You can absolutely freeze this keto butter pecan fudge recipe.
After you have made the recipe and the fudge has set in the fridge, go ahead and slice it into squares as you usually would.
You can then transfer the fudge squares into either an airtight container or a heavy duty freezer-safe bag. You'll be able to keep your fudge stored like this in the fridge for up to 2-3 weeks or in the freezer for up to 3 months.
Since this is made with high fat ingredients, you can freeze it and it would still maintain its soft, thick texture.
(You may also like: Keto Peanut Butter Fudge)
Print Recipe
Scrumptious Keto Butter Pecan Fudge
Author: Bree
Prep Time:

10 minutes

Cook Time:

15 minutes

Total Time:

25 minutes

Yield:

1

6

1

x
FREE KETO RECIPES + 5-INGREDIENT KETO COOKBOOK

Make sure to sign up for free to get instant access to the 5-Ingredient Keto Cookbook, which includes my favorite 20+ keto recipes of all-time, all under 5 ingredients.
Scale
½ cup

butter 

½ cup

heavy cream 

2 cup

granulated Stevia or other low carb granulated sweetener 

1 tsp

vanilla extract 

pinch of salt    

1 cup

chopped pecans
Line an 8×8 inch baking pan with parchment paper. Set aside.

In a heavy-bottomed saucepan combine the heavy cream, butter and sweetener. 

Bring to a low boil over medium low heat, string constantly. 

Cook until sweetener dissolves and mixture thickens. 

Remove from the heat. 

Stir in the vanilla extract and chopped pecans.

Immediately spread the mixture into the prepared pan.

Refrigerate until sets.
More Good Keto Fudge Recipes: