Keto Recipes
Easy Instant Pot Keto Butter Chicken (This is So Good!)
I will never forget the very first time that I tried butter chicken. It was at my best friend's wedding, and as soon as I had my first taste, I was hooked. In the weeks following the wedding, I must have hit just about every Indian restaurant in town in search of the best butter chicken…and it wasn't until I started making it myself using my instant pot that I found it. Today I'm going to be sharing a recipe that will show you my very favorite way of making my signature keto butter chicken dish. It's honestly so good, especially when you serve it with a steaming hot bowl of cauliflower rice or something similar.

Crazy for Butter Chicken?
If you're interested in further research (ahem) on this day, then I would highly recommend the following five butter chicken recipes from a few of my favorite keto blogs from around the web:
Butter Chicken That Will Impress Anyone
I'm honestly not exaggerating in the least bit when I say this keto butter chicken recipe turns out way better than every last restaurant I tried in my town.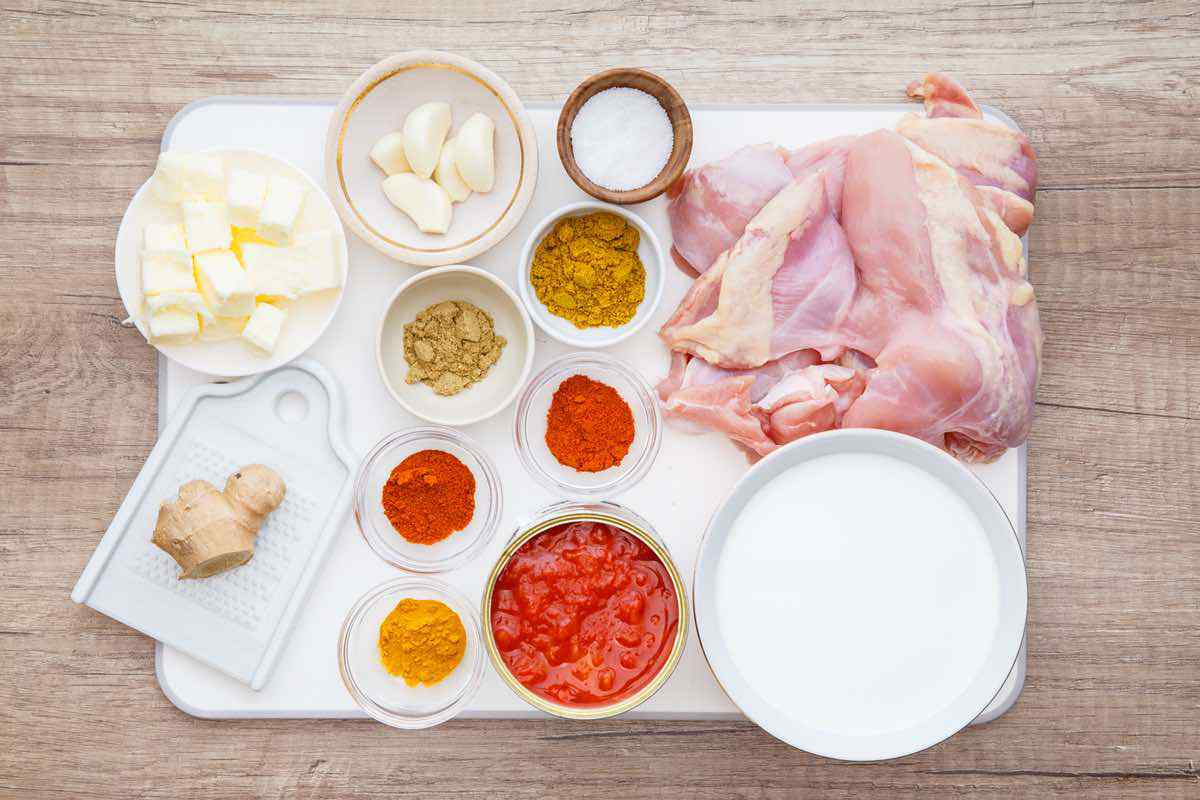 You'll first need to mix together the majority of the ingredients into your instant pot: diced tomatoes, garlic cloves, grated ginger, ground paprika, garam masala, turmeric, cayenne pepper, and ground cumin. Next, add in your boneless, skinless chicken breasts and seal up the instant pot before setting it to 'PRESSURE COOK' mode.
Set your timer for nine minutes to cook the chicken, and then allow the pressure to come down naturally. You can then open the lid and remove the chicken, breaking it up into smaller pieces.
You'll then need to use an immersion blender to blend your butter sauce until it's nice and smooth. With that out of the way, press the 'SAUTE' button on the instant pot and add in your butter cubes and heavy cream. Stir to combine and then add the chicken back into the sauce as well.
Cook everything while stirring constantly until the sauce reaches your desired thickness. Finally, sprinkle your choice of either chopped cilantro or parsley over top of it and then serve the chicken along with cauliflower rice.
How to Properly Store Chicken Without Letting It Dry Out
We've all had it happen to us. You cook a delicious chicken dinner but when you go to microwave the leftovers, your moist and juicy chicken turns out dry and flakey. It's the worst!
Thankfully, there are a few simple steps that you can take to prevent this from happening. You should always be keeping your leftover chicken stored in the fridge inside of an airtight container to help lock the moisture in.
Beyond that, since I usually warm up my chicken in the microwave, I recommend using a piece of wet paper towel and placing it over top of your chicken. Next, grab a piece of microwave-safe plastic wrap, cover up your food, and poke a few holes in the top. You'll want to microwave the chicken until it's hot and steaming for best results.
What Temperature Should You Cook Chicken?
A little known fact is that the minimum safe internal temperature for cooked chicken is 165 degrees fahrenheit.
The best way to check if your chicken is cooked through enough is by using either a meat or an instant-read thermometer. Just remember that if you're ever cooking a whole chicken, the best spot to insert the thermometer is the thickest part of the thigh.
Which Type of Butter is the Healthiest?
Before we get into which type of butter is the healthiest, let's get one thing out of the way : it most definitely is not margarine. I honestly believe that everyone should always be using real butter when making any kind of meal, not just keto friendly dishes.
So with that out of the way, that leaves you with two main options – butter from grain-fed cows and butter from grass-fed cows.
While butter from grain-fed cows is still always going to be preferable to margarine, you should ideally be aiming to use grass-fed butter. It has a much higher concentration of heart healthy omega-3 fatty acids than regular butter. In addition, grass-fed butter is also an excellent source of essential vitamins (A, E, and K) and disease fighting antioxidants.
Print Recipe
Easy Instant Pot Keto Butter Chicken
Author: Bree - KetoPots.com
Prep Time:

10 minutes

Cook Time:

15 minutes

Total Time:

25 minutes

Yield:

6

1

x
FREE KETO RECIPES + 5-INGREDIENT KETO COOKBOOK

Make sure to sign up for free to get instant access to the 5-Ingredient Keto Cookbook, which includes my favorite 20+ keto recipes of all-time, all under 5 ingredients.
Scale
1 ½

pounds boneless, skinless chicken (breasts or thighs)

1

(14 oz) can diced tomatoes

1 tbsp

grated ginger

5

garlic cloves, minced

1 tsp

ground paprika

2 tsp

garam masala

1 tsp

ground turmeric

1 tsp

ground cayenne pepper

1 tsp

ground cumin

1 tsp

salt

3 ounces

butter, cut into cubes

1/3 cup

heavy cream

¼ cup

chopped fresh cilantro or parsley
Add the diced tomatoes, garlic, ginger, paprika, garam masala, turmeric, cayenne pepper, cumin and salt to the Instant pot and mix to combine. 

Add the chicken. 

Close and seal the Instant pot. 

Turn the venting knob to SEALING.

Press PRESSURE COOK button and check to make sure the pressure level shows as "High" on the display. 

Adjust the timer to 9 minutes. 

When finished cooking, let the pressure come down naturally for 10 minutes, then quick release the rest of the pressure.

Open the lid. 

Remove the chicken from the Instant pot.

Break it up into smaller pieces.

Using an immersion blender, blend the sauce until smooth.

Press the SAUTE button on the Instant pot. 

Add the butter and heavy cream and stir to combine. 

Add the chicken back to the sauce. 

Cook, stirring frequently, until the sauce has thickened to your liking. 

Press the CANCEL button. 

Season with salt and black pepper to taste. 

Sprinkle with chopped cilantro or parsley and serve with cauliflower rice.
More Easy Keto Chicken Recipes You'll Love: