Keto Bread
OMG-Good Keto Hamburger Buns (try these!)
Even after switching over to the keto diet, I couldn't imagine living a life without hamburgers. Yes, you can just use lettuce for low carb buns, but it just isn't the same. When I am feeling a craving for burgers, this is my go-to keto hamburger bun recipe that gives you the "OMG that's so good" burger feels, but without the carbs.

How to Make the Best Low Carb Keto Hamburger Buns
Prepare the yeast mixture. Simply combine the yeast, maple syrup, and warm water and leave it to rise. It should take about 7-10 minutes.
Combine the dry ingredients in one bowl and the wet ingredients in another bowl.
Finish preparing the dough. Slowly combine the yeast and egg mixtures with the almond flour mixture, mixing constantly. Divide the dough out into 8 balls and place them in silicone hamburger bun molds or on a baking sheet lined with parchment paper. Cover the dough with lightly oiled cling film and leave it to rise until the dough just about doubles in size.
Preheat the oven. While your dough is proofing, preheat your oven to 350℉.
Bake. Bake for 25-30 minutes or until the keto buns are golden brown. Remove from the oven and allow to cool completely before serving with your burgers.
Keto Bun Tips
Here are a few quick tips that you can keep in mind when making this recipe so your keto hamburger buns turn out perfectly.
Pre-cook water and yeast. If you run into the issue of having your buns turn out too dense, try mixing a bit of water and yeast and briefly cooking them for a few minutes before you combine with the remaining ingredients. This technique originated in Japan and is known as the tangzhong method of making bread.
Temperature matters. Make sure that the eggs you use when making these low carb buns are at room temperature so that the dough rises properly.
No expired ingredients. A common reason for low carb breads not rising is they're made with old baking powder. To check if yours is still fresh, simply mix a bit in with some water. If it's good to go, the mixture should become fizzy.
Will These Hamburger Buns Toast Well?
A lot of my friends and family members have been curious about this specific recipe after trying the burgers I make with them. One of the most common questions people tend to have is in regards to how well these buns toast.
I'm very happy to report that these hamburger buns toast amazingly well!
While I find that these buns end up perfectly soft when you follow the instructions exactly (which is perfect for me since that's just how I love my buns), they're also just as good when you toast them, so feel free to have at it!
Why Did My Keto Hamburger Buns End Up So Dense?
Ending up with dense hamburger buns usually isn't an issue when making keto-friendly buns due to the fact that you end up adding in a lot of fat. With that being said though, from time to time things can go awry, even with a recipe that you've made dozens of times before.
However, if you're consistently ending up with buns that are too dense, you should look into the tangzhong method of making bread. The gist of it involves taking a small percentage of the water and flours used in this recipe and cooking them very briefly before combining them with the remaining ingredients.
The technique was first popularized in Japan, and it's incredibly effective for getting rid of your dense bun problems! Try it out!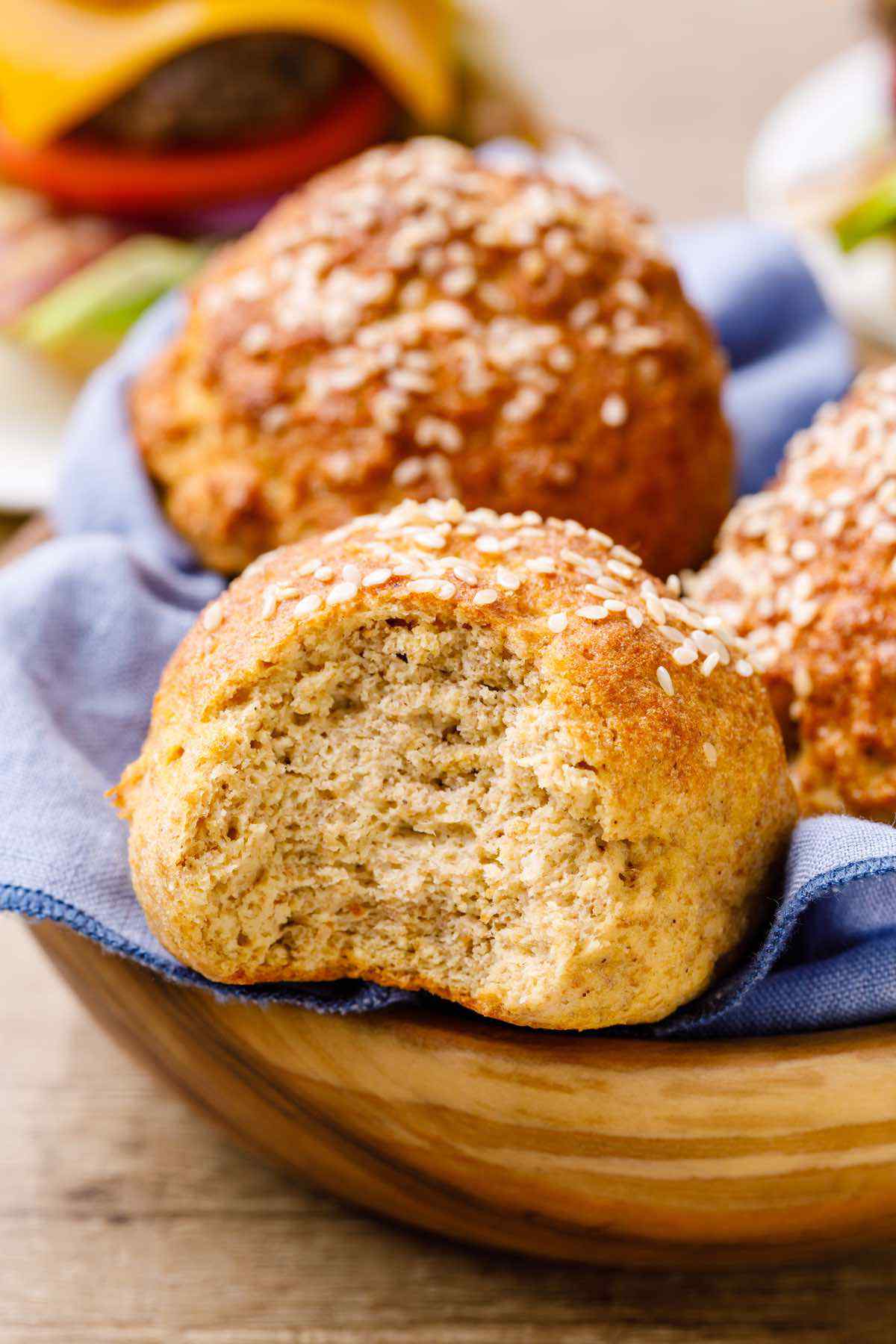 Can I Store These Low Carb Buns in the Refrigerator or Freezer?
You can absolutely store these keto hamburger buns in either the refrigerator or the freezer, depending on how long you want to keep them for.
Just be sure to follow the usual measures you would take when freezing your buns, such as using an airtight container for storing them.
Tips for Reheating Keto Hamburger Buns
If you do decide to throw your keto buns in the fridge or freezer, the single biggest recommendation that I could make when it comes time to thaw them out is to use a toaster, especially if the buns have been frozen.
On the other hand, if you would prefer that your buns keep their softer consistency when thawing them out, you'll probably want to throw them in the oven for five minutes at 350 degrees fahrenheit. Just make sure that you wrap each half of your bun in aluminum foil first.
Can I Use This Low Carb Hamburger Bun Recipe to Make Hotdog Buns?
This keto bun recipe actually works equally as great when it comes to making both hotdog and hamburger buns.
The only thing that you'll have to do differently is use a silicone hot dog bun mold and roll your dough out into smaller log shapes instead of balls.
Can I Make Keto-friendly Buns Without Yeast?
It's definitely possible to make tasty low carb hamburger buns without using yeast. I just personally think it's a bit easier to make keto buns with yeast instead of without.
If you want to try out a low carb bun recipe that doesn't use yeast though, take a peek at this sloppy joe recipe that makes ridiculously good cloud buns from scratch. The buns work just as well with burgers.
(You may also like: Sheet Pan Keto Burgers)
Print Recipe
How to Make the Best Keto Hamburger Buns
Author: Bree - KetoPots.com
Prep Time:

20 minutes

Cook Time:

25 minutes

Total Time:

45 minutes

Yield:

6

1

x
FREE KETO RECIPES + 5-INGREDIENT KETO COOKBOOK

Make sure to sign up for free to get instant access to the 5-Ingredient Keto Cookbook, which includes my favorite 20+ keto recipes of all-time, all under 5 ingredients.
Scale
1 tbsp

active dry yeast

1 tbsp

maple syrup 

½ cup

warm water 

18 tbsp

almond flour 

1/3 cup

coconut flour 

½ cup

flax meal

1 tbsp

psilyum husk powder

1 tsp

xanthan gum

2 tsp

baking powder

3

large eggs, room temperature

2 tbsp

softened butter
In a small bowl combine the active dry yeast, maple syrup and warm water. 

Cover it with a kitchen towel and let it rise in a warm place for 7-10 minutes. 

The mixture should be bubbly. 

In a large bowl combine the coconut flour, almond flour, flax meal, baking powder, psilyum husk powder and xanthan gum. 

In another bowl combine the eggs and butter.

Slowly add the yest mixture and egg mixture to the almond flour mixture, mixing constantly. 

Divide the dough into 8 balls. 

Place the balls in a silicone buns mold or a baking sheet lined with parchment paper. 

Cover with lightly oiled cling film. 

Let it rise in a warm place until the dough has almost doubled in size.

Preheat oven to 350°F while the dough is proofing.

Bake the hamburger buns in preheated oven for 25-30 minutes or until golden brown.

Remove from the oven and allow to cool completely before serving.
More Keto Baked Good Recipes You'll Love: