Keto Recipes
Cinnamon, Blueberry and Almond Butter Keto Breakfast Shake
I love making protein shakes for breakfast because they're such a convenient option to put together whenever you're really pressed for time (which is most mornings, I'm afraid). By using the right mix of ingredients, you can have a tasty liquid breakfast ready to go in only minutes that provides your body with plenty of fuel to start the day. This cinnamon, blueberry and almond butter keto breakfast shape is a perfect example of that. It offers plenty of protein, some quality fats from the almond butter, a delicious hint of cinnamon spice, and of course, a ton of antioxidants thanks to the blueberries.
A Healthy Mix of Great Keto-Friendly Ingredients
The three main ingredients that go into making this delightful keto breakfast shake can be figured out pretty easily — they're all in the name of the recipe, after all. There's a few good reasons why they've all been chosen for this shake. Let's take a few moments to look at blueberries, cinnamon, and almond butter in more detail to highlight exactly why they work so well together in this recipe.
Blueberries – Whether fresh or frozen, blueberries are truly an antioxidant and nutritional powerhouse ingredient packaged in a tiny format. Not only are blueberries a great source of essential nutrients such as vitamin C, folate, potassium, and fiber, but there is also a large amount of research indicating that blueberries possess some rather potent anti-cancer properties as well. (1) They're also known to be a nourishing food to indulge in when it comes to heart health, and when you combine that with the fact they're a delightfully sweet and low carb treat to enjoy on their own, you'll see exactly why they're such a great fit when it comes to making a keto-friendly protein shake.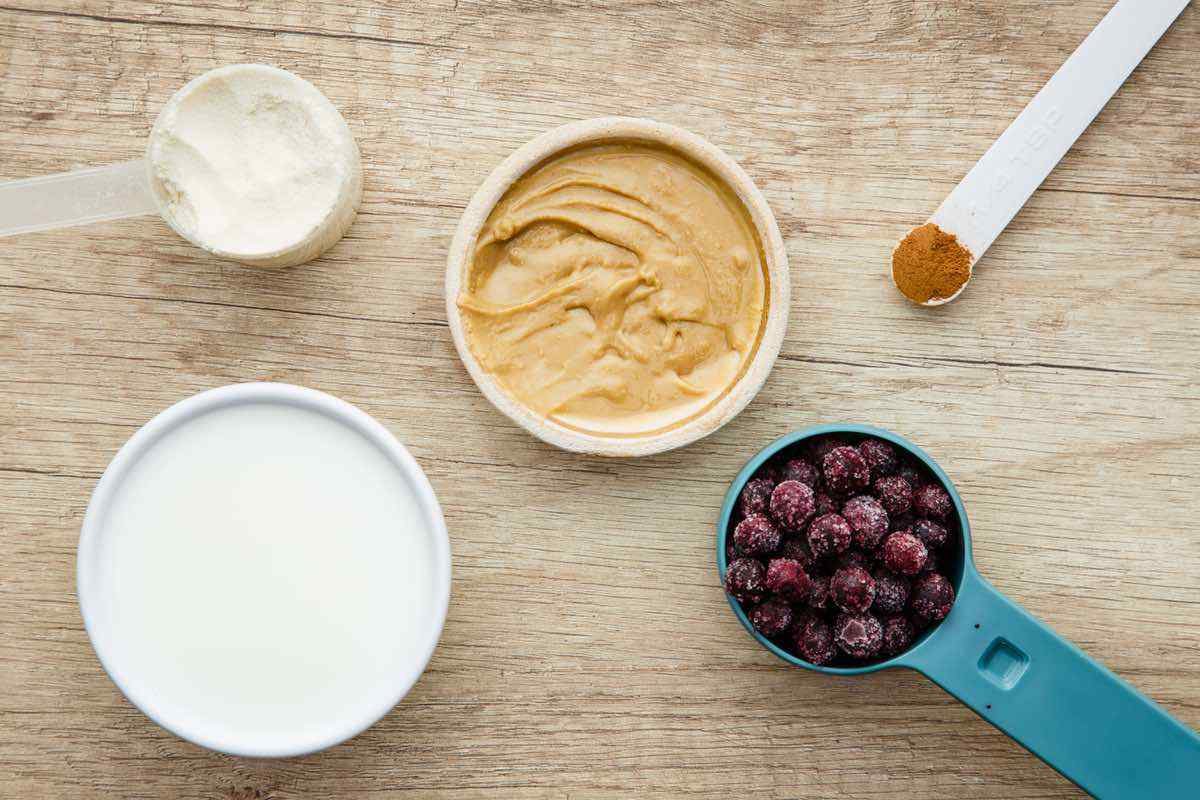 Cinnamon – My all-time favorite culinary spice fits into this shake perfectly, providing a savory hint of cinnamon spice flavor that blends extraordinarily well with both the taste of blueberries and the nutty flavor offered by the almond butter. Whether making cinnamon roll fat bombs or cinnamon roll mug cakes, there's no shortage of delicious ways to mix cinnamon into the keto diet. It contains other great benefits for keto dieters in particular, as cinnamon has been found to reduce inflammation, relieve hypertension, and even help to reverse the effects of metabolic syndrome in individuals afflicted. (2) Considering a great deal of people take their first steps on the keto journey in order to help with issues related to metabolic syndrome, cinnamon should be one of the first spices you stock up on when starting your keto grocery shopping.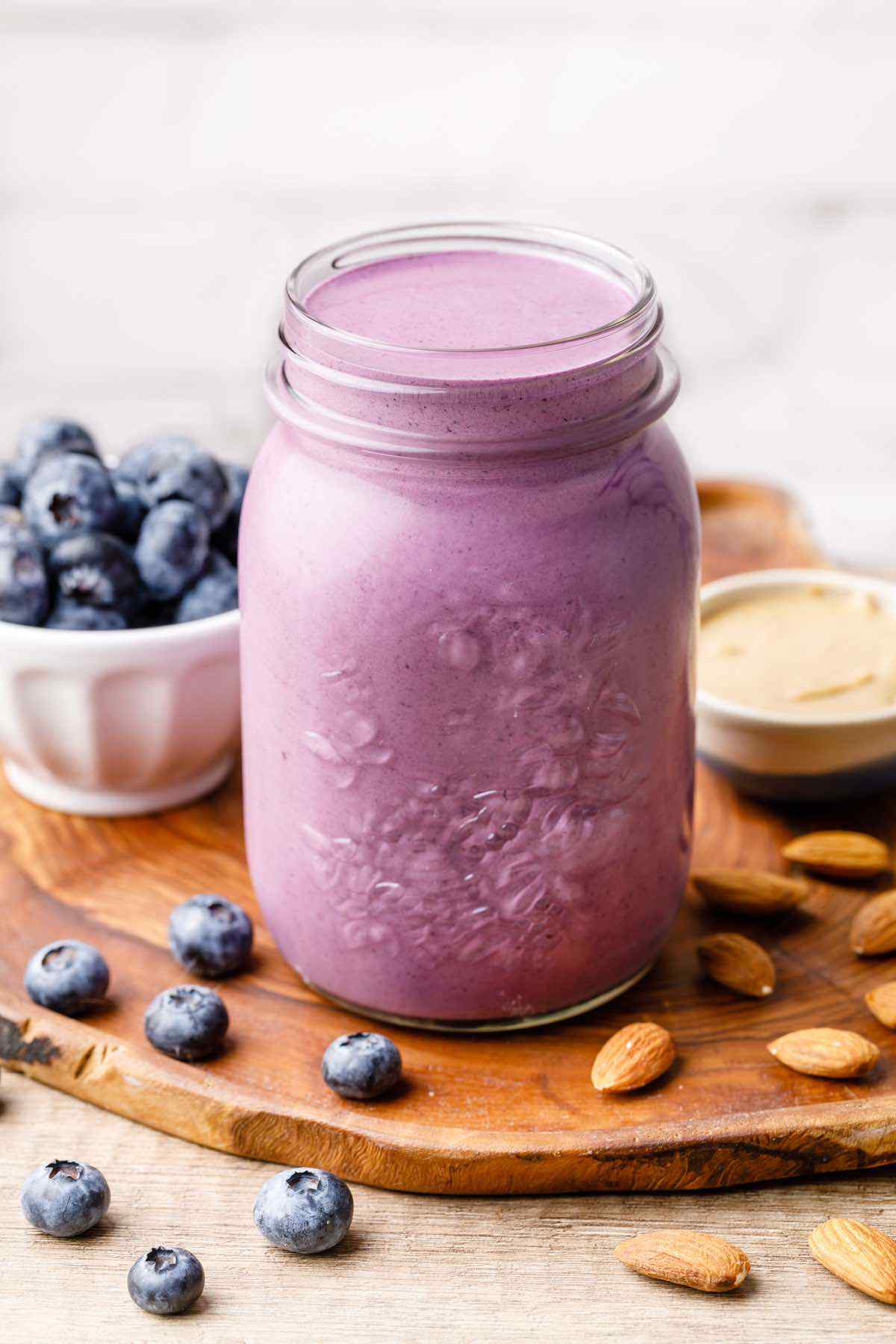 Almond Butter – I used to always add a tablespoon or two of peanut butter into my protein shakes whenever I was trying to gain a bit of weight, but let me tell you now, after making this recipe, I'll be using almond butter a lot more going forward! Whether you prefer peanut butter or almond butter, both are great options for adding some quality fats into your protein shakes. Regular nut and peanut butter consumption has also been linked with lower rates of esophageal and gastric cancers subtypes, according to a 2017 study. (3)
Aside from the three main ingredients, you'll also need to add ice cubes, a bit of unsweetened almond milk, some liquid Stevia, and of course, some vanilla protein powder to give your breakfast shake its protein content. I recommend using the same vanilla protein powder that I use, a formula designed specifically for keto dieters that you can purchase directly by clicking here.
More Keto Protein Shake Recipes:
Quick and Easy Protein-Packed Keto Vanilla Shake
Raspberry Chocolate Keto Protein Shake – Low Carb Chocolate Goodness
Print Recipe
Cinnamon, Blueberry and Almond Butter Keto Breakfast Shake
Author: ketopots.com
Prep Time:

5 minutes

Total Time:

5 minutes

Yield:

1

1

x
Scale
1/3 cup frozen blueberries
2/3 cup unsweetened almond milk
1 scoop (1 oz) vanilla protein powder
2 tbsp natural almond butter
¼ tsp ground cinnamon
½ cup ice cubes
liquid Stevia, to taste
Place all the ingredients in a blender and blend until smooth.
Serve immediately.
FREE KETO RECIPES + 5-INGREDIENT KETO COOKBOOK

Make sure to sign up for free to get instant access to the 5-Ingredient Keto Cookbook, which includes my favorite 20+ keto recipes of all-time, all under 5 ingredients.