Keto Recipes
Fat Bomb Keto Breakfast Muffins (Energy on the Go)
In the busy, fast-paced world we live in, there's just not enough time in a single day especially during the morning. Whether you're trying to get your kids to school on time, beating the morning traffic to work, or trying to get to the office early to find a good parking spot, we always seem to be rushing our mornings. As a result, we tend to neglect breakfast time. It's common to just grab whatever food is convenient and unfortunately, it's not always the most nutritious.
Don't Skip Breakfast!
We've probably heard this a million times but once more wouldn't hurt; breakfast is the most important meal of the day. Breakfast provides us with the much needed energy to tackle a full day ahead which is why consuming a nutritious, balanced meal is essential. These fat bomb keto breakfast muffins will change your mornings forever.
The best part about these muffins is that they're gluten-free, sugar-free, grain-free, and 100% keto-friendly. You can also cook 6 muffins in as little as 30 minutes. That will surely be a huge help when you just don't have enough time to cook a good meal in the morning. Say goodbye to sugary cereals, highly processed breakfast pastries and fast food.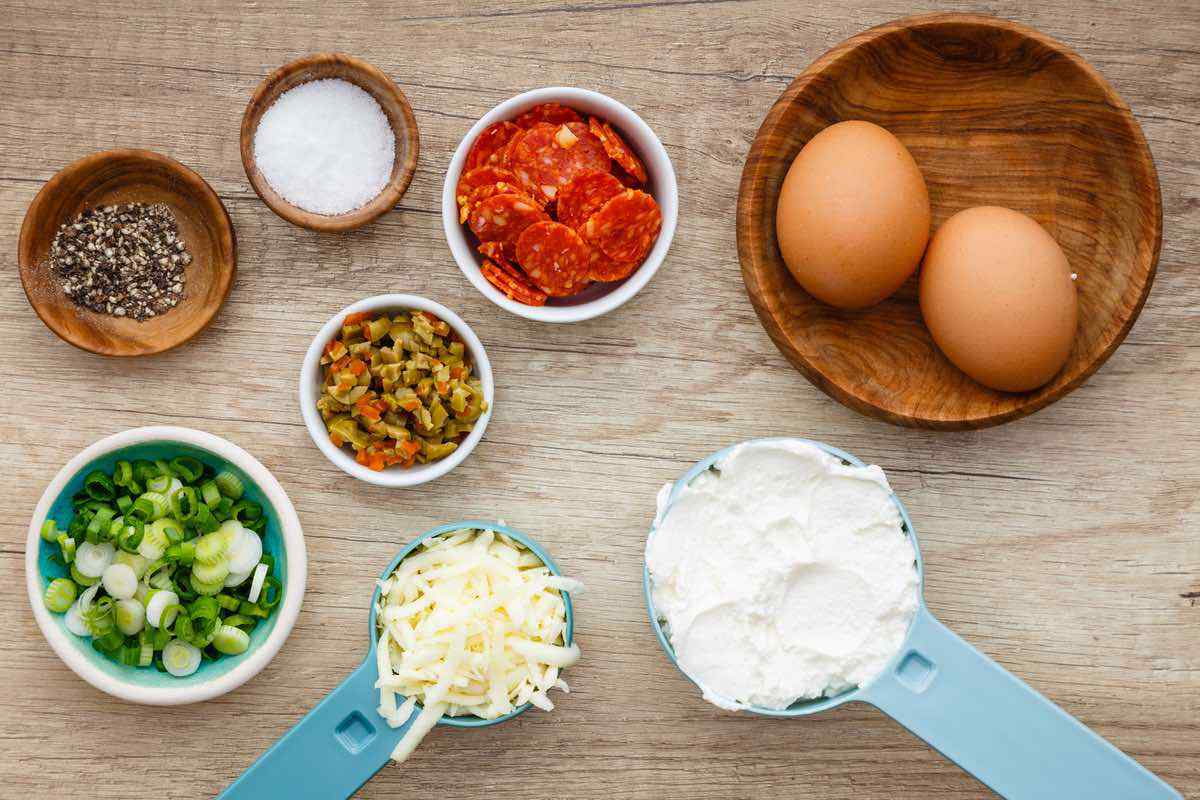 You might be wondering, "How can I eat muffins on a keto diet?" The secret is using eggs and cheese instead of flour. As a result, these muffins are significantly higher in protein. There are so many benefits to increasing protein intake. Some of the benefits include helping your body recover from workouts, making you feel fuller throughout the day which will aid in weight loss, and a high protein diet will also give you more energy. (1)
Aside from the nutritional benefits from these breakfast muffins, they also taste absolutely wonderful. The two cheeses (ricotta and mozzarella), green olives, green onions and pepperoni minis will make it seem like you're eating a mini pizza. Who doesn't love pizza? We guarantee that you, your entire family, and whoever else will be eating your muffins will be begging you to make them every morning. Breakfast just wouldn't be complete without them.
They're also very easy to make. In a bowl, combine your eggs, ricotta cheese, chopped green onions, and green olives. Season the mixture with a little bit of salt and black pepper. Make sure to grease the 6 muffin cups with either butter or oil so the batter doesn't stick. Next, pour the mixture equally for each muffin cup and top the cups with shredded mozzarella and pepperoni minis. Bake them in a preheated oven (375 degrees F) for 18-20 minutes. Make sure you have a kitchen timer so that your breakfast muffins will not be under or overcooked. When the timer goes off, have a toothpick ready and pierce one of the muffins and see if the toothpick comes out clean. If so, your muffins are ready for consumption.
Thanks to this recipe, it's not impossible to have a healthy breakfast and still be able to get your errands done on time in the morning. These fat bomb keto breakfast muffins are delicious, nutritious, and will make you look forward to breakfast again.
More Keto Muffin Recipes:
Sausage and Cheese Keto Egg Muffins (These Reheat Really Well)
Moist Cream Cheese Keto Blueberry Muffins (Mom Recipe Favorite)
Print Recipe
Fat Bomb Keto Breakfast Muffins
Author: Bree - KetoPots.com
Prep Time:

10 minutes

Cook Time:

20 minutes

Total Time:

30 minutes

Yield:

6

1

x
FREE KETO RECIPES + 5-INGREDIENT KETO COOKBOOK

Make sure to sign up for free to get instant access to the 5-Ingredient Keto Cookbook, which includes my favorite 20+ keto recipes of all-time, all under 5 ingredients.
Scale
1 cup ricotta cheese
2 eggs
2 tbsp chopped green olives
2 green onions, sliced
1/3 cup shredded mozzarella
1 oz pepperoni minis
salt, black pepper to taste
Preheat oven to 375°F.
In a bowl combine the eggs, ricotta cheese, green olives and chopped green onions.
Season with salt and black pepper to taste.
Lightly grease 6 muffin cups.
Divide the mixture equally between the cups.
Top with shredded mozzarella and pepperoni minis.
Bake in preheated oven for 18- 20 minutes.
Remove from cups and serve warm.