Keto Recipes
Sausage and Egg Keto Breakfast Casserole (Only 5-Ingredients!)
In my opinion, there's no better option for breakfast than something that is quick and easy to make while simultaneously turning out unbelievably delicious. This keto-friendly casserole recipe satisfies that criteria effortlessly, as it's super easy to prepare and only requires five simple ingredients to make a fantastic breakfast casserole. You're going to especially love this recipe if you're a fan of eggs and sausages as staples of your breakfast meal, as it makes a 5-ingredient sausage and egg keto breakfast casserole that literally gives you absolutely everything that you could hope for in a keto meal.

If you're looking for something a little sweeter, make sure to try this unbelievably good French Toast Casserole.
How to Make Keto Sausage and Egg Breakfast Casserole
I've always been a huge fan of breakfast sausage, using it in a wide variety of keto recipes (such as this great pigs in a blanket high protein pancake recipe). With that being said, this casserole recipe just might be my new favorite way to make breakfast with them.
I usually like to use spicier sausages when I make these recipes, as I'm quite fond of spicy hot breakfasts that help to rev up my metabolism in the early mornings. When it comes to making this casserole, you're going to want to cook one pound of breakfast sausage over a medium heat, just long enough for it to crumble and no longer be pink colored.
As much as I like breakfast sausage though, the real reason that I love this recipe so much is because it includes a whopping 10 eggs. Eggs have always been my number one favorite breakfast food to enjoy, as they provide an insane amount of essential nutrients. They're excellent sources of quality protein and healthy fats, vitamins, minerals, and dietary cholesterol. And just in case you're wondering, no, moderate consumption of dietary cholesterol does not increase your risk of heart disease. (1) You don't have to worry about enjoying your egg yolks along with the whites — eggs truly are one of nature's greatest superfoods.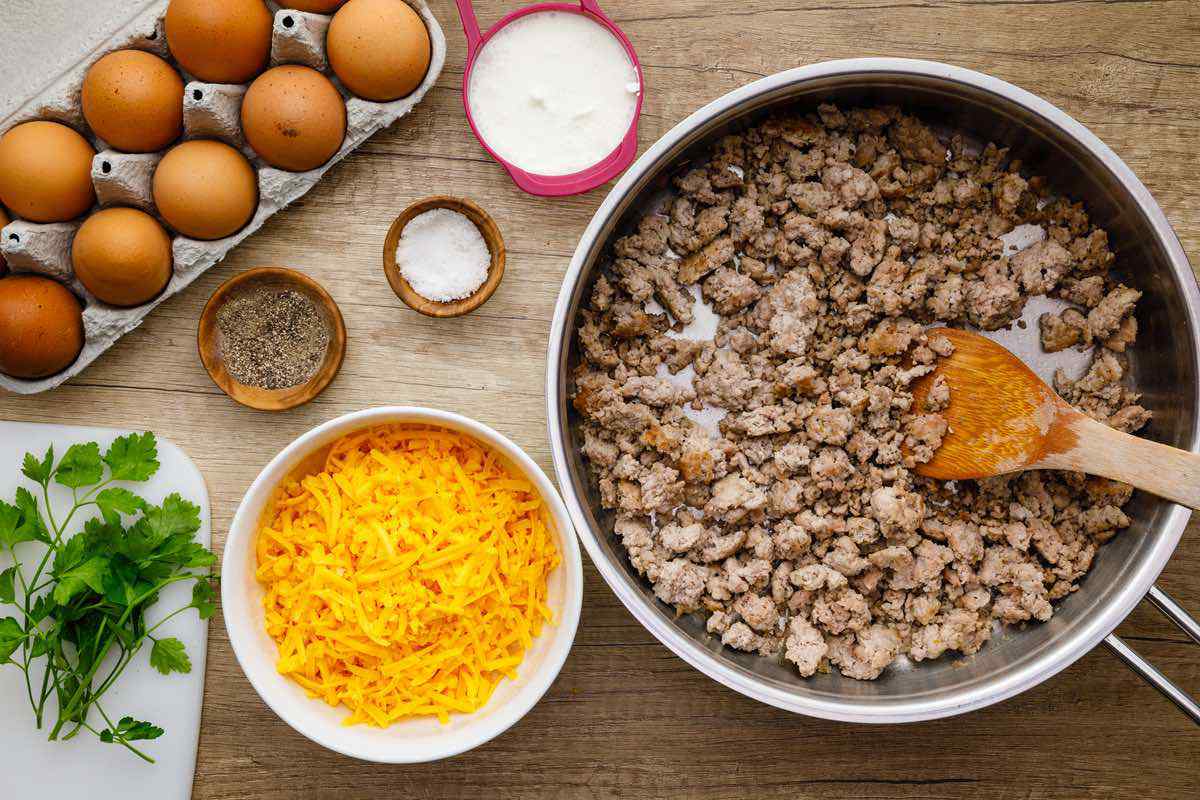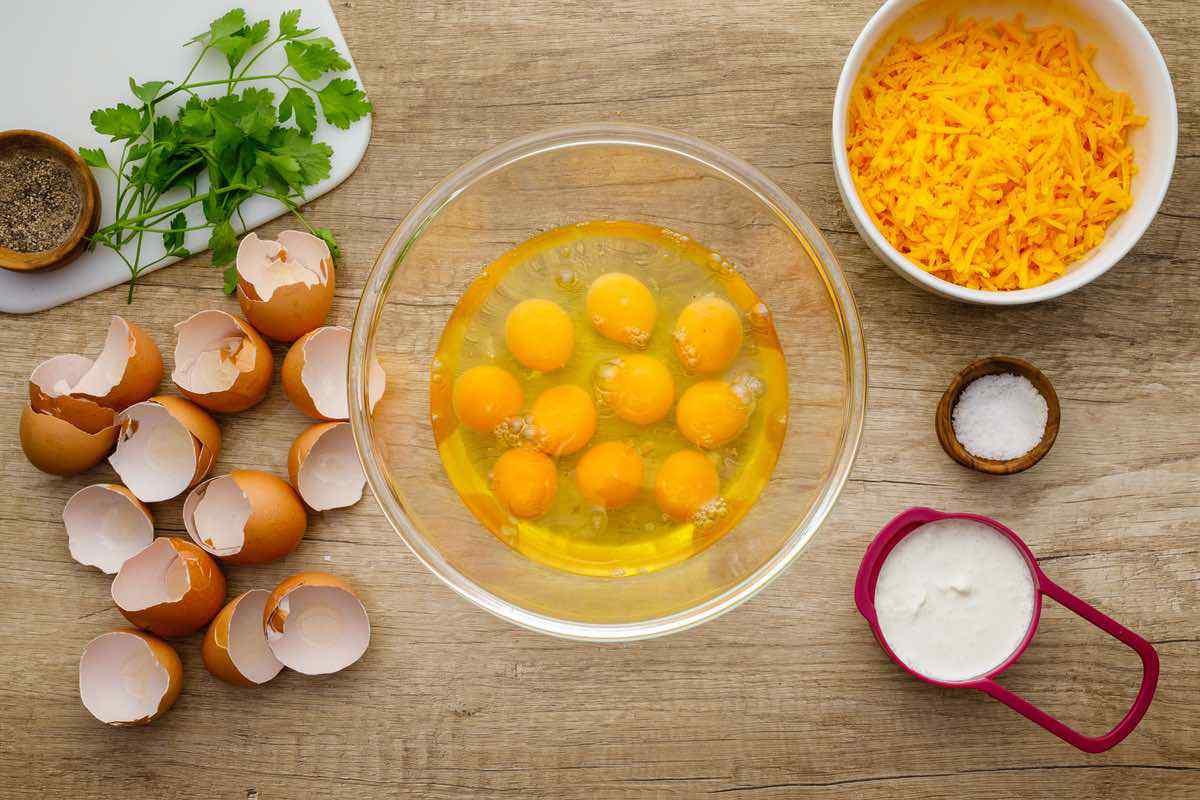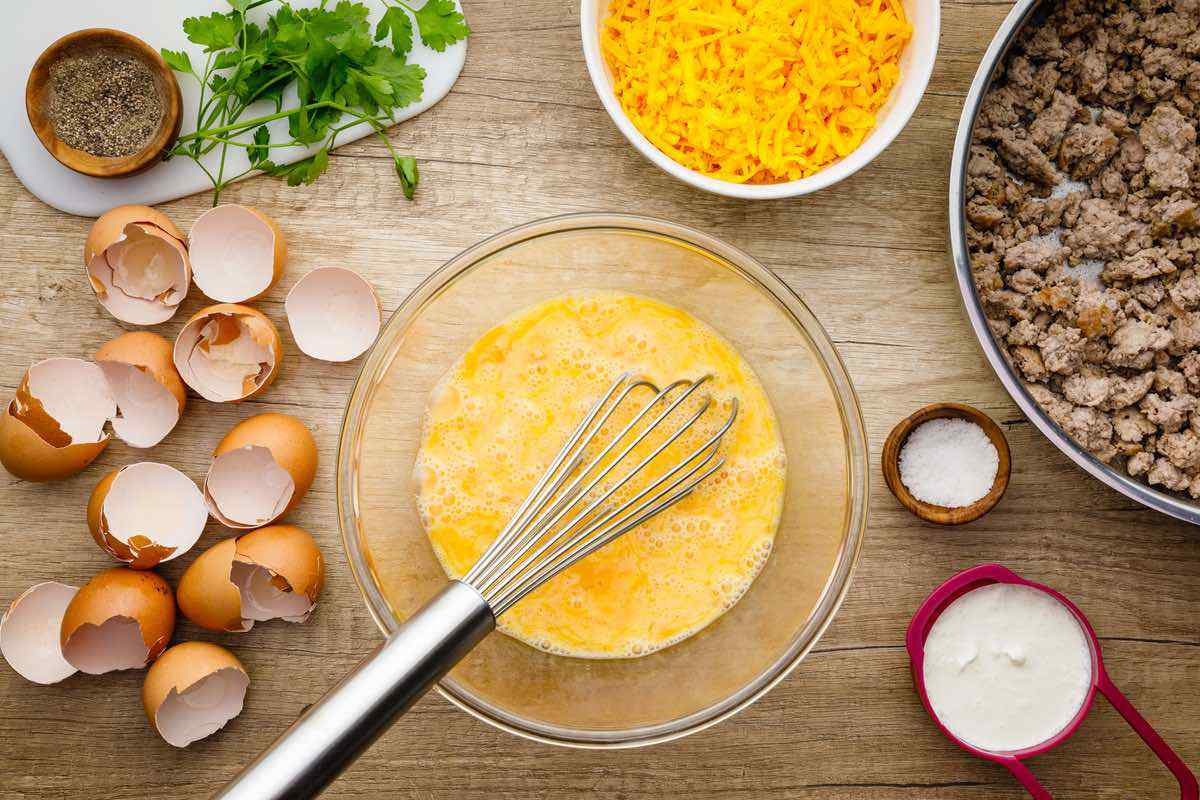 Along with the 10 eggs, you'll be whisking together your heavy cream and shredded cheddar cheese. Both of these ingredients are quite common in many of our keto recipes, and for good reason. They both help to enhance the overall taste of this casserole dish while adding a solid amount of high quality fats at the same time.
In addition to the cream and cheese, you'll also be mixing in some chopped fresh parsley. This tasty culinary herb is another one of my favorite cooking ingredients, as it's incredible in everything from soups to this casserole.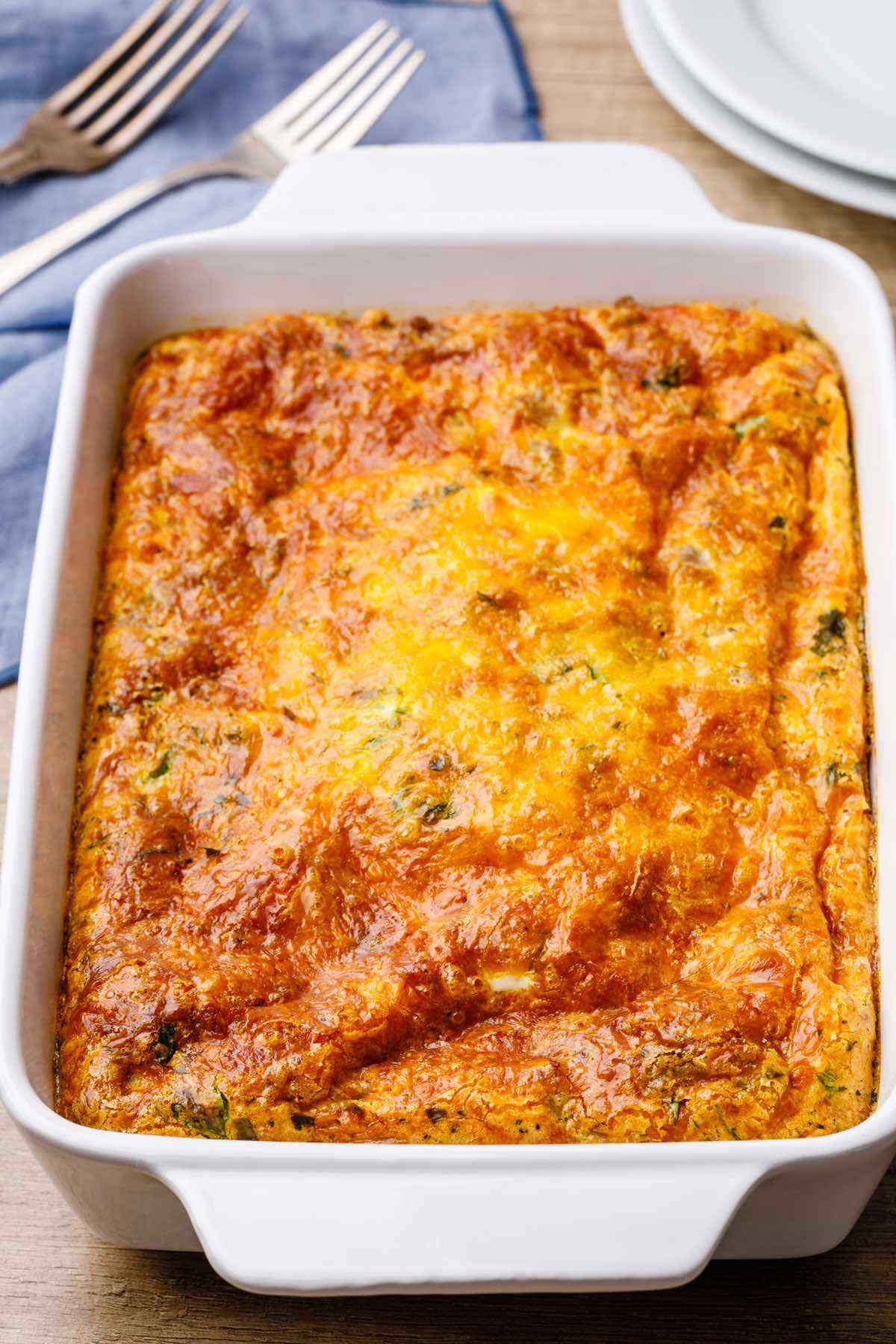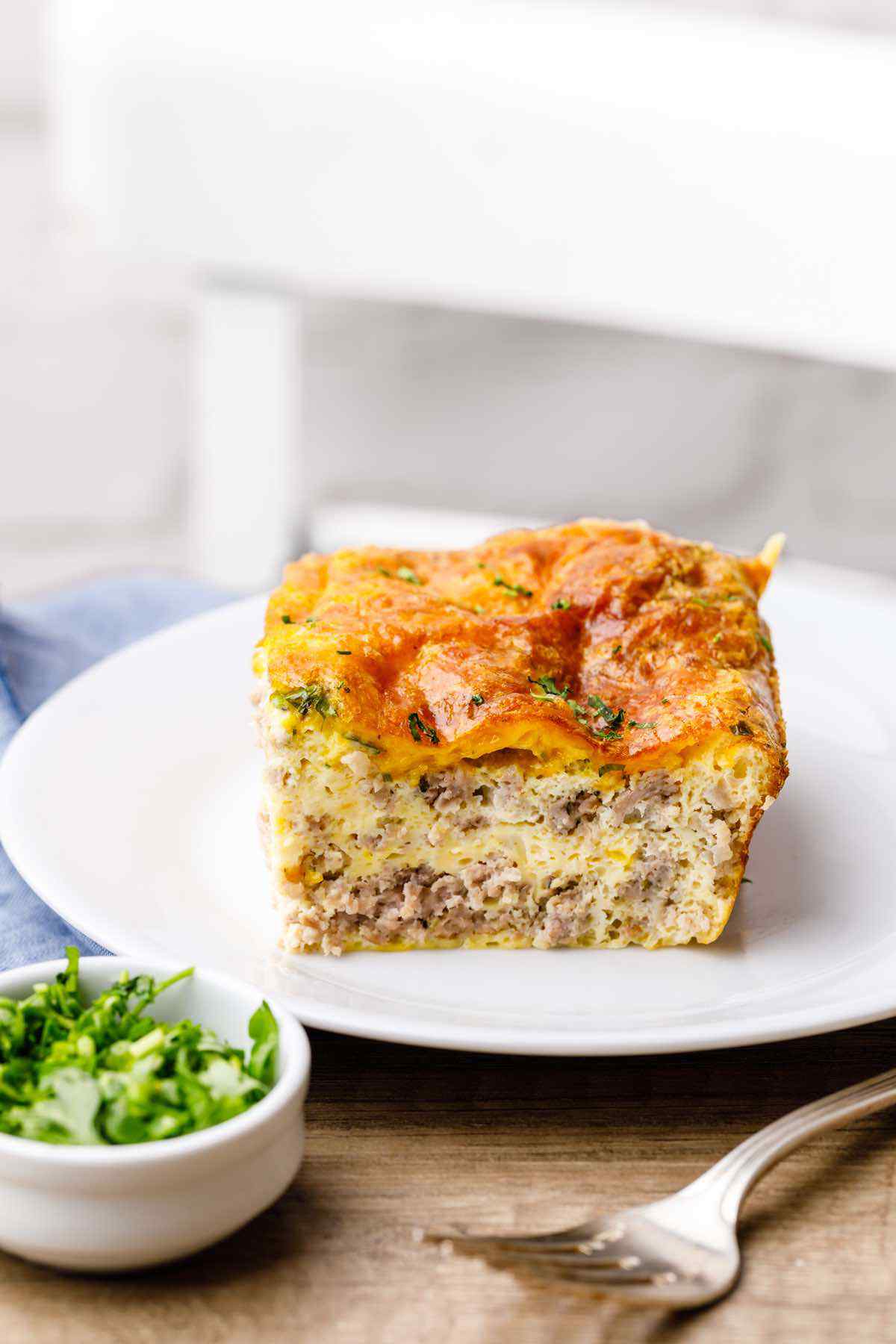 The volatile oils found within parsley have some incredible health properties as well, providing an abundance of antioxidant and anti-inflammatory benefits. (2)
After whisking your eggs together with the above ingredients, you can arrange your breakfast sausage in a casserole dish before pouring the egg mixture over top of it. Sprinkle whatever cheddar cheese you may have left on top and then go ahead and bake the casserole for 35-40 minutes.
I'm sure you'll agree that this is one incredibly delicious, nutritious, and oh so satisfying keto meal to enjoy for breakfast. If you enjoyed this recipe, we've also got a few other great breakfast recipes that you should try out next. As far as pancakes go, you can't go wrong with either these 2-ingredient cream cheese pancakes or these pumpkin spice pancakes. Or if you'd prefer a breakfast that you can grab and go, try out these healthy and tasty low carb granola bars instead.
Print Recipe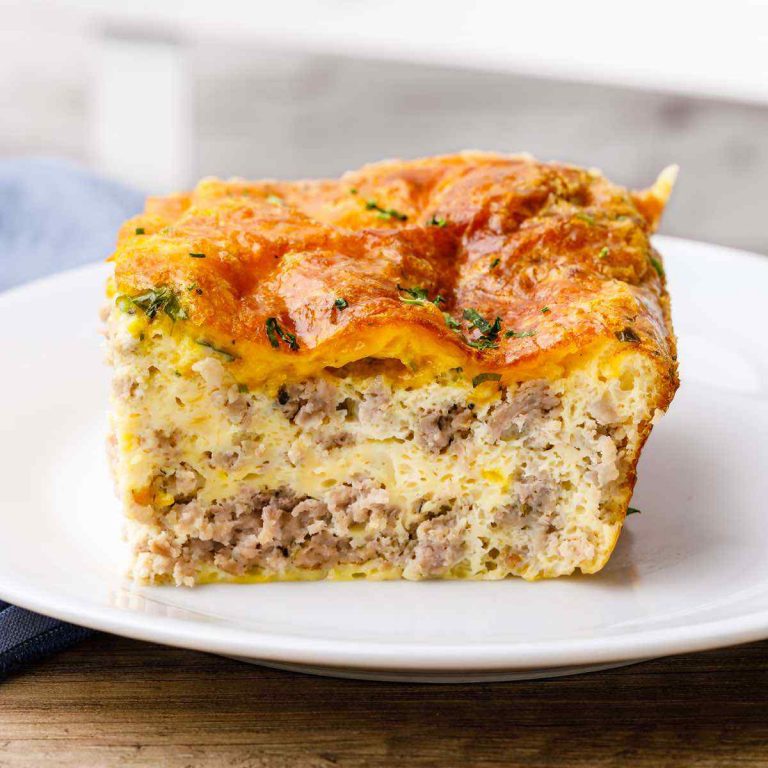 5-Ingredient Sausage and Egg Keto Breakfast Casserole (Easy Recipe)
Author: ketopots.com
Prep Time:

10 minutes

Cook Time:

45 minutes

Total Time:

55 minutes

Yield:

8

1

x
Scale
1 pound breakfast sausage
10 eggs
½ cup heavy cream
1 ½ cups shredded cheddar cheese
2 tbsp chopped fresh parsley plus extra for decoration
½ tsp salt
¼ tsp black pepper
Preheat oven to 350°F.
Heat the lightly greased skillet over medium heat.
Add the breakfast sausage and cook, stirring until the sausage crumbles and is no longer pink.
In a bowl whisk together the eggs, heavy cream, parsley, 1 cup shredded cheddar cheese, salt and black pepper.
Arrange the cooked breakfast sausage in a lightly greased casserole dish.
Pour the egg mixture evenly over the sausage.
Sprinkle with remaining cheddar cheese.
Bake in preheated oven for 35 to 40 minutes.
Sprinkle with extra fresh parsley and serve.
FREE KETO RECIPES + 5-INGREDIENT KETO COOKBOOK

Make sure to sign up for free to get instant access to the 5-Ingredient Keto Cookbook, which includes my favorite 20+ keto recipes of all-time, all under 5 ingredients.