Keto Recipes
The Best Cream Cheese Keto Blueberry Muffins (Easy Recipe)
Today I'm going to be sharing a blueberry muffin recipe that makes for a fantastic keto breakfast option. These cream cheese keto blueberry muffins are super moist and they're an excellent source of antioxidants, making them a delicious and nutritious way to start your day off on the right foot. More importantly, they're also incredibly low carb and 100% grain and gluten-free. Don't be at all surprised once you find that these muffins quickly become one of your new favorite breakfast recipes — your kids won't be able to get enough of them! And any recipe that gets kids eating healthier breakfasts as opposed to all of those dessert cereals masquerading as breakfast is a win as far as I'm concerned.

Perfectly Moist Muffins
In order to keep these blueberry muffins keto-friendly and grain-free, you'll be using a few great alternatives compared to the ingredients that usually go into making muffins. For starters, you won't be using any type of refined wheat flour in this recipe. For a while we've known that proteins found in wheat can cause inflammation in the gut, but new research is indicating that they could also contribute to chronic inflammation throughout your entire body. (1)
That's reason enough to ditch the wheat flour permanently, so it's a good thing that almond flour makes such a fantastic replacement. It's full of healthy fats, and even provides you with moderate amounts of protein, dietary fiber, and essential vitamins and minerals. You'll be combining your almond flour with a bit of baking powder in a bowl and then setting it aside for the time being.
Just as you replaced wheat flour with almond flour, you'll also be swapping out sugar in favor of a low carb sweetener like Stevia for this recipe, for many of the same reasons. Just like with those wheat proteins, refined sugar is well known to cause a host of health problems, including inflammation. (2) Excess sugar consumption is also one of the leading causes of the obesity epidemic, which is in turn contributing to hundreds of thousands of new cases of heart disease annually.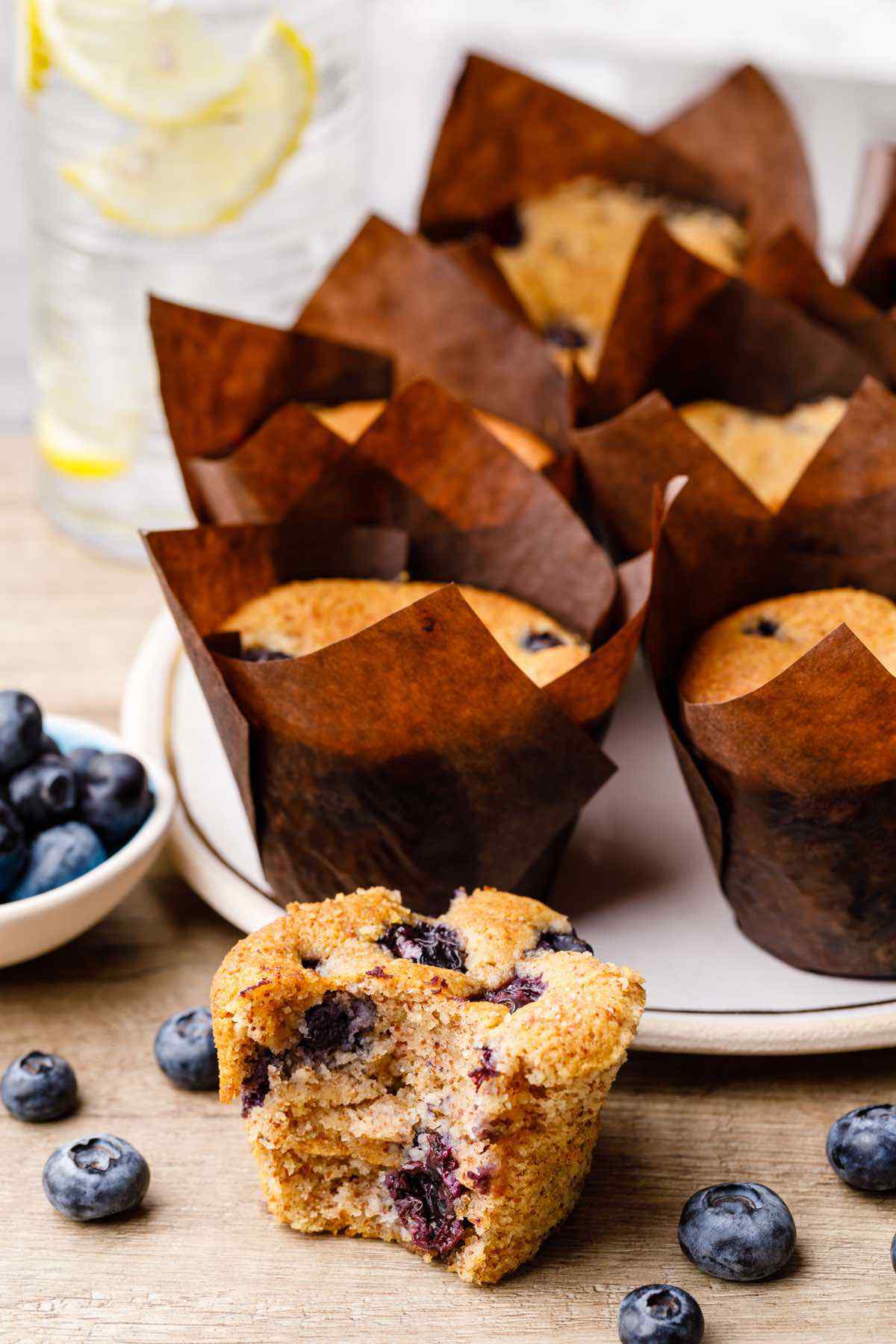 You'll want to combine your sweetener with two large eggs until they form a pale and fluffy mixture. Next, beat in some softened stick butter and cream cheese (leave them both at room temperature for a little while for easier mixing) before also mixing in the almond milk and vanilla extract. Continue to beat this mixture until it's completely smooth.
Finally, you can gradually fold in the ¾ cup of fresh blueberries (make sure that you thoroughly wash them beforehand) to finish off the batter. Blueberries are a well known antioxidant powerhouse that are also a fantastic source of vitamin C. There's even growing amounts of evidence that blueberries possess some rather potent cancer prevention properties! (3) Once you've folded in the blueberries, go ahead and scoop the batter into your prepared muffin cups and toss them in the oven for baking.
Print Recipe
Cream Cheese Keto Blueberry Muffins (Easy Recipe)
Author: Bree - KetoPots.com
Prep Time:

15 minutes

Cook Time:

20 minutes

Total Time:

35 minutes

Yield:

1

2

1

x
FREE KETO RECIPES + 5-INGREDIENT KETO COOKBOOK

Make sure to sign up for free to get instant access to the 5-Ingredient Keto Cookbook, which includes my favorite 20+ keto recipes of all-time, all under 5 ingredients.
Scale
2 ½ cups almond flour
1 ½ tsp baking powder
2 large eggs
½ cup granulated Stevia or other low carb granulated sweetener
½ stick butter, very soft
4 tbsp cream cheese, very soft
1 tsp vanilla extract
1/3 cup unsweetened almond milk
¾ cup fresh blueberries
Preheat the oven to 350ºF.
Line a 12-cup muffin pan with paper cups. Set aside.
In a bowl combine the almond flour and baking powder. Set aside.
Wash the blueberries and gently pat dry with kitchen towel. Set aside.
In the bowl of a stand mixer fitted with the paddle attachment beat the eggs and sweetener until pale and fluffy, about 2-3 minutes.
Add the butter, cream cheese and beat until well combined.
Add the almond milk and vanilla extract and mix to combine.
Add in the almond flour mixture and beat until smooth.
Gently fold in the blueberries.
Scoop the batter into the prepared muffin cups.
Bake in preheated oven for 20-25 minutes or until a toothpick inserted into the center comes out clean.
Remove from the oven and allow to cool completely before serving