Keto Recipes
Crave-worthy Keto Blueberry Cobbler in a Mug
If you love making keto-friendly mug desserts, then you're going to absolutely love this crave-worthy keto blueberry cobbler in a mug recipe. You'll be using fresh blueberries along with a few other keto approved ingredients to make one irresistible keto dessert option that's ready to go in just 5 minutes.

How to Make Keto Blueberry Cobbler
Follow these simple recipe directions and you'll have this tasty dessert prepared from scratch in less than 5 minutes:
Coat. Add the fresh blueberries, lemon zest, and ½ tablespoon of a low carb granulated sweetener to a large microwave safe mug and mix to coat.
Microwave. Microwave on high for 2 minutes.
Combine ingredients. While the blueberry mixture is microwaving, add the almond flour, remaining ½ tablespoon of sweetener, and cold butter to a bowl and mix with a fork until the mixture forms into a crumbly dough.
Top. Remove the mug from the microwave oven and top with the almond flour crumble mixture.
Microwave. Add the mug back into the microwave and microwave on high for 30 seconds.
Serve. Serve warm.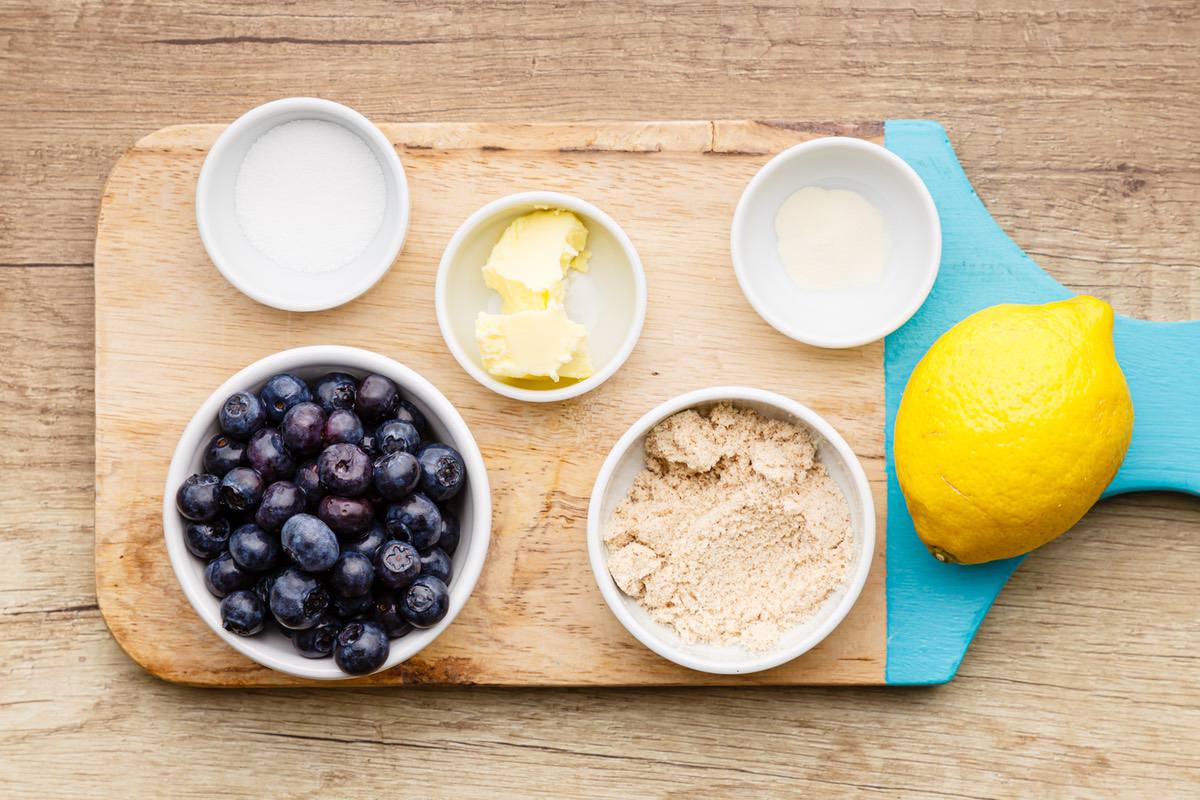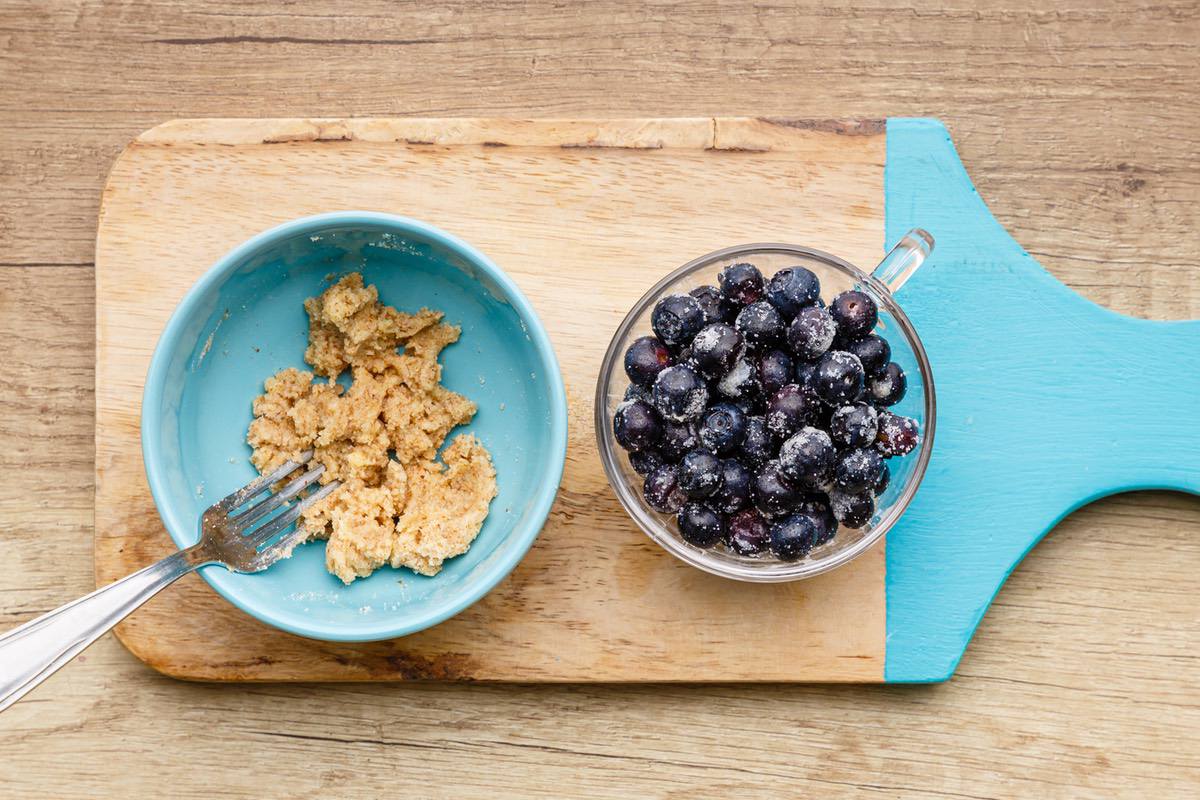 Can I Bake Blueberry Cobbler Instead?
Due to the ingredients used in making this blueberry cobbler in a mug, it's not really a great candidate for baking instead.
With that being said though, you can still definitely make your own baked keto-friendly blueberry cobbler. It would just require a different recipe.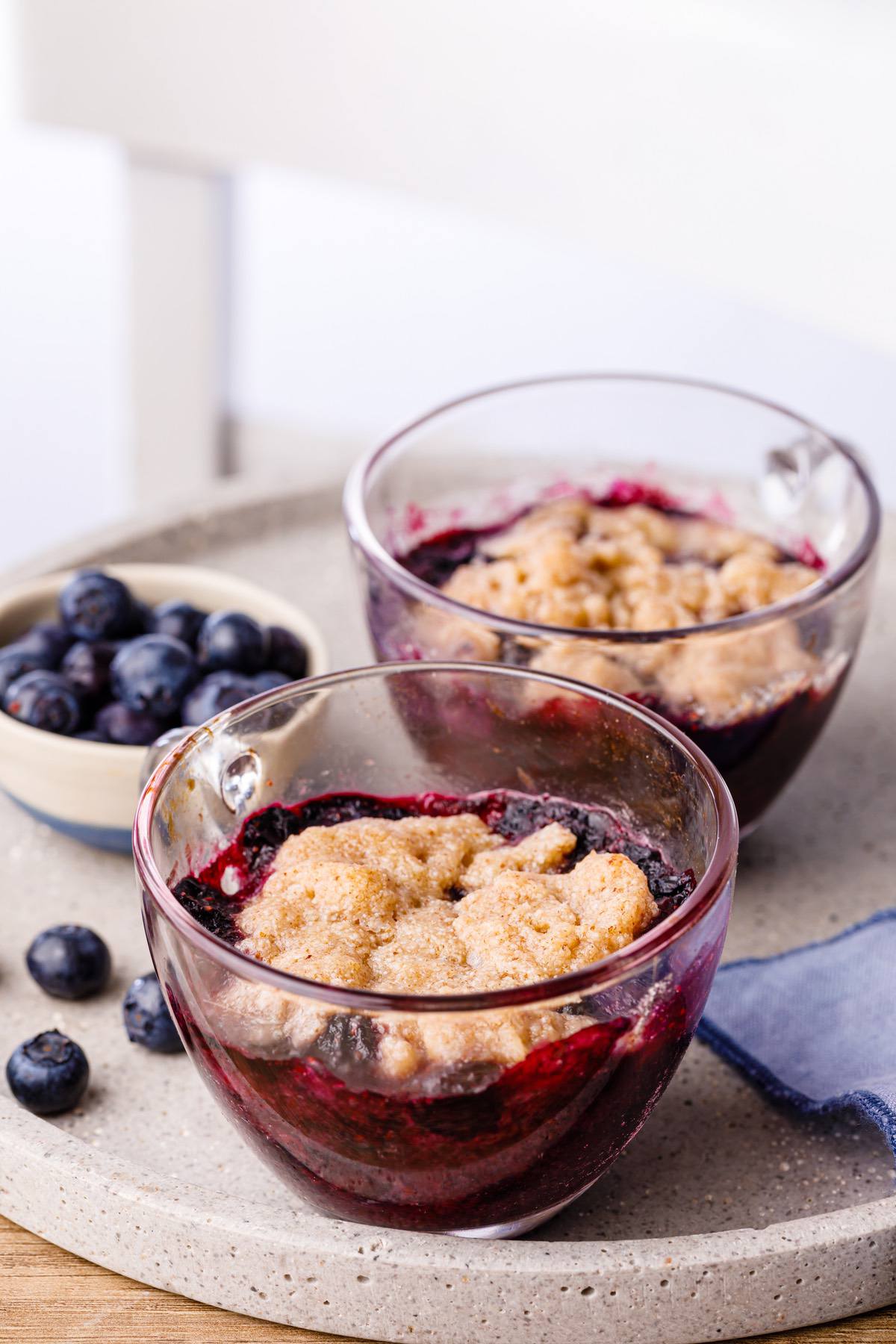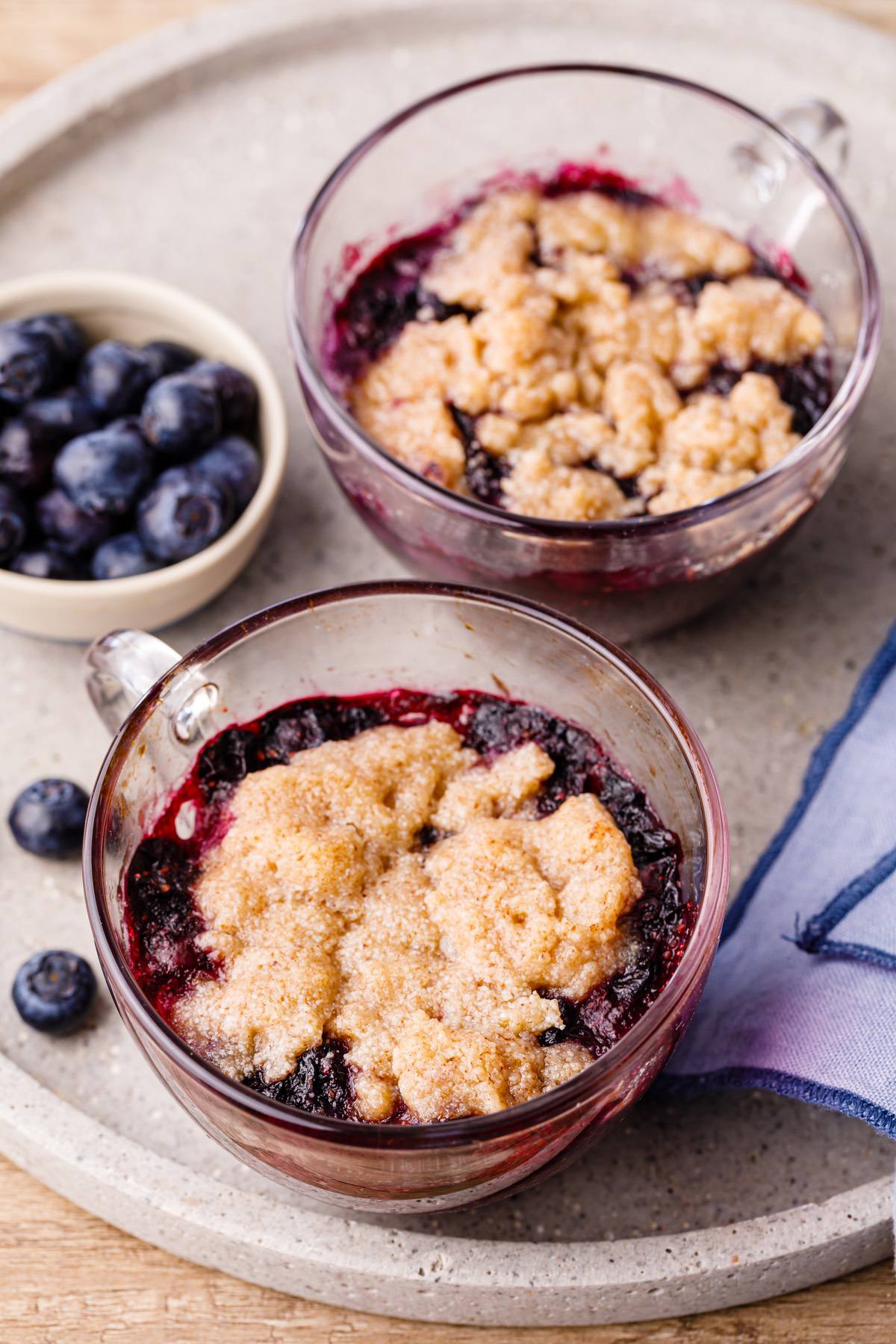 2 Useful Tips for Making Microwaveable Desserts
Keto desserts that are microwaved in a mug are great because they're so quick and easy to prepare.
This particular recipe makes a delicious and nutritious blueberry dessert in only 5 minutes. With that in mind, here are a few useful tips to keep in mind whenever you're making microwaveable desserts like this one:
Don't be afraid to switch up the ingredients. It's incredibly easy to alter this exact recipe in order to make keto versions of desserts like peach cobbler or strawberry cobbler in a mug instead. Just use fresh strawberries or peach slices instead of blueberries.
Pay attention to cooking times. Since not all microwave ovens are exactly the same, I would strongly recommend keeping a close eye on your cobbler while it's microwaving, at least for the first 1-2 times that you make this recipe. Since you're using such small amounts of ingredients, it can be rather easy to accidentally overcook the cobbler.
Spray your mug with nonstick spray. I find that when microwaving desserts in a mug, sometimes the batter can really stick to the sides of the mug, making it harder to clean afterwards. Spraying your mug with nonstick spray will prevent most of the batter from sticking.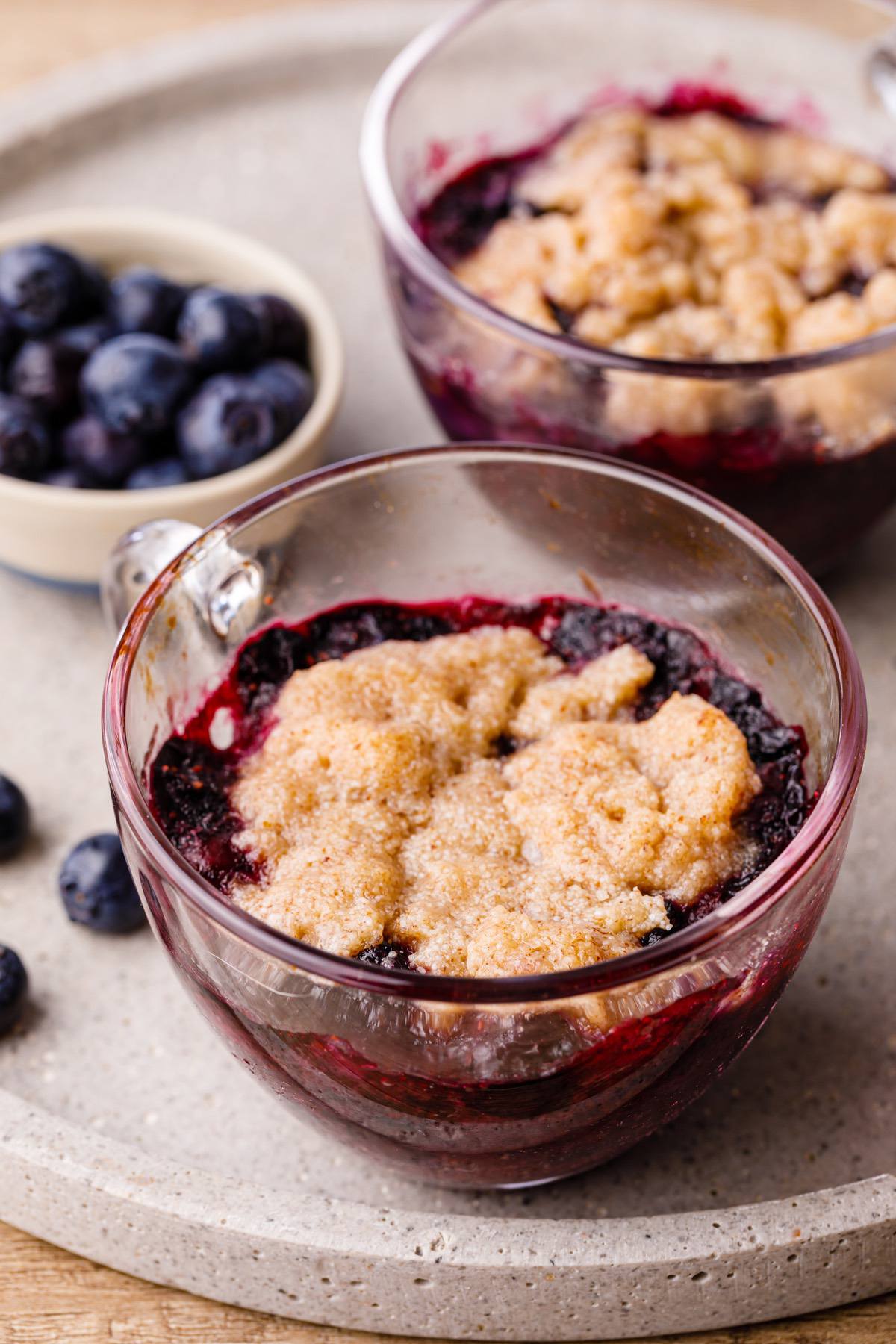 (You may also like: Keto Blueberry Lemon Mug Cake)
Print Recipe
Crave-worthy Keto Blueberry Cobbler in a Mug
Author: Bree
Prep Time:

2 minutes

Cook Time:

3 minutes

Total Time:

5 minutes

Yield:

1

1

x
FREE KETO RECIPES + 5-INGREDIENT KETO COOKBOOK

Make sure to sign up for free to get instant access to the 5-Ingredient Keto Cookbook, which includes my favorite 20+ keto recipes of all-time, all under 5 ingredients.
Scale
½ cup

fresh blueberries 

½ tsp

lemon zest 

1 tbsp

granulated Stevia or other low carb granulated sweetener 

2 tbsp

almond flour 

1 ½ tsp

cold butter
Add the blueberries, lemon zest and ½ tablespoon of sweetener to a large microwave safe mug. 

Mix to coat. 

Microwave on high for 2 minutes. 

Meantime, in a bowl mix the almond flour, remaining sweetener and butter with a fork until a crumbly dough forms.

Remove the mug from the microwave oven. 

Top the blueberries with almond flour mixture. 

Microwave on high for 30 seconds.  

Serve warm.
More Keto Blueberry Reciipes: