Keto Salad
Creamy Homemade Keto Blue Cheese Dressing
What's your favorite keto friendly dressing? Is it Caesar? Maybe ranch? For me, it's always been blue cheese dressing. That's probably because I'm obsessed with eating blue cheese to begin with, but who knows? Either way, today I'm super excited to share this great recipe for making a creamy homemade keto blue cheese dressing that you can use with everything from salads to buffalo wings!
Easy Recipe for Low Carb Keto Blue Cheese Dressing
You'll only need to use one large bowl for this, for a large family-sized salad, you can even use this very same bowl to serve it in! Simply add in your crumbled blue cheese, mayonnaise, sour cream, freshly squeezed lemon juice, Worcestershire sauce, garlic powder, and your choice of either chopped parsley or chives. You'll also want to add in a bit of salt and black pepper for seasoning to taste.
Mix everything together until it's well combined and then either serve it with your favorite keto snacks or store the dressing in an airtight container or jar until you're ready to enjoy it.
Tweaking Your Blue Cheese Dressing Further
There are a few adjustments you can make to this homemade blue cheese recipe that can help change up the final product–great for adding variety into your menu. Here are five more great keto friendly blue cheese dressing recipes that might interest you. I bookmarked these from some of my go-to blogs, so they're all really good, too!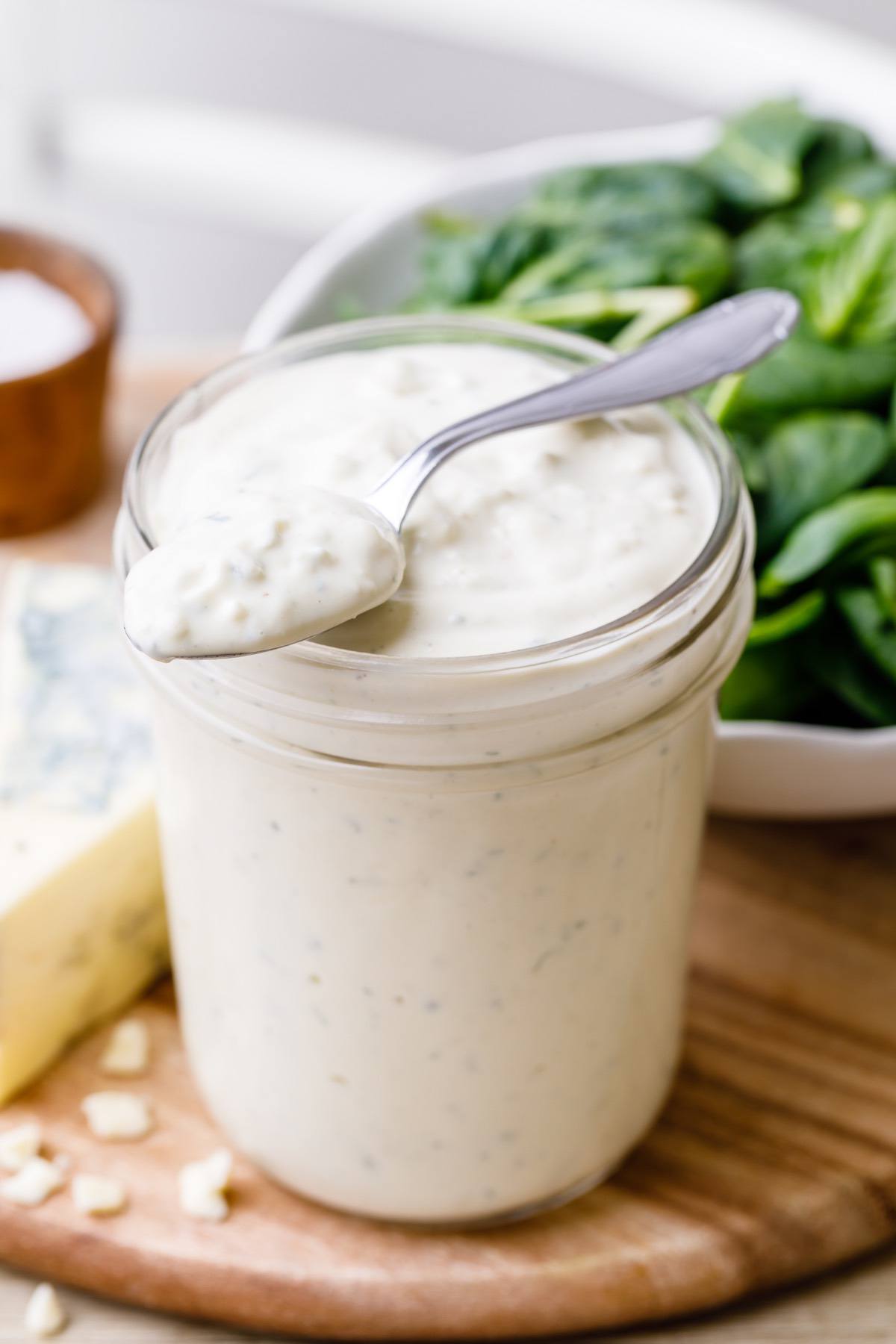 Should I Use a Mixer to Make This Blue Cheese Dressing?
While you don't necessarily have to, I would honestly recommend using a paddle mixer when making this dressing. Not only will it make your life way easier, but I find that my homemade dressing recipes always turn out way creamier when I use a dedicated mixer instead of mixing it by hand.
Of course, if you prefer the chunky variety, I would advise against the hand mixer and put in some elbow grease instead.
How Long Does This Blue Cheese Dressing Stay Good For?
Since you'll be making this keto dressing with both dairy products and fresh ingredients, I wouldn't recommend keeping it for any longer than a week or so in the fridge. You will of course want to keep it stored in an airtight container or jar when leaving it in the fridge as well.
If you're not sure if your blue cheese dressing has gone bad or not, the easiest way to tell usually is to do a smell test. Since blue cheese already has a funky odor on its own, it can be difficult to tell whether it's spoiled or not. However, if it starts to smell like old dishrags or even remotely sour, it's time to throw it out.
Does Blue Cheese Dressing Have a Smell?
Yes, this blue cheese dressing will indeed have a rather strong smell. This is because blue cheese typically has a rather unique scent. When mixed with ingredients like fresh lemon juice and garlic powder, that smell is most definitely enhanced.
Not to worry though because if you're having this dressing within the best-by date, it's perfectly normal.
What Kinds of Keto Foods Go Well with Blue Cheese Dressing?
There are all kinds of tasty keto combinations you can make with this homemade blue cheese dressing. It works equally well as an option to serve with appetizers, entrees, and salads, so definitely give it a try.
I personally love to use this blue cheese dressing as a dipping sauce for buffalo chicken wings. It also works well as a dipping sauce for fresh cut veggies like celery or carrots. You can also of course add it in with your favorite low carb salad for the dressing, or even use it as a sauce for a steak dinner.
(You may also like: Easy Low Carb Keto Dump Ranch Salad Dressing)
Print Recipe
Creamy Homemade Keto Blue Cheese Dressing
FREE KETO RECIPES + 5-INGREDIENT KETO COOKBOOK

Make sure to sign up for free to get instant access to the 5-Ingredient Keto Cookbook, which includes my favorite 20+ keto recipes of all-time, all under 5 ingredients.
Scale
1 cup

mayonnaise 

½ cup

sour cream

1 tbsp

fresh lemon juice

1 tsp

Worcestershire sauce

1 tsp

garlic powder

5 oz

crumbled blue cheese

2 tbsp

chopped parsley or chives 

salt, black pepper to taste
Add all the ingredients to a bowl and mix to combine. 

Store in a jar or airtight container and refrigerate until ready to use.