Keto Recipes
Very Berry Keto Fruit Smoothie (Creamy and Refreshing)
This very berry keto fruit smoothie recipe is one that I just recently tried for the first time, and I immediately fell in love with it. It provides a hefty blast of vitamins, minerals, and antioxidants in an incredibly flavorful way that I'm positive you're going to love. Made with a tasty mix of frozen berries, this smoothie also includes a few ingredients that are full of high quality fats that help to make it a nice and satiating meal option as well. It makes a great breakfast option for those early mornings when you're in too much of a hurry to make a full breakfast, or it can even just be enjoyed as a refreshing and healthy beverage on a hot summer afternoon.
Superbly Refreshing Smoothie
In order to make sure that this very berry smoothie recipe is an appealing option for individuals on a keto diet, you'll be mixing in both a little bit of heavy cream and one tablespoon of cream cheese. These two ingredients will add a total of nearly 30 grams of high quality fat calories into the mix. They both help to make your smoothie extra creamy, but also incredibly satisfying as well — you definitely won't be feeling hungry after drinking this!
You'll also need to mix in some crushed ice, liquid Stevia for sweetening, and some unsweetened almond milk. Usually when I make keto smoothies I'll add some full fat coconut milk in, but since this particular recipe is already quite high in fat content thanks to the cream cheese and heavy cream, it's alright to go with the lower calorie almond milk option. Besides, it's quite good for you as well, as raw almonds and products made from almonds are extremely good foods to indulge in on the keto diet. They're full of heart healthy fats and studies have found that they provide many, many great benefits for your entire cardiovascular system. (1)
Finally, we come to the best part of this fruit smoothie recipe, the frozen mixed berries! You can mix and match as you see fit but whenever I personally make this smoothie, I like to go with my four berry staples — blueberries, blackberries, strawberries, and raspberries. I'm a little bit more lenient than some of my friends with my net carb intake as I find I can go as high as 80-100 grams of carbs without being kicked out of ketosis, but your mileage may vary.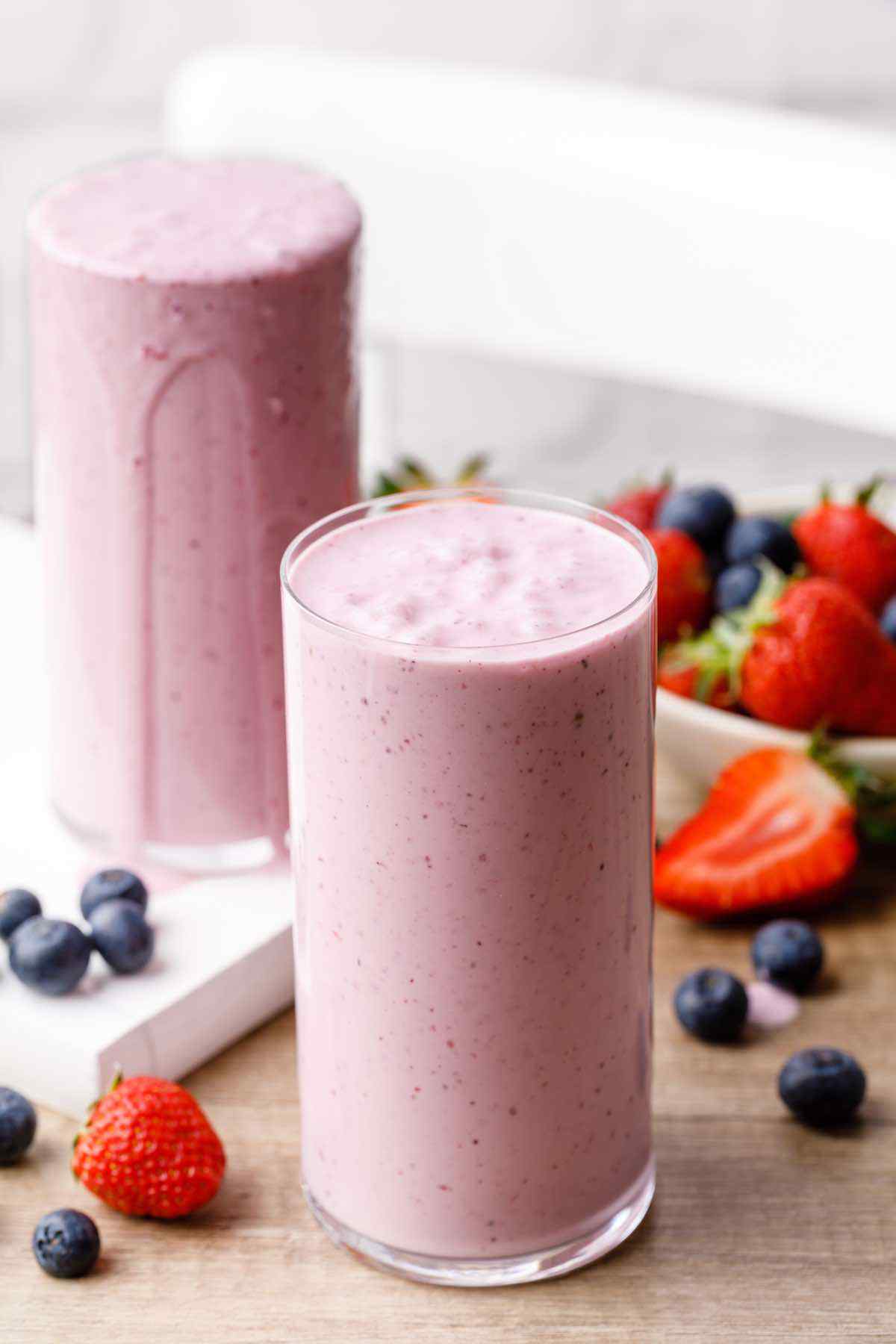 Thankfully, berries are rather low in net carbs anyway, but just always make sure to keep track of your total carb intake either way. The berries also provide some rather similar health benefits as the almond milk as well. They're extremely beneficial for not just your cardiovascular health thanks to their polyphenol and fiber content, but they're also packed with potent antioxidants that help to protect against chronic disease. (2)
As a final note, feel free to get a little flexible when using this recipe as well. I mentioned above how I usually like to use full fat coconut milk when making keto smoothies — there's nothing stopping you from adding that into this recipe if you'd like to up the fat content even more. You can also easily add some MCT oil into the mix for the same reason. Or feel free to throw in a scoop of protein powder. There are all kinds of little tweaks that you can make that will still keep this recipe keto-friendly and incredibly nutritious, so feel free to get creative.
More Keto Smoothie Recipes:
Double Chocolate and Peanut Butter Keto Smoothie
The Best Keto Green Breakfast Smoothie Ever (Packed with Avocado)
Easy and Quick Keto Smoothie Recipe – Low Carb and High in Healthy Fats
Print Recipe
Very Berry Keto Fruit Smoothie
Scale
¼ cup heavy cream
½ cup unsweetened almond milk
½ cup frozen mixed berries
1 tbsp cream cheese
1/3 cup crushed ice
liquid Stevia to taste
Place all the ingredients in a blender and blend until smooth.
Serve immediately.
FREE KETO RECIPES + 5-INGREDIENT KETO COOKBOOK

Make sure to sign up for free to get instant access to the 5-Ingredient Keto Cookbook, which includes my favorite 20+ keto recipes of all-time, all under 5 ingredients.