Keto Dinner
Easy (And Comforting) Keto Ground Beef Stroganoff
This creamy and flavorful recipe that I'm about to share is one of my top comfort meals no matter what time of the year it is. Beef stroganoff is a classic dish that is actually quite easy to make with just a few basic ingredients, so I bet you already have all of these ingredients sitting in your pantry. The secret to a good keto beef stroganoff is the delicate layers of flavor compounded into one hearty dish, and I'm going to show you how to do just that while still being 100% keto-approved!

How to Make Mouthwatering Keto Beef Stroganoff
Beef stroganoff is usually paired with a form of carbs like potatoes or rice, but there are ways to make your side dishes keto-friendly as well. Here are some of my favorite low-carb side dishes that I've bookmarked on my favorite blogs to pair with your beef stroganoff:
Now… on to the recipe!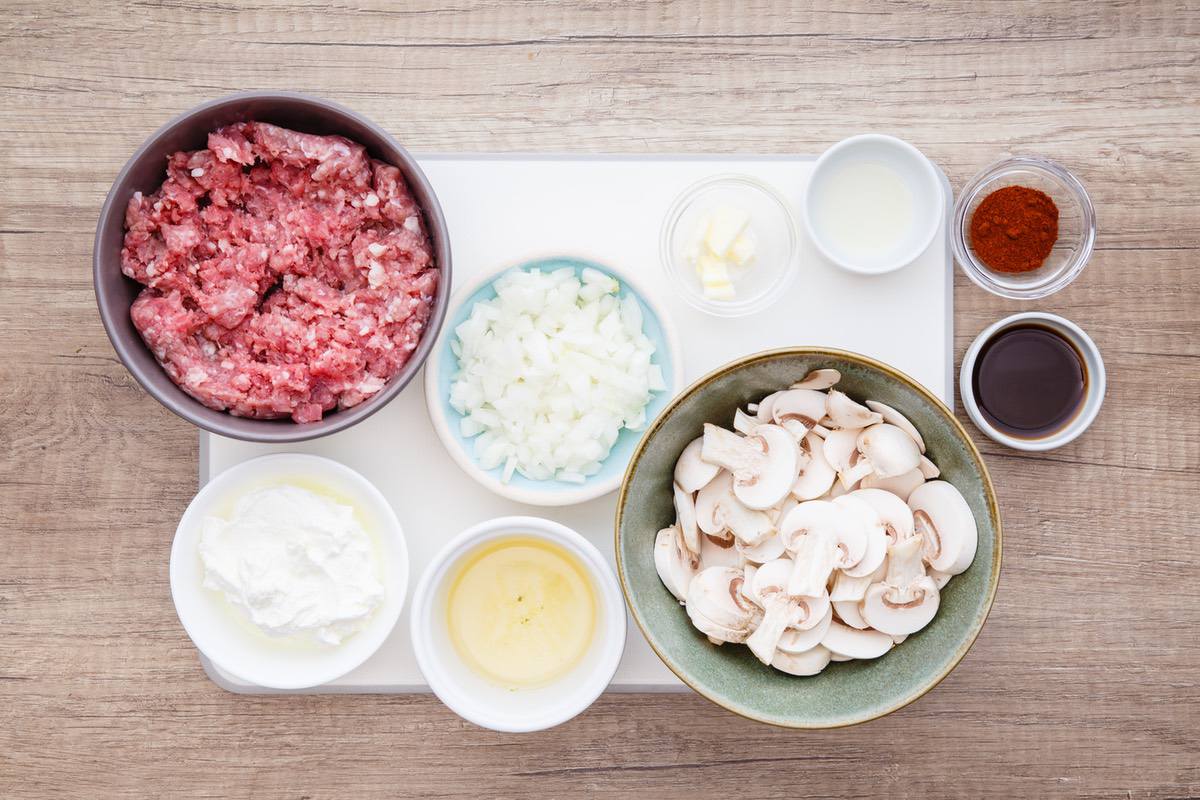 First, get your skillet out and melt the butter over medium heat. Add mushrooms and cook for about 5-10 minutes or until it's tender. Set aside the mushrooms for the time being.
In the same skillet, add the remaining butter then add the onions and cook until soft. Mix in the ground beef and cook until it is no longer pink. Next, gently pour in the beef broth, Worcestershire sauce, lemon juice, paprika and sour cream. Stir to combine all ingredients, then add the mushrooms to the skillet. Cook until the broth is slightly thicker, then season with salt and pepper to taste.
Sprinkle with fresh parsley before serving with zucchini noodles or whatever low-carb side dish you'd like! You could also pair this with mashed cauliflower or just a side salad!
What Cut of Beef is Best for Beef Stroganoff?
Typically, beef stroganoff recipes use top sirloin or tenderloin cut into small strips. However, it is much easier and faster to use ground beef, especially if you're pressed for time.
I recommend using freshly ground beef to ensure that you still get the buttery richness of the meat to layer into the sauce.
Can I Use Ground Pork or Ground Chicken for Stroganoff?
You can use any type of meat really, but I find that the best is still beef for this stroganoff recipe. The flavor of beef pairs well with the seasoning used here, so unless you really have no other choice, do try to find some good beef to cook this with.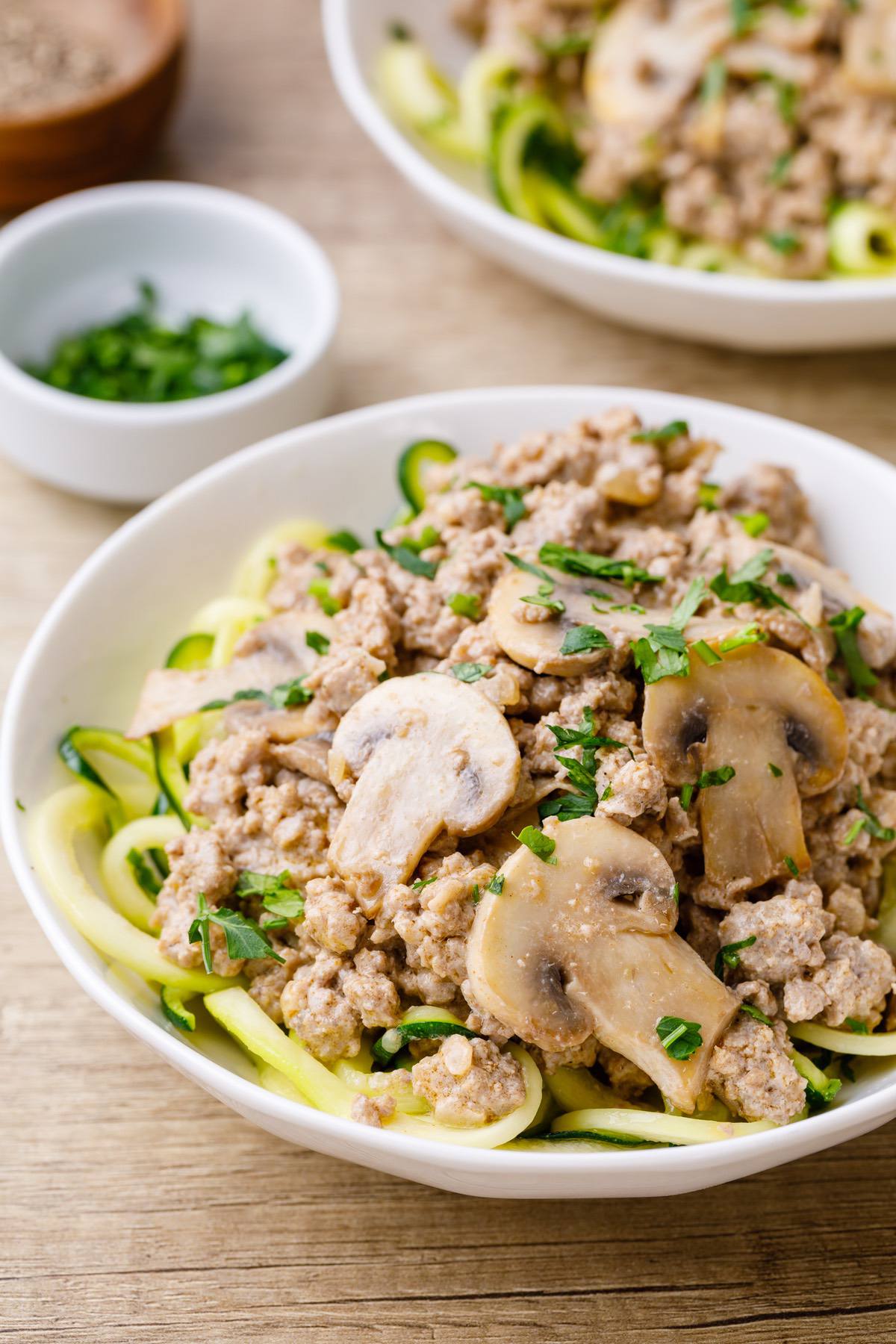 How Long Does Beef Stroganoff Stay Good For?
When stored in the refrigerator, your beef stroganoff can last up to 3-4 days. Just remember that since stroganoff is cream-based, it will spoil more quickly than non-cream-based sauces.
If you're not going to consume the beef stroganoff within 3-4 days, I recommend splitting the recipe and freezing one half of it so that it can last longer. In the freezer, beef stroganoff can last for up to 2 weeks. Simply wait until it's cooled down after cooking and then freeze in an airtight container.
(You may also like: Easy Ground Beef Keto Taco Salad)
Print Recipe
Easy (And Comforting) Keto Ground Beef Stroganoff
Author: Bree - KetoPots.com
Prep Time:

10 minutes

Cook Time:

20 minutes

Total Time:

30 minutes

Yield:

4

1

x
Scale
3 tsp

butter

4 oz

mushrooms, sliced

1

pound ground beef

1

small onion, chopped 

¼ cup

beef broth

1 tbsp

Worcestershire sauce

1 tsp

lemon juice

½ tsp

paprika

½ cup

sour cream

2 tbsp

chopped fresh parsley 

salt and black pepper, to taste
In a large skillet melt 1 teaspoon of butter over medium heat. 

Add the mushroom and cook for 5-10 minutes or until tender. 

Remove the mushrooms from the skillet. 

In the same skillet add the remaining butter. 

Add the onion and cook for 3-5 minutes or until soft. 

Add the beef and cook until no longer pink.

Add the beef broth, Worcestershire sauce, lemon juice, paprika and sour cream. 

Stir to combine. 

Return the mushrooms to the skillet. 

Cook until slightly thicken. 

Season to taste with salt and black pepper. 

Sprinkle with fresh parsley. 

Serve with zucchini noodles.
More Easy Keto Beef Recipes:
FREE KETO RECIPES + 5-INGREDIENT KETO COOKBOOK

Make sure to sign up for free to get instant access to the 5-Ingredient Keto Cookbook, which includes my favorite 20+ keto recipes of all-time, all under 5 ingredients.