Keto Dinner
The Best (No Hassle) Keto Instant Pot Beef Stew
Ever since I got my hands on an Instant Pot, my kitchen has never been the same. It blows my mind how cooking stews and sauces for hours has now been reduced to as little as 20-30 minutes, not to mention the minimal clean-up. Over the past few months, it's been great being able to recreate some of my childhood favorites because I wouldn't have enough time to follow the full recipe, which is why I'm so excited to share this keto beef stew recipe with you today.

Hassle-Free Cooking Thanks to the Instant Pot
You'll only be using the Instant Pot for this recipe. No need to even saute the other ingredients in another pan. I know, the Instant Pot is so handy, it's unbelievable.
I have a couple of other recipes from my favorite food blogs that I really enjoyed making if you'd like to experiment with other beef stew variations:
Anyway, on to the recipe! First, you'll want to combine the tomato paste, wine and beef broth. Measure those carefully (not too much wine, ahem) and set aside. Next, season the beef with some salt and pepper. I find that beef–good quality beef, that is–doesn't need much seasoning other than salt and pepper, so that's why we aren't going for a major spice rub with this one.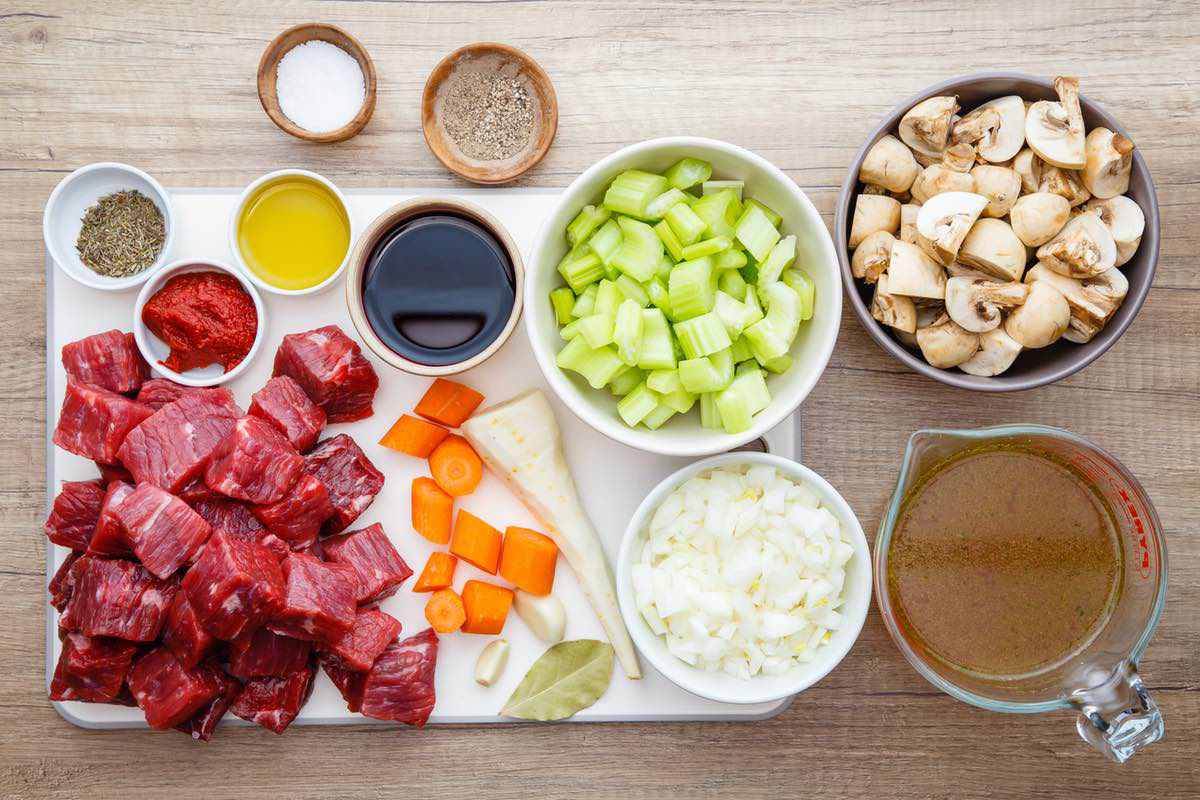 Saute this in the Instant Pot and add the olive oil, beef, beef broth, and of course, all the other vegetables, herbs and spices. The beef broth will definitely give it a lot of flavor as well. Once it's sealed, it will only take 15 minutes to cook and probably another 10 minutes to release the pressure.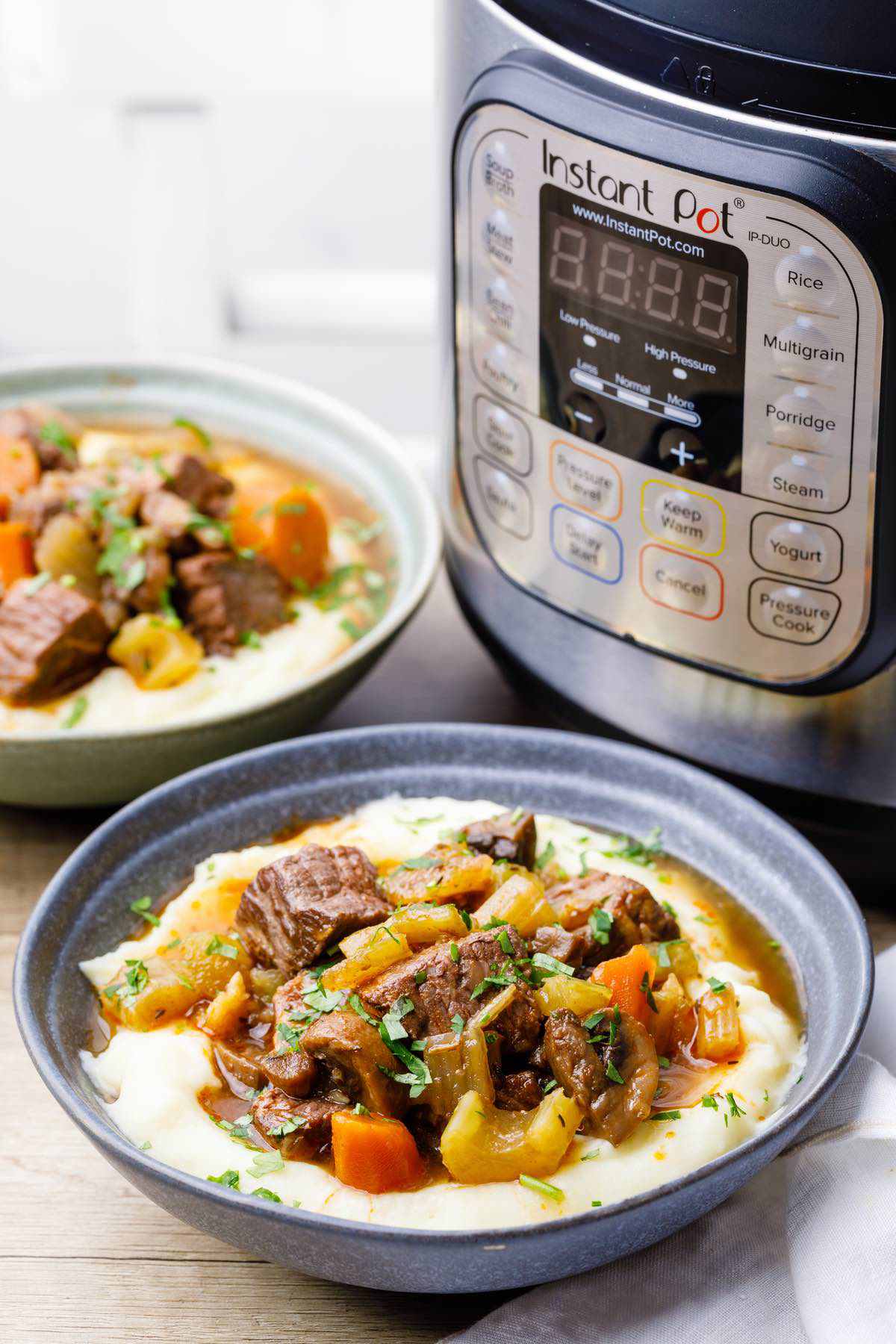 What Keto-Friendly Sides Go with this Beef Stew?
There are actually a lot of options you can choose from as far as sides go. My favorites are green beans, cauliflower rice, mashed cauliflower garlic mushrooms and creamed spinach.
These side dishes are all keto-friendly and can be adapted to better suit your beef stew depending on how you and your family like it. What I like about this beef stew is that it's easy to make for large groups or even as packed lunch or dinner for the week, so it's also convenient all around.
Why Is My Beef Tough?
I find that beef stew gets very tender with just 20 minutes in the Instant Pot. However, an extra 2-3 minutes beyond that should help with tougher cuts of meat.
For this recipe, I chose beef chuck because it has a good balance of fat and lean meat, but if you decide to go with a leaner cut like sirloin, it will end up being tougher simply because of the lower fat content in the beef cut.
How Do I Thicken the Stew?
If you'd like to thicken the your stew without letting the beef get too soft that it starts to resemble pulled pork, you can first remove the beef chunks and continue cooking the stew until it reduces further.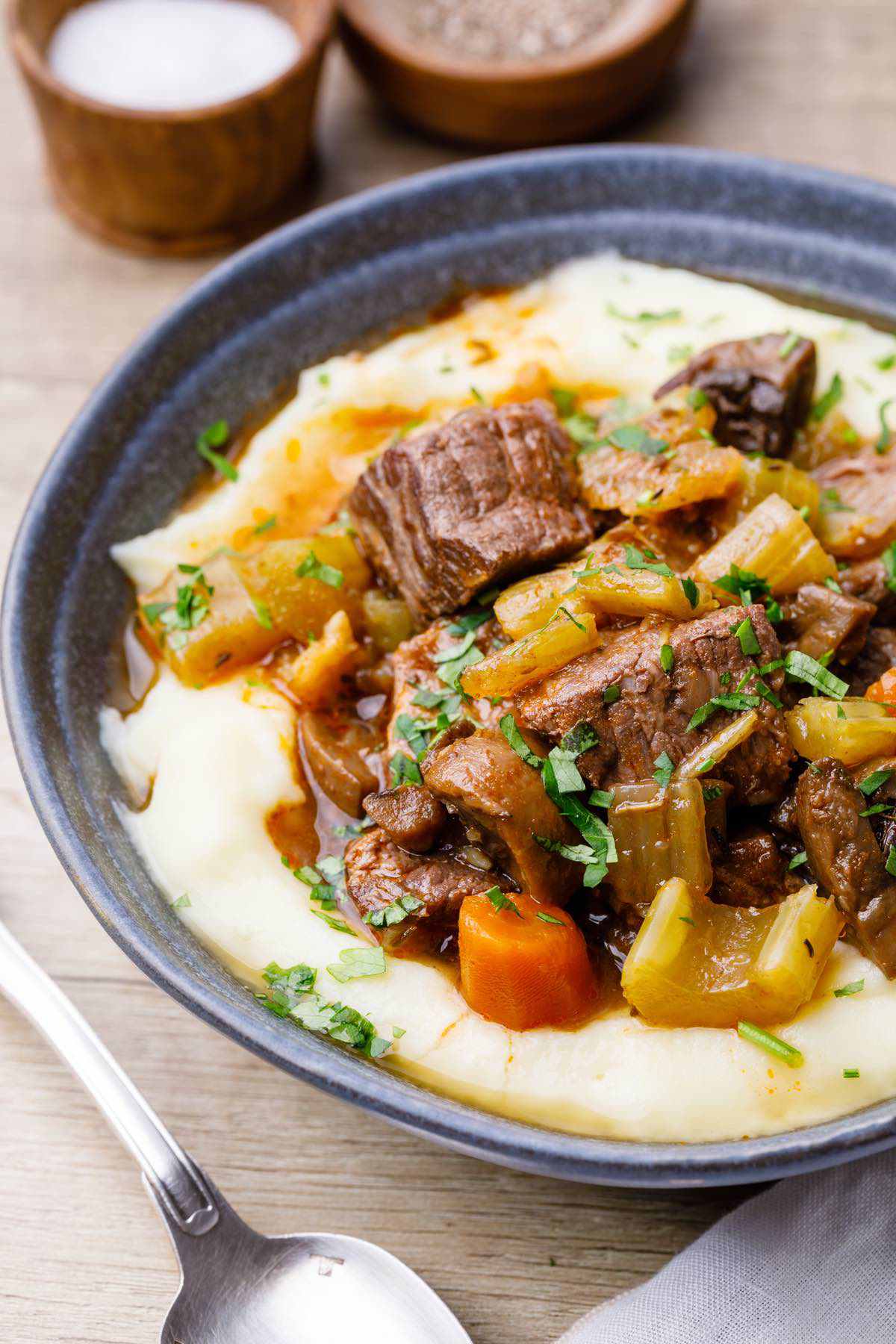 Should Beef Stew Meat Still Be Pink?
For this recipe, you should be using a 1" cut of beef chuck. However, if you happened to use a thicker cut, the prescribed cooking time may result in a slightly pink center. This is normal and shouldn't be a cause for concern, although it's a good idea to cook it a little longer just to be sure or just choose a flatter slab of beef next time.
Print Recipe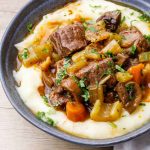 The Best (No Hassle) Keto Instant Pot Beef Stew
Author: Bree - KetoPots.com
Prep Time:

10 minutes

Cook Time:

20 minutes

Total Time:

30 minutes

Yield:

6

1

x
Scale
2 tbsp tomato paste
1 ½ cups beef broth
½ cup dry red wine (optional) 
2 tbsp olive oil 
1 ¼ pound trimmed beef chuck roast, cubed (1 inch)
8 oz mushrooms, quartered
1 medium onion chopped
1 medium carrot, cut into 1-inch pieces
1 medium parsnip, cut into 1-inch pieces
2 ribs celery, sliced
2 cloves garlic, minced 
1 large bay leaf
1 tsp dried thyme
salt and pepper to taste
In a measuring cup combine the beef broth, tomato paste and red wine (if using) and set aside. 

Season the beef with salt and black pepper to taste. 

Press the SAUTE button on the Instant pot and let stand until screen reads "HOT". 

Add the olive oil. 

Add the beef and brown on all sides. 

Add the beef broth mixture and scrape the bottom of the pot with a wooden spoon to loosen the brown bits.

Press the CANCEL button.

Add the onion, garlic, carrot, parsnip, celery, mushrooms, dried thyme and bay leaf and mix to combine. 

Close and seal the Instant pot. 

Turn the venting knob to SEALING.

Press the PRESSURE COOK button and check to make sure the pressure level shows as "High" on the display. 

Adjust the timer to 15 minutes. 

When finished cooking, let the pressure come down naturally for 10 minutes, then quick release the rest of the pressure.

Open the lid. 

Season with salt and black pepper to taste. 

Serve warm. 
More Keto Soups and Stews to Try:
Beef Bone Broth Keto French Onion Soup
Extra Beefy Caveman Crockpot Keto Chili
Crockpot Keto Taco Soup
Homemade Keto Cream of Mushroom Soup
Easy Crockpot Keto Chili Mac
FREE KETO RECIPES + 5-INGREDIENT KETO COOKBOOK

Make sure to sign up for free to get instant access to the 5-Ingredient Keto Cookbook, which includes my favorite 20+ keto recipes of all-time, all under 5 ingredients.