Keto Recipes
Easy Low Carb Keto BBQ Sauce with No Added Sugar
There are certain foods that I will always prefer the homemade version over store bought brands. A freshly baked batch of cookies is one of the first examples that comes to mind. Another good one is BBQ sauce, especially if you're trying to make it keto friendly. I've actually tried quite a few keto BBQ sauce recipes over the last few weeks, and today I wanted to share one of the better ones that I found with you guys. It's for making a quick and easy low carb keto BBQ sauce with no added sugar or any other type of unnatural additives or preservatives.
One Game Changing Keto BBQ Sauce
As every BBQ sauce aficionado knows, there is no "one size fits all" definition for BBQ sauce and the flavors it provides. One sauce can fall somewhere between sweet and smoky in taste, while another sauce could be a far spicier option.
This particular keto BBQ sauce recipe offers up a little bit of everything. You'll be making it with flavorful ingredients like sugar free tomato paste, apple cider vinegar, Worcestershire sauce, adobo sauce, chili powder, smoked paprika, garlic powder, onion powder, cinnamon, and more.
It's also a super easy recipe to make. You can have the sauce prepped and ready for cooking in only about five minutes with an additional 50 minutes of cooking time afterwards.
In order to make the BBQ sauce, you'll first need to add all of the ingredients into a saucepan and mix them together until everything is well combined. Bring the mixture to a boil over a high heat before reducing the heat and leaving the sauce to simmer on low for about 45 minutes.
When you're done cooking the BBQ sauce, you can transfer it into an airtight container or jar to refrigerate until you're ready to use it.
You Now Have a Keto BBQ Sauce for Everything
With this recipe, you can use it to make a variety of BBQ-based dishes. Just check out this list of some of my favorite keto BBQ style recipes from around the web. They're all perfect candidates to use with this sauce:
How Long Does This Keto BBQ Sauce Stay Good For?
With the list I just provided, I can guarantee that you won't have this sauce sitting around for very long.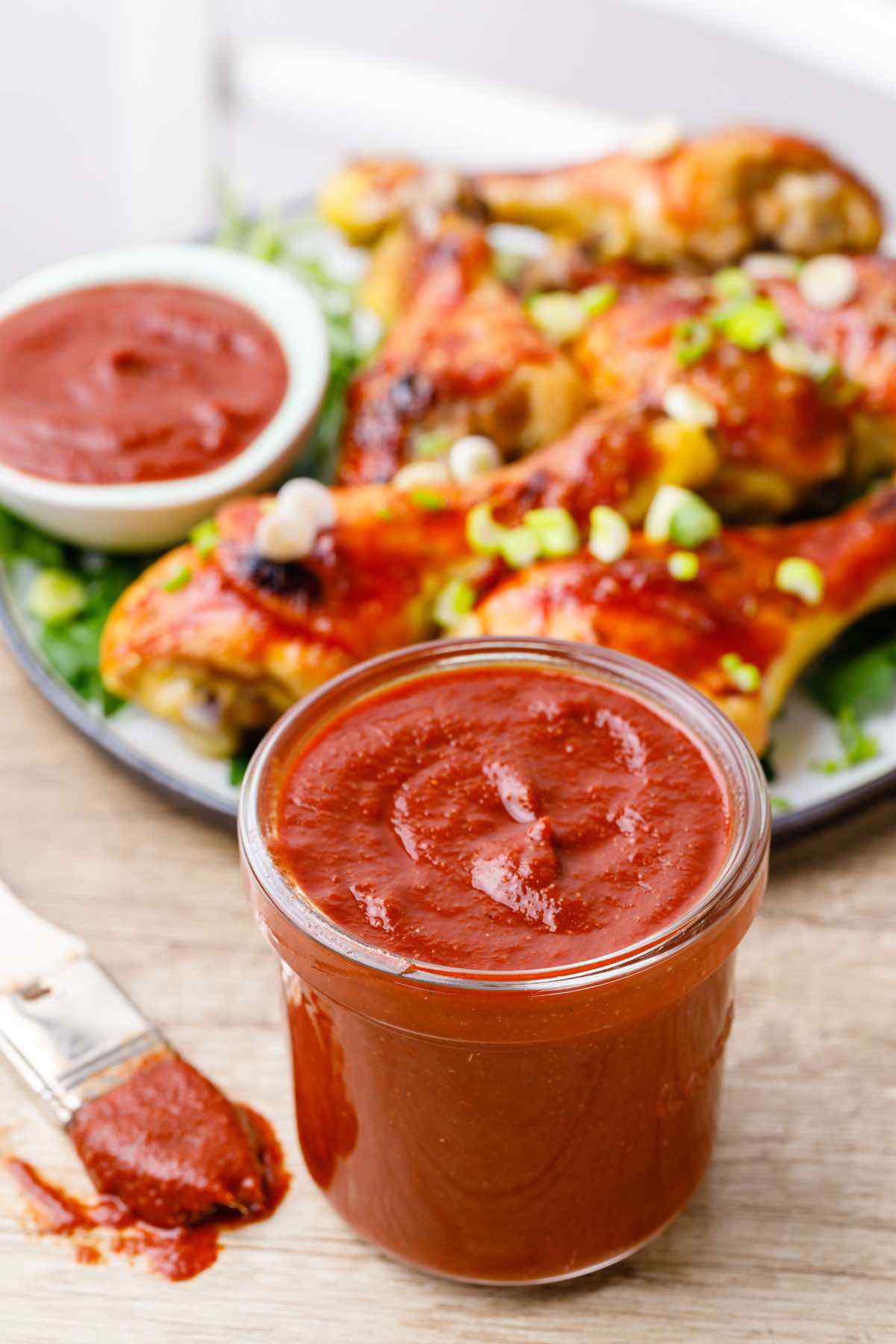 As with most homemade versions of popular foods, it's safe to say that this keto BBQ sauce won't last anywhere near as long as most brand name options. The reason why this BBQ sauce won't last as long as store bought brands is because this recipe doesn't use any harmful additives or preservatives to extend the shelf life of the sauce.
Without those extra ingredients added in, not only is your homemade BBQ sauce a far healthier option, but you can expect it to last for up to one month, as long as you keep the sauce properly sealed and stored in the fridge.
You can also freeze your BBQ sauce, but I don't usually recommend this option. The quality and consistency can vary from recipe to recipe (depending on the ingredients used) once you thaw the sauce.
Other Noteworthy Keto BBQ Sauce Recipes
Keto BBQ sauce recipes are most definitely one of those cases where variety is indeed. So with that in mind, if you end up loving this recipe and want to sample a few other yummy keto BBQ sauce options, then check out some of the following recipes from around the web. I've tried each and every one of them and they're every bit as good as this particular recipe is:
Print Recipe
Easy Low Carb Keto BBQ Sauce with No Added Sugar
Scale
6 ounce sugar free tomato paste
½ cup water 
½ cup apple cider vinegar
2 tbsp Worcestershire sauce
½ tsp adobo sauce
1 tsp chili powder
2 tsp smoked paprika
2 tsp garlic powder
1 tsp onion powder
¼ tsp cinnamon 
1 tsp salt
½ tsp ground black pepper
Add all the ingredients to a saucepan and mix to combine. 

Bring to a boil over high heat then reduce the heat and simmer on low for 45 minutes. 

Transfer in an airtight container or a jar and refrigerate until ready to use.
FREE KETO RECIPES + 5-INGREDIENT KETO COOKBOOK

Make sure to sign up for free to get instant access to the 5-Ingredient Keto Cookbook, which includes my favorite 20+ keto recipes of all-time, all under 5 ingredients.