Keto Desserts
Sugar-Free Keto Bark with Crunchy Bits
If you've recently switched over to the keto diet and you're feeling a bit concerned because you're not quite ready to abandon your chocolate sweet tooth, then I have just the thing that you need. Today I'm going to be sharing a recipe for making a sugar-free keto dark chocolate bark with crunchy bits in the form of almonds, pistachios, and toasted hazelnuts. This recipe makes for a perfect light snack that will satisfy your chocolate cravings in a 100% guilt-free and totally keto friendly way.
Quick and Easy Way to Make Chocolate Keto Bark
The very best keto recipes are the ones that are super quick and easy to make while delivering big time results, and this chocolate bark recipe is a prime example of that.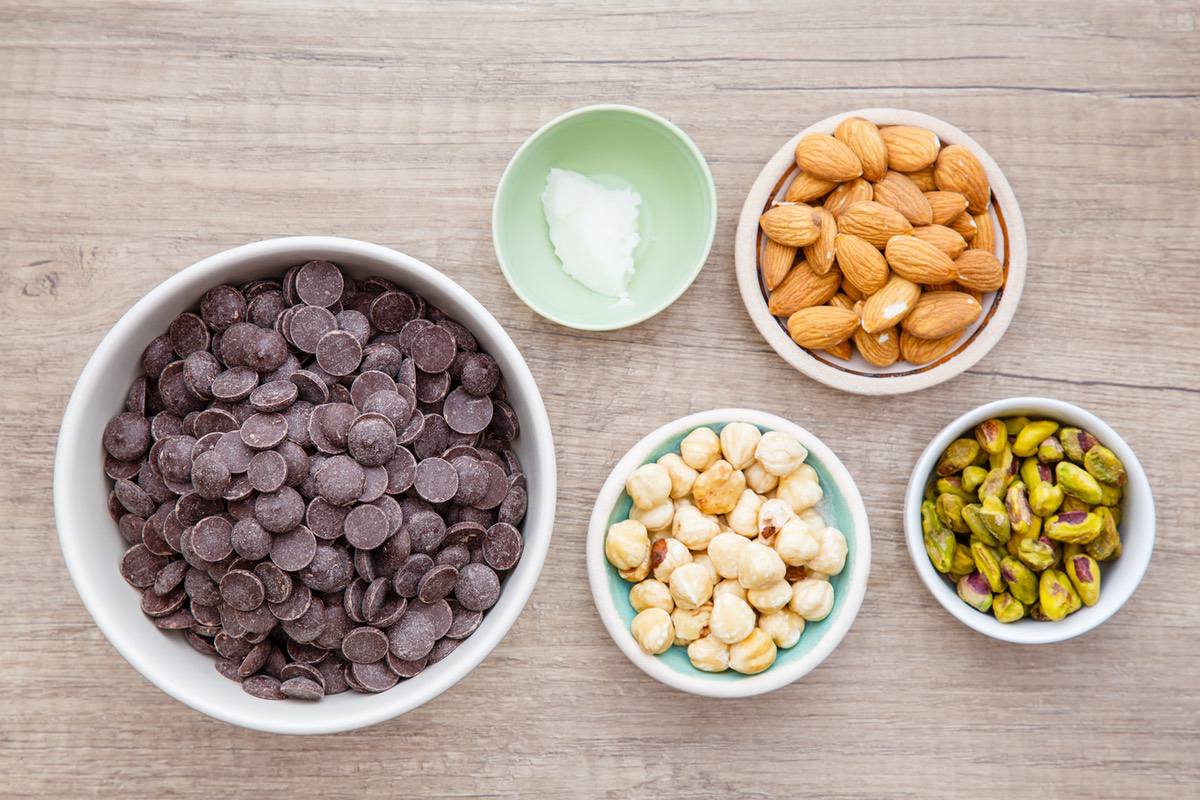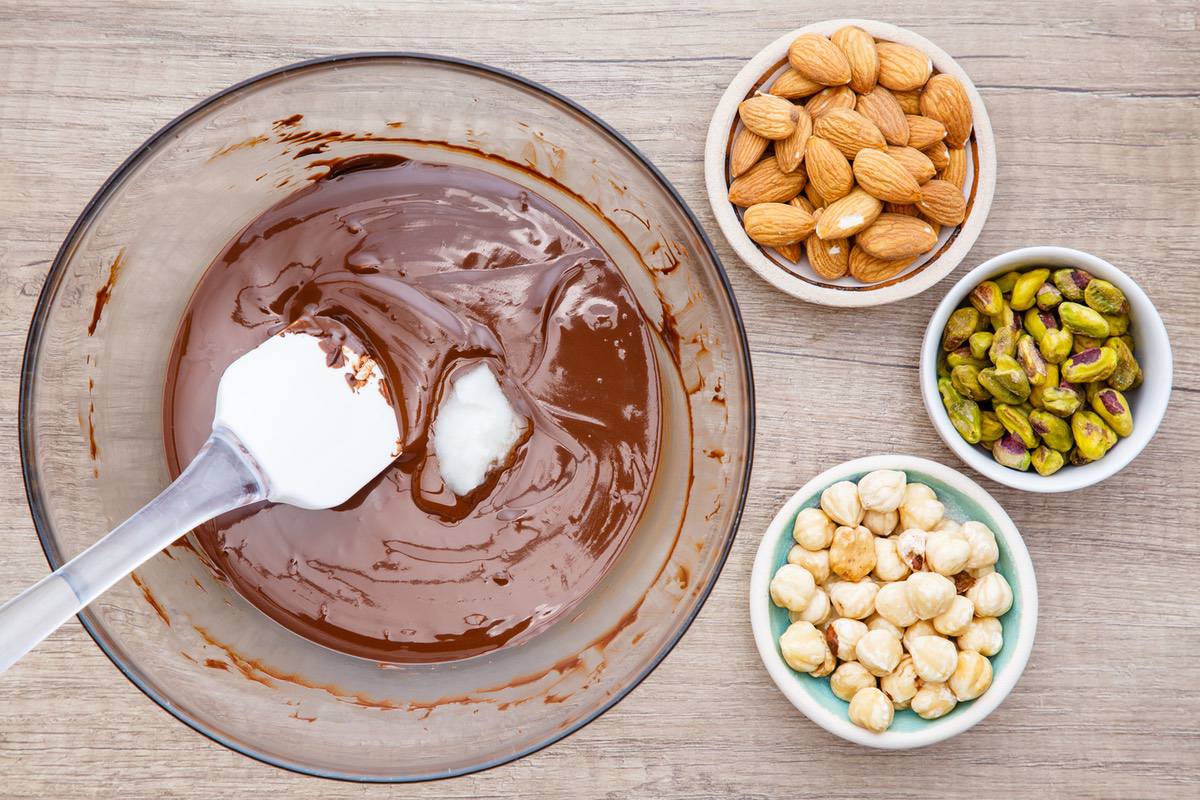 After lining a baking sheet with parchment paper, set it aside and then grab yourself a microwave-safe bowl. You'll want to melt down your dark chocolate chips in 30 second increments, stirring the chocolate after each 30 second interval.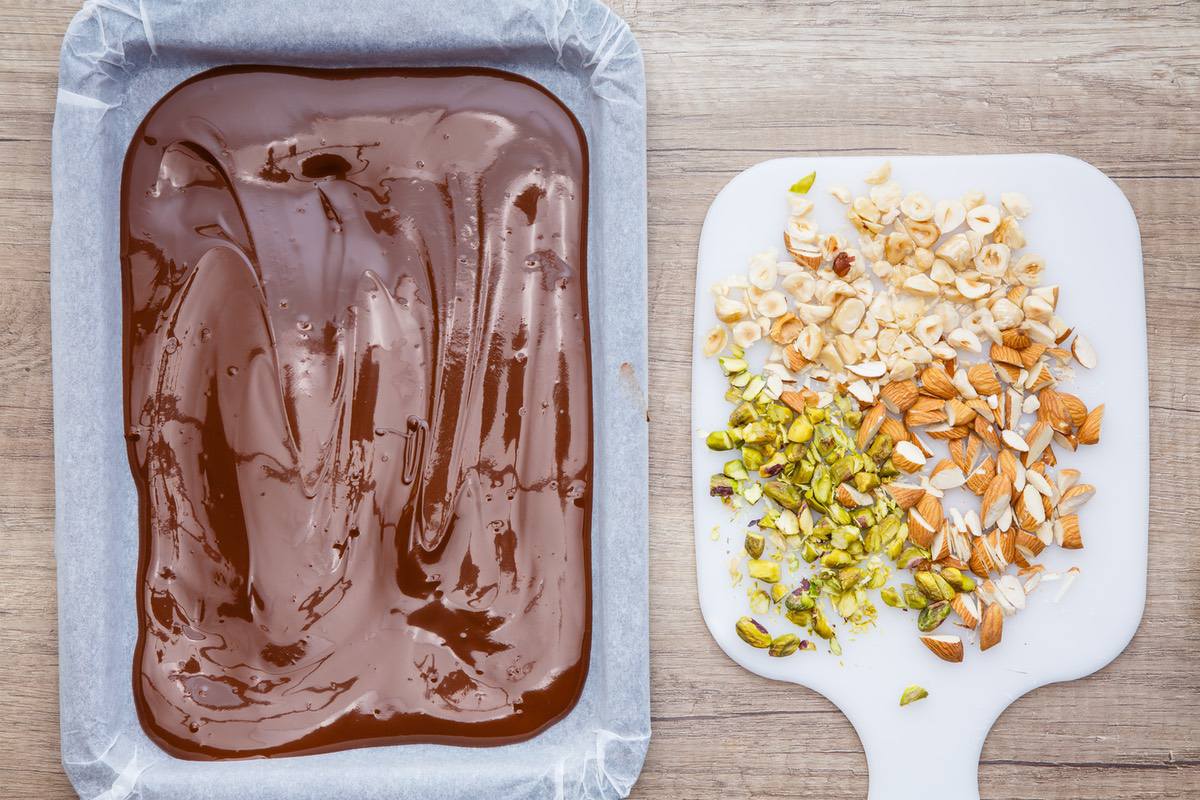 Once finished, pour the melted chocolate out over the prepared baking sheet and spread it evenly with a spatula. Next, take your roughly chopped almonds, pistachios, and toasted hazelnuts and sprinkle them all over top of the chocolate.
Put the chocolate in the fridge for approximately two hours to allow everything to set. Once the chocolate has completely hardened, you can go ahead and break it into pieces to enjoy.
Can You Recommend Any Other Keto Bark Recipes?
Making keto friendly chocolate bark is a great snacking idea because it's such a great source of quality fats and antioxidants all rolled into one tasty chocolate package. While I personally love to make this particular recipe because I'm a huge fan of nuts in general, I've also tried out quite a few other stellar chocolate bark recipes over the last couple of months. Here are five more decadent and delicious keto bark recipes for you to try out after this one: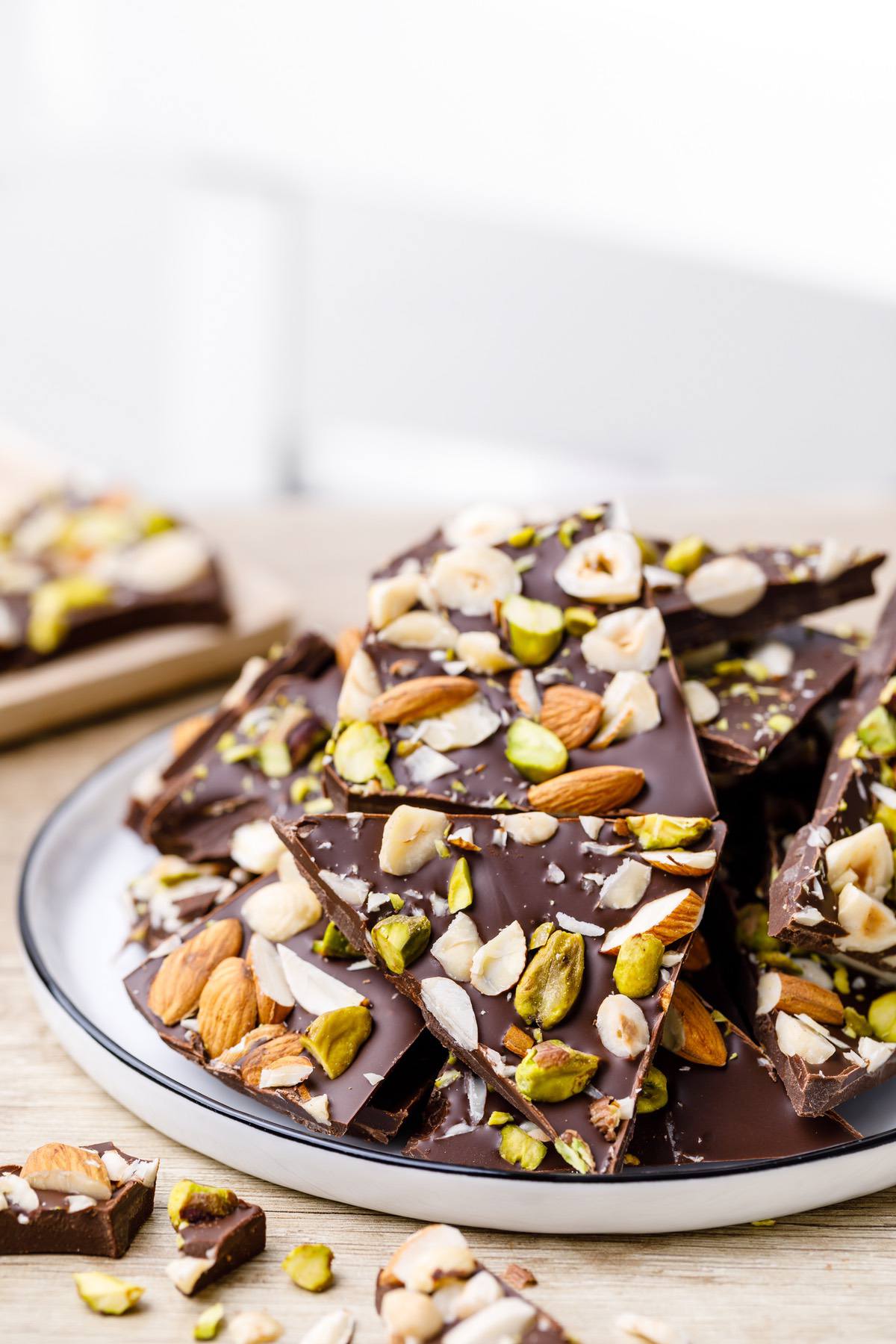 Should I Use Dark Chocolate or Milk Chocolate?
There can certainly be an argument made about milk chocolate working better when it comes to making treats like chocolate bark, largely based on the fact that it's a sweeter option. With that being said, when it comes to the keto diet, you're better off going with dark chocolate instead.
There are two main reasons for this. The first is that dark chocolate contains way less sugar than milk chocolate does, which is beneficial for obvious reasons.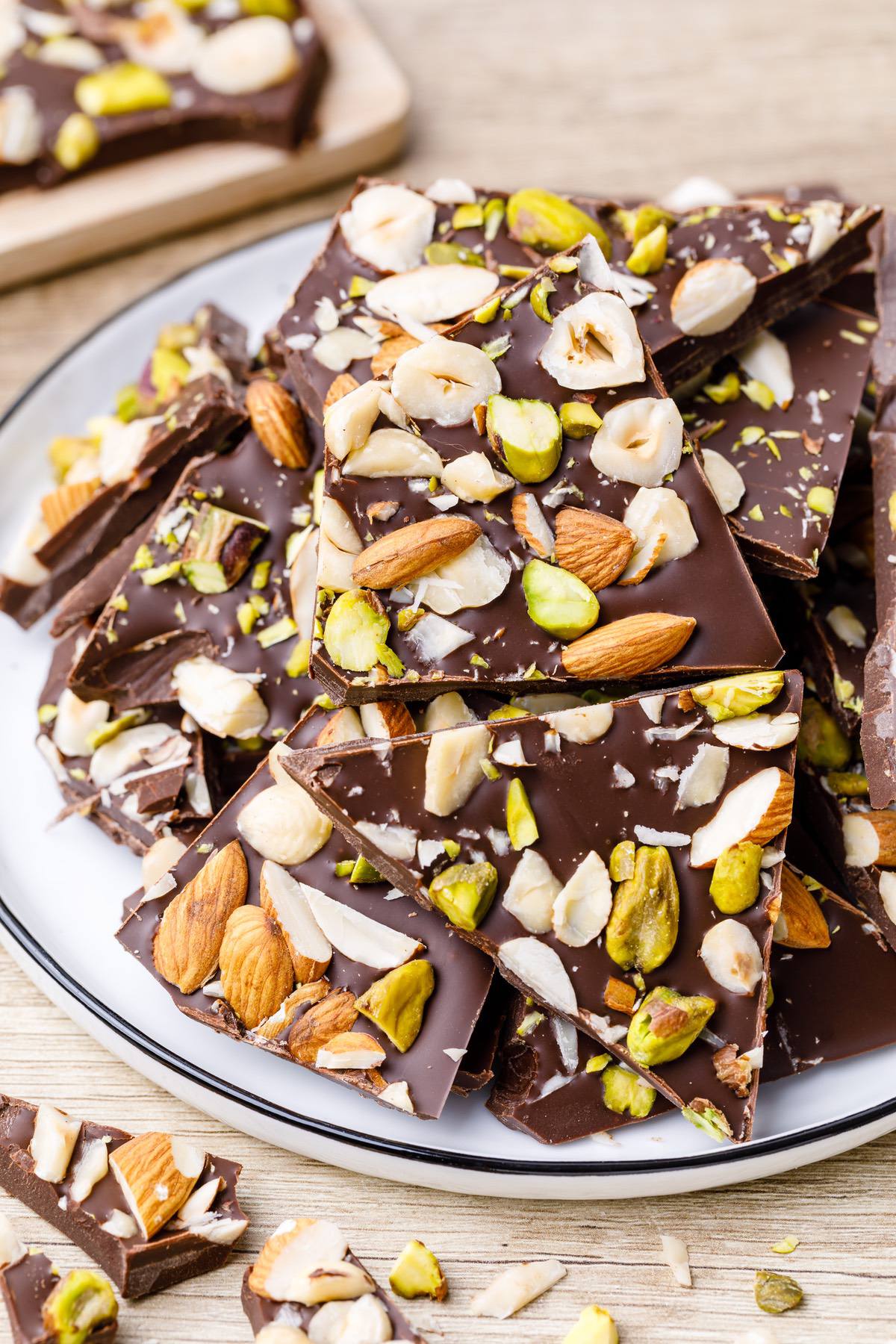 The second reason is that dark chocolate contains a much higher concentration of heart healthy monounsaturated (and polyunsaturated as well) fatty acids, which is exactly what we're looking for on the keto diet.
Admittedly, using dark chocolate leaves your bark tasting slightly more bitter than milk chocolate would. If you find that your bark does indeed taste too bitter, you can simply feel free to add in a bit of Stevia (or another type of low carb sweetening option) when making this recipe as well.
Can I Freeze Chocolate Bark?
Yes, you can absolutely freeze this keto chocolate bark! Just follow the usual steps that you would take when freezing homemade goods – using an airtight container or jar, you can reasonably expect your chocolate bark to last for up to six months.
My Chocolate Bark Turned Out A Little Chalky?
It doesn't happen all too often, but every once in a while when I make this recipe, my chocolate bark turns out a little bit chalky. If it's happening to you as well, there's no need to worry. Uour bark is still 100% edible!
The most common reason that your bark is ending up looking like this is due to a scientific process known as chocolate bloom. Now chocolate bloom actually features two different types of bloom: sugar bloom and fat bloom.
Sugar bloom is caused by moisture coming into contact with the chocolate, which in turn dissolves sugar crystals on the chocolate surface, causing that powdery chalk appearance.
On the other hand, fat bloom is caused by improperly storing your chocolate, sudden changes in temperature, or simply a poor tempering process. This type of bloom will give your chocolate a more white-ish gray-ish chalky appearance, with a softer texture.
(You may also like: 6-Ingredient Keto Fudge (Chocolatey, Chunky Goodness))
Print Recipe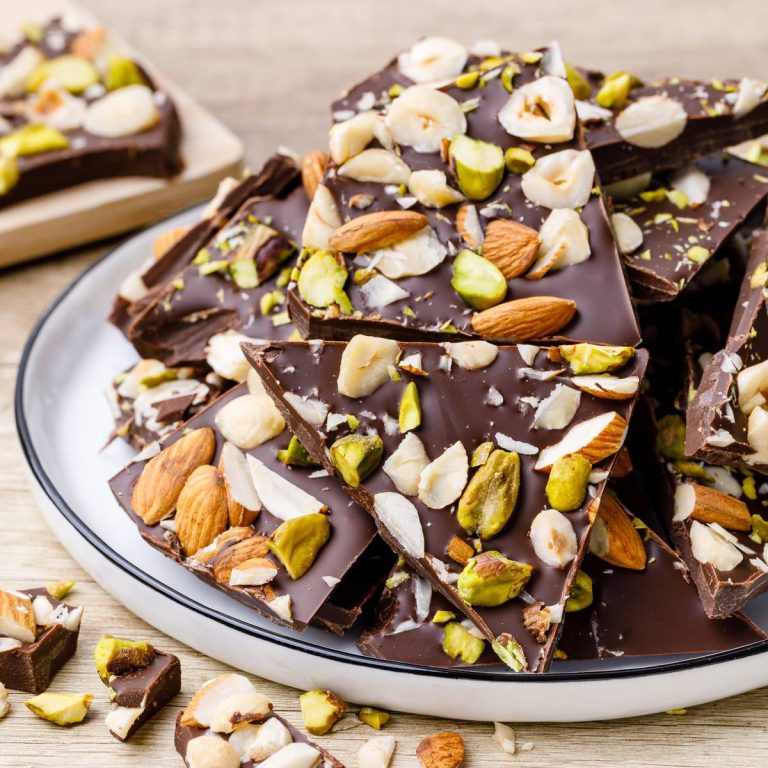 Sugar-Free Keto Bark with Crunchy Bits
Author: Bree - KetoPots.com
Prep Time:

10 minutes

Cook Time:

2 minutes

Total Time:

12 minutes

Yield:

1

2

1

x
Scale
12 oz

sugar free dark chocolate chips 

½ tsp

coconut oil 

¼ cup

almonds, roughly chopped 

¼ cup

pistachios, roughly chopped 

¼ cup

toasted hazelnuts, roughly chopped
Line a baking sheet with parchment paper. 

Melt the chocolate in a microwave-safe bowl in 30-second increments with the coconut oil, stirring after each one.

Pour the melted chocolate and coconut oil onto the prepared baking sheet and spread evenly using a spatula. 

Sprinkle the chopped almonds, hazelnuts and pistachios over the chocolate. 

Transfer to the fridge for 2 hours to cool.

Once the chocolate is completely hardened, break it into pieces.
More Easy Chocolate Keto Dessert Recipes:
FREE KETO RECIPES + 5-INGREDIENT KETO COOKBOOK

Make sure to sign up for free to get instant access to the 5-Ingredient Keto Cookbook, which includes my favorite 20+ keto recipes of all-time, all under 5 ingredients.